Rod Rolle's 'Spirit of Community' Exhibit Opens in Santa Barbara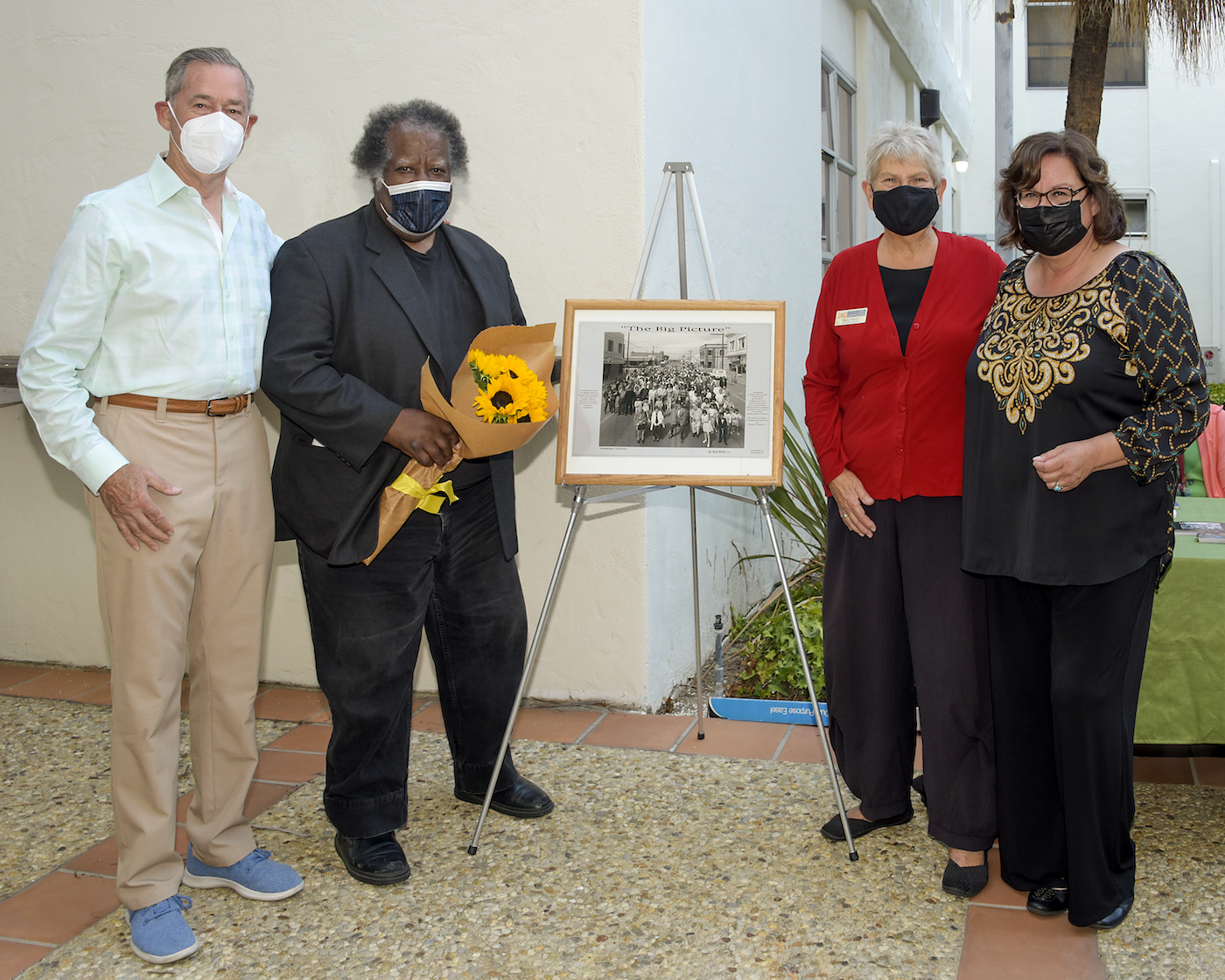 Rod Rolle's commissioned works in a public exhibit entitled "Spirit of Community" at the Santa Barbara County Administration Building Garden Atrium opened on October 15. Rolle is a professional news and public relations photographer with SIPA USA and jazz drummer in his band, The Stiff Pickle Orchestra.
This exhibit is commissioned by Sarah York Rubin, theexecutive director of the Santa Barbara County Office of Arts & Culture, to recapture Rolle's work with famed Los Angeles-based social commentary muralist Judy Baca for the Guadalupe Mural Project, and showcases 23 for-sale exquisite black-and-white framed photographs hand printed by Rolle.
"The Arts Commission jumped at the opportunity to travel Rod Rolle's work from the Betteravia Gallery to Santa Barbara," York Rubin said. "This opens up Rod's exhibition and portrait of Guadalupe to new audiences, and it is a heartening reminder of the beauty of community during these difficult times.
"It is exciting to exhibit Rod's photography in his hometown, where people may recognize him as a musician or a neighbor; though his photography is published internationally, there is nothing quite like sharing his talent in this community where he lives. He is also so humble about his achievements that this is a wonderful opportunity to celebrate him."
For the background on this time capsule, Founding Arts Commissioner Patrick Davis explained, "Rod's access and courageous vision elevates these documentary photographs artistically and preserves the record of partnership between two county agencies and the community of Guadalupe."
According to Davis, the murals came about because of the passion of legendary County Parks Director Mike Pahos' collaborative spirit and genius for working with communities. Maria de Herrera, Director of Public Art for the Arts Commission, challenged Pahos to sponsor a state grant to develop parks in underserved communities using public art as the catalyst. Judy Baca was selected to tell Guadalupe's story in murals to be installed in a renovated community building in Leroy Park. Rolle was commissioned to document the story of "Guadalupe Today."
The Guadalupe murals were a collaboration with the County Parks Department that included a suite of projects: Lloyd Hamrol's "Sea Look Out" piece in Isla Vista; a Bailey Oaks play structure in Tuckers Grove; Doug and Regula Campbells' Carpinteria Bluff "Lightening Gates"; and Michael McMillian's "Time Compass at Lookout Park in Summerland."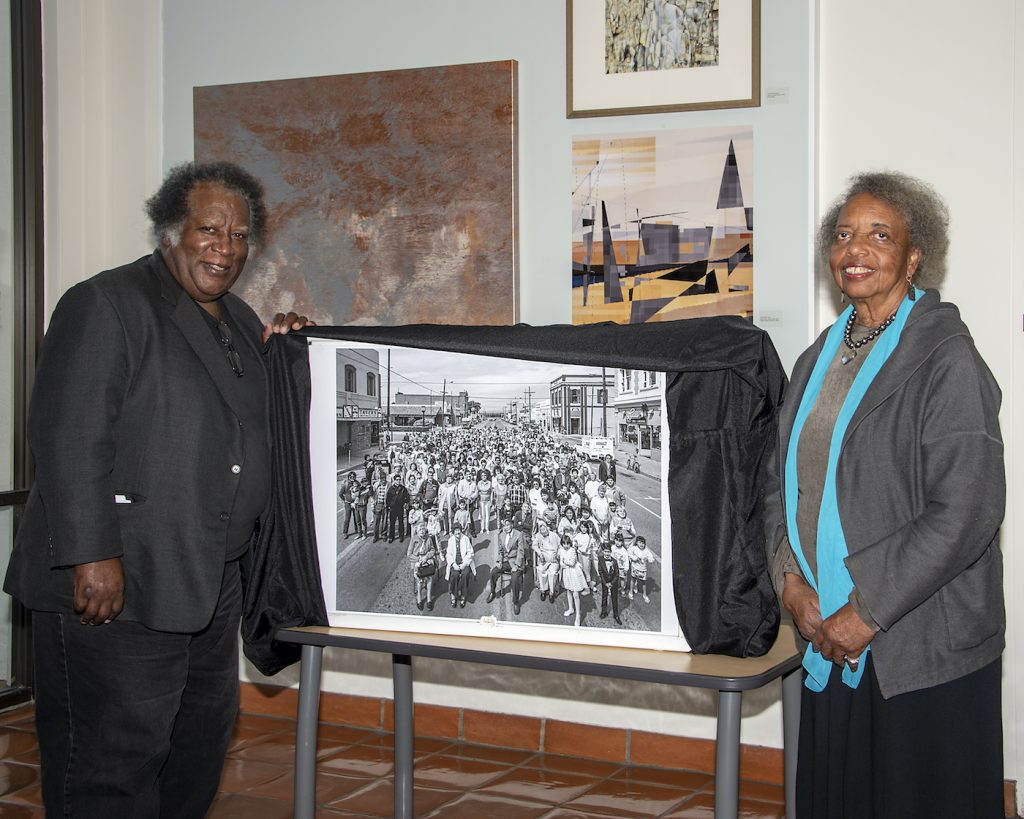 Rolle explained how he landed on the West Coast and got the opportunity to document it all.
"I first discovered Guadalupe after moving to Santa Barbara in 1982 to attend Brooks Institute of Photography. Coming from the East Coast I was fascinated by stories about Highway 1 in California. So, one day I decided to go on an adventure and drive Highway 1. Let me just say this road did not disappoint; when I drove through Guadalupe my jaw dropped," Rolle said.
"It was like I found The Guadalupe Treasure at the end of a rainbow. Tucked away in the northwest corner of Santa Barbara County, a farming community, that was a town with an incredible history. Little did I know that one day I would return to photograph the richness that is Guadalupe."
VIP attendees included Mary Harris,the vice chair of the Santa Barbara County Arts Commission; Kenji Jacklio Fukudome,a fine art and portrait photographer; former Provost of Brooks Institute of Photography David Litschel, with artist wife, Martha Shilliday; Santa Barbara Museum of Natural History President and CEO Luke Swetland; publisher Bonnie Carroll; Santa Barbara County Supervisors Joan Hartmann, Gregg Hart,and Das Williams with daughter, Khaya; Santa Barbara Mayor Cathy Murillo who presented flowers to Rolle; and Rolle's wife, Sojourner Kincaid Rolle, an African American poet and playwright, peacemaker, community activist, and television producer.
Rolle also thanked Maria de Herrera, Mike Pahos, Patrick Davis, Ginny Brush, Rita Ferri, Judy Baca, Sarah York Rubin, Julia Rutherford Daly, Hannah Rubalcava, Arturo Heredia Soto, El Comité Cinco Mexicano, the City of Guadalupe, the Guadalupe Chamber of Commerce, the People of Guadalupe, his wife and the Rolle family of Marjorie, Ezekiel, and Erroyl.
411
Websites: rodrolle.photoshelter.com, sparcinla.org/murals-of-guadalupe
Facebook/Instagram: @rodrollephoto
You might also be interested in...