Neon Art by Rod Lathim and Chris Gocong — It's a Gas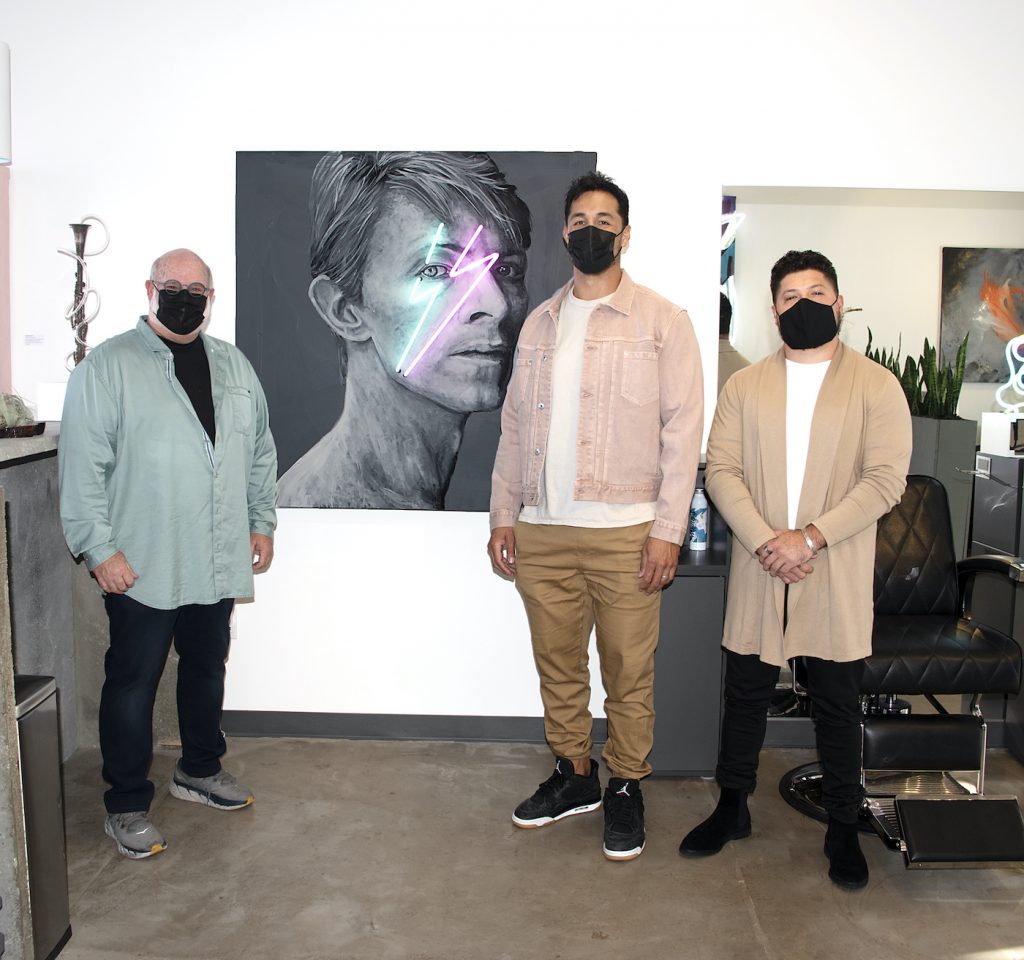 On October 9, Rod Lathim and Chris Gocong premiered their collab art — large-scale abstract acrylics on canvas with neon light accents — at Commen Unity, a new Funk Zone barbershop and art gallery owned by Isaac Gonzalez. 
Lathim, no stranger to our town for his prolific work to establish live theater as the founding artistic director of Access Theater and chair of the board of the Marjorie Luke Theatre for years, is doing neon art designs. Gocong, a graduate of Carpinteria High School and former NFL linebacker with the Philadelphia Eagles and the Cleveland Browns, is now doing art as well.
"The cool part about the space is that everyone who sits in my chair has something in common, so instead of looking at what divides us, let's look at what we have that unites us, and I called it 'Commen Unity.' My art is hair. I've been cutting Chris's hair for 10 years, Rod recently sat in my chair, and I introduced them," Gonzalez said. "I've been in this space for six months; it is my vision."
The collab artworks are titled "Bowie," "Imperfection," and "Memento Mori."
"Rod and I met to talk about my acrylic skull portrait titled 'Memento Mori,' and our artistic energy just flowed," Gocong said.
"We put the neon coming off the canvas, which changed the piece, and gives it energy," Lathim added. "I think the work is bigger than we are. It's 52 feet of glass, and was a challenge, we did it together. To me, neon is not just color; it's energy, electric current combusting gas to create light that has a color to our eye, which duplicates the energy aura human beings have and is the most fun in art I have had."
They plan to continue to do art together. Next up are abstract portraits with the neon taking the lead, and new works individually.
The bent, colored neon glass in the art is by the famed neon worker Roxy Rose who learned the craft from her father. Lathim credits the woodworking, welding, and soft-sculpture work to Don Scott, Bill Muneio, Russ Carter, Alan Kasehagen,and Christina McCarthy.
Other works by Lathim at the exhibit are "Saxoflow," a real saxophone with white and blue kinetic light via beaded neon that uses a rapid pulse transformer pushing the light through looped glass; "Rainbow Arch" made of six different colored rectangular neon tubes in progressive size; "Trio"; and "Euphonic Jubilation," a mini tuba with beaded neon.
A self-taught artist, Gocong was used to sketching with pencil, and picked up a paint brush two years ago to funnel the excess energy he still has from playing football.
His noted exhibit works: "Passing Through" with bids to raise funds for Compassionate Care Carpinteria; "EverythingIsFine," an acrylic "drip" process on canvas; and two female portraits titled "Vibing" and "You See Right Through Me."
The opening drew many attendees, who enjoyed music by DJShai, libations, and connecting. Event sponsors were Abel Ramos with Compass, Opal Restaurant, WaveComm SB, LP Café, Oku, and Santa Barbara Trapeze Co.
411
Gocong: www.saatchiart.com/chrisgocong
Lathim: www.rodlathim.com
https://hairbyisaac.com
@isaac.j.gonzalez 
You might also be interested in...