Heading Into the Home Stretch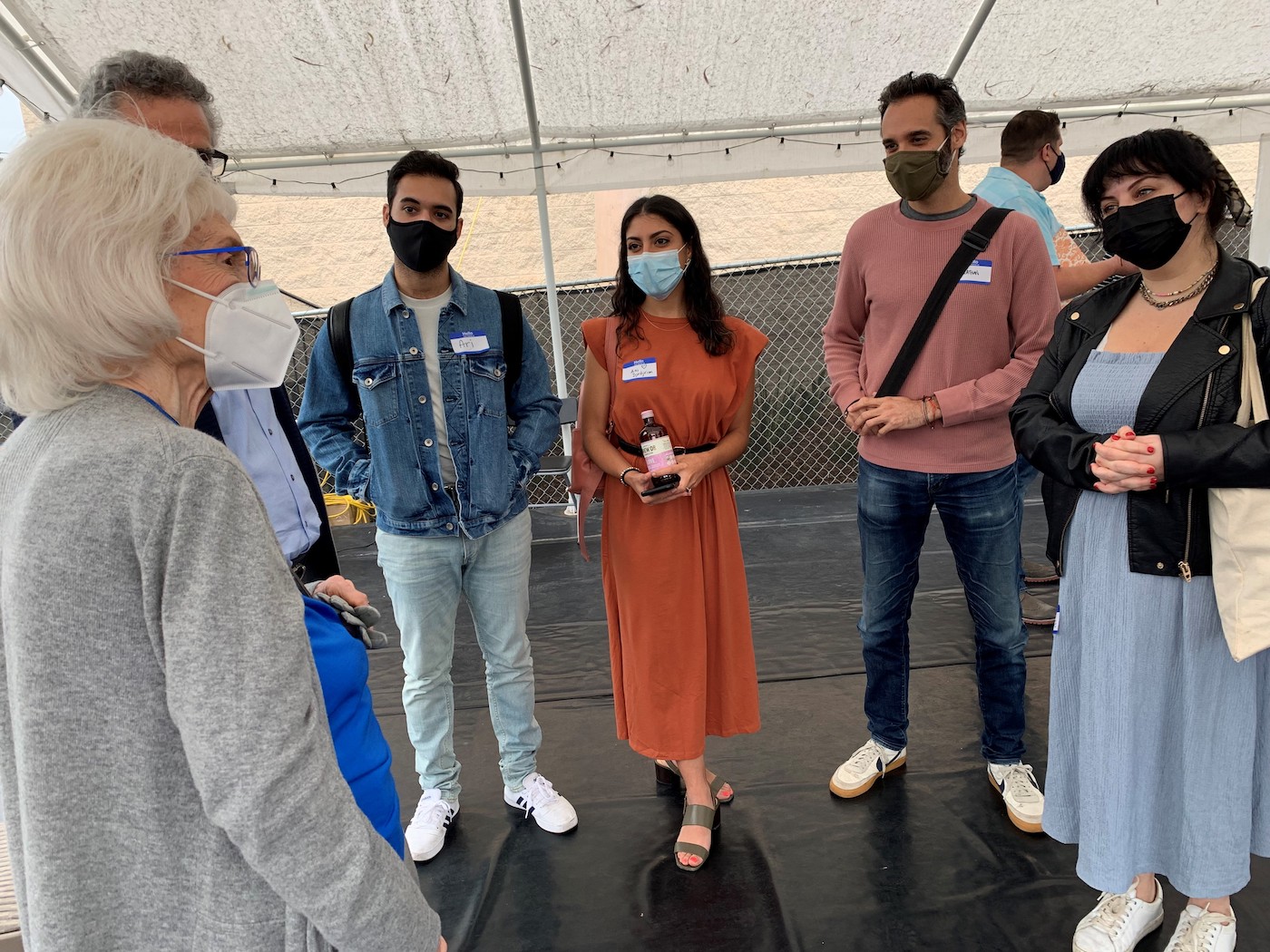 As I write this early in October, I can really feel my heart beating just a little bit faster. Kismet, that wonderful musical show, is coming to life once again — right here in Santa Barbara. For one thing, the first week of rehearsals late September in New York City are now over. For that week maestro (conductor) Nir Kabaretti flew in from Santa Barbara and worked with part of the cast (those playing the leading roles) and our director, Lonny Price. Meanwhile, William (Bill) Soleau (the choreographer), who had been planning the choreography since last May, was busy working with the State Street Ballet dancers here. Everyone from New York then flew out to Los Angeles and met up here with the dancers as well as the ensemble singers to begin what will be a hectic four weeks of rehearsals in Santa Barbara.
I went over to State Street Ballet's outdoor rehearsal area on Monday, September 27 to greet the entire cast just before their lunch break. It was an enormous pleasure to see more than 60 people gathered together for one purpose: to put on three performances of my favorite musical for my community. A born-in-Manhattan Jewish woman in her 80th year is bringing a play set in Baghdad almost a 1,000 years ago to a city on the Pacific Ocean so that together we can enjoy such wonderful songs as "Fate," "Stranger in Paradise," and "Baubles, Bangles and Beads." We will also delight in the talent of actors, singers, and dancers who have not been able to perform in public for nearly two years.
Director Lonny Price and I had originally planned that this production would run in February 2021 (my birthday month). But COVID put an end to that dream. Still, we persevered — together with our partners, the Santa Barbara Symphony, State Street Ballet, and the Granada Theatre. We postponed our original plan in order to coincide with the opening of the Fall 2021 performance season with the hope and belief that the COVID epidemic would be resolved. Now the pieces of this giant jigsaw puzzle are coming together into a fluid, dynamic, two-hour show (with a 20-minute interval).
All this needs to be done while costumes are being fitted for all the dancers — some of them will also have to play small parts in two or three of the larger scenes. Costumes for the lead roles need to be completed. Wigs have been done, but props are still being put together by our Prop Master Eric Reynolds in New York, and are being shipped here even as I write this. He is responding to requests from our Stage Manager Jason Daunter.
Three of my staff members joined me on my visit to ballet HQ (only the second time I've left my home for anything other than a doctor or dentist visit since I went into COVID isolation on February 20, 2020). Everyone was masked for the "meet and greet" except when speaking. My staff have been pitching in to help if needed, as well. I just finished proofreading the 50-page program that will be printed in the next week (it's lovely).
Our final rehearsals will be in the Granada Theatre during the week ending with the dress rehearsal on October 22. With the help of my colleagues at SAGE Publishing, a number of complimentary tickets to the Saturday matinee are being offered to employees of Cottage Hospital and other organizations such as the Santa Barbara Unified School District and local community colleges and universities. Tickets for the three performances are now on sale via the Granada's box office. The show will be performed for live audiences twice on Saturday, October 23 and there will be an additional matinee on October 24.
As Walt Disney used to remind us: Dreams can come true!
You might also be interested in...