Embracing Experimental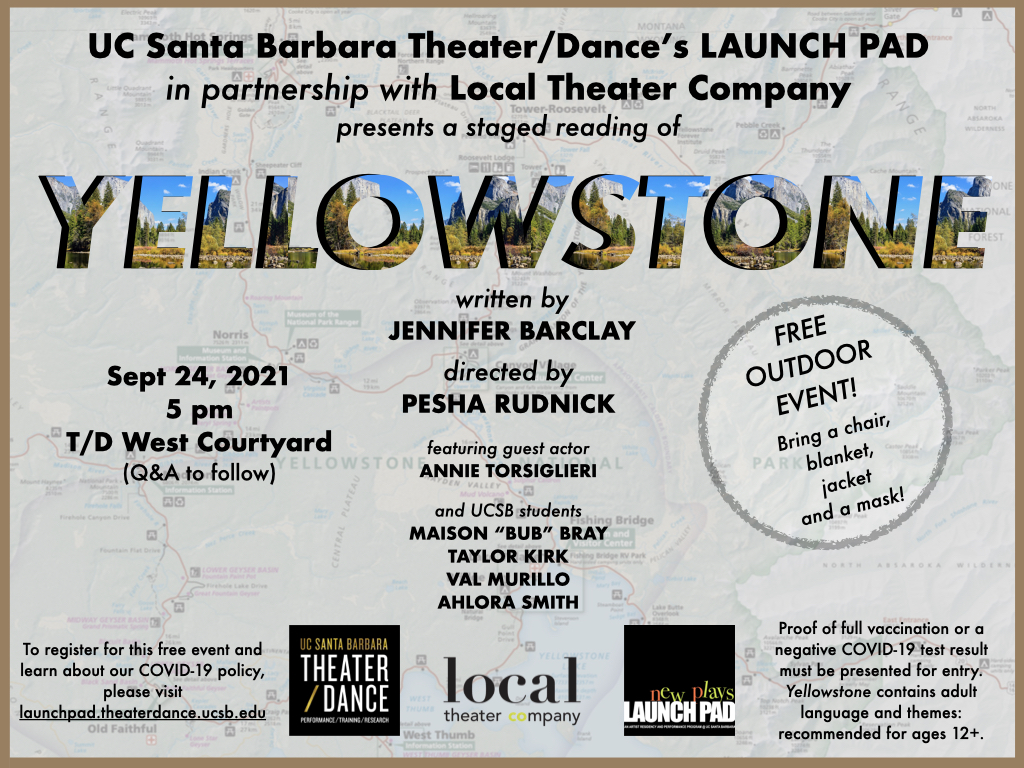 As the inaugural collaboration between UCSB's much-lauded Launch Pad artist residency and performance program with Local Theater Company, the Boulder-based leader in new play development, Yellowstone will have a lot of voices shaping its first-ever fully staged reading on Friday, September 24. But for playwright Jennifer Barclay, the process has been playing out for more than four years, as she first penned the dark comedy set at the border of Yellowstone National Park in Wyoming back in 2017.
That was right after Donald Trump assumed the presidency, and Barclay, who cites as her dual-purpose mission creating stereotype-busting roles for women in intimate socio-political stories meant to spark much-needed curiosity and empathy, was seeking a way through the pain.
"There was so much after the election that was beyond baffling and just so hard to understand," she said a few hours before rehearsals were set to begin on campus earlier this week. "The play was a big excavation of how someone can get to the point where they had those sort of values in what they're fighting for."
At first, Barclay said she wanted to explore the "sense of entitlement" among rural white conservative Republican men. But, she figured, it would be easier to hear those words through the voices and bodies of a multi-racial company of women.
Thus, was borne the idea of setting the action in the middle of a land-grabbing, fracking fight between a group of working-class Wyoming males portrayed by women of color as a way of actually embodying, not just considering, the opposing points of view.
"It was a way to shuttle juxtaposition between the people who are trying to marginalize and the voices in the bodies of the people who they are maybe terrified of and want to marginalize," said Barclay, whose earlier work Ripe Frenzy, which was developed at the 2017 Ojai Playwrights Conference, won a Smith Prize for Political Theatre from the National New Play Network.
The process certainly worked for the playwright, who said researching and writing Yellowstone — which is the first in a planned National Parks trilogy of plays from Barclay, who plans to visit all of them in her lifetime — helped her find an empathy for what is underneath the political positions.
"I have a greater understanding of how they got to that point where they feel like they are defending on a very gut and primal level," she said.
Barclay's ability to handle such hot button topics with humor is what drew Local Theater Company founding artistic director Pesha Rudnick to Yellowstone back in 2019, although a planned production was scotched by the pandemic.
"She was able to use absurdism to look at the very real threat of alienation in this country where everyone feels like they're on the outside," said Rudnick, who will direct Friday's staged reading. "She can make you laugh while you also find incredible compassion for all the characters as well as rage for some of the things that they express. It's brilliant."
A cast of four UCSB Theater students will be joined by Launch Pad contributor Anne Torsiglieri in not only performing the piece, but also hashing out the issues and offering feedback to the playwright for four days leading up to Friday's performance, when the audience will also have a chance to chime in.
"I've been craving being in with actors and an environment that is experimental," Barclay said. "I'm sure I'll learn a lot with the layering of the actors on top of the character and how it resonates and communicates. And I can't wait to hear what the audience reacts to."
The staged reading of Yellowstone takes place at 5 pm Friday, September 24, outside in the Theater/Dance West Courtyard on the UCSB campus. Bring chairs and/or a blanket. Visit https://launchpad.theaterdance.ucsb.edu.
Stages North and South
Pacific Conservatory Theater, which made its return to live theater this summer via a truncated, two-play season at the outdoor Solvang Festival Theatre, now makes two further forays toward post-COVID normalcy. PCPA's InterPlay Reading Series is not only returning to live, in-person productions, they're also doing it indoors, at PCPA's home base of the Severson Theatre in Santa Maria. What makes the season-opening offering worth the trek on Thursday evening or Saturday afternoon (September 23 & 25) is that the play in question, The Humans, might be new to the Central Coast, but has received plenty of attention back East, where Stephen Karam's one-act family drama won the 2016 Tony Award for Best Play. Meanwhile, the moving drama about the horrors of ordinary life and the love and kindness that can counter them has been adapted by its author into a movie that just opened last week to rave reviews.
Also getting a PCPA staged reading this weekend (Friday & Saturday at 7 pm) is Quack, Eliza Clark's 2018 comedy about a Dr. Oz-style TV medical guru whose wellness self-help empire is threatened by a take-down piece of journalism that goes viral. We can recommend this one not only because it glorifies our profession but also because the piece from the co-executive producer of TNT's Animal Kingdom has earned kudos from the Los Angeles Times. The September 24 reading will also be livestreamed. Tickets for all shows cost $10. Call (805) 922-8313 or visit www.pcpa.org.
Breaking the Code, a romantic comedy that represents the first non-historical fiction work from local author, playwright, and painter Claudia McGarry, has added an encore show to the run that was warmly received at both Center Stage and Namba Arts late last month. The interwoven story of five characters who each have codes they live by which they must transcend to lead more limitless lives performs at 3 pm on Sunday, September 26, at Namba. Tickets are $20. Call (805) 628-9250 or visit www.nambaarts.com.
Out of Town & Worth the Drive
Ojai-dwelling folk-rock legend Chris Hillman recounted his six-decade musical journey in last fall's memoir Time Between: My Life as a Byrd, Burrito Brother, and Beyond. Now the words come to life in a live event that combines Hillman reading excerpts as introductions to songs that cover, chronologically, every group that Hillman has been in, including Manassas, Souther-Hillman-Furay, McGuinn, Clark & Hillman, and the Desert Rose Band. Two of the principal players from that latter band – singer-banjo player Herb Pedersen and multi-instrumentalist John Jorgenson – join Hillman in the pair of concerts September 24-25 at Scherr Forum Theatre in Thousand Oaks.
Write On: Perform a Personal Story
Center Stage Theater didn't pause its popular Personal Stories programs during the pandemic, instead moving them into the virtual world. Now, the evening of original spoken word pieces performed by their authors is heading back to the black box space above Paseo Nuevo and once again needs participants. Hopefuls can submit short stories, monologues, poetry, or other prose that would span five to 10 minutes and, in deference to the depression induced by the pandemic, should perhaps tend toward positive, upbeat, humorous, inspiring, or otherwise fun and hopeful pieces, organizers say. Veterans and newcomers alike are invited to submit by the deadline of 10 pm on Monday, September 27. The performances at Center Stage Theater will take place November 4-7.
Meanwhile, the Public Library's SB Reads Poetry Contest closes this Friday, September 24, and community members are invited to write their own poem entitled "An American Sunrise" in honor of Poet Laureate Joy Harjo's poem of that name. Winners will have their poem featured at the SB Reads Kick-Off event in November. Details at www.santabarbaraca.gov/gov/depts/lib.
You might also be interested in...