Surf's Up! Dean Torrence Still Going Strong 60 years later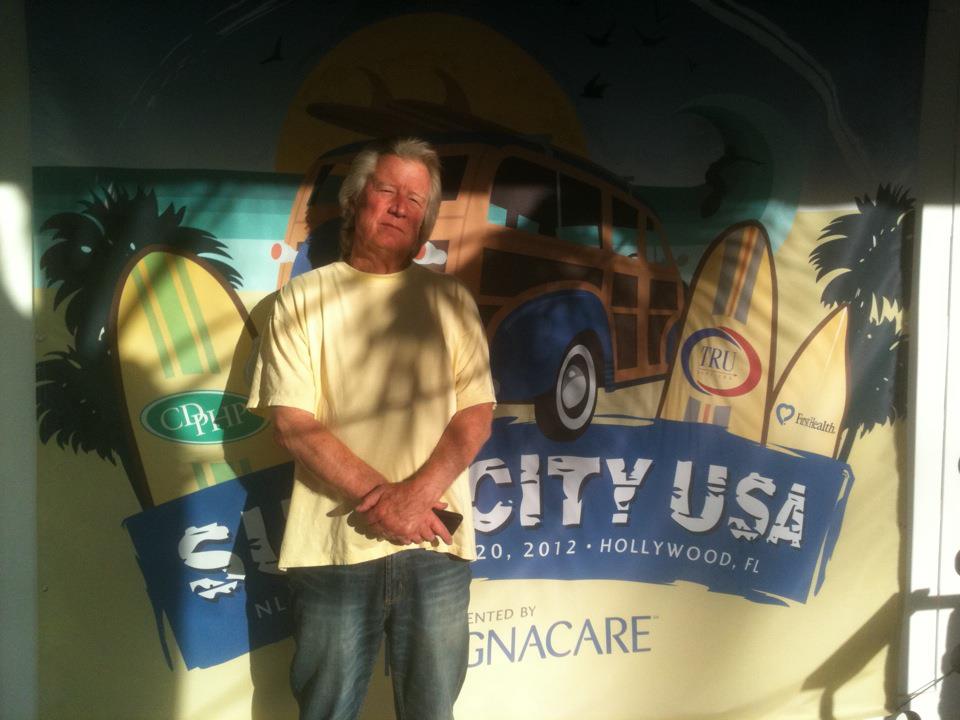 Although surf rock pioneers Jan & Dean first rode their surfboards and sang their tunes more than 60 years ago barely 90 miles south of Santa Barbara, Dean Torrence, the surviving member of the duo, can only recall playing in town twice before. Both times were at the Santa Barbara Bowl with the Beach Boys, longtime friends who had much more sustained success with the California-style harmonies than the duo; the band not only still frequently performs in Santa Barbara, a couple of the original members also made their home here.
Torrence, on the other hand, has been happily hanging around at his own home for the last several decades in Huntington Beach, the oceanside town he was instrumental in getting to officially adopt the nickname of "Surf City" in 1991. That, of course, is also the title of Jan and Dean's famous 1963 hit, which was the first surf song ever to top Billboard's Hot 100 singles chart.
"It was only after a journalist asked if I thought it was ironic that I was living in a town that was calling itself Surf City that the idea of helping them market it came about," said Torrence over the phone from Connecticut over Labor Day Weekend, where the Surf City All-Stars with Jan & Dean were to perform a private party on the beach.
"Now it's part of the name of about 200 businesses and events. I was in Trader Joe's the other day, and they have a big mural that says, 'Welcome to Surf City,' and our In-N-Out Burger is the only one that has a custom piece of art on the walls, so that's pretty cool."
The song was co-written by Jan Dean, Torrence's friend from high school long before the duo, along with Brian Wilson, the creative genius behind the Beach Boys. That partnership produced the most productive era for Jan & Dean. The duo scored 16 Top 40 hits on the Billboard and Cash Box magazine charts in a very short period of time. "Surf City" still gets lots of airplay on oldies and '60s rock stations, as does "Little Old Lady From Pasadena" and "Dead Man's Curve," which both came out in 1964. The latter song, though, proved eerily prescient when less than two years later Jan Berry (the other half of Jan & Dean) crashed his Corvette just a short distance from Dead Man's Curve in Beverly Hills, falling into a coma for more than two months and never fully recovering even though the duo once again toured about 10 years later, with Berry still suffering from partial paralysis and aphasia until his death in 2004.
That's when Torrence began touring occasionally with the Surf City All-Stars, as well as creating Jan & Dean's Beach Party in which Torrence fronts a band comprised of former and current members of the Beach Boys and the Brian Wilson Band. It's under the latter moniker that Torrence, now 81, will sing hits by Jan & Dean, the Beach Boys, and other surf songs and more at the Lobero on September 10.
The reason for surf music's continuing popularity eludes one of its early progenitors.
"I have no idea," Torrence said. "I think that a lot of it is because the music is attached to an era that's long past. I don't think we're ever going back to the simple life and the naïveté of the late '50s and early '60s. The songs are interesting and obviously people liked them, but I think it's also the period of time when our music is part of the soundtrack of your life."
Either way, Torrence is glad he gets to play the old hits up to 40 times a year, and only when he wants to get out and do shows.
"You know, truthfully, a lot of us are still grateful that people care about our music and show up for the concert," Torrence said. "It's actually pretty amazing. Here we flew across the United States to play for a guy's birthday and it's a dream come true for him. It's great to think that you can make somebody really happy and entertain his family and his friends. That's pretty special."
Grand Unveil
UCSB Arts & Lectures unveiled its 2021-22 season at a gala reception late last month, and while the schedule is surely truncated from the usual crowded calendar produced by the most prolific arts organization in town, the slate of just shy of 60 events (so far) is still quite remarkable both for its ambition and its breadth. Dubbed "Creating Hope," the season gets underway on October 10 with a lecture by Julián Castro that launches the Justice for All series, a sequel to last season's virtual-only Race to Justice series that includes several more lectures as well as appearances by Emmy and Tony Award winner John Leguizamo and violinist Jennifer Koh with singer Davóne Tines.
That first week also boasts freewheeling folkies The Wood Brothers and fellow returnees the Danish String Quartet, as well as Arturo O'Farrill and the Afro Latin Jazz Orchestra. November brings UCSB A&L favorites violinistLeonidas Kavakos and pianist Yuja Wang teaming up for a concert, while acoustic music lovers will thrill to December's appearance by new Americana Supergroup My Bluegrass Heart, featuring Béla Fleck, Sam Bush, Jerry Douglas, Stuart Duncan, Edgar Meyer, and Bryan Sutton, as well as January's return of The Punch Brothers. That's the same month that dance makes its season debut with Ballet Hispanico.
Single tickets went on sale September 8. Visit https://artsandlectures.ucsb.edu for all the details.
You might also be interested in...