Playing 'Day' at Night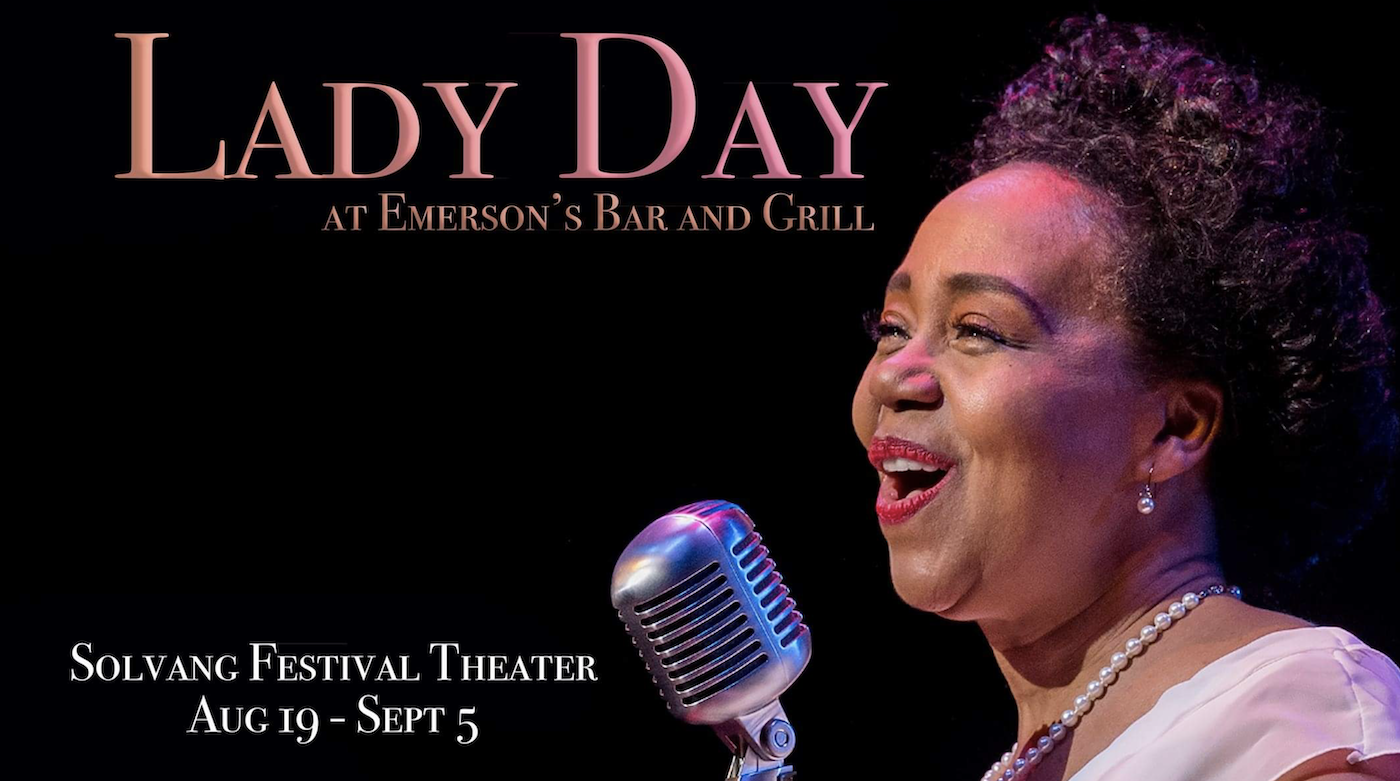 While PCPA Theaterfest's first show of the summer was a self-referential original revue celebrating a return to live performance at the Solvang Festival Theater, the season closer is tried-and-true. Lady Day at Emerson's Bar and Grill is a two-character musical that finds the legendary singer Billie Holiday performing in a seedy South Philadelphia bar in 1959 just four months before her death at 44. Accompanied by her pianist, Lady Day — who was a pioneer in manipulating phrasing and tempo and improvisational techniques — shares more than a dozen songs interspersed with salty, sometimes bitter, and often humorous stories from her life. 
The play was first produced 35 years ago and made it to Broadway in 2004 where Audra McDonald won her record-breaking sixth Tony Award for the production. In PCPA's production, which runs August 19 through September 5, Karole Foreman will reprise the role that earned her an Ovation Award for her portrayal of Holiday in Los Angeles, while Stephan Terry, who also won an Ovation for his Musical Direction, also reprises his turn as the pianist Jimmy Powers. Wren T. Brown, who directed the two previous productions, returns to helm the Solvang show, too.
Foreman, who memorably starred in previous PCPA productions of Fences and Caroline, or Change, talked about taking on the role again for a third time earlier this month.
Q. Were you a big fan of Billie Holiday before you played her on stage?
A. Growing up, my dad played a lot of jazz and had so many albums – Nancy Wilson, Ella Fitzgerald, and Sarah Vaughan. But I think we only had one by Billie Holiday. I remember when I first put it on, as soon as she started singing, I had to turn it off. There was just something about the sorrow in her voice that I didn't understand as a kid, and a complexity that I couldn't comprehend as well as a maturity in the topics and the situations. It was only later after I had an understanding of heartache, and the pain of racism that she would talk about in her songs, that I really began to appreciate her.
You're returning to portraying her not only for the third time in just a few years — with the same team, to boot — but also hot on the heels of the pandemic, which has had dramatically different effects on different social classes, and in the post-George Floyd era. How does that affect your view on the role?
Everything that we've been through in the past year, individually and as a nation and a culture reckoning with our past of how race has played a huge part in our development and our psyche, I'm hoping people will be able to listen to her story with more compassion and really see her resilience through it all. In spite of her drug addiction, and the systemic racism and abusive relationships she lived with, she was able to transcend those limitations through her artistry, which is extraordinary to me. That's also part of what we look up to culturally in America, people triumphing over seemingly impossible odds. It's a very American story and a very human one.
How does all of that — the politics, the passion, the injustice, the compassion — how does that show up in your approach to this role?
When Billy sings "Strange Fruit," she's talking about the lynchings, which were still happening in the South then. Now we still have Black people being targeted for violence. And there's an uptick in violence against Asian people because of all things, a virus. So, this fear of the other is still in us.
For me, it's really trying to get to the truth of her, which also means digging as much as I can for the circumstance, and what the playwright has given in terms of the dialogue that's on the page and having a specific understanding of where she's coming from emotionally, physically, her challenges and obstacles. This show is when she's not allowed to sing in the clubs in New York because of her drug conviction, but that's all she knows. It's the place where she is just a human being singing and having people respond to her. She's someone who needs and desires connection and love.
But there's also a beautiful vulnerability in Billie Holiday, which certainly comes out in her voice. Her way of escaping her pain was through her music. That was her liberation, her freedom, where she found her humanity. My director said that what attracted him to me in this role was my being able to have a vulnerability that was accessible and relatable. So, I guess it's there.
(For more information and tickets to PCPA's production of Lady Day at Emerson's Bar and Grill at the Solvang Festival Theater, visit www.pcpa.org or call 805-922-8313.)
You might also be interested in...