A Sense of Belonging: Private Clubs Add to Santa Barbara's Residential Appeal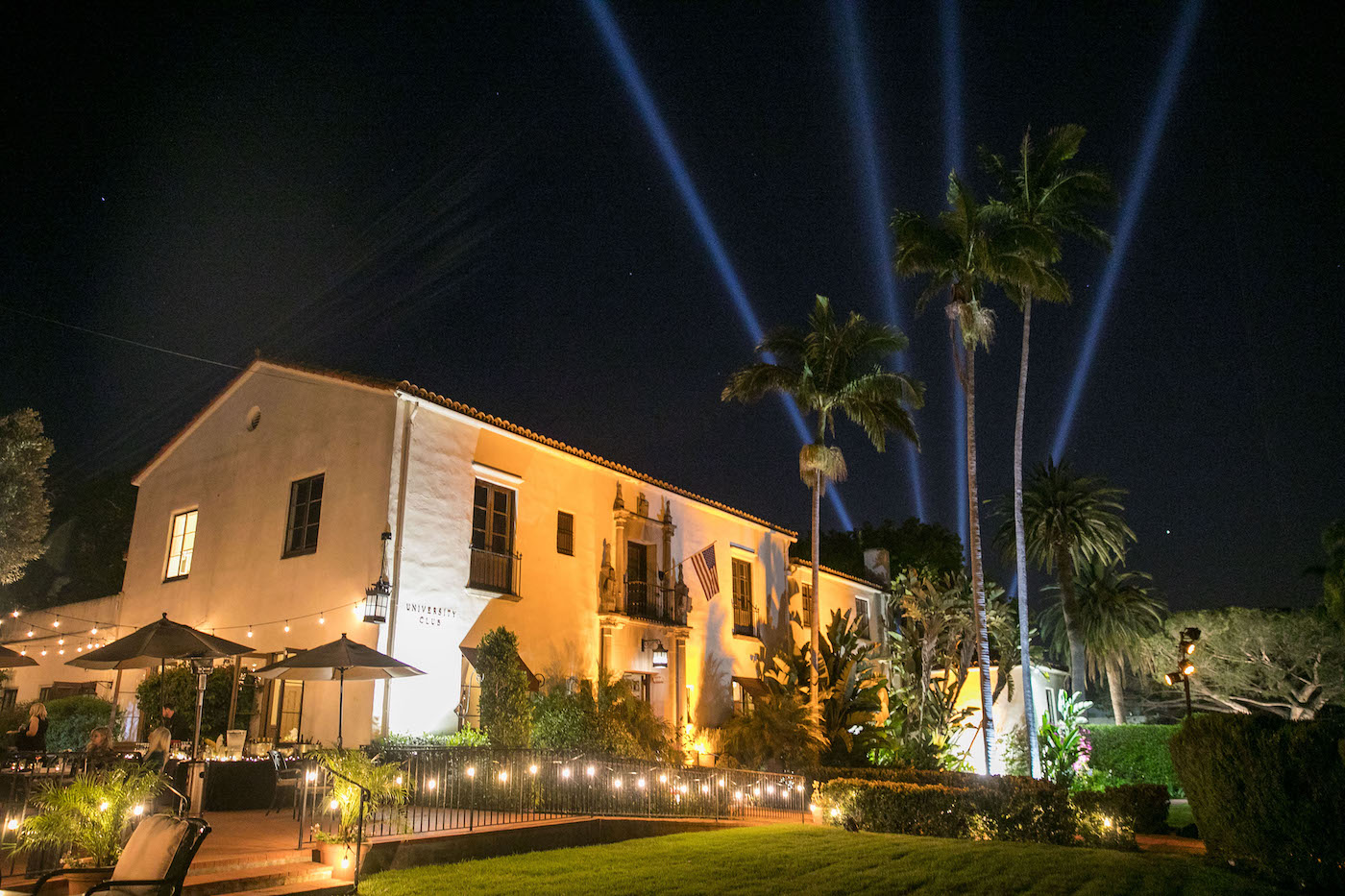 Among the unexpected silver linings of the pandemic? The fact that the appeal of living in Santa Barbara's South Coast has surged, and surged in a big way. An enclave like Montecito is not all that far from the urban sprawl of Los Angeles, where a pandemic-inspired exodus continues. But, as so many residents and visitors know, it is a world away. Indeed, the real estate gods – as inventory shrinks and prices balloon – are smiling.
But living in this treasured corner of the world is more than whether you can afford it, or the way it pretty much guarantees that your investment will grow. It's about the way that it offers so much more than you thought you needed, the way it never ceases to delight and the way it manages to enhance everyday life, every day.
The private clubs that call communities like Montecito and Santa Barbara home, it can be argued, have a lot to do with that appeal. At their core, they are havens for socialization, that all-important tenet of human interaction that, as another truth revealed by the pandemic, a community both needs and craves. They also aim to elevate their members' experience, to expand their horizons, through a bevy of innovative programs and curated experiences that range from the culinary and athletic to the creative and intellectual.
"For the majority of our clients, private clubs are definitely an amenity that they're looking for," says Natalie Grubb, a realtor with Village Properties' Grubb Campbell Group, and a resident of Santa Barbara for pretty much her entire life. "We'll ask them, 'What do you like? Tennis? Golf? Sailing?' And we can tell them, 'Yes, that exists here.'
"That's why we've seen such a huge influx of people wanting to move here full-time, not just part-time anymore," she adds. "They want to be part of a community, which has always been part of living in this area. But now there's even more than before."
Clubs tend not to make dues and fees public. For serious prospects, though, it's fair to say that membership is more an investment than an expense.
Up first, a spotlight on some of Santa Barbara's top social clubs.
The Santa Barbara Club
The oldest social club in Santa Barbara is probably the oldest private hangout of its kind between L.A. and San Francisco. Founded in 1892, the Santa Barbara Club features a clubhouse that holds both state and local historic landmark status and that has hosted distinguished community members and guests for decades.
"Our members are not trust-funders, but academics," says club manager Linda Spann, who adds that the waiting list for membership, which is by invitation only, has grown so big that the club's initiation fee recently went up.
There are three tiers of membership here, based on age: Regular (45+), Intermediate (31-44), and Junior (21-30). The foodie offerings have long been a calling card of the Santa Barbara Club; Chef Humberto Perez has helmed the kitchen for more than 20 years and makes everything from pastas to pastries in-house.
"We can serve more than a hundred meals on a Friday night," adds Spann, which are served either in the elegant Dining Room or the sprawling outdoor lawn.
Members have access to various interest groups, including a Breakfast Club, an Investors Club, and a Wine Group. The Club's Preservation Foundation allows members to make tax deductible donations to preserve the Clubhouse and other landmark buildings in town. The Club's Art Foundation aims to support contemporary artists by featuring their work through displays and exhibits. There are dozens of reciprocal clubs across the U.S., as well as globally, in countries like England, Mexico, and Thailand. santabarbaraclub.org.
The University Club of Santa Barbara
This has been a premier social club in the heart of Santa Barbara since 1919. Networking reigns supreme here, via an ongoing schedule of themed parties, mixers, and lectures, including large affairs during major community events like Fiesta. The club hosts various social clubs, too, like the Book Club and regular wine tastings. The property offers members free prime downtown parking, and the manicured gardens feature secluded patios and a firepit. There's a pool table in the game room, and the club regularly puts works by local artists on exhibit. The club's executive chef and culinary team have received high marks from discerning foodies for decades.
The University Club is one of the few clubs in town that's transparent about its fees. There are four membership categories, including the Junior category, for members ages 21 to 39, with a $1,500 initiation fee and $100 monthly dues. The Resident category for those living within 25 miles of the club, has a $3,000 initiation fee and monthly dues of $175. Members get access to more than 200 reciprocal clubs around the U.S. and the world. uclubsb.org.
Miramar Club
This is the members-only extension of the luxurious and elegant Rosewood Miramar Resort, offering members an oceanfront haven with myriad exclusive amenities.
"We like to think of it as laid-back luxury," says Hannah Rock, the hotel's social activities director. "You are getting that five-star experience, but it's more like a beach club than a formal private club."
Launched in May 2019, it's the newest social club in the area. Located next to the resort's signature Caruso's restaurant, the Club also enjoys a right-on-the-sand location and exclusive seasonal and regional menus crafted by the same Caruso's team, led by executive chef Massimo Falsini. The dining room touts airy, Art-Deco décor, an extensive private wine cellar, and an adjacent wood-panel piano bar that doles out myriad signature cocktails. Members have access to top-line athletic and spa facilities, as well as personalized concierge services.
"The club offers curated events and programming on a weekly basis that focus on culinary, retail, and family events," adds Rock.
The beach experience is exclusive, too, with private lounges and members-only food-and-beverage services. clubmiramar.com.
Coral Casino Beach & Cabana Club
The famous private club right on Butterfly Beach is part of Ty Warner Hotels & Resorts. Built in 1937, it was purchased by Ty Warner in 2000, in conjunction with his buy of the historic Biltmore hotel across the street. Both properties, shuttered in 2020 due to the coronavirus pandemic, remain closed.
The club's Signature membership includes access to an elegant waterfront location, complete with a pool complex that has a heated Olympic-size swimming pool, a whirlpool and a kids' wading pool, all surrounded by more than 200 chaise lounges and chair-side amenities that change hourly. Cabana rentals are available. The fitness center features state-of-the-art equipment, and a private gate gives members their own beach access. The sundeck on the third floor and the Living Room is for members only. Food and beverages are available at three locations, with Tydes Restaurant & Bar setting the bar for prime dining at the club. coralcasinoclub.com.
The Club & Guest House at UC Santa Barbara
The COVID-19 pandemic is keeping this unique club closed through the rest of 2021, with most of the staff reassigned to on-campus pandemic efforts. This iconic destination club, though, which was established in 1968, remains known as the "living room" of the UCSB campus. The Guest House, which was renovated in 2014 and features ocean views, emulates a 34-room boutique hotel. Stays are reserved for visiting scholars, families of students, and those on university business, as well as members. Continental breakfast is included. The dining room features gourmet lunch service, with a focus on locally and sustainably sourced food, and it's open to the public. The facility is governed by a Board of Directors. theclub.ucsb.edu.
Sports and an active, outdoor lifestyle are also inspirations for some of Santa Barbara's most sought-after clubs, most of them with an emphasis on golf, tennis, polo, swimming, and sailing.
The Santa Barbara Polo and Racquet Club
Polo pros from all over the world, including the royal variety, trot to this destination club, one of the oldest of its kind in the U.S. It features the country's longest polo season, too, with games hosted seasonally from May through mid-October. Games are free to the general public on Fridays, while Sunday games require tickets. Polo memberships come with exclusive dibs on mid-level and upper boxes, for prime viewing.
The club also operates its own polo school, the Santa Barbara Polo Training Center.
The social membership option comes with complimentary attendance at weekend polo matches, as well as invitations to special events throughout the year. Tennis memberships, which come with access to the club's eight courts, six of which are lit, and swim-and-fitness memberships feature use of the heated pool, jacuzzi, and fitness center, which features yoga and fitness classes.
Dining has received new focus, with the recent opening of the Fieldside Grill, which is open to the public every Wednesday through Saturday for lunch and dinner.
"We felt that because of our members and the condos on the grounds and the community around us, establishing a full-scale restaurant would be a welcome addition," says general manager David Sigman. "And the food is as awesome as the views."
Folded Hills, owned by former polo pro Andy Busch, is the eatery's wine sponsor. sbpolo.com.
The Montecito Club
One of the premier golf clubs in the area recently reopened, following the 100-year-old Spanish-style property's three-year, $75 million renovation and subsequent COVID closure. The property is part of Ty Warner Hotels & Resorts, which means members get exclusive access and discounts at luxe sister resorts like the San Ysidro Ranch, the Four Seasons New York, and Las Ventanas al Paraiso in Los Cabos.
The par-71 Jack Nicklaus Signature Course was designed around the property's natural undulating elevation and boasts sweeping views of the Santa Ynez Mountains and the Pacific Ocean. There's a bowling alley in the all-ages clubhouse known as The Hideout, as well as a 21-seat Dolby Atmos movie theater with a 16-foot CinemaScope screen and concession area. The state-of-the-art fitness facility features Peloton machines and private training. The 25,000-square-foot pool complex has two lap pools, a kids' pool, a whirlpool, and bar service.
Members can host special events, like weddings, in the ballroom, the Great Room, with its 12 Baccarat crystal chandeliers, or the sprawling 20,000 square foot lawn. Fine dining is available in the clubhouse, which also features a library and wine rooms, and is helmed by new chef Alex Bollinger, a Montecito native whose three decades of experience includes collaborations with names like Tyler Florence and Charlie Palmer. The Signature Membership comes with full club access, while the Connoisseur Membership also includes privileges at the Coral Casino. montecitoclub1918.com.
The Valley Club of Montecito
Opened in 1929, the Valley Club features a deluxe 18-hole, par-72 golf course. Designed like an hourglass, the course, along with bunkers, have undergone extensive renovation after the 2018 mudslides. Other amenities include tennis courts and prime onsite dining. The clubhouse features a living room and inner courtyard. Elegance and privacy rank high here, as well as a strict dress code for anyone ages 12 and up. valleyclub.org.
Birnam Wood
There are more than 140 private homes inside this exclusive, gated property along East Valley Road, the oldest ones dating back to the early 1970s. Membership to the Birnam Wood Golf Club gives access to the par-70 course, which was designed by Robert Trent Jones, Sr., opened in 1968 and features Bermuda grass. The clubhouse hosts rotating members-only social events as well as daily gourmet dining options. There are six tennis courts here, too. bwgc.net.
La Cumbre Country Club
Set on the outer edges of Hope Ranch, La Cumbre Country Club dates back to 1916. It would go on to close for 10 years after World War II, due to waning membership, but it has remained an exclusive haven ever since its reopening in 1957. The 150 shady acres feature a celebrated 18-hole golf course, with various uphill and downhill targets, as well as six championship tennis courts. The social offerings range from card games and tournaments to seasonal parties. Lunch and dinner are offered, with an emphasis on to-go menus during COVID; Sunday champagne buffets have long been popular. The club features multiple membership options. lacumbrecc.org.
Santa Barbara Yacht Club
It's all about preserving maritime tradition at this club, which, founded in 1872, is the second oldest yacht club on the West Coast. This is a popular spot on Wet Wednesdays, when dozens of boats take part in several races. Kite boarding draws crowds on Fridays. Food and beverage services are available, including the popular Monday Luncheon Forum, which draws members and their invited guests. Club members are also stewards of the Breakwater Flag Project, which showcases the flags of many of Santa Barbara's nonprofit groups. Prospective members do not need to own a boat, but they do need endorsement from multiple sponsors. sbyc.org.
Knowlwood Tennis Club
Located in the heart of Montecito, this club for tennis lovers dates back to 1970. The programs are family oriented, with a bevy of private and group lessons for kids as young as four, and they're open to non-members, too, though at higher pricing. The club features 10 courts, including two clay courts, as well as a swimming pool. www.knowlwood.club.
Santa Barbara Tennis Club
Open since 1971, this sports club features 12 tennis courts and various training sessions for adults and juniors. There's an aquatics program, too, with a 25-yard regulation pool that's kept at 82 degrees, and a 10-person jacuzzi. The fitness center features yoga and Pilates studios, and the café offers a varied menu and caters various events throughout the year. Local artist receptions are presented the second Friday of every month. "At this point, we have a pretty long waitlist for membership," says managing partner Amber Bottelsen. santabarbaratennisclub.com.
You might also be interested in...