The Bowl is Nearly Back, and Rick Boller Reveals What to Expect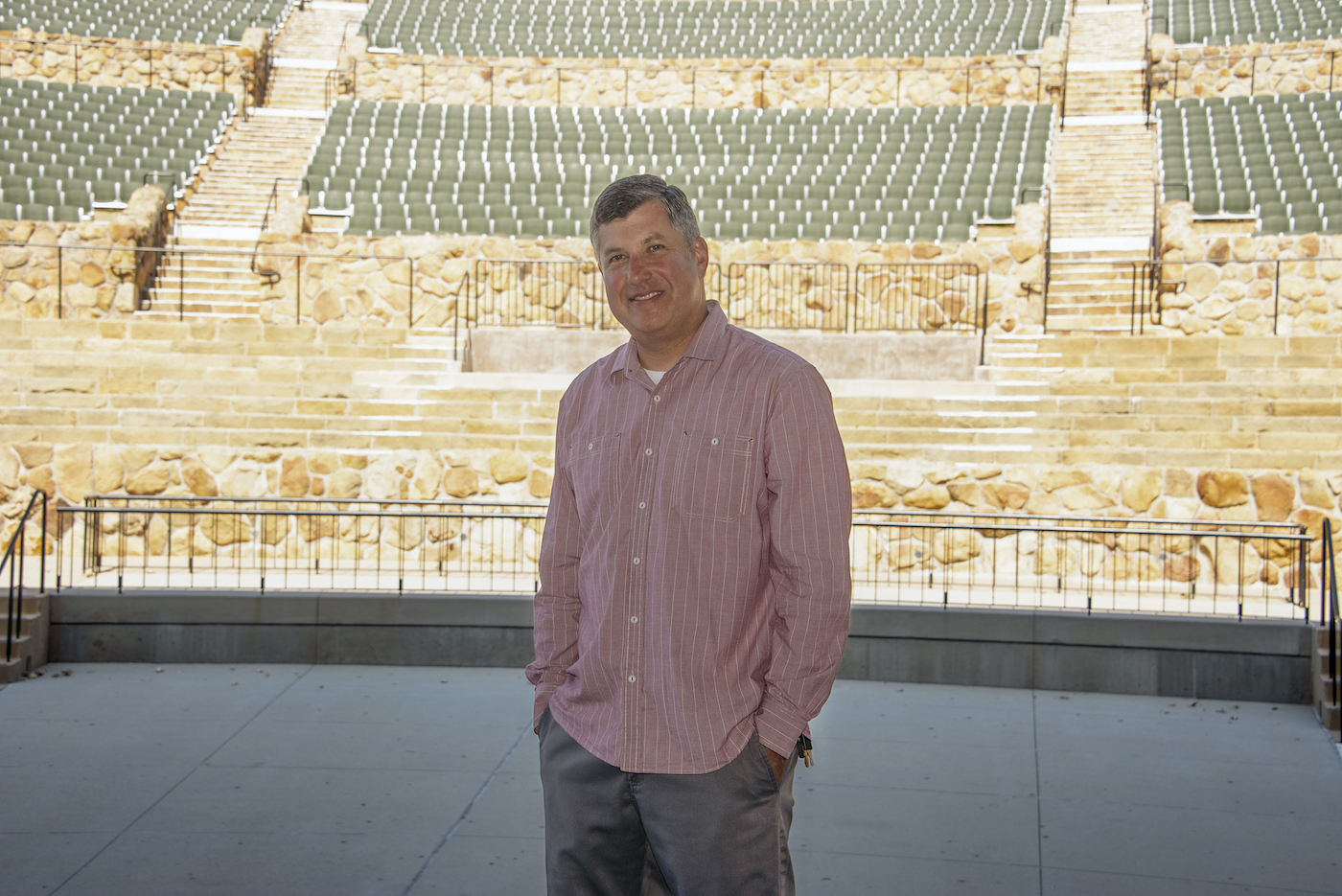 This Our Town series interviews top venues in Santa Barbara, Ventura, Ojai, and Los Angeles about their reopening strategies. Before we dive into the Santa Barbara Bowl's plan, it's important to understand the landscape in which larger venues must function.
On June 15, the State of California in conjunction with the California Department of Public Health (CADPH) and the Centers for Disease Control and Prevention (CDC), updated its Public Health Orders effective June 15 through October 1, 2021. Most of the rules regarding lockdown, masks, and social distancing were negated with limited restrictions based in CDC guidance on masking, mega-events, children, youth, and K-12 schools. Mega-events are defined by capacity — 5,000 indoor and over 10,000 outdoor, including staff and vendors — regardless of being seated or not. This is the law for all of California, however, local governances can have stricter guidelines. At this time, Santa Barbara County has adopted the CADPH reopening guidelines.
In April 2021, applications for the Shuttered Venues Operators Grant (SVOG) were completed, and awards are now drizzling out. The grant was signed into law December 2020 as part of the second COVID-19 Relief Bill December 2020, formerly known as the Save Our Stages Act, thanks to the National Independent Venue Association (NIVA), who lobbied for it in Congress.
The program allocates $15 billion in federal emergency relief via the Small Business Association (SBA), with a total of 14,884 applications submitted nationwide requesting $11.7 billion, seemingly creating a non-issue for all recipients receive their grant request given they meet the eligibility requirements — with a few billion left over. As of July 6, 4,222 grants have been awarded at $3.2 billion, California receiving 592 grants totaling $477,591,939, with more relief on the way.
Sound like music to your ears? Indeed, the Santa Barbara Bowl (SBB), slated to reopen in full capacity mode the week of August 21, is highlighting their "Know Before You Go" program encouraging guests to check the website event page regularly and on the day of, for any updates. It's been super busy for the Bowl during lockdown, with infrastructure updates, community Education Outreach support and getting ready to open.
We caught up with Rick Boller, the executive director of the Santa Barbara Bowl, to talk about what patrons can expect for the upcoming season:
Q. What will the requirements be for attendees as you reopen?
A. We are scheduled to reopen the week of August 21 with a series of comedy shows and then we roll into our season from there, starting September, currently with 20 concerts on the books. Previously there were a few concerts from 2020 scheduled for June and July of 2021, and now those have been moved, with hopes to reschedule future dates as artists decide on their future tours.
There was lots of discussion around the reopening protocols in getting back to business. What we have seen based on the guidance and rules from the state and the local health department, the size of our venue and since we are outdoors, vaccine and testing verification will not be required. Masks are not required for fully vaccinated guests and are required for unvaccinated guests. Moving forward, we will be adhering to whatever the rules are at the time the shows arrive.
What is the ticketing procedure?
We moved to all mobile ticketing, like many facilities are doing. It provides an improved experience for patrons, secures the ticketholder's seat(s), is faster for check-in, prevents ticketing fraud and resale, and we can use it to update real-time information for events directly to the ticketholders. Shows are being sold at full capacity.
What operational areas are set up for guest safety?
It's really important to us that our patrons feel safe on all levels, we've always wanted to provide a safe place to attend shows. We added hand sanitizer stations and will continue having attendants in all restrooms with ongoing cleaning throughout the event. The cleaning process for the seating areas used prior to pandemic has been updated to include wands to sanitize the seats and adjacent areas before the concerts. Food, beverage, and merchandise will continue to be available in the traditional locations in the Jerry Garcia Glen, Venue Concession Plaza, and Scranton Overlook. Capacity for the venue is just under 5,000. In addition, Bowl staff and volunteer totals for each event is approximately 300.
What protocols are in place if a guest reports back they have COVID?
If we are put in that position… there are so many variables to that, and it's hard to speak to all the situations. The goal is essentially to contact all the folks via the ticketing information. We would work with the CDC and whatever we need to do.
What are the procedures for entertainers and their crews, as well as anything new in their contracts for the venues to provide?
Our partners at Goldenvoice are responsible for booking the events and contracts with the entertainers. Contracts have been updated to match current guidelines, depending on the artist, some are stricter than others. We will, of course, honor special requests for sanitizing the stage, gear, and green rooms as needed. Any additional procedures for stage crew could be dictated by the artist, and we will continue to follow CAL/OSHA Guidance for Workers and Employees.
Where is the Bowl at with their Shuttered Venue Operational Grant application?
We applied within the first two hours of the applications being accepted online in April. In the beginning, the Small Business Association (SBA) was too inundated to keep up with status updates due to the volume of requests. Now, we receive weekly notices and have been notified that our application has been received and is under review, and we are optimistic.
The potential grant amount is calculated by the SBA based on the information provided from our financials and organizations do not get to request a specific amount. It's based on very real numbers; SBA compares year over year for loss in specific areas. The application was fairly robust, and we estimate we are in the second or third priority tier for awards.
The interesting component of this process for nonprofits are their fundraising efforts, which are also taken into account.
What other types of grant funding did you receive? Are you applying for PPP2?
We applied and received the first PPP loan from Montecito Bank & Trust, which we were grateful for. Throughout the pandemic, as an organization, we committed to keeping our team of 16 staff. It was important to our board and to me to be able to retain our staff so when we did come back online, which is now, we'd be ready to go.
Traditionally operating costs have been paid for from the show income, and fundraising efforts applied to outreach programs and capital improvements. For the first time ever, because of the pandemic, we began actively raising funds for operations and now are fundraising to replenish our operations reserve of approximately $1 million. Fundraising efforts also continue to fund our outreach programs and capital projects. We had a lot of amazing support from our donors in the community, although it still did not make us whole.
What projects were done and in the works during lockdown?
We built a most necessary storage area and retaining walls to the left of the stage that blends in with both the stage architecture and landscaping, it's almost unnoticeable. But it's great because that area had a mudslide issue we corrected, and the new storage building can hold everything we stored at the back of the stage, like folding chairs and extra gear.
We also repainted in black the entire stage back wall and production grid, which was a huge maintenance project for us.
To our green venue initiatives, we completed the first two phases of a major solar project. Adding solar panels on the Spotlight and Overlook building roofs and have plans for a third phase during the next offseason.
During this time, we have continued to invest in many local youth performing arts organizations and programs through outreach grants and initiatives such as the Instrument Fund.
Any great takeaways during this lockdown experience?
Yes! We are a member of NIVA, which has been such a great resource for all the venues, I can't say enough positive things about them. They've been so good to get us the SBA SVOG and beyond. All the communication going out to the venues, it brought us together in a tight way, with venues become closer during this time; it's a cool thing. Many have operated independently for so long, and my peers that I wouldn't see very often, I'm in contact with regularly. All the venues were going through the same things, we all want to survive, and we are all here for the same reason. I think it's important that all the venues support each other.
You might also be interested in...