'Everything I was Involved in Just Disappeared' Violist Richard O'Neill Relishes Being Back on Stage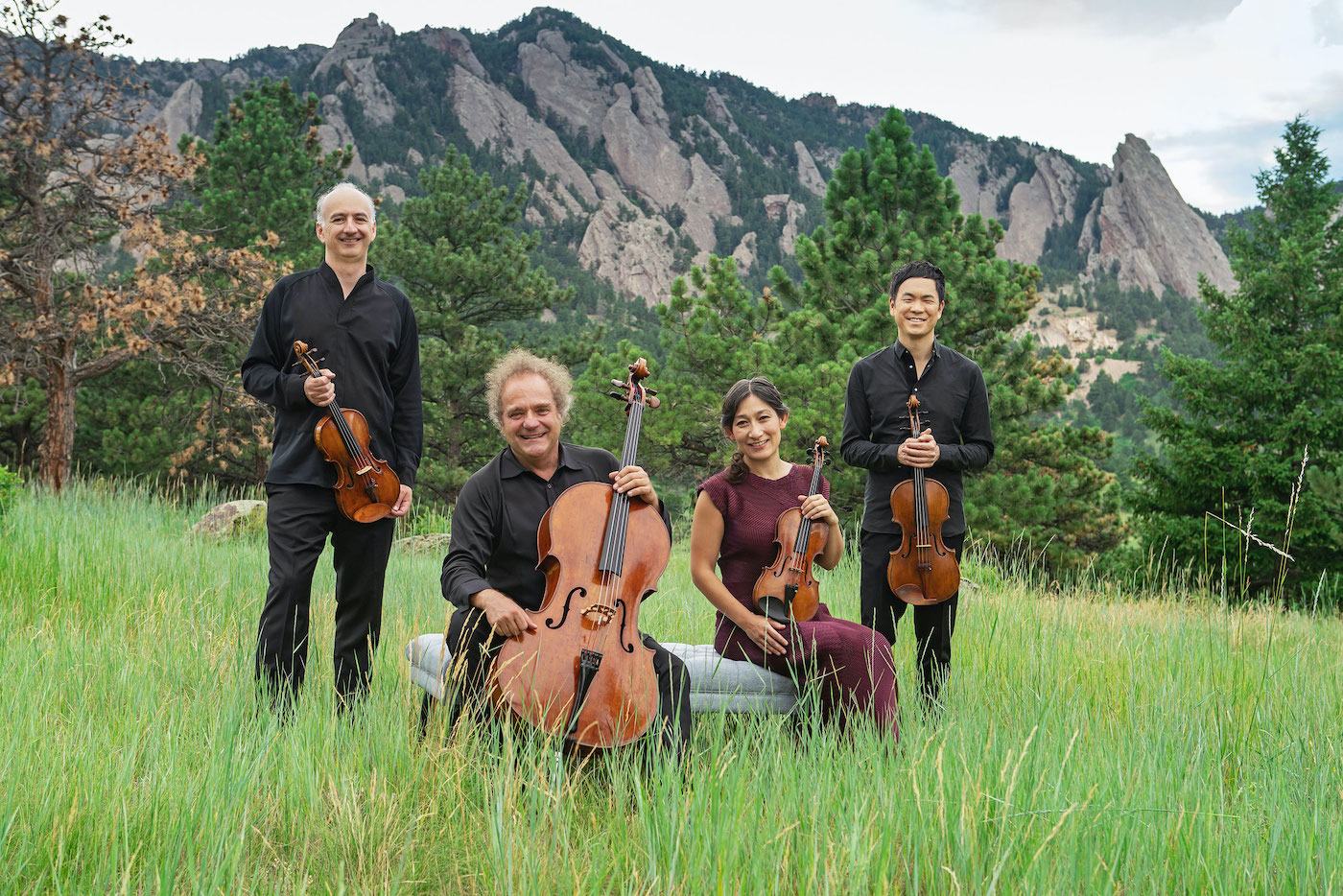 Life since March 2020 has been a whirlwind of activity and emotion for violist Richard O'Neill. Like everyone else, he was deeply affected by the pandemic, as precautions shut down all the arts worldwide — "All my concerts, solo projects, summer festivals, and everything I was involved in just disappeared, like they'd been written on one of those white dry erase boards," is how he colorfully put it earlier this week. 
But O'Neill also experienced a jumble of other feelings over the period that encompassed joy as he reached new heights in acclaim, including winning his first Grammy Award — for Best Classical Instrumental Solo Performance, no less — this last winter (although that recording also had its dark moments), started a new coveted position in the Takács Quartet, and received the Music Academy of the West's Distinguished Alumni award just last Saturday.
On the downside, though, he never had a chance to say goodbye to Santa Barbara's chamber music ensemble Camerata Pacifica after more than a decade as the principal violist, while, due to the Takács' residency in Boulder, Colorado, he also had palpable proximity to another tragedy — O'Neill had just departed the King Soopers supermarket shopping center only 10 minutes before the shooting that left 10 people dead last March began.
O'Neill's and the Takács' residency at MAW this summer continues with a quartet master class this week leading to the String Quartet Showcase on July 20, the Takács Quartet's recital that features Brahms' "String Sextet, Op. 18," side-by-side with two fellows, plus Schubert's "Death and the Maiden quartet," and O'Neill's viola master class on July 27. The violist talked about MAW and the changes in his life over the phone earlier this week.
Q. What stands out for you in emerging from the pandemic?
A. Zoom presentations were very intimate and a total savior, but there's nothing like walking into a hall and seeing all the people. You can't replicate that experience of all that energy – it's a magical, wonderful thing. So, when I got to play in Korea last year after only two months of lockdown, I couldn't keep it together. I lost it at the end of the concert and started crying and I felt a little embarrassed. But being able to play for people again was just such an emotional thing.
Can you talk about your experiences in joining the Takács last year?
It's been a dream to get into a quartet ever since my days as a fellow at MAW during my formative years when I was encouraged by several professors to take the more risky route, the solo and chamber music route, and not to settle for the more traditional, secure career for a violist with a principal job in an orchestra. I've been listening to the Takács since I was a child, and they're one of the world's great string quartets of all time, an institution that has lasted 46 years. They have a direction, and their Beethoven recordings won a Grammy. I actually auditioned for the position back in 2004, but it wasn't yet to be. Now I'm just so excited to dedicate my time to learning that repertoire with the same people always together and rehearsing, exploring some of the greatest music ever written, even though I'll have to do an even bigger juggling act with the solo work.
I imagine it would be hard to sum up your time with Camerata, but I have to ask.
I was supposed to give my last concerts in May 2020, but they got canceled of course, so I hope people don't think I just disappeared… What to say about Camerata? First, (founder) Adrian Spence is really one of our community pioneers, who built the ensemble from the ground up. Some of my dearest friends and favorite collaborators are here. I keep asking (violinist) Ani Aznavoorian to play with me at other places because I miss her so much. Camerata, too. Hahn Hall is like my home away from home. It's really special and I'm going to miss the concerts here very much.
How was it to receive MAW's Distinguished Alumni Award last weekend?
It's been a year of really dark surprises and then some sublime happy ones, too. The Grammy was very unexpected. And the MAW award, I think of all those who received it before me — Burt Bacharach, Marilyn Horne, Thomas Hampson, Cynthia Phelps — my dear beloved colleague and the principal in the New York Philharmonic — my teacher Donald McInnes … It's just like a Who's Who list of people who are pioneers and institutions. So, as I said in my acceptance speech, I feel like I have never left the Music Academy. I'm like a 42-year-old fellow. I'm still learning and I'm still listening and I'm still trying to evolve every day. To think of all the musical giants that have walked those grounds … It's really staggering what MAW and the community have accomplished as far as keeping musical excellence alive in the world. So, this award is really such an honor, and it means everything to me.
What does winning the Grammy represent for you?
This was my third nomination, but a violist has only won one time before (in this category), so when my name was announced, I was floored, completely speechless… Having the recording academy honor you is special because it's recognition from your peers, not some secret board. The composer of the concerto wrote it in 2001 when we were both living in Manhattan and I think 9/11 really altered the course of the piece, so it's really quite dark in some places, but it has a hopeful absolution. It's a wonderful nod for the viola, which is important because to this day, the viola still has a stigma as an orchestral instrument only. I really have tried my best by premiering lots of pieces and playing anything that's good. But I think things are finally changing.
This Week@MAW
Thursday, July 15: A virtual virtuoso performance, Steven Isserlis, the widely acclaimed cellist who boasts a distinguished career as a soloist, chamber musician, educator, author, and broadcaster, is the first of this year's Mosher Guest Artists to perform, albeit via video projection on campus. Isserlis, who gives most of his concerts on the 1726 Marquis de Corberon (Nelsova) Stradivarius, will play Bach's "Solo Cello Suite No. 1 in G Major" and Bloch's "Suite No. 1 for Solo Cello." He'll also be joined by pianist Sophia Rahman, who has recorded concertos with the Scottish Ensemble and the BBC National Orchestra of Wales among others and made 30 chamber music discs, for Dvorak's "Four Romantic Pieces, Op. 75." (7:30 pm; Hahn Hall; $10 & $40)
Friday, July 16: This X2 recital features works by two of the most popular composers in classical music, plus a reading of a brand-new piece. Carlos Simon's "Warmth from Other Suns," which will be performed by a string quartet composed of faculty cellist Alan Stepansky with three fellows, was inspired by Isabel Wilkerson's similarly titled book about the mass exodus of African Americans leaving the rural South to seek homes in the urban West, Midwest, and Northeast between 1916 and 1970. Other commissions for Simon, a recipient for the 2021 Sphinx Medal of Excellence, which recognizes extraordinary classical Black and Latinx musicians, have come from the New York Philharmonic, Los Angeles Philharmonic, Los Angeles Opera and Philadelphia Orchestra, among others. His 2018 string quartet, Elegy, honoring the lives of Trayvon Martin, Michael Brown and Eric Garner, recently performed at the Kennedy Center. Mozart's "String Quintet in C Minor "(with faculty cellist David Geber) and Beethoven's "Piano Trio in D Major, Op. 70 'Ghost'" (with faculty violinist Martin Beaver) round out the program. (7:30 pm; Hahn Hall; sold out)
Saturday, July 17: Michael Tilson Thomas — founder and artistic director of the New World Symphony, Music Director Laureate of the San Francisco Symphony, and Conductor Laureate of the London Symphony Orchestra, which is in the fourth year of a historic partnership with MAW — makes his long-awaited, in-person Music Academy debut. The esteemed conductor-composer leads the fellows-powered Academy Chamber Orchestra on a rich program anchored by Brahms' "Serenade No. 2," with Mississippi-born composer William Grant Still's "Patterns" and Wagner's "Siegfried Idyll" serving as the meaty appetizers. (7:30 pm; Granada; $10 & $55)
Sunday, July 18: This streaming-only recital for the X2 program features two works each featuring two faculty members side-by-side with instrumental fellows. Violinist Jorja Fleezanis and horn player Julie Landsman sit with a fellow violist, bassist, bassoonist and horn player for Mozart's "Divertimento No. 7 in D Major" followed by husband-and-wife faculty violinist Glenn Dicterow and violist Karen Dreyfus joined by fellows Emma Lee on cello and León Bernsdorf on piano for Dvořák's "Piano Quartet No. 2 in Eb Major." The concert takes place live at Hahn Hall but is only available via livestream online as part of MAW's hybrid season. (5 pm; $10)
Monday, July 19: The complete program for this all-fellows chamber concert in Hahn Hall — perhaps think of it as a picnic concert sans the picnic — has yet to be announced. But the fellows' fare will include Gershwin's rarely heard "Three Preludes for Trombone Quartet" and Janáček's "Mládí," scored for six wind players. (7:30 pm; Hahn Hall; $10)
Tuesday, July 20: The works being played by the 12 string fellows who comprise this year's String Quartet Seminar are still to be determined, but the honing movements are under the guidance of the in-residence Takács Quartet and faculty and visiting teaching artists. With that sort of coaching, it would be naive to expect anything short of a scintillating show. (7:30 pm; Hahn Hall; sold out)
Wednesday, July 21: The first of only two Vocal Institute master classes is led by Daniela Candillari, the conductor whose recent and upcoming debuts include Matthew Aucoin's "Eurydice" with the Metropolitan Opera and "Fire Shut Up in My Bones" with Lyric Opera of Chicago, and leading the New Works, Bold Voices Lab with Opera Theatre of Saint Louis and Operatic Encore with the St. Louis Symphony Orchestra. Candillari has a strong interest in contemporary work in many different genres, as evidenced by her leading the world premiere of Stefania de Kenessey's opera Bonfire of the Vanities at Museo del Barrio in New York and workshopping Rachel Peters' and Royce Vavrek's opera Wild Beast of the Bungalow at the Center for Contemporary Opera. To coach the fellows in the master class, Candillari will be taking a brief break from her main work this summer at MAW conducting the Vocal Institute's upcoming multimedia piece, "Online: 21c Liederabend, op. MAW, Part I," for singers and instrumentalists co-directed by Beth Morrison and Paola Prestini. (3:30 pm; Hahn Hall; $10) … Two-time Grammy Award-winning MAW alumna mezzo-soprano Sasha Cooke ('02) — who is sought after by the world's leading orchestras, opera companies, and chamber music ensembles for her versatile repertoire and commitment to new music — is joined by pianist Kirill Kuzmin in an exclusive video screening recital from the Mosher Guest Artist. Debussy's "Les chansons de Bilitis," Berlioz' "La Mort d'Ophèlie," Rossini's "Giovanna d'Arco," "Three Selections from Twelve Poems of Emily Dickinson" by Copland, and Kamala Sankeram's 2020 work "Listen" comprise the program. (7:30 pm; Hahn Hall; $10 & $40)
You might also be interested in...