Taking on the Challenge: Rachleff Leads MAW into Uncharted Territory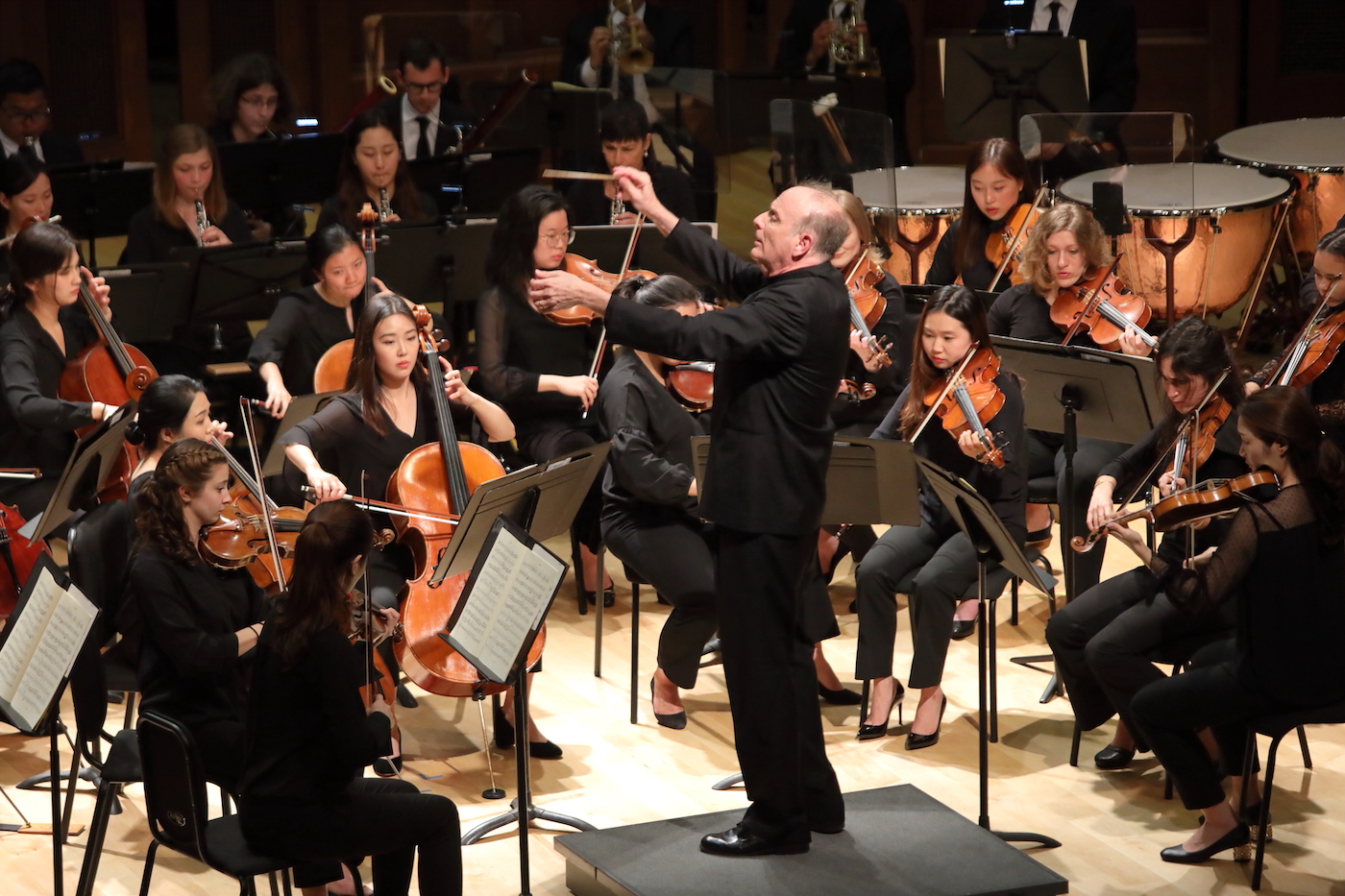 Imagine stepping in to lead a fully established orchestra with your wits and a baton your only weapons to mold the symphony musicians into at least a shared vision for a performance. That's the job of most visiting conductors who travel the world for one-off concerts.
Now imagine coming to an organization where the players themselves, as many as 100 strong, have barely just met each other, having also just arrived from locations around the world. That's Larry Rachleff's job for most of the past 10 summers at the Music Academy of the West, where the music director of the Rhode Island Philharmonic and director of orchestras at Rice University's Shepherd School of Music has served as the first conductor of the season, shaping the members of MAW's fellows-powered symphonic ensemble for the rest of the festival.
Finally, contemplate that the vast majority of this year's roster of MAW instrumental fellows have not even sat in an orchestra setting for more than 15 months, ever since the arrival of the COVID-19 pandemic foreclosed in-person gatherings around the world, shutting down universities and professional orchestras alike. That's what is confronting Rachleff as the assorted musicians are assembling in proximity to each other for the first time this week while also getting acquainted with and rehearsing a challenging program for a single performance on July 11.
Fortunately, Rachleff is well-equipped for the mission, having molded the MAW musicians — the vast majority of whom are either pre-professional or just launching their careers — with his enviable combination of encouragement, empathy and enforcement every summer since 2010, save, of course, for 2020.
But this year is different.
"I really do wonder how long it will take for congealing," Rachleff said on the cusp of getting together with the fellows for the first time this past Monday. "In past years, I always knew that it took a certain amount of time but that somewhere there was going to be a moment when we would jump over the hurdle and all of us would be in the driver's seat. No doubt it will happen again this summer. Given the protocols, the question is when."
That's because, despite the lifting of all restrictions on physical separation and mask-wearing for people who are vaccinated, the Music Academy is maintaining stricter protocols, even though everyone associated with the festival — fellows, faculty and staff — have been inoculated.
"Whereas before we could just fill up the Granada with human beings sitting right next to each other, now there are restrictions on the number of people who can be on the stage as well as the distance that they must be from each other, especially in the wind and brass sections," Rachleff said. "To have the orchestra more spread out with fewer people adds an extra challenge."
Rachleff already has some experience with those issues, as Rice, which is located in Texas, lifted most of its restrictions earlier in the year and the conductor was able to put together a handful of concerts featuring socially distanced students.
"You can't just throw up your hands and give up," he said. "You make the environment your environment and find ways to sound good. But it takes time."
While Rachleff and the fellows have only a week, the program was picked to give all the instruments as much exposure as possible to help steer the fellows toward quickly connecting, he said.
The concert opens with Katy Abbott's "Punch," representing the West Coast premiere of the three-minute fanfare for brass ensemble that the composer notes came from considering concepts of home and connection to nature.
"It's only a couple of minutes long, and it's very accessible and celebratory, a very friendly way to return to the stage and welcome the audience, while also offering a lot of important pedagogical work for the conductor as teacher," Rachleff said.
Mozart's "Symphony No. 39 in E-flat Major, K. 543" follows, a classical work that Rachleff said "helps establish the art of orchestra playing — the kind of listening, ensemble breathing, intonation, rhythm … the execution of stylistic awareness that helps create the foundation for the summer."
The concert closes with Stravinsky's "Firebird Suite," a late substitution in the program when MAW altered its protocols to allow for more players to be on stage at the Granada.
"We needed to find a piece that uses percussionists, harp, piano, winds, and has more activity for the brass so nearly every instrumental fellow could perform," Rachleff explained. "Normally when you do the 'Firebird Suite,' you'd also have quite a voluptuous sized string section, but we can't have them all on stage at once, so we have to make it work as best we can."
While the compromises and conditions do post a challenge for the conductor, Rachleff's attitude veers much more toward awe and gratitude at being able to have the fellows' orchestra featured on such a fiery program in the first place.
"This might sound strange coming from a conductor, but perhaps more important than it sounding spectacular — which is still very important — is just that it's happening," he said, then paused for a few moments. "Human beings are together making music again. I'm getting goosebumps just thinking about stepping onto that stage at our temple at the Granada and seeing all those faces out there in the audience. That trumps everything."
This Week @MAW
Monday, July 12: Chi-chi Nwanoku, OBE, the founder and artistic and executive director of the Chineke! Foundation, the first professional orchestra and junior orchestra in Europe to be made up of a majority of Black and ethnically diverse classical musicians, delivered the Innovation Institute keynote address during the fellows' virtual-only first week of the summer festival. Today, everyone is invited to hear what classical music and society itself might take away from the pandemic via a streaming presentation of the talk from Nwanoku, who has been described as nothing short of a visionary (5 pm; free with digital ticket)…. Also tonight: the Solo Piano fellows produce their own Steinway-fueled fireworks as the five keyboardists – who include returning 2019 alumni Alexander Lee Agate and Arthur Wang — make their first concert appearance of the summer (7:30 pm; Hahn Hall; $40 [sold out])
Tuesday, July 13: Talented apprentices make music with master mentors as MAW's X2 makes its debut. Featured fellows perform alongside faculty members in the new for 2021 series on campus in the intimate Hahn Hall. Works include Jessie Montgomery's "Strum," Rachmaninoff's "Trio Élégiaque No. 1 in G Minor" and Mozart's "String Quintet in G Minor," encompassing nine young players along three faculty members in all. Even those without tickets can come early for a free percussion pop-up performance at 6:45 pm outside of Hahn Hall (7:30 pm; $55 [sold out]).
Wednesday, July 14: Today's Chamber Music master class is led by the Takács Quartet, the veteran ensemble founded at music school in Hungary that is now entering its 47th season, remarkably still featuring its original cellist, András Fejér. On the other hand, the violist is brand new, as Richard O'Neill — recent MAW faculty member and the former principal of Santa Barbara-based Camerata Pacifica — signing up last year just as he was releasing his Grammy-winning solo CD. Violinists Edward Dusinberre and Harumi Rhodes round out the foursome that will focus on the fellows' ensemble playing skills this afternoon (3:30 pm; Hahn Hall; $10)… In an X2-style concert that doesn't fall under the new series' umbrella, pianist Jeremy Denk — a rare winner of both a MacArthur "Genius" Fellowship and the Avery Fisher Prize who was also recently elected to the American Academy of Arts and Sciences — will perform with a trio of fellows in a French-themed program that includes Faure's "Piano Quartet in C Minor, Op. 15." The theme reflects the fact that today is Bastille Day, France's version of the national holiday America celebrated 10 days ago. Vive! (7:30 pm; Hahn Hall; $55 [sold out]).
Thursday, July 15: Virtual virtuoso Steven Isserlis, the widely acclaimed cellist who boasts a distinguished career as a soloist, chamber musician, educator, author and broadcaster, becomes the first of this year's Mosher Guest Artists to perform, albeit via video. Isserlis, who gives most of his concerts on the Marquis de Corberon (Nelsova) Stradivarius of 1726, will play Bach's "Solo Cello Suite No. 1 in G Major" and Bloch's "Suite No. 1 for Solo Cello." He'll also be joined by pianist Sophia Rahman, who has recorded piano concertos with the Scottish Ensemble and the BBC National Orchestra of Wales among others and made 30 chamber music discs, for Dvorak's "Four Romantic Pieces, Op. 75" (7:30 pm; Hahn Hall; $40).
You might also be interested in...