Mike Gould's LunchBoxing with Lasers Exhibit at MOXI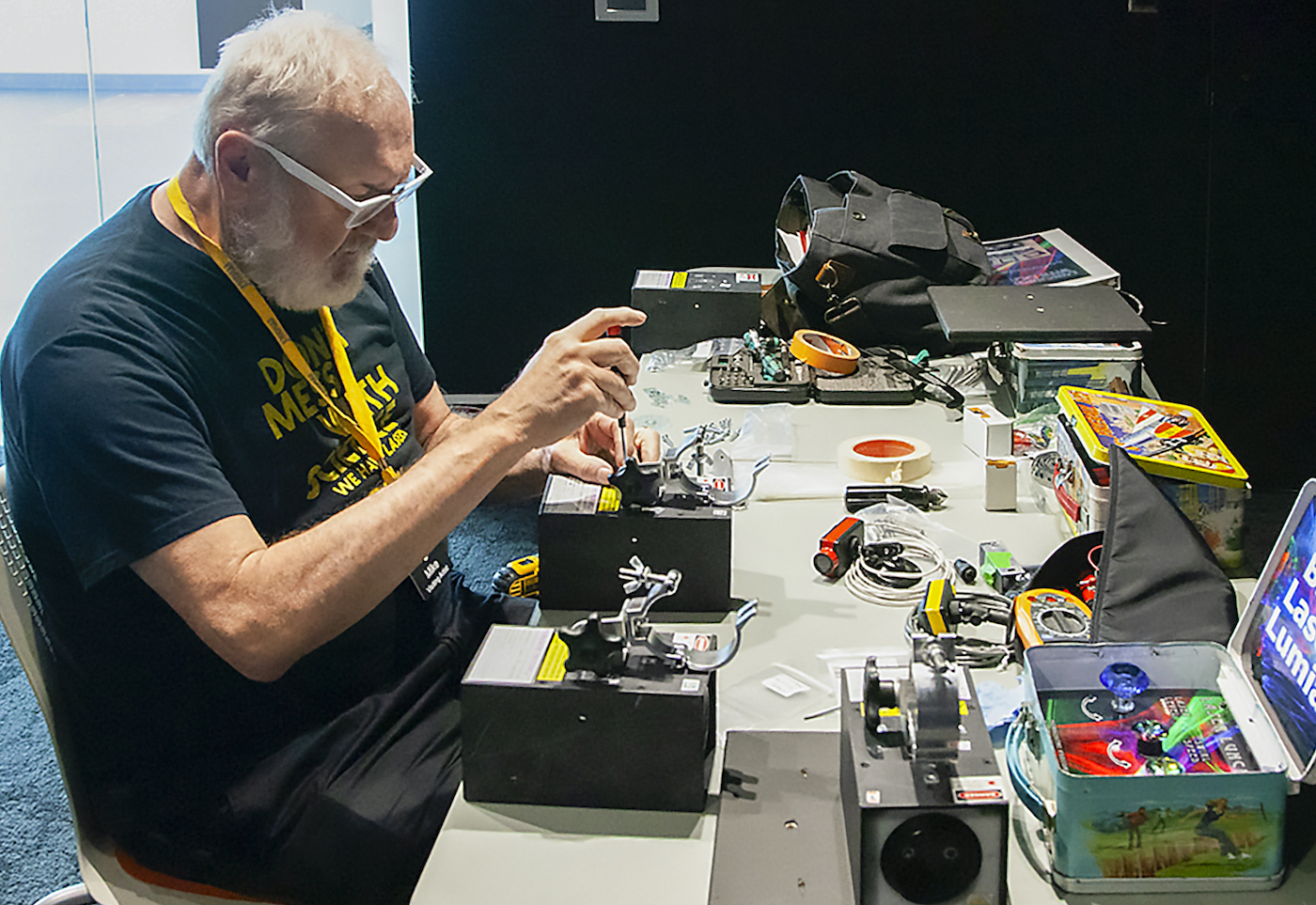 MOXI, The Wolf Museum of Exploration + Innovation, came out of lockdown this month, featuring its newest interactive sci-art exhibit titled, "LunchBoxing with Lasers," by veteran laser artist Mike Gould. 
Found on the second floor in a darkened room, the lasers are constantly creating a moving visual, with varying brightness, shapes, and speeds. The lasers are in the primary colors of red, green, and blue. Their intersecting appears to create secondary colors, however, as my interview with Gould reveals, there is more to that than meets one's eye.
The viewing wall, in lieu of a screen, is painted with a special matte black substrate to allow for non-scattered, non-reflected light. The laser exhibit is accompanied by original music by Ken Kozora. Interactive participation is via three lunchboxes mounted on podiums, for the red, green, and blue lasers. Each lunchbox has three controls — brightness, speed, and a "munge" dial that controls a servomotor so that the diffractive element moves in lockstep with the twisting of the dial by the operator, giving an immediate response to yield a different pattern.
I met with Robin Gose, MOXI president/CEO, and Simon Mused, exhibits manager, to talk about life after the pandemic. Mused just created that morning a beta version ChromaDepth diffraction lens mounted in a handheld holder to create an artificial visual depth while viewing the lasers, like 3D glasses.
"A visit to MOXI is a jumping off point to further exploration and experimentation," Gose said. "With this laser exhibit, perhaps visitors will want to experiment with light beam diffraction, or they might think about how they could take something static and make it move, or they might think about how they could create their own piece of art from a found object and make it interactive."
Afterward, I held a Zoom interview with Gould, who has been turned on to laser art since 1967 at Kalamazoo College where he majored in freshwater biology and studied lighting FX in Europe with friend Charlie Davis.
Here is a Q&A with Gould:
Q. How is the laser design at the MOXI formatted?
A. Since 2018, we have been using short-throw projectors to accommodate exhibit spaces. We start with laser diodes, set them up with controlling circuits and dedicated wiring to the lunchbox controls. The laser projectors are a 4 x 4 x 7.5-inch extruded aluminum that house the diodes and are mounted to the ceiling pipes with standardized theatre mounting.
The lenses I use for the Lumia are special diverging lenses to make the patterns to fill a short-throw projection space, its analog, there are no computers or digital programming involved.
You have multiple talents; tell us more about your musical interests.
I play bass, slide, 12-string and acoustic folk guitar, write songs, sing, and have played in various bands. I had a recording studio with 2-, 4-, and 8-track analog recording for local bands and gave most of the gear to a local teen learning center in Ann Arbor. Now I have a rehearsal space for jam sessions with my buddies next to my office.
What's next for your team?
The city of Chicago asked us to bid on a light art display, and we have started getting private corporate events. My wish is to get picked up by a corporation to develop this technology further, so we are hoping to get a sponsorship from some laser-related industries. •MJ
411:
LunchBoxing Exhibit, now through Sept. 12, 2021
www.mikegouldlaserartist.com | www.illuminatuslasers.com | www.moxi.org
MOXI is located at 125 State Street in downtown Santa Barbara
You might also be interested in...