Wildling Museum Collab with SBC Trails Council & Healthy People Healthy Trails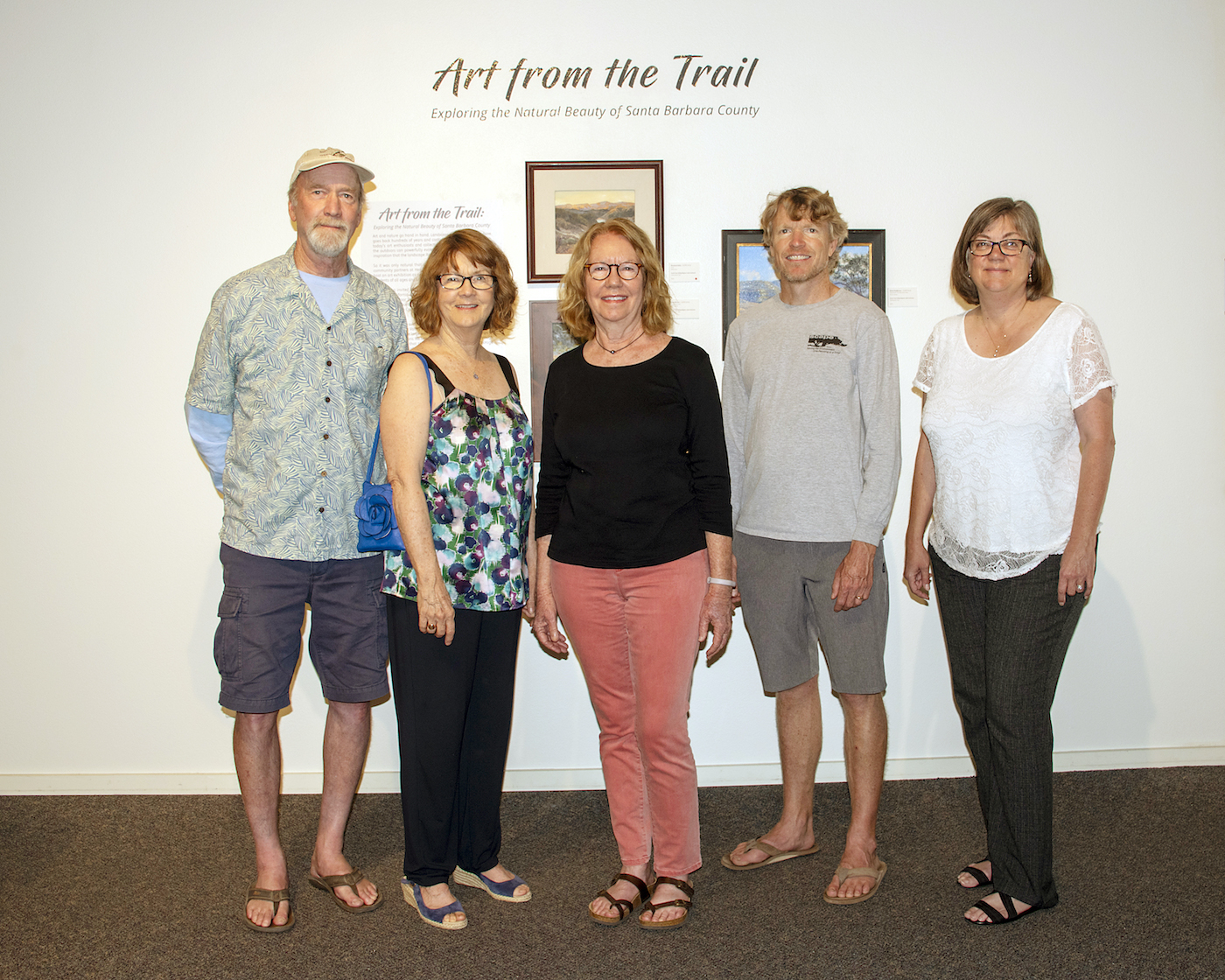 The Wildling Museum's Valley Oak Gallery current exhibit, "Art from the Trail: Exploring the Natural Beauty of Santa Barbara County," is a collaboration of Stacey Otte-Demangate (Director of the Wildling Museum), Margaret Weiss (Health Education Director, Sansum Clinic, Steering Committee for Healthy People Healthy Trails SB) and Mark Wilkinson (Executive Director of SBC Trails Council).
To get locals involved, they are hosting a weekend artist meet-teach-greet at the museum on June 26 and 27 from 11 am to 2 pm with artists Libby Smith and Kevin Gleason.
Trails depicted in the art represent Santa Ynez Valley, the Carpinteria Bluffs, Lake Los Carneros, Ellwood Mesa, La Purisima State Historic Park, Lake Cachuma, Santa Maria, and Lompoc Valley.
"For this exhibit, Mark gave us the list of trails for the artists to paint to ensure the entire county is represented," Otte-Demangate said. "The selection committee was myself, Mark, Margaret, Lauren Sharp (Wildling Museum Assistant Director) and artist Holli Harmon (Wildling Exhibition Committee Chair).
"Some trails are well-known, others less so. I learned about the Burton Mesa trail in Lompoc through a painting in the show, explored it last month and was really inspired by the many gorgeous manzanita trees I found, similar to the ones in the exhibit painting. The works are for sale with a price range of $275 to $1,500."
With the arts out of lockdown, I viewed the exhibit in person. Four of the 27 artists in the show were at the gallery: Smith, Gleason, John Iwerks, and Susan Belloni.
Smith's two 8-by-10s, oil-on-panel works, "Lake Los Caneros" (Stowhouse Property) and "La Purisima Trail" clearly exemplify her ability to balance a focal point using light and weight with a landscape. She taught painting and drawing for 31 years at SBCC and seven years at the SBCC School of Extended Learning. She shared, "Los Carneros means 'the rams,' we can only guess that this area was used for grazing sheep many years ago. On this particular morning, I was in the park with two painter friends. We were looking for a place to paint out of the fog and decided on Los Carneros. We hoped to catch a bit of sun, shadow, and some color in the spring mustard that was just starting to bloom, captured in the work."
Belloni is a SCAPE artist, using acrylics on a sheet of 22-by-29 Arches etching paper, which she cut out a 16-by-20 section, framed and titled it, "La Patera Entrance to Los Carneros." The acrylics on etching paper yielded a washed look, still holding points of high contrast. She said, "On a clear summer day, I found the composition and color I liked at Lake Los Carneros consisting of a peachy-buff dirt trail, dark shadows in the trees and our beautiful lavender blue Santa Ynez Mountain range with its distinctive sandstone outcroppings. I hiked over the Montecito end of the mountains, from the Biltmore Hotel up Hot Springs Trail, past Montecito Park and down the other side to camp out, and paint."
Circling over to Iwerks dreamy yet constructed 10-by-18 watercolor painting titled "Ellwood Mesa Path," he told me he paints with his 140-pound Arches watercolor paper pad on his lap the entire time, rarely up-ticking the work when he gets home. The best appreciation of his work is to go across the room for viewing where it, as all great watercolors do, immerses one into a new depth perception. A teacher of Art and the Environment at SBCC Adult Ed and a member of the OAK Group Santa Ynez, he said, "I am inspired by the trails at Ellwood Mesa for the wind-swept coastal trees bending from the salt air of the sea, a far-reaching grassland cover, and that it is contiguous with the Devereaux dunes and salt marsh. The underlying geology tells its own story of marine deposition, uplift, compression, and erosion."
Gleason has two 8-by-16 oil on fine linen, titled "The Ellwood Bluffs" and "Lake Los Carneros," giving a large nod to his love of Japanese style painting, and I would add, in a Eugène Henri Paul Gauguin post-impressionist mode. An art teacher at Dos Pueblos High School, he said, "There's nothing I love more than exploring a new trail or discovering the way the light and seasons are coloring a familiar one. Painting outdoors allows me to really slow down and observe a place intimately and to try to capture the moment in shapes of color."
The diversity of styles is a show of strength, leaving a little something for everyone.
"When people spend time outdoors, they are more likely to be active. Being in nature, whether it is on the beach, in the mountains, at a city park, or in your own backyard, has the added benefit of improving mood," Weiss said. "From the Carpinteria Bluffs to the Santa Maria River, the art features places to enjoy nature and many are close to home."
"We are delighted with the new exhibit because it celebrates the value and importance of trail access to nature," Wilkinson added. "Collaborating with the Wildling Museum has resulted in an innovative way to encourage more people to get outdoors all across the county."
Indeed, let's get out in nature and over to the show to support local artists and our trails.
411:
www.wildlingmuseum.org
(805) 686-8315
https://sbtrails.org
https://healthypeoplehealthytrails.org
You might also be interested in...