Bringing Back the Beatles: ETC Music Benefit Honors the Fab Four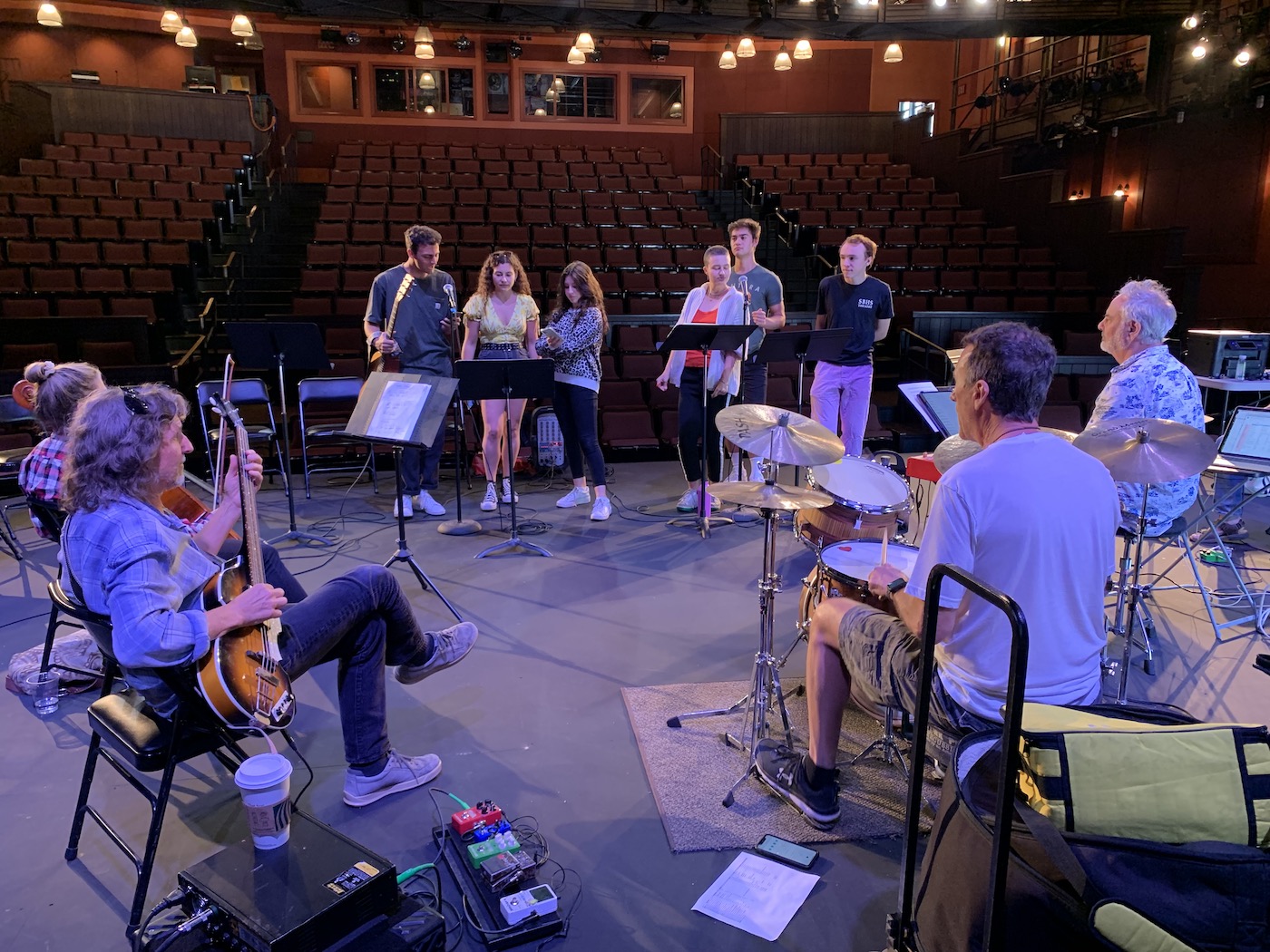 For Ensemble Theatre Company's education director Brian McDonald, the theme for this year's fundraiser for the ETC's education and outreach programs was a bit of a no-brainer: "Come Together." After all, the title of the Beatles song from their penultimate album provides the perfect prescription for emerging from a pandemic that has kept people apart for more than 15 months.
Choosing to focus on the music of the Fab Four for the July 3 benefit concert at Godric Grove in Elings Park celebrating the long-awaited return of communal entertainment wasn't a hard choice anyway, McDonald said.
"Everybody loves the Beatles," he said. "Their songs are so upbeat and fun, and they have had such an impact on people over the years."
There's also some symmetry in the six singers who will be sharing the stage over the 22 songs on Saturday afternoon. Daniel Brackett, Cassidy Broderick, Ben Catch, McKenna Gemberling, Hunter Hawkins, and Emerson Steady have been a part of ETC's Young Actors Conservatory and/or other local youth theater organizations in town over the last few years, including taking on several starring roles at ETC itself. Each is also headed either to further their studies in colleges as prestigious as the Berklee School of Music or down to Los Angeles to launch a professional career. They'll be backed by an all-star band of local stalwart musicians put together by keyboardist Brian Mann — who has previously coached or worked with all of the singers — and featuring guitar, bass, drums, and cello.
Fittingly the Beatles themselves were barely older than the six young vocalists performing on Saturday. So, it also makes sense that the host for the 75-minute show is Ivor Davis, the Ventura-based journalist who got to know John, Paul, George and Ringo up close and personal when the then-West Coast correspondent for the London-based Daily Express was assigned to travel with The Beatles for the full month-plus of their first U.S. tour, which began two days after their appearance on The Ed Sullivan Show in February 1964 that ultimately launched Beatlemania in America.
Davis will share anecdotes from that iconic road trip in between medleys. Hopefully, there won't be the sort of incessant screaming the band had to endure in 1964 when the half-dozen local young singers belt out selections from the Beatles' songbook so the audience can hear such numbers as Hawkins' solo rendition of "I Wanna Hold Your Hand" as a torch ballad, which promises to be a showstopper.
Davis, whose book called The Beatles and Me came out on the tour's 50th anniversary in 2014, talked about the experience during a rehearsal break at the New Vic last Sunday.
Q. You were there at the beginning of the Beatles in America. How is it to be on stage now sharing anecdotes with a new set of singers two generations later?
A. It's always a joy to work with young people because it's amazing that they are singing the Beatles with such passion and joy half a century later. I do conventions and cruises and I talk about my fun with the Beatles and young people come up to me after to talk about their music. It's remarkable and I know the Beatles all feel the same way.
You were on the road with the Beatles for close to six weeks. How well did you get to know them?
I was there from start to finish. I was on their private jet every night, and riding in the second limo. We were all living in hotel rooms next door to each other, and they were trapped because it wasn't safe for them to go outside. I became part of the family, and it was amazing. I'd just walk into the room and start talking with them. You'd never have that kind of access today. It was quite a journey because the crowds just kept growing and getting more and more wild.
What were they like to be with off the stage?
You have to remember they were very young, callow guys who were suddenly famous. Paul was always a charming schmoozer. John was provocative and he used to needle you. He loved to call me "Ivan The Terrible," and when I corrected him he'd say, "Nope. You're Ivan." George was a bit reticent and didn't say much. And Ringo was a nice guy. They were young men feeling their oats and they were charming, and they were nice, and I never saw them fight. But by the end they were a bit frustrated. John would say, "We never saw America. We saw hotel rooms and the inside of a jet." He didn't like all the girls screaming and drowning out the music. They couldn't even hear themselves. He'd say "We're like freaks in the circus and I don't like it. I want them to hear our music."
Why do you think the Beatles' music has thrived for so long?
It just still sounds totally fresh, even for new generations. And it's so diverse. They started with bubblegum music and then all of a sudden when (producer) George Martin came in they suddenly became something entirely different and creative. You really can't say that about anybody else.
FYI
What: ETC's "Come Together" concert benefitting its education programs
When: Saturday, July 3 at 3 pm
Where: Godric Grove in Elings Park, 
1298 Las Positas Road
Tickets: General admission tickets cost $50, or $25 for youths 18 and under
Info: www.etcsb.org
You might also be interested in...