A Time For Reinvention
Opera Santa Barbara won't ease back into action, instead taking on a first-time production of Das Rheingold at the Lobero Theatre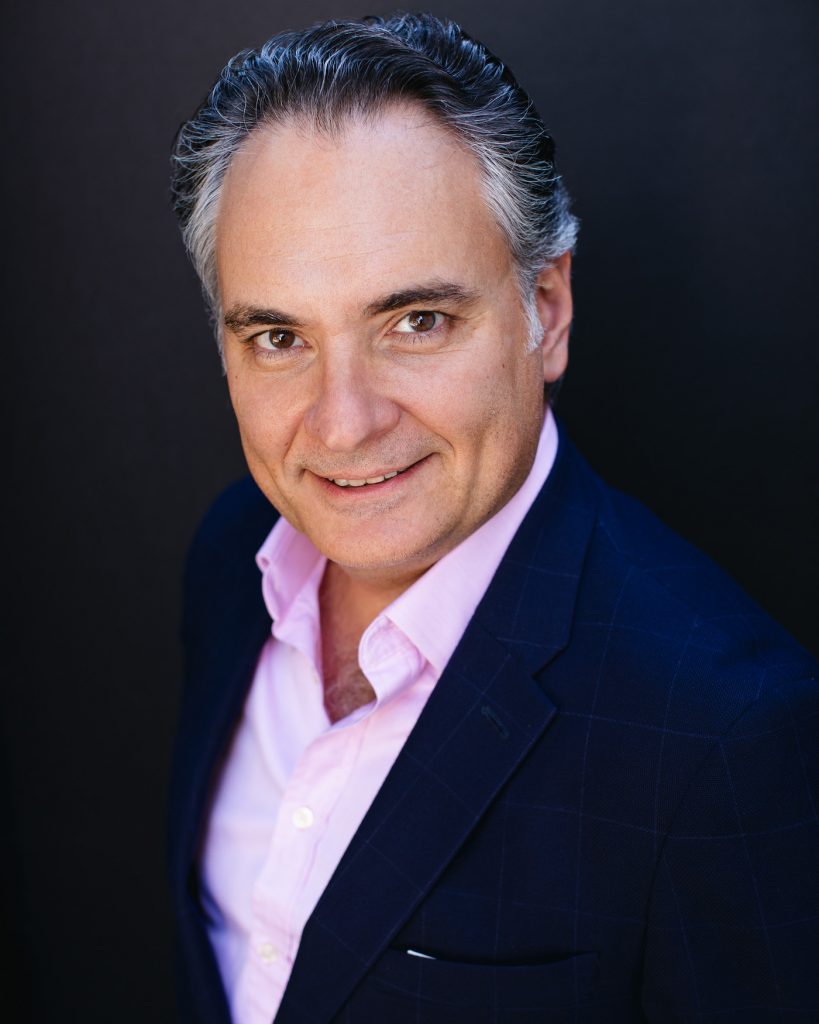 Anyone who thought Opera Santa Barbara might ease its reentry into live indoor operas with something out of the standard repertoire clearly doesn't know Kostis Protopapas very well. OSB's artistic and general director has been pushing the envelope for years, and the 15 months of shutdowns during the pandemic didn't dampen his spirit as Protopapas tried everything from singers on its State Street office balcony to a holiday variety show at the Lobero to two productions at the Ventura Fairgrounds as part of the Concerts in Your Car series.
Now with the restrictions lifted, Protopapas and crew are returning triumphantly to the Lobero with Santa Barbara's first staging of an under two-hour adaptation of Das Rheingold, the first opera of Richard Wagner's famous Ring Cycle. Graham Vick and Jonathan Dove's 1990 re-telling condenses the massive work into a 110-minute battle between gods, giants, and dwarfs, who struggle for the possession of a golden ring that bestows universal power on its bearer. The "pocket-sized miracle" has been praised by critics as "ear opening" and "imaginatively fresh," with a plot that unfolds with a pace more characteristic of film and an orchestral reduction that rings true to the essence if not the scope of the original score.
Late last week, the ebullient Protopapas shared his take on the piece and OSB's production, which will be performed only once, at 2:30 pm on June 27. Visit www.operasb.org for tickets and safety protocols.
Q. This is your first time conducting Wagner. Why now? And why is Das Rheingold the right piece for OSB's re-emergence?
A. Well, it's been on my list for a long time. I saw this adaptation a few years ago, and I thought that it would be a great fit for us because it made it possible for smaller companies to produce Wagner, which is usually reserved for the largest of the large companies. It makes the material more accessible as it's less than two hours, which is shorter than a lot of movies. With how it was condensed, the plot moves faster, and the whole story becomes more entertaining, more understandable, more relatable.
This is the perfect time because coming back indoors, we're looking for a piece where we can ease both the performers and the audience back into producing and attending the opera. We wanted to reopen with a first, something we haven't done before because reopening is an opportunity for us to reinvent ourselves. This is not about going back to where we were before; it's about defining the next chapter of OSB. There's also the symbolism of the final scene of Das Rheingold, the beautiful music with the "Entry of the Gods into Valhalla." This is the only Ring opera that has an optimistic ending, which fell into place with where my head is at (with reopening).
What is your relationship with Wagner's work in terms of your own desire, how you react, how you experience his operas? And how have the rehearsals affected that?
Like a lot of people, I saw Wagner with a lot of apprehension. It's the length, the scope and scale, and the fact that only the biggest opera companies do it. There's sort of a mystique about the work; the experts have a lot of different opinions. I hail from Southern Europe, and I more readily relate to the Italian and French opera. I love contemporary opera as well, but I came to Wagner with some trepidation, but there's definitely something that has always spoken to me. And I love the music. I have often just sat down at the piano and played the operas, and it really sounds good.
This music does come with a lot of baggage, or there's a lot behind it. So, you're cautious, you don't really know what to expect. But as soon as we went into rehearsal, I just turned to what I always do, which is read the music from left to right, listen to the singers and the director, and try to tell a story with the great music that you just trust. And I'm now feeling very comfortable with it.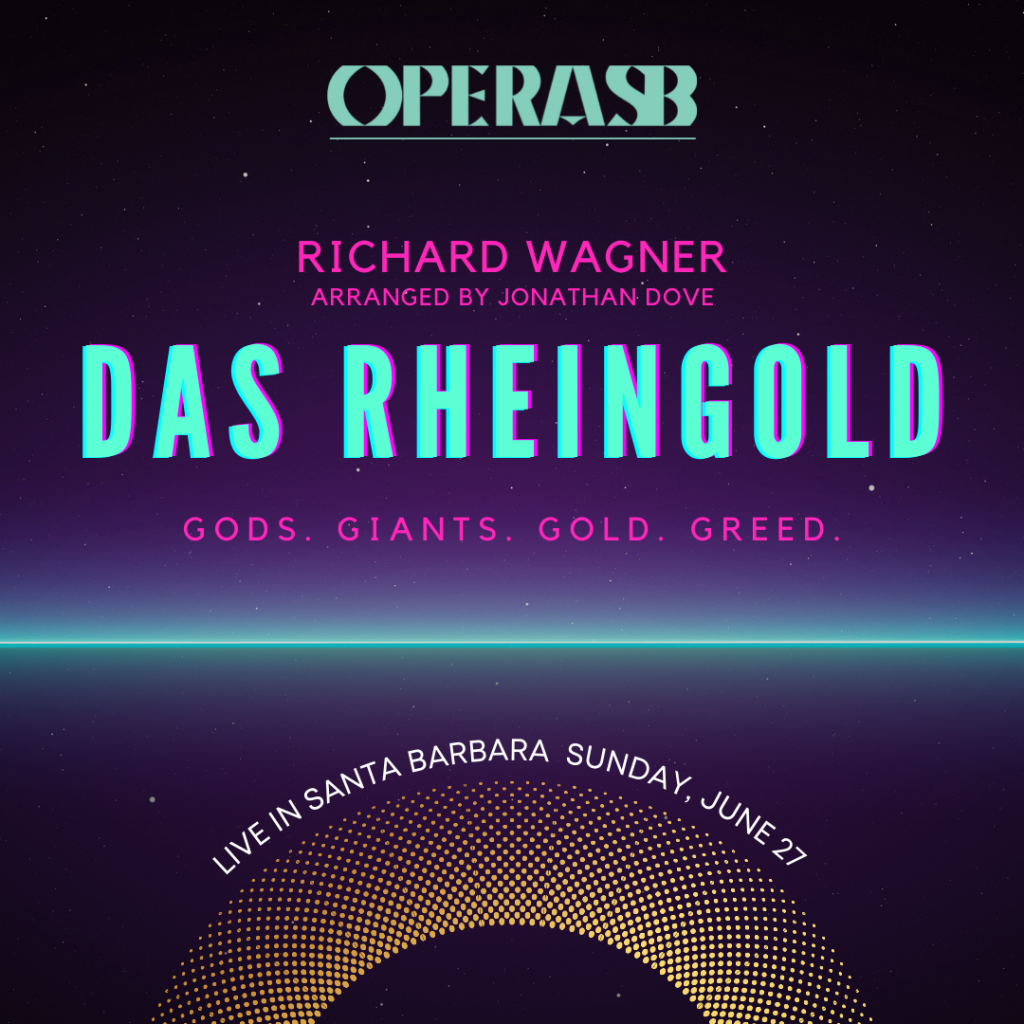 What's lost in this truncated adaptation?
They have managed to evoke all the color and spirit of the music. But with a chamber orchestra, you don't get the massive volume and glory of a 100-piece ensemble. And you're not getting the Star Wars or Cecil B DeMille elements of the huge productions; it might not evoke as much of a Lord of the Rings feel. But the intimacy, the immediacy, the accessibility of the material takes place of scope and scale. If you want to experience this music and the characters up close and personal, this is what we have to offer.
Speaking of the director, you're working once again with Crystal Manich, who also staged Il Postino in March 2020, OSB's last indoor production and the last event at the Lobero before the pandemic closures.
She is a superb craftsman and really knows how to tell a story creatively, directly and efficiently, cutting right to the chase without doing crazy stuff. Singers love to work with her. I always trust her to create a great concept for a production because she seems to relate with audiences. It turns out that the abridged versions of all four Ring operas was her first job out of college as an assistant stage manager. So, she goes way back to this material and on Day 1, she knew it a lot better than I do.
I'm intrigued by the '80s rock costuming.
We want to make sure that the story is sufficiently mythical and fantastical but also relatable. In the '80s there was the over-the-top element in clothes and hair and behaviors, which seemed to fit. It's also a time that for (most opera lovers) we can look back very fondly at our years as a teenager or young adult. The '80s costumes make the show very amusing and visually appealing, and it's easy to identify the characters. You can't argue with the '80s.
Your cast is a blend of those making their debuts and a bunch of OSB veterans. What went into those decisions?
Here's the thing: right now, casting is easy because, unfortunately, there's very little work out there for the singers, so you get whoever you want. For the critical roles, (bass-baritone) Kyle Albertson is a very good friend, and he had a triumphant last-minute debut as Wotan with the Dallas Symphony a couple of years ago. It'd be safe to say that he is probably in line to be one of the great American Wotans. The other important role is Alberich, which is very difficult because it's comical, it's tragic, and it's very much an acting part as much as it is a singing part. And I had (baritone) Timothy Mix on hold for La Traviata, which had been postponed twice, so we're trying this and he's really terrific. Almost everybody else are people who are close to OSB.
Can we return to the concept of reinventing OSB? What's the plan?
Our industry was due for a lot of changes before 2020 anyway, because there were a lot of things that weren't working. At OSB, we were locked into the model of doing three main stage operas, at the same places and at the same time, a cycle that wasn't flexible. But with (the pandemic) forcing us to take into account a lot of unknowns and move quickly, we're seeing it as an artistic opportunity to explore some repertoire that wouldn't have fit the model and challenge some of the basic assumptions of scope, scale and frequency. Which is why next season has four much smaller operas that are new to Santa Barbara before we close with La Traviata. (OSB is expected to announce the details of the 2021-22 season this week. Visit www.operasb.org.)
Classical Corner: MAW Tickets Go on Sale 
The Music Academy of the West is welcoming more than 100 fellows and 65 teaching artists this week on its oceanside campus known as Miraflores. While private coaching and rehearsals begin on June 28, the following Monday, July 5, brings the launch of a full slate of 70 live events open to the public. The concerts, master classes, and more with audiences take place at the campus venues of Hahn Hall and Lehmann Hall, as well as at the majestic Granada Theatre downtown, where four chamber orchestra performances serve as highlights of the first MAW concerts and classes conducted in town since August 2019.
Most events will be 60-75 minutes with no intermission, while several will also be recorded and streamed online free of charge, offering access to locals and music lovers around the world. Tickets for individual events as well as several series go on sale at 10 am on June 25. Visit www.musicacademy.org or call 805-969-8787 and check my column each week for the season for interviews, highlights, and more. 
Pop Notes: Jackson Back in Action
It still boggles the mind that Jackson Browne composed "These Days," his searing song about loss, contemplation, and regret, as a 16-year-old way back in the mid-1960s. These days, Browne, now 72 and an early survivor of COVID, is gearing up for a tour to celebrate his new studio album, out July 23, with a title, Downhill From Everywhere, that seems to indicate a wizened perspective.
Browne, who spent part of some of his early formative singer-songwriter years in a beach house in Montecito and still owns a place out at Hollister Ranch, will be heading back to the Santa Barbara Bowl, one of the singer-songwriter's favorite venues in all the land, for a concert on September 5. (He'll also be appearing at the Vina Robles Amphitheatre in Paso Robles on September 8.) Advance tickets for the Santa Barbara show go on sale on June 24, at 10 am, 23 hours before you can buy them on the Bowl's website, www.sbbowl.org.
Meanwhile, if you're aching to attend one of Browne's concerts with fellow septuagenarian James Taylor (he turned 73 in March), Chicago's United Center would welcome you to the Windy City on July 29. The '70s singer-songwriter slice-of-heaven show also winds up its schedule with a pair of Southern California concerts, in Anaheim on October 30 and San Diego on November 1.
You might also be interested in...