Westmont's Sokhela is NAIA Track Athlete of the Year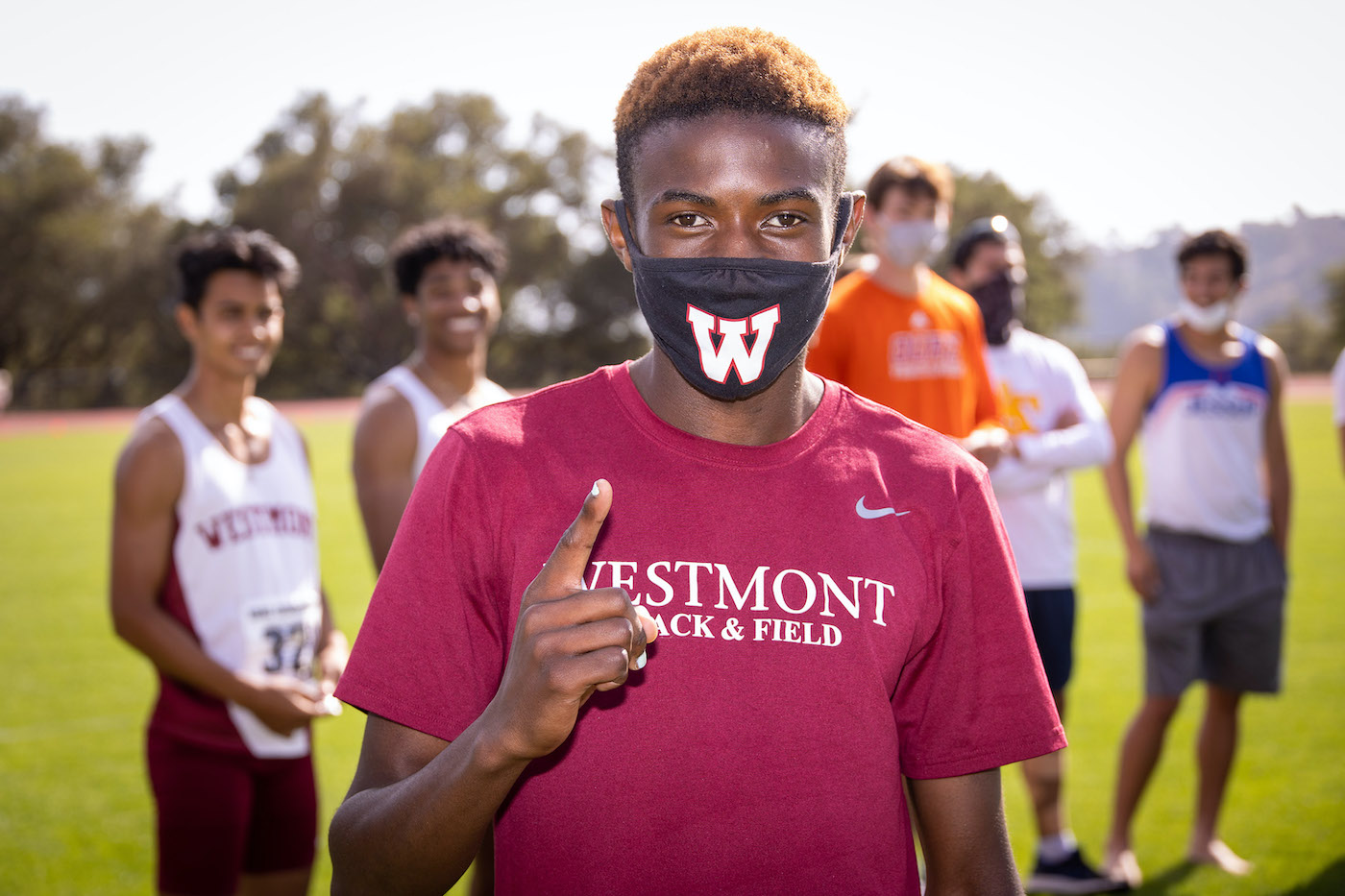 Westmont's Senzo Zola Sokhela, a 19-year-old freshman from South Africa, has hit the ground running despite his short time on campus. After Sokhela won two individual national championships at the NAIA Outdoor National Championships on May 28, the U.S. Track & Field and Cross Country Coaches Association named him the 2021 NAIA Men's Outdoor Track Athlete of the Year, the first time a Warrior has earned this distinction.
Sokhela sprinted to victory in the men's 1500 (3:54.29) and captured the men's 800 (1:50.08) two hours later. A day earlier, he anchored Westmont's 4×800 men's relay team, which finished in second place (7:32.71), the third fastest time in Westmont history. He led the Westmont men's track and field team to its highest finish (fourth) ever.
"I don't like to use the word, but what Zola did is unbelievable," said head coach Russell Smelley. "He competed in six races in three days, running spectacularly in all. Then to win the 800 event at the end after five national races — and to be passed and then come back and win — unbelievable. Beautifully done."
The Michaelhouse Scholar is also the first Westmont athlete to win two track events at the same NAIA National Championship. The Warriors' Becky Collier (heptathlon, high jump in 2017) and Jim Howard (shot put, discus in 1976) both captured two individual national championships in field events.
Sokhela, who arrived in Santa Barbara in January, is one of two graduates of Michaelhouse, a Christian boarding school for boys in KwaZulu-Natal, who receive full scholarships each year to attend Westmont.
"This is my fifth or sixth month in the United States," Sokhela said. "Coming into the training group at Westmont was very good because I fit in very well. We adapted well in training together. It's about the team, and I think we carried that mentality into the championship, especially in the 4×800, and I think that showed."
In November 2020, Sokhela began gaining notoriety after earning a spot on the South African team for the U20 World Championships. In an interview with The Witness, his father, Thulani Sokhela, said, "When he (Senzo) got that scholarship to go and study abroad, I wondered what we have done to God to deserve all of these great things our son is achieving," Thulani said. "We are really excited as a family."
Since the first two Michaelhouse Scholars graduated in 2020, a cohort of eight South African students studies at Westmont each year. A generous and anonymous donor supports this scholarship program to provide an excellent education to Black South African students and prepare them to return as leaders willing to serve others in their native country. An associate of the donor funds graduate study in South Africa for the Michaelhouse Scholars.
You might also be interested in...