Living Life to the Fullest: Ron Glover Has Plenty of Stories to Tell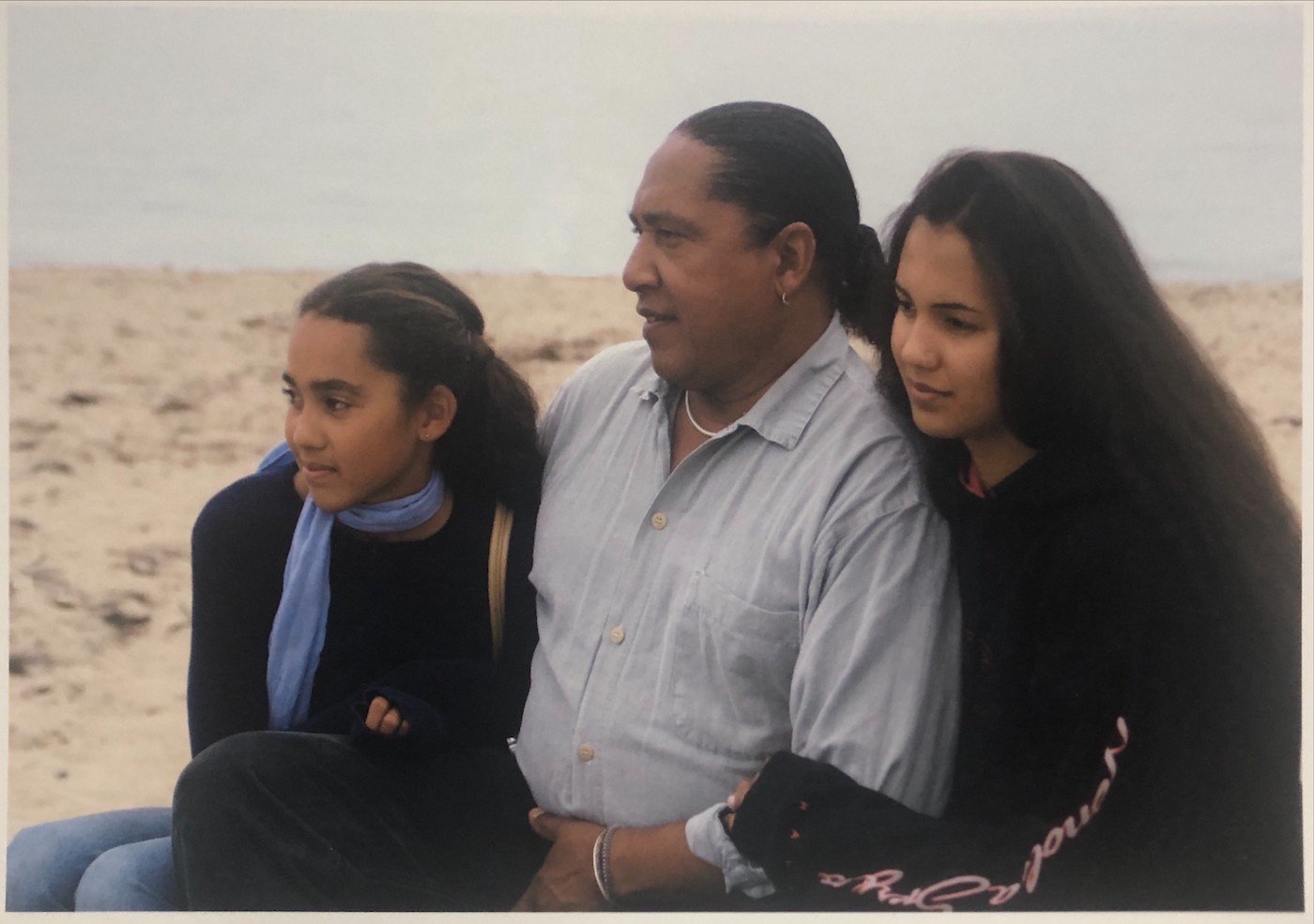 We all know those people who seemed to have lived five lives in their lifetime. Listening to their stories, it can be hard to figure out how they fit all of those experiences into one life.
The local art and creative community have quite a few of these types but one in particular, Ron Glover, perennially comes to mind. I am lucky enough to call Ron a friend and have heard many, but never all, of his stories over the years.
From his time in the Sunburst community to going on a real-life underwater treasure hunt, even the five-hour interview we had for this article only briefly covered his range of experiences. Having camped with him each year at Burning Man, I once drove out there with him where he spent the 24-hour drive sharing stories. Although in his 70s, Ron is one of our camp's biggest contributors, helping jumpstart projects and working on the camp build.
During our years together on the Fishbon board, I got to personally see Ron provide his years of wisdom and experience to the organization. After our long interview, and getting to hear his many stories in order, I began to better understand how Ron has been able to fit so many lives into his life.
Ron was born in St. Louis, where he still has family. He moved to Indianapolis at a young age after his father, a management analyst for the government, had to choose whether to move there with his department. As a person of color, he knew he was lucky to have such a secure job as a civilian and moved the family to the new location.
With both African American, Native American, and a dash of Irish ancestry, as well as growing up in a predominantly Caucasian community, Ron had several powerful encounters with racism that shaped his outlook on life and treating others by the content of their character. He witnessed the impact of his association with a gang and had one experience where he was walking on the wrong side of town and soon found himself surrounded by an angry mob looking to do him bodily harm. Luckily a kid from his art class was in the crowd and Ron locked eyes with him. He didn't look away and eventually the kid spoke up and dispelled the crowd.
In high school, Ron found that in art class people were judged less by the color of their skin and more viewed by their enthusiasm for art. After graduating he decided to attend the Herron School of Art and Design at Indiana University before going to grad school at UMass Amherst where he received a TA scholarship for printmaking, giving him the ability to teach a drawing class.
A Trek to Santa Barbara
One day at Amherst, Ron met a member of the living commune called Brotherhood of the Spirit. He decided to see the commune and was mesmerized by their lifestyle and how they were living off of the land. He became a regular visitor and was introduced to a whole range of new subjects such as astrology, eastern spirituality, and meditation. He even invited his art students out to experience the lifestyle and gain a broader view of art.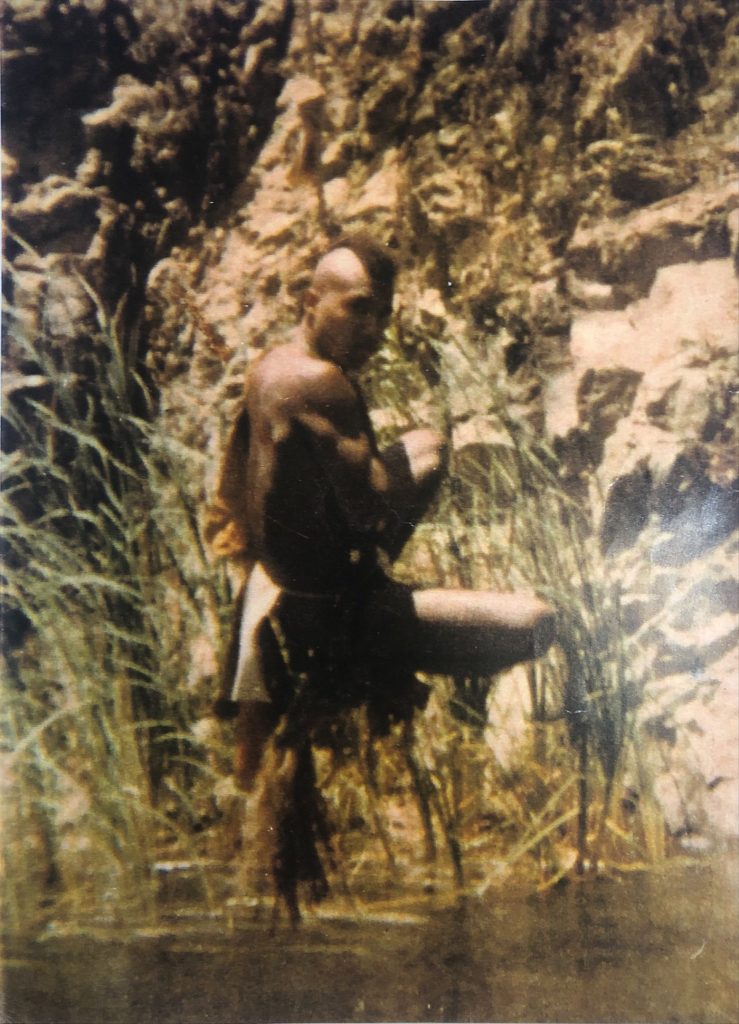 When Richard Nixon was elected president, Ron decided to go to Canada, heading north with his girlfriend at the time. After several jobs they soon found themselves living in an off-the-grid cabin. It was a lot of work with the winters spent continually chopping wood. After 18 months, he decided to leave the cabin and head down with a friend to Santa Barbara.
Ron had never heard of the area but a guy living there owed his friend money. Along the way they had many adventures, like meeting a proposed 14-year-old guru that ended up being borderline rude, as well as getting stuck in Santa Fe where he fell in love with the artsy town. They eventually made it down to Santa Barbara and got jobs working at a waterbed shop off of State Street.
While around town one day they both had chance encounters with Sunburst members who invited them up to the property. At the time they were calling themselves Brotherhood of the Sun, which sounded similar to the previous commune. Ron took it as a sign, and they decided to visit the property. While there he met the founder and spiritual leader of Sunburst, who Ron had seen by chance back in town. He had made an impression on Ron then, mesmerized by his message, especially after his earlier experience with the young guru. They ended up staying the night and the next morning an unforeseen urgent moment sent him to their backcountry property, Lemuria, to help kid goats, which he had learned to do in Canada. Ron immediately fell in love with the land and ended up staying in the backcountry for about a year, helping build structures and shape the land.
It was another urgent matter that brought Ron out of the backcountry. A guy drove up saying that they needed one more to help pick up a schooner that the founder had discovered. It was an adventure getting the over-100-foot schooner back and when they returned, most of the crew jumped off and hurried back to their mainland comforts but Ron lingered back, amazed at the experience.
The founder came up to him and complimented him on his performance on the boat and interaction with the crew. When asked if he wanted to lead the boat crew, Ron quickly agreed and spent the following years overseeing their different schooners. Learning as they went, Ron helped run four different schooners they owned, each time trading up in size and complexity.
Over his 10 or so years with Sunburst, and because Ron was considered one of the "founding members," he got to witness their incredible growth and accomplishments in developing natural food and markets. While he remains loving of his time at Sunburst and proud of what they achieved, Ron had an experience or two that made him feel he was ready to leave the Sunburst community.
While those are stories for another time, he was the first person to be given the "red carpet treatment" with Ron leaving as a respected elder and the founder even giving him the money in his pockets. During his time at Sunburst, he had met a woman, Welmoet, that he shared a lot of interests with and had been seeing. When Ron was leaving, he told her she was her own woman and could go where she wanted, but Welmoet decided to go with Ron.
A New Direction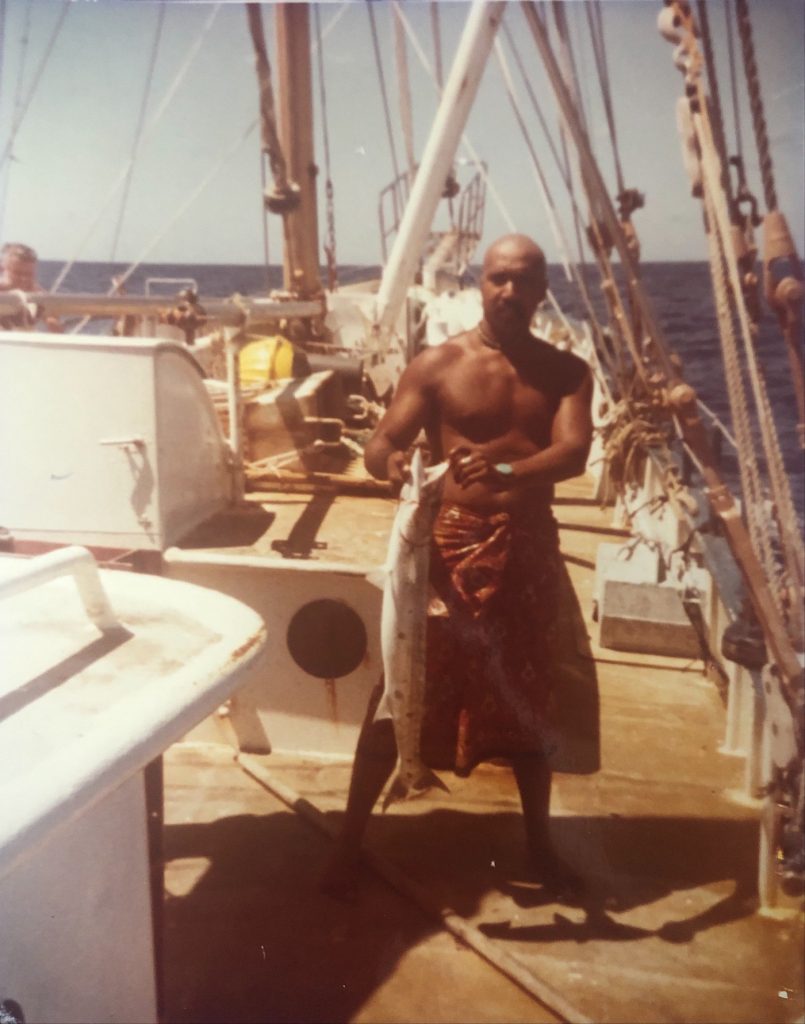 Ron had been with Sunburst for about 10 years and was unsure what outside world they were stepping into. Luckily, he was soon offered to housesit the Berkeley Hills home of legendary blues musician Taj Mahal as he toured Europe. Ron had officiated his marriage at Sunburst, and they had quickly bonded, remaining friends to this day.
Around the time Taj was returning, Ron was contacted by the founder of the popular Windjammer Cruises of Hawaii, who had purchased one of the schooners Ron had helped refurbish and rebuild while at Sunburst. Ron and Welmoet moved to Hawaii where they would spend the next 20 years. Ron was offered a job as Port Captain of Windjammer Cruises and was in charge of the four schooners in their fleet while they were in port. Over the years he also worked as several other roles in the company, but eventually had an unfounded falling out with the owner.
Ron didn't even leave the port that day before finding a job on another schooner which was contracted to do research with the United Nations in the South Pacific. The voyage would last eight months and turned out to be a trip of a lifetime, where he even encountered an erupting underwater volcano.
Upon returning, Ron and Welmoet decided to settle down, getting married in California where her parents lived, before heading back to Hawaii to start a family. During their time on the islands, Ron was involved with several other ventures like a dinner and inter-island cruise company, a print shop, being movie extras with Welmoet in Exit To Eden, and naturally, a treasure hunting voyage in the Marshall Islands. Over time they had two daughters, Kyra and Chanté, which they raised in the dream house on Maui. Ron and Welmoet began renting out their lower room as a bed and breakfast, one of the first on Maui to do so, and even began forming that into a successful new venture.
Eventually life happenings led to Ron and Welmoet growing apart. When Ron sought the counsel of one of his Sunburst friends, they consulted their astral charts and said that the changes occurring were going to be happening for a long time. Ron took it as a message and decided to move back to the mainland where he returned to Santa Fe. He regularly flew out his daughters during this time, but soon more life happenings led to them all moving back to Santa Barbara, where they could more easily share and raise their daughters.
Ron was able to stay in a yurt on a Montecito estate belonging to a friend of a former Sunburst shipmate for several years before settling down in Santa Barbara. While in town he became connected with a wacky group of creatives that would meet every Wednesday to discuss and make art. This was the early making of Fishbon, the 501(c)3 nonprofit art collaborative that has been around since the early 2000s.
Over the years, Ron would become more ingrained with Fishbon, eventually serving on its board of directors and currently its president. Through his work with Fishbon he also became involved with the beginnings of the Lucidity Festival. He witnessed the soon-to-be festival founders coming together while working on the Burning Man project called the Walkabout Woods, that helped spark the idea for the festival.
Over the years he became more involved with the planning of Lucidity, first attending meetings as a Fishbon representative before becoming a full-time partner in the organization. Having helped get Fishbon permits for their events, Ron began helping Lucidity as the permits manager and county liaison.
Today, he is one of four directors of the festival, helping guide the organization with his years of experience. And with his collective wisdom from so many lives lived, both Lucidity and the community are lucky to have Ron around to share his many stories.
You might also be interested in...