UCSB Music Goes Live, with Tech Support from SBCC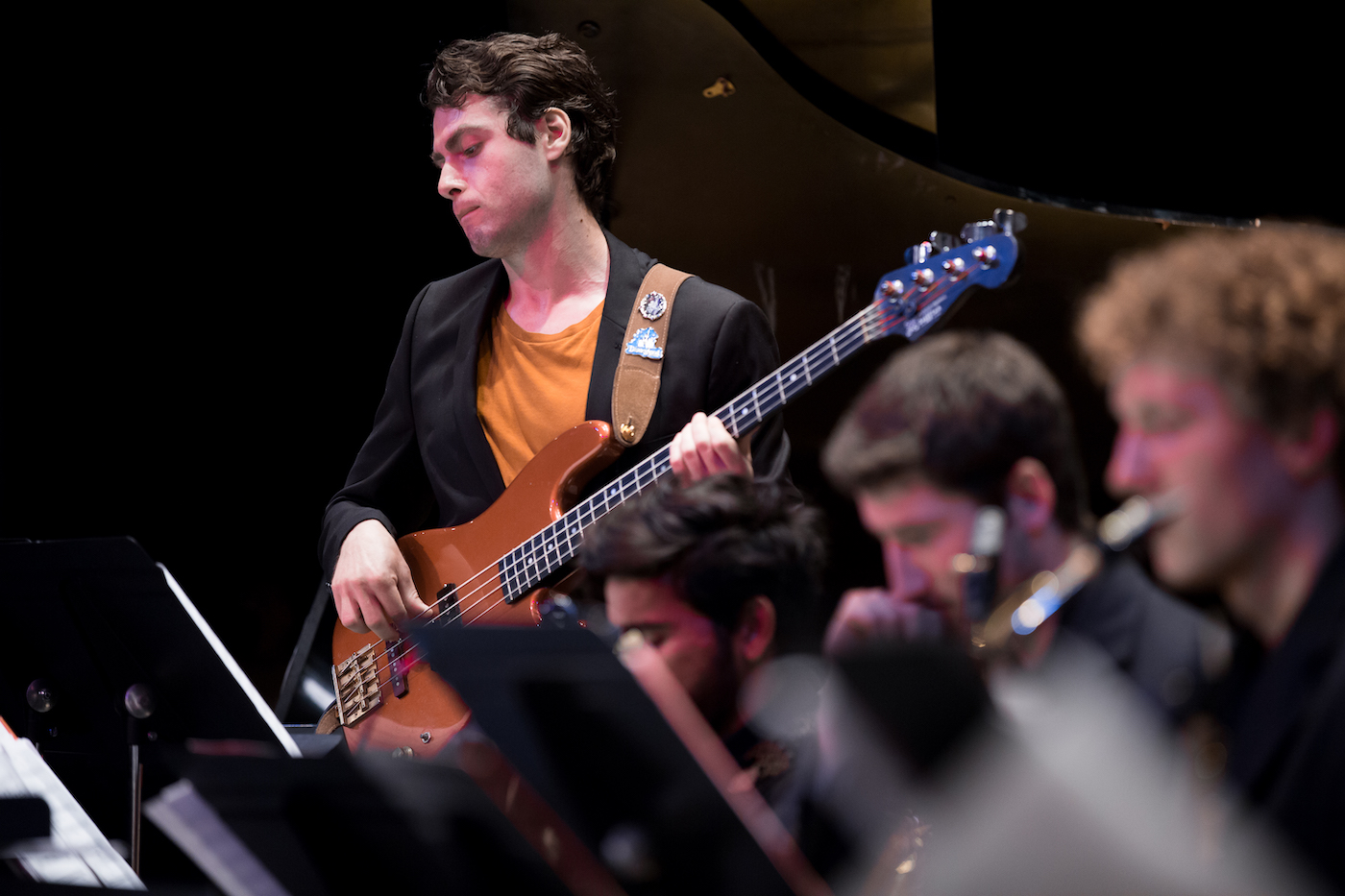 Last October, Santa Barbara City College's Jim Mooy used the Jamulus audio platform and live-streamed videos of each performer generated via Zoom to direct a synchronous audio and video stream of a university ensemble performance of SBCC's Lunch Break Jazz Ensemble concert.
This week, Mooy lends his expertise to his counterparts at UCSB's Music Department, having consulted with both the UCSB Chamber Choir and Jazz Ensemble in the use of open source "Jamboxes," tiny Raspberry Pi computers running software packages that enable clean connection to the Jamulus audio platform. Each student in the ensembles received specific equipment including the computer, gaming headphones with clear audio and microphone pickups, and ethernet connection cables. Mooy will also serve as the engineer of the special livestream concerts that take place on May 26 and 27, coordinating the data streams from Jamulus and Zoom through the UCSB YouTube channel.
Dr. Nicole Lamartine, the Sorensen Director of Choral Music, helms the UCSB Chamber Choir concert, titled Resilience, at 6 pm on May 26 (the video can be streamed on demand later) and featuring Don Macdonald's "When the Earth Stands Still," Frank Ticheli's "Earth Song," and Kirby Shaw's "The Tide Rises." The program will also include student-crafted arrangements of songs from The Justice Choir Songbook and a special live collaboration of Paris Rutherford's arrangement of "Autumn Leaves" with members of the UCSB Jazz Ensemble.
The jazz outfit, under the direction of Dr. Jon Nathan, gets its own concert the following night via another livestream titled (Almost) A Century of Jazz – from 1927 to 2021, at 5 pm on May 27. The concert features music for a 10-piece jazz band (four brass, two saxophones, guitar, piano, bass, and drums) as arranged by Los Angeles-based composer and arranger Randy Aldcroft. The musicians will be performing from all over California, including the Bay Area, Los Angeles, Orange County, as well as Isla Vista. The program includes Freddie Hubbard's "Asiatic Raes" and Moacir Santos' "Coisa (Thing) #2," along with Surry with a "Fringe on Top and Blue Skies," both with a vocal performance by first-year student Kaidi Dai. A focus on the ensemble's graduating students, mostly trumpet players, comes via a performance of "Cornet Chop Suey," while Horace Silver's "Opus de Funk" and an arrangement by Nathan of Vulpeck's "Dean Town" (based on Jaco Pastorius' fusion classic Teen Town) featuring trombonist Sriram Ramamurthy and first-year bassist Emily Conway, closes out the concert.
Both concerts will stream via the UCSB YouTube channel at www.youtube.com/c/ucsantabarbara). Details at www.music.ucsb.edu/news.
Chalk Up Another Ongoing Pandemic Pivot
The I Madonnari Italian Street Painting Festival had just a couple of months to figure out how to keep the tradition of having artists create ephemeral artwork with chalk on the large plaza in front of the Santa Barbara Mission during the coronavirus shutdown. The solution, of course, was to go virtual, with most of the participating artists painting on their own private property — a driveway, or patio, or anywhere that people might see, although officially inviting anyone to view them was against protocol.
Despite relaxed protocols from the CDC that allow for outdoor gatherings, California's COVID restrictions remain in place, so I Madonnari will, maddingly, once again be a virtual festival this Memorial Day weekend. New street paintings drawn with chalk pastels will be created by artists on their driveways for festival sponsors during and photos of sponsored street paintings will be posted each day on the website of the Children's Creative Project, a nonprofit arts education program of the Santa Barbara County Education Office (https://ccp.sbceo.org/i-ma
donnari) that hosts and benefits from the event. Updates will also be regularly added to CCP's Facebook page and Instagram (www.instagram.com/imadonnari) account. The one benefit is we can watch the paintings as they are constructed without ever having to leave home.
Butterflies are Back
There's better news over at the Santa Barbara Museum of Natural History where the Butterfly Pavilion is set to open once again on Memorial Day weekend, as the outdoor experience already features limited capacity. The popular pavilion exhibit features a dazzling variety of live butterflies — 1,000 in all — ranging from local favorites such as the endangered Monarch to exotic varieties like swallowtails, longwings, Gulf Fritillaries, and Malachites. Beautiful flowers and foliage provide the insects with plenty of nectar and roosting space, while visitors can also enjoy the tranquil garden atmosphere as they discuss butterfly behavior and biology with trained volunteer interpreters, which has seen a record number of applicants for this summer's exhibit.
The museum will run the socially distant pavilion similar to 2020, when the protocol called for allowing families and guests to peacefully explore the pavilion in nine butterfly zones. The museum currently requires online reservations to limit the number of guests on campus at one time, and since various butterfly species cycle through the pavilion throughout the summer — meaning repeated visits offer new experiences — early reservations are recommended.
What has changed for this year is that SBMNH's indoor exhibits, which were closed during Butterflies Alive! last summer, have reopened and are running concurrently, so guests can see pavilion-bound butterflies emerge from their chrysalides in the Santa Barbara Gallery's emergence chamber. Those interested in more behind-the-scenes peeks can check out the video series that followed last year's butterflies from pupae to pavilion. The full series hosted by Butterfly Pavilion Senior Manager Kim Zsembik is available at sbnature.org/magic-window and features — in addition to close-up views of every stage of the butterfly life cycle — guest appearances by the Museum's entomologist and a Q&A with Zsembik about what it's like to work with butterflies. For details, reservations, and more, visit www.sbnature.org/butterflies-alive.
What's the Matter? Black Hole Talk
Dr. Carlo Rovelli, the theoretical physicist known internationally for his work in quantum gravity who has also published such global best sellers as Seven Brief Lessons on Physics, which has been translated in 44 languages, delivers the Kavli Institute for Theoretical Physics' 79th public lecture virtually at 5 pm on June 2. In his lecture, "Where Does Matter That Falls into a Black Hole Go?" Rovelli will address the seemingly simple question for which there is no consensus among gravitational scientists about the answer. Experts are split into communities that follow different ideas and are often prey to fads and prejudices as the interior of a black hole is a strange place, whose space-time structure challenges our intuition. Rovelli will describe what we know about the inside of a black hole and examine current ideas to make sense of what we do not yet know about these most astonishing objects that fill the universe. RSVP online at https://www.kitp.ucsb.edu/activities/crovelli21 or call (805) 893-6307 by June 1 to attend the virtual talk and Q&A session. 
Focus on Film
The fifth annual International Fine Arts Film Festival was forced to go exclusively online due to the coronavirus pandemic, but that didn't dampen the entries for the fest that was founded and is curated by Lynn Holley, a former resident curator of SBCAST, or the Center for Arts, Science & Technology. More than 103 films representing 23 countries were entered into such categories as Animation, Dance, Documentary, Experimental, and Narrative, and while the winners in each section will remain available to screen online indefinitely, the rest of the fest goes dark at the end of the month.
Of special note is Experimental winner Upwell, the film debut from Montecito native J'aime Morrison, who is now a professor of dance and movement at Cal State Northridge. Her film, a meditation on grief and loss as expressed through surfing and a ritual of connection carried out in the water, bested 29 other entries in the category, lauded by one judge as "a moving, visually stunning, beautiful film." Look for a profile of Morrison in an upcoming issue and check out the festival at https://internationalfineartsfilmfestival.com.
'Dream' a Fitting Finale
UCSB Arts & Lectures' ambitious, timely, and wide-scoped 2020-2021 Race to Justice series comes to a close with a free live, in-person screening of We Are the Dream: The Kids of the Oakland MLK Oratorical Fest at the West Wind Drive-in on June 3. The 70-minute documentary follows students from schools across Oakland who are among the hundreds of inner-city children who participate in the annual public speaking competition featuring original poetry and speeches inspired by the life and legacy of Dr. Martin Luther King, Jr. The doc was directed by eight-time Emmy-winner Amy Schatz, whose career dates back more than 25 years and includes 2019's Song of Parkland, and executive produced by Academy Award-winning actor Mahershala Ali (House of Cards, Moonlight, Green Book). We Are the Dream tracks the kids as they hone their speeches, hoping for a coveted spot in the finals. The film has been called heartwarming and inspiring as it paints a portrait of passionate young people orating on issues they care about — racial injustice, immigration, and more — and a community that celebrates their young voices.
Admission to the 8:30 pm screening is free and provided on a first-come, first-served basis. Masks and social distancing are required, although there will be room to put chairs in front of cars. Visit www.ArtsAndLectures.UCSB.edu. 
Short Call to Action
Although Christopher Oroza-Nostas' 2021 short film Savior clocks in at under five minutes, the piece has induced a rapturous response among reviewers. Joey Moser of Awards Daily called the film "stunning" and said that "Oroza-Nostas confronts us with an America that hasn't changed very much over the last 50 years … (and) has delivered a powerful call to action." The short serves as an experimental retrospective that embodies the endless cycle of violence, inequality, and oppression in America, positing that the only hope for its salvation is ourselves. The film features two dancers, Marem Hassler and Anthony Velasquez, who experience emotional and physical violence and are forced apart by prejudices and political circumstances over a soundtrack of drums and snippets of famous speeches including Robert F. Kennedy's words after Martin Luther King Jr.'s assassination, Jimmy Carter's "Crisis of Confidence," and Richard Nixon's "Cambodian Incursion Address" from 1970.
Oroza-Nostas will talk with Santa Barbara International Film Festival executive director Roger Durling over Zoom at 5:30 pm on May 27, when we'll likely hear much about the filmmaker's mode of expression and the short's genesis in a half century of oppression culminating in current gun violence and racial strife, about which Oroza-Nostas' told Moser: "You can march and vote and scream, but if you aren't pushing with your art then you aren't really fully helping as an artist."
Coming next week: Montecito filmmaker Mimi deGruy, widow of famed underwater filmmaker and activist Mike deGruy. Visit www.sbiff.org/filmtalk. 
Coming Attractions
A limited number of seats are being made available for live performances at next month's Live Oak Music Festival on the Radio II, the second such virtual fest after 28 years at Live Oak Camp near Lake Cachuma and two in radio station KCBX's San Luis Obispo backyard. The live stage will be at Castoro Cellars' outdoor tasting room in Templeton, where each day's performance for the Father's Day weekend festival June 18-20 begins at 5 pm and includes three sets of live music, with such acts as The White Buffalo and Dustbowl Revival serving as headliners. Visit www.liveoakfest.org for more details, the virtual and live schedule, and access to tickets.
The Ventura Music Festival, which has been providing weekly virtual concert recordings, cabarets, and drive-in concerts for nearly a year, has announced that its 2021 live music event will take place in front of a live indoor audience, albeit in a severely truncated schedule, from July 23-25. Contemporary jazz singer/trombone-player Aubrey Logan handles opening night; Time for Three – Charles Yang, Nicolas Kendall, and Ranaan Meyer – blend Americana, modern pop, and classical on July 24; and Andrea Roberto, who won the distinguished Parkening International Classical Guitar Competition in 2019, closes out the mini-fest on July 25. All the shows take place at Pacifica High School Performing Arts Center in Oxnard and are being staged as "all-vaccinated" events, meaning everyone attending is required to document "full vaccination" status in advance. Tickets go on sale on June 1. Visit https://venturamusicfestival.org/
You might also be interested in...