Saint Barbara Crowned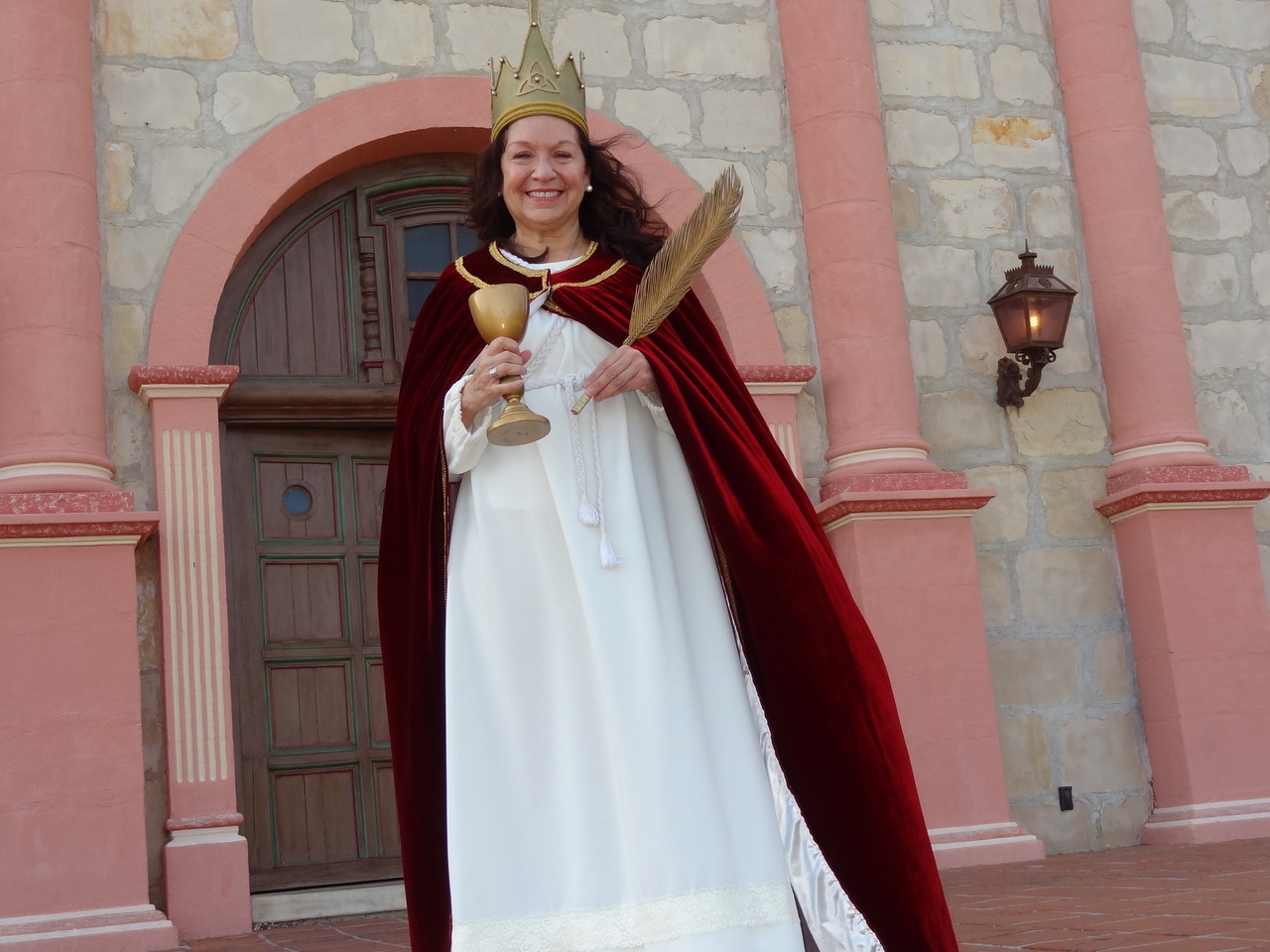 Each year Reina del Mar Parlor No. 126, Native Daughters of the Golden West selects one of its members to be Saint Barbara for Old Spanish Days. This year the surprise winner was Patricia Orena, as she will portray the city's patron saint. The ceremony took place on the steps of the Santa Barbara Mission with many oohs and aahs as she came through the church doors.
The Parlor has chosen Saint Barbara each year of Fiesta since 1926, but the Parlor was founded in April 1901. The new Saint Barbara is descended from several local families, dating from the Spanish colonial period of early California and the Royal Presidio with names like Cordero, Rangel, Cruz, Lugo, Pena, and Calderon families. She is also related to the Orenas and De la Guerra lineage. She represents at least six generations in Santa Barbara.
Patricia has been a Parlor member for five years and is currently first vice president. She has worked on many of their fundraising events, including designing a COVID mask for members to purchase in 2020. She is a liaison to Mission Santa Barbara and Old Spanish Days for the Parlor. She has been director of the Old Spanish Days board, member of the Fiesta Pequeña and Noches de Ronda committees, as well as chair of the Misa del Presidente and Spirit Audition committees. She has also announced for El Desfile Historico. Being a docent at Mission Santa Barbara giving group tours for fourth graders and visitors is one of her favorite things to do.
Patricia stated, "This is a very special honor to represent Saint Barbara for 2021. I am looking forward to representing Reina del Mar Parlor No. 126 and the community of Santa Barbara in this capacity." She will wear the Saint's traditional white gown, scarlet cape, and golden crown. She will carry a martyr's palm frond and a golden chalice.
Our channel was named for Saint Barbara during the Viscaino expedition in late 1602. In the 18th century, the royal Spanish presidio fortress (1782) and Mission Santa Barbara (1786) were named in her honor.
Saint Barbara's life reads like a fairytale, so I'll tell one version to you. She and her father lived in the early 300s AD and she suffered under the reign of emperor Maximian (305 to 311 AD). Her father was a pagan but rich in the Syrian city of Heliopolis, now Lebanon.
After her mother died, her dad focused on his beautiful daughter. He locked her in a tower while he was gone so suitors couldn't reach her. It had two windows but as she turned Christian, she had a third window installed to represent the trinity.
When her father returned and saw what had happened, he beheaded her and was struck dead by lightning. Saint Barbara is best known as the patron saint of armorers, artillerymen, military engineers, miners, and others who work with explosives because of the legend's association with lightning and mathematics.
Because of the doubts about her history, she was removed from the general Roman Calendar in 1969, but not from the Catholic Church's list of saints. In the Casa del Herrero, where I'm a docent, the late Mr. Steedman has a statue of Saint Barbara that is a reliquary. There's a small window with what's supposedly a piece of her fingernail.
Saint Barbara is still working her magic. She is the patron of the Italian Navy, and it is customary to have a statue of Saint Barbara at the magazine to protect the ship or fortress from suddenly exploding.
My friend and fifth generation Santa Barbarian Keith Mautino Moore told me of a charming custom Saint Barbara used to do during Fiesta. She would appear in the oval Courthouse window in the tower with a spotlight on her while the dancing performances were going on down below. They stopped the custom coincidentally the year Keith's mother was Saint Barbara in 1949, because a tree got in the way of the window. Wouldn't it be fun to trim a tree and reinstate the custom? Just asking!
You might also be interested in...