Arts in Lockdown #28: Nicole Lamartine, PhD, is the New Sorensen Director of Choral Music at UCSB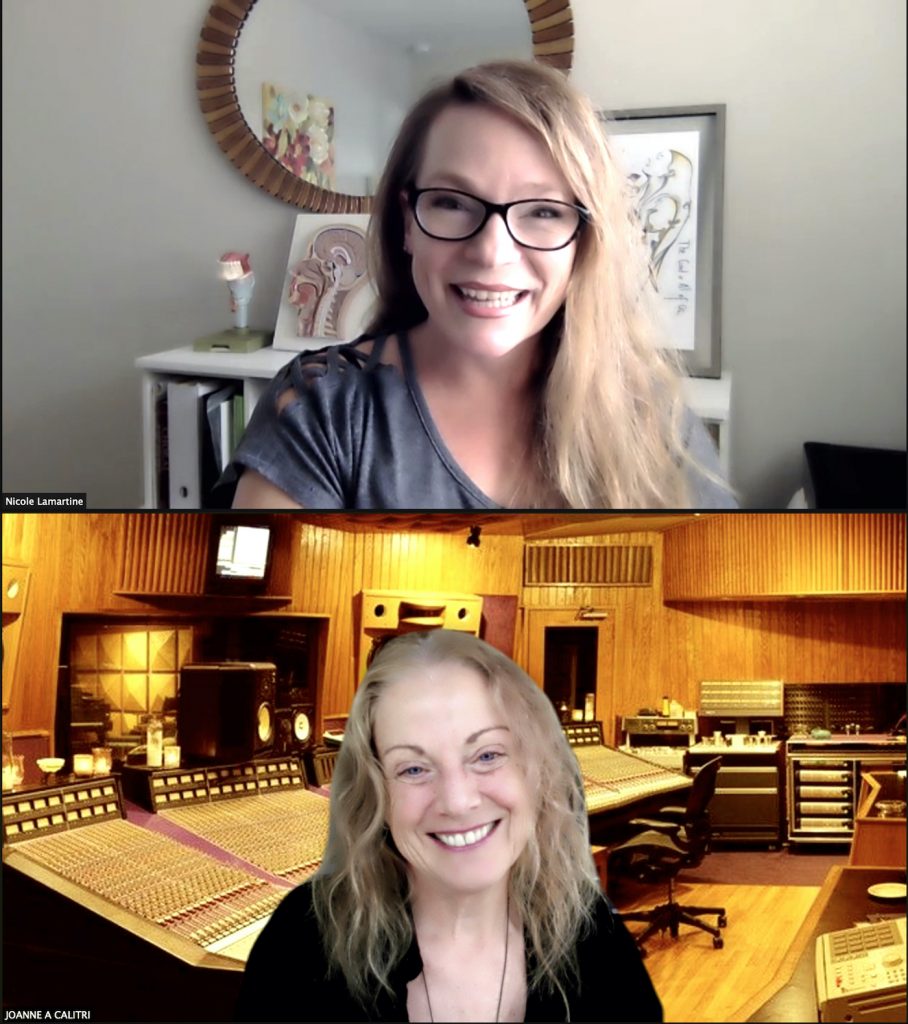 Nicole Lamartine, PhD, is the new Sorenson Director of Choral Music at UCSB, filling a position vacant since Michel Marc Gervais retired in 2016, and will oversee all UCSB's choruses and ensembles. Originally from New Mexico, she comes to Santa Barbara from the University of Wyoming Department of Music faculty (2008-2020), where she won the university's highest teaching award: the Ellbogen Award for Meritorious Classroom Teaching.
A professional vocalist and recording artist of 30 years, her experience includes backup vocals for Barry Manilow and Linda Ronstadt; a regular singer with Conspirare, the Grammy nominated professional choir based in Austin, Texas, with the Santa Fe Desert Chorale, Colorado Bach Ensemble and the Carnegie Hall Choral Masterworks; and a guest conductor of international honors choirs in Germany, Oman, United Arab Emirates and nine U.S. all-state choirs. Trained classically as a soprano, with a 3½-octave range, she easily transitions from opera to blues and jazz.
She holds a B.M. from New Mexico State University in Vocal Performance; an M.M. from the University of Arizona in Vocal Performance; and a D.M.A. from University of Arizona in Choral Conducting, with a minor in Vocal Performance.
Nicole is also a top-tier power lifter with personal bests of 281 pounds in back squat, 151 pounds on the bench, and 353 pounds on deadlift. She also enjoys poetry and acrylic painting.
Here is our interview ahead of the UCSB Chamber Choir concert:
Q. Let's start with the livestream UCSB Chamber Choir Concert on May 26:
A. The concert will be streamed on UCSB's YouTube Channel and is free for all to enjoy. The theme is "resilience" — our spirits through last year, our ability to make music, and our human connection through singing.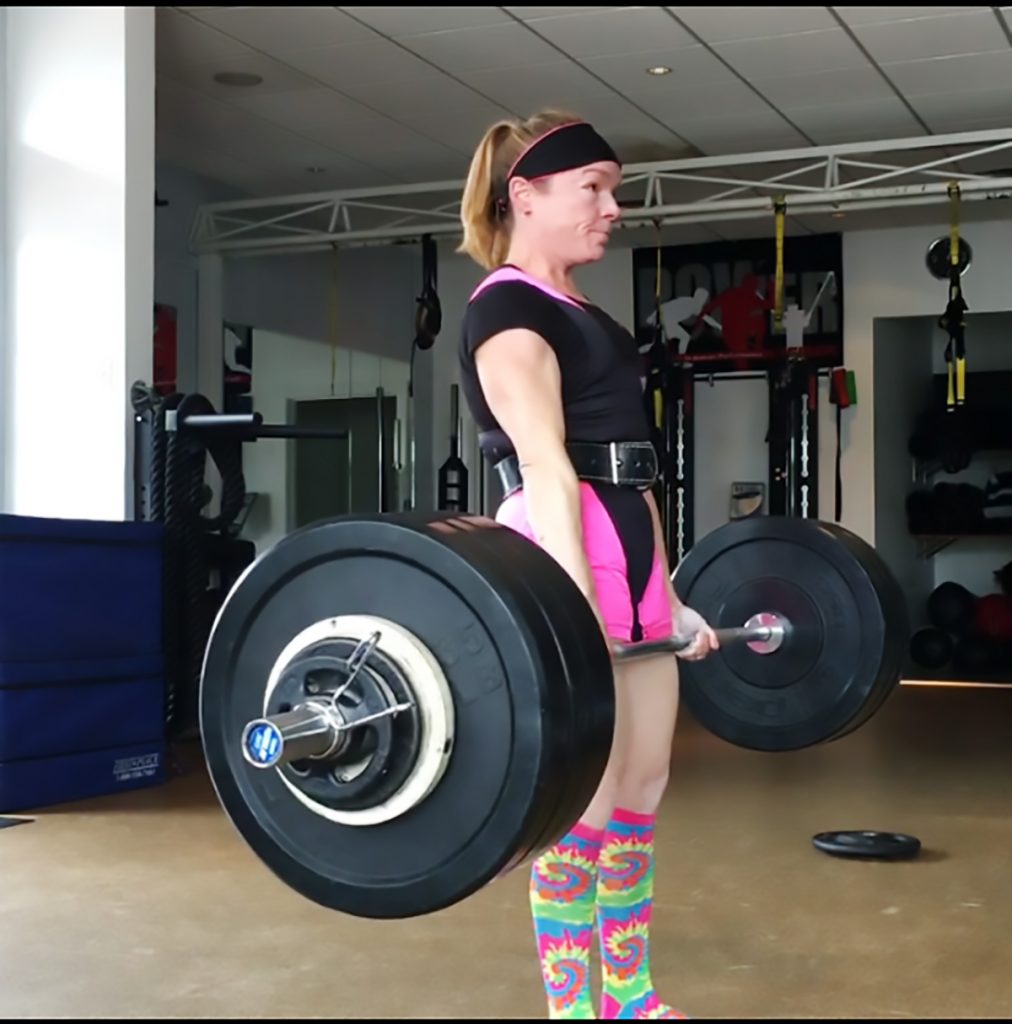 Program highlights are songs from the Justice Choir Songbook, to send a message of hope and positive change. Other pieces are "Earth Song" by Frank Ticheli, "Peace Flows into Me" by Jake Runestad, "When the Earth Stands Still" by Don MacDonald, and "The Tide Rises" by Kirby Shaw. It will be an a cappella concert with the exception of "Autumn Leaves," which will be backed by Jon Nathan's UCSB Jazz Ensemble playing bass, drums, piano, sax, trumpet, and trombone. On May 27, five members from our Chamber Chorus will join the Jazz Ensemble's Concert in Paris Rutherford's arrangement of "Autumn Leaves." 
Key to the concert is Jon and I meeting with Jim Mooy, Santa Barbara City College Assistant Music Professor and conductor of the SBCC Symphony Orchestra and the Lunch Break Jazz Ensemble, regarding his expertise to set up the Jamulus online programming hardware and software for our chorus and ensembles. It is remarkable to use and provides the necessary technical tools to teach, rehearse, and stream live music without noise artifact and delay; the quality of the sound and overall experience was like being in the same room to rehearse! Each student received a JAMBOX, the Pi computer, cables, and a gaming headset with microphone.
Jim will be on board remotely to program each chorus and band member into the sound mix for the May 26- 27 concerts, with a touch of reverb to emulate a larger acoustic space, and Zoom for the visuals.
How are you teaching music and vocals virtually?
All instruction is over Zoom and Jamulus, and I've grown immensely in my technological abilities. One of my main goals is to create community, and I've found ways to create routine and engage members of the choir. We always begin with a physical warm-up, passing the leadership from student to student. We use Slido or Kahoot, for the "Question of the Day" or interactive quizzes/polls/word clouds and interactive real time whiteboards. We record and practice audio engineering skills in BandLab and hone sightreading skills with Sight Reading Factory.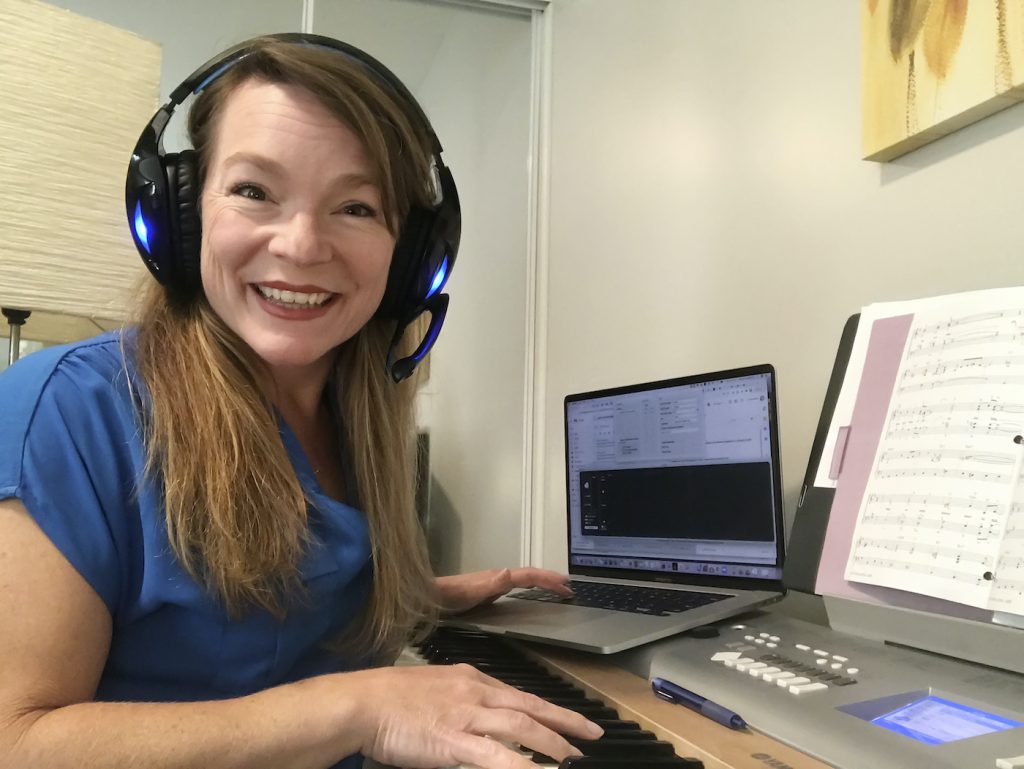 In my conducting classes, I use Flipgrid for students to submit videos of their conducting assignments and I can comment back with a video demonstration. I've used Coach's Eye, Hudl Technic, and ForScore apps on my iPad for physical demonstrations and music score projections/annotations. For voice lessons, we remain fairly low tech — on Zoom and Jamulus.
What is your role as the new Sorenson Director?
I was hired to build and re-invigorate the choral program at UCSB. My mission for the choral area is to provide an inclusive place where any singer can grow in their abilities and talents, connect to others through making and performing music, and to build relationships through innovation of programming and performance.
The UCSB Chamber Choir is the flagship choral ensemble at UCSB, representing excellence in vocal talent, musicianship, and professionalism. The training choruses are the Singing Gauchos and the Lumina Chorus, which will be conducted by my graduate teaching assistants. The Gospel Choir and the Middle East Ensemble are under the Ethnomusicology umbrella and provide unique opportunities for students. The goal with all the ensembles is to work together. At some point, I want to create a University Community Chorus that includes students and anyone in the local community who wishes to join. All the UCSB choirs provide any singer an opportunity to access music, connect, innovate, and grow as musicians.
What are the audition requirements?
My goal is to place students in the correct choir that will meet their abilities and goals.
All UCSB choirs, with the exception of Chamber Choir, do not require experience or an audition, and anyone can participate, regardless of major. The choral singing experience is inclusive. I look for a winning combination of vocal talent, attitude, and enthusiasm, and solid musicianship. Membership is not limited. In Spring 2020, the Chamber Choir had 15 members. I volunteered with them throughout the spring, and by Fall 2020, I took 30 out of 33 students who auditioned.
Is new original music for the UCSB Chamber Choir being composed?
I am working with a composer in Portland, Tim Ribner — we are exploring improvisatory soundscapes illuminating the idea of self and place in a post-pandemic world. We hope to premiere it in the fall of 2021.
What is unique about chorus music for you?
The experience is deeply personal and connective for so many. It creates community and a family. It provides a respite from the daily grind. We honor and recognize each other's beings. We learn trust and teamwork, working together for something that is much greater than any person. We create a safe space to be who we are, feel what we feel, and love who we love.
How does singing influence the human condition?
I believe that singing, because it is a human sound, connects to humans in ways that are deep and meaningful and beyond instrumental music. There is something so special about humans listening to human sound; it connects directly to our beings and our emotions. It allows us to recognize our common vulnerabilities and speak to our common emotions. There is unbelievable power in connecting through singing. I also believe that people want to feel something — anything. When we sing, we also have words — and those words travel to the heart, allowing us to feel more deeply and meaningfully.
What personal music projects are you working on?
I am preparing for many gigs that were rescheduled for the next two years: Conducting All-State and honor choirs in Oregon, Montana, and Idaho. Through the online teaching adventure, I've compiled much of my content and philosophy of choral conducting into what could be a book in the near future. I'd like to get back to my YouTube channel content on The Choral Eye and am fleshing out my business plan for professional development opportunities (workshops and retreats) for choral music educators in public schools and churches. I am starting the Santa Barbara Gay Men's Chorus with rehearsals slated to begin in the fall and teaching high school singers private lessons.
Your personal vocal exercise routine?
I like to get the body going before the voice. Once I've exercised in the morning, I start with some easy hum-sighs to get my voice placed high and resonantly for a day of teaching.
You are a CrossFit and Power Lifting Pro?
In 2011, my husband discovered the CrossFit gym in our small town. He and I became coaches. As part of our training, we did a six-week back squat cycle to gain more strength. At the end of the cycle, I found that I was lifting as much as the men in the gym. From there, I entered the state competition and just shy of my 40th birthday, I qualified for World Championships. My coaches have included amazing men who pushed me to gain more strength than I ever thought possible — Don Robbins, Tom DeLong, Marten Bauer, and Joe O'Leary. My personal bests in competition are (at 114-123 pounds body weight): back squat: 281 pounds; bench: 151 pounds; and deadlift: 353 pounds. I have a full set of weights in the garage and am easing back into a training regimen that will get me on the platform within a year, albeit in an older age group!
What is your experience on diversity, equity, and inclusion in your field?
There has been incredible movement in the choral world to recognize, identify, value, and increase access and inclusion to all people. As a female conductor, not even five feet tall, I've encountered lots of disbelief that I do what I do. People comment on my height all the time, as if they are surprised that a short person could have my energy, ability, or strength. Somehow, being short is equated with youth, inexperience, vulnerability, or other descriptors. Being short is simply a physical attribute. As an expert on conducting men's choirs, I started out as a sheer novelty. When people observe me conducting a choir of 150 men, they are often surprised — but I hope that I've inspired them as well.
How do you give back or pay it forward?
Giving to my community is paramount to belonging. I was part of the organizing and performing the fundraisers for Interfaith in Laramie, Wyoming. My husband, Jeff Selden, and I often perform for fundraisers and other events (he plays guitar, I sing and play some percussion).
What advice do you give to students?
I invite anyone who is curious about singing to join a choir — you won't be disappointed. Music teaches us how to be humans together, off the screens of technology. Music teaches us how to be flexible, work together with other people, strive for a common goal, share, and communicate. These are all attributes that are slipping away from us in this world. The community we build through music making is a sacred portal to our positive mental health. I believe singing can bring joy to the world, and I hope every person can be a part of the experience. •MJ
411:
May 26 – Live Virtual Concert: https://music.ucsb.edu/news/event/2210
https://music.ucsb.edu/people/nicole-lamartine
You might also be interested in...