Loss of Parking for Hot Springs Trail — How to Remedy the Situation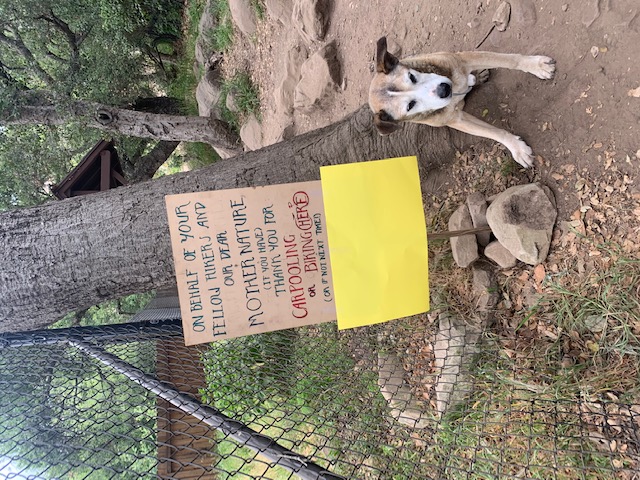 The process for removing parking on Riven Rock Road was disrespectful because there were no public hearings or solicitation for hiker input. Notices could have been placed on the Hot Springs trailhead but weren't.
Parking access for trails should not be limited in the future without notice given to hikers and the community, so all parties can come together and arrive at a solution. Notices can be put at trailheads, and public comments can be solicited. It really needs to get on an agenda, such as the Board of Supervisors.
Including all parties affected — neighbors and hikers — will prevent bad feelings, and a sense of exclusion. Problems can be solved in a manner that isn't mean-spirited.
So, if the neighbors by the San Ysidro trailhead, for example, want to reduce the number of cars by having white lines painted, there would be a public process.
Yes, a parking problem has existed for more than a year on Riven Rock Road, but in all that time, no good solution has been found — such as creating more shoulder parking spaces that would be out of the way of emergency vehicles.
The recent Noozhawk article dated April 18, 2021 by Joshua Molina mentions how resident Steve Buster created a parking space for guests and says it's his private property. County accessor maps show a 50-foot public right-of-way for upper Riven Rock Road. It might be necessary to hire a surveyor to find the exact right-of-way. Maybe he's mistaken in thinking it's his property, and does he have documents to show that it's his?
I live close by in Montecito, come by often, and have never seen vehicles in the parking space. A sign put up says that unauthorized vehicles will be ticketed or towed, with a phone number for the bonded garage given. I called the number and it's been disconnected.
There's no bonded garage to be found in the phone book or on the internet. So, who's going to do the towing? If hikers' cars are towed away, how are they going to locate them?
What a great parking space it would be for hikers as it goes 12 feet to the side of the road. It would hold six to eight vehicles parked perpendicular to the road. They wouldn't be blocking emergency vehicles. It would be the perfect parking area for Riven Rock Road. I wish Mr. Buster would be generous and donate the parking spot for hikers. He would be doing the community a great service; he could block off the parking space with a cord or cones in the rare event he needs to use it. Or he could sell or lease the small piece of land to the county.
If Mr. Buster would give myself or other hikers permission to park there, we would be authorized. It doesn't hurt to ask him. I reached out to him and left a message a few days ago.
It's true there are too many cars in the area, and not all the cars have to be accommodated. It's not fair that local residents should be subjected to so much traffic and parked cars, not when a reasonable amount of parking spaces can be provided. Parking spaces can be created on Riven Rock Road and surrounding roads to allow for the historical level of parking that was before the pandemic. Public right-of-way will have to be determined, and some parking spaces on the shoulder of Mountain Drive can be created. Eight seems like a fair number for upper Riven Rock. A new shoulder could be created there to get the cars out of the road.
Hikers can take bicycles to the trailhead to reduce traffic, and it's easy to get there with an electric bicycle. People need to get out of their cars, not just hikers, but residents.
Why not work with the county rideshare program to encourage electric bicycle use to get to the trailhead? The rideshare people at one time were at the Saturday Farmers' Market giving out free tokens for a new bus line being promoted. Someone could be at the trailhead giving out free tokens for electric bicycles stationed around the area for rent. People are likely to try something if it's free. The rideshare program may have some funding for this kind of thing; maybe some of the wealthier residents on Riven Rock would like to donate.
What's not mentioned in the article is how Riven Rock Road narrows quite a bit about a quarter of a mile down, from 22 1/2 feet wide to 18 feet, posing more of a problem for emergency vehicles. Traditionally, before the pandemic, people parked on upper Riven Rock close to Mountain Drive and there wasn't a problem in those days.
There are only five houses on Riven Rock before it narrows. When cars are parked on the narrower road, about 11 feet of clearance remains, down from 15 feet on upper Riven Rock. A fire engine is eight feet wide. There's a real problem with lower Riven Rock, and I wonder why it took residents so long to come up with a solution. The amount of clearance is equivalent to the temporary one lane bridge over Cold Springs Creek.
It's mean-spirited to put tickets on hikers' cars or tow their cars away without warning them against parking — either by putting up signs or painting the curb red. Ticketing won't stop cars from coming. Now that it's been discovered, people are coming from all over to enjoy the beautiful trail and hot springs. Tourists are even coming from other countries. Parked cars with tickets on them still present a problem for emergency vehicles.
Why not solve the traffic problem on Riven Rock in a more painless way by making it clear that parking is not allowed?
It's unfortunate that residents on surrounding roads are placing rocks right to the edge of the road and putting out signs stating it's their private property. This includes where there's an adequate shoulder for cars to get out of the way of emergency vehicles. It's not legal to block off the public right-of-way and claim it's yours. It's also not polite or neighborly.
A sign is attached to a stop sign at the northwest corner of Mountain Drive and Hot Springs Road which says, "No Hot Springs Trail Access or Parking." Hot Springs Road is a public road, and people have the right to walk on it. I've been taking my bicycle up the road for years to access the trail. A more courteous sign would say "Welcome to our neighborhood, this is a public road, but hikers, please stay on the trail."
Residents would like hikers to be respectful of them, but they also need to be respectful of hikers.
You might also be interested in...