Creating Hope with Pico Iyer and the Dalai Lama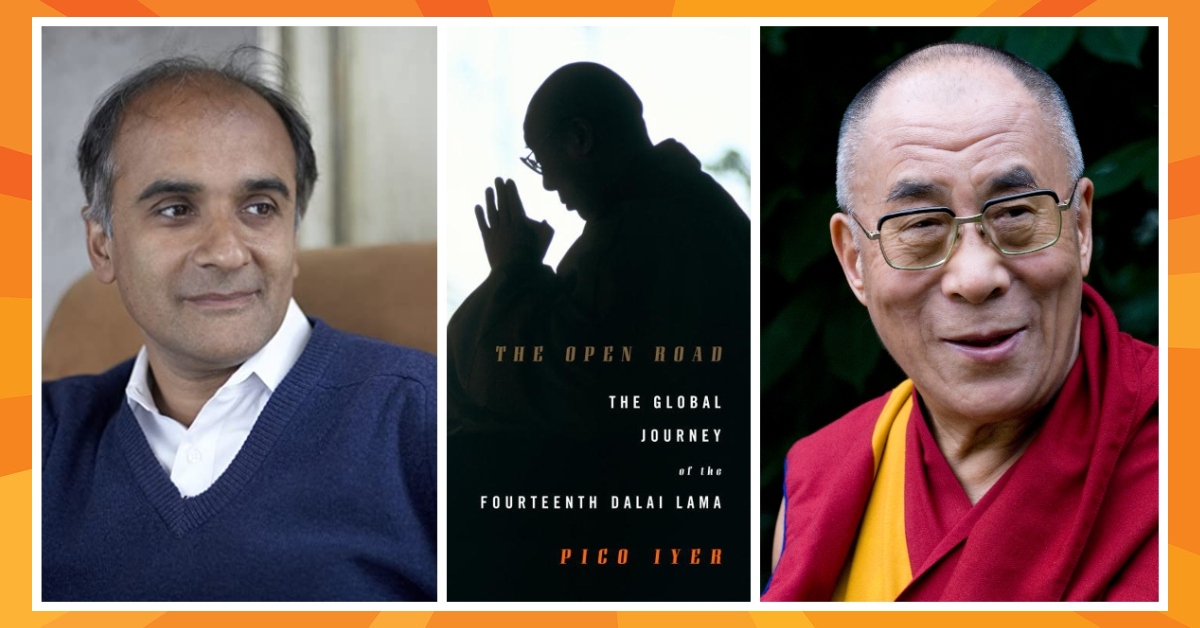 It's no surprise that UCSB Arts & Lectures has turned to the XIV Dalai Lama for the keynote event in its year-long 2021-2022 Creating Hope programming initiative. After all, not only has His Holiness, who is believed to be a manifestation of the Bodhisattva of Compassion, spent much of his life encouraging people to be happy despite any adversities, the 1989 Nobel Peace Prize recipient has enjoyed a long relationship with UCSB. The Dalai Lama first visited the seaside campus in 1984, returning in 1991, 1997 and 2009, while The XIVth Dalai Lama Chair in Tibetan Buddhism and Cultural Studies at UCSB was created in his honor in 2001. 
It's also no surprise that the esteemed travel writer, book author, and essayist Pico Iyer will be engaging in conversation with His Holiness, as nobody in town comes close to his connection to the current Dalai Lama. Iyer has been a friend, observer, and student of the Dalai Lama for more than four decades, deepening the relationship over the dozen years since he penned The Open Road, in which the writer drew on their intimate conversations to draw an unprecedented portrait of the Dalai Lama, offering insights into his work and his ideas about politics, science, technology, and religion. Iyer, of course, has also been something of a local landmark himself, and currently hosts the "Speaking with Pico" series for A&L.
In a near hour-long conversation to preview the May 18 event, Iyer discussed the Dalai Lama, the man and his work, as well as their relationship and his own thoughts on hope. Below are excerpts.
Q. You have a unique perspective on the Dalai Lama as both a writer and a friend who has spent a lot of time with His Holiness. How has your understanding and/or admiration of him and his place in the world changed over those dozen years since you wrote TheOpen Road?
A. Well, I have spent much more time with him in those 12 years than in the 34 years we worked together before that book came out. Since then, I've traveled with him eight times across Japan, by his side for eight hours a day every working day. Seeing him so close up has really intensified and deepened my appreciation because his patience and his humanity and his clarity never let up. He's in his 80s, and I'm 22 years younger than he is, but I'm exhausted at the end of just one of his days, and he does it day after day.
Most of the time I've been traveling with him from 8:30 in the morning when he comes out to his hotel room to 4:30 in the afternoon when he returns; he literally never spent a minute by himself. It's a very punishing schedule. Yet he brings absolute clear attention to every four-year-old child he meets along the way as if that child were the Buddha. It's a very humbling thing to witness. So, part of me wishes I could write that book now because it would be a much fuller, richer book based on all that experience.
How do you think he is able to be so present for everybody and not need time for himself?
Good question. It took me a while to realize that every day on the road while I was enjoying my beauty sleep, he was waking up at 3:30 in the morning and spending his first four hours in meditation, literally gathering his strengths and focusing his mind and preparing himself… Another factor is his determination. He's been carrying this whole culture on his shoulders, alone, for 80 years, and certainly for the last 60. I think he feels a great responsibility to do what he can while he can. Even when his health hasn't been perfect, this is his destiny, his duty on earth, and he's determined to fulfill it.
I do think the meditation makes a big difference. I don't meditate, but once I see the results in him, I think, if the busiest guy I know can spend four hours every day doing this I should probably be able to spend four minutes. It's a powerful way to begin the day.
Your conversation is on the theme of hope, which the Dalai Lama has talked about many times. Why is he the right person to learn about hope from at this time? And what do you do to elicit his unique perspective — how do you bring your own thoughts into that conversation?
What he has to bring as much as anything is how much he suffered. Of all the people I've met in my life, he's probably the one who's been through the most: He has to rule six million people he hasn't seen in 62 years, he's seen many of his friends and teachers and relatives die, he's opposed by the government of the largest nation on earth, and yet, as you know, he's most famous for his robust confidence and his constant smile and infectious love. Just the fact that somebody in so difficult and impactful a position can always be radiating confidence and love is one of the things that he passes on to the entire world.
Many people say that they get as much from his presence, his being, as from what he says. He's one of those who is not just talking a good game but seems to embody it. You just look at him and you feel, here's a really kind and humble yet confident person who's never been beaten down by circumstance.
"Creating Hope with His Holiness the XIV Dalai Lama in Conversation with Pico Iyer" takes place at 8:30 pm on Tuesday, May 18. Admission to the livestream event is free and available on UCSB's webpage, YouTube channel, and Facebook site (www.facebook.com/artsandlectures). Visit https://artsandlectures.ucsb.edu for details.
Local Leaders Align for 'Creating Hope' Community Talk
The "Creating Hope" series continues on May 19, with a free Community Connections event as part of UCSB A&L's Thematic Learning Initiatives. More Hope, which takes place at 7 pm, features local spiritual teachers Spencer Sherman, Jonathan Schooler, and Dawa Tarchin Phillips discussing the science, art, and practice of mindfulness and meditation in a discussion that will reflect on the previous night's public event with the Dalai Lama. Visit www.thematic-learning.org/2020-2021.html. 
Reflecting on Mira (Nair) with Pico
The 2020-21 "Speaking with Pico" series concludes with Iyer interviewing the decorated filmmaker-producer Mira Nair on May 26. Following four documentaries, the Harvard-educated native of India received an Oscar nomination for best foreign film for her first feature, 1988's Salaam Bombay!, the first of several groundbreaking films that explore issues of displacement and cultural identity, including Mississippi Masala, The Namesake, Monsoon Wedding (which won the Golden Lion, the highest prize at the Venice Film Festival, and was nominated for Golden Globe and BAFTA awards) and Queen of Katwe, and A Suitable Boy, Mair's new six-part BBC television drama miniseries (available on Acorn TV in the U.S.). The latter was adapted by Andrew Davies from Vikram Seth's 1993 novel set in post-independent India and follows four linked families in North India.
Iyer said his preparation for the upcoming conversation has been much more fun than usual.
"I have been watching videos of her interviews for (the TV series) released last fall. She deals with eight interviewers each with different agendas and every one of her answers has been mesmerizing and captivating and just full of brightness and light. Even given that movie directors by their nature have to be gregarious and charismatic and command a large crowd, she is unusually quick on her feet. I'll admit I've been telling a lot of my friends that whether you know about her movies or not, I'm really confident that this will be a good event."
What makes interviewing Nair even more appealing, Iyer said, is that the filmmaker's "fascinating story" isn't as well-known as most successful directors.
The 5 pm conversation on May 26 will be followed by a moderated Q&A with audience members submitted questions via chat.
Iyer is also August's featured presenter in Hospice of Santa Barbara's Illuminate Speaker Series. Iyer will talk about his own approach to resilience, gratitude, and hope in a one-hour talk at 6 pm on August 18. Register for the free event at www.hospiceofsb.org/hsbseries. 
The Arlington Theatre Turns 90
The Arlington Theatre has hosted its share of movie magic projected on its big screen in front of 2,000 people ever since it was built in 1931 on the former site of the luxurious Arlington Hotel, which had been destroyed in the 1925 earthquake. The largest indoor venue in town was designed to be reminiscent of a colonial Spanish town boasting a fountain and villas, with often amusing results when the venue hosts rock concerts and comedians among dozens of live performances annually. Now, after a year-plus of closure due to COVID concerns, the grand dame run by Metropolitan Theatres is getting ready to reopen just in time to mark its 90th anniversary.
A three-day celebration is set to take place over the May 21-23 weekend with daily screenings of the classic escapist films E.T., Ghostbusters, and Blade Runner the Final Cut. Tickets, already on sale at www.MetroTheatres.com, cost $5 and include a free popcorn at the concession stand. Saturday's celebration will kick off with a free, live performance featuring the Santa Barbara Theatre Organ Society with special guest organist Adam Aceto, who will play the Arlington's Great Theatre Pipe Organ, a 1928 Robert-Morton Wonder Morton of which only five were ever made. Admission will be on a first-come, first-served basis.
Metro Moves Closer to Normal
The Metro 4 Theatre at 618 State Street has joined Fiesta 5 Theatre at 916 State Street and Goleta's Camino Real Cinemas on Marketplace Drive in hosting regular screenings of newly released movies, with two more of Metropolitan Theatres' screens set to join them this month. The Fairview Theatre (255 North Fairview Avenue, Goleta) throws open its doors on May 14.
Focus on Film: Short on Science
The Tipping Point was created as part of the Carsey-Wolf Center's GreenScreen Environmental Documentary production program. The 15-minute film explores the local Santa Barbara organizations and scientists who are fighting back against the defunding and the suppression of science in today's changing political climate in an effort to safeguard both scientific methods and help heal our planet for generations to come. The short premiered at the Santa Barbara International Film Festival back in 2018. Director Danielle Cohen chats with SBIFF Executive Director Roger Durling over Zoom at 1 pm on May 13, in the next episode of SBIFF's Film Talk.
Symphony's 'Triumph' Over COVID
Using a word like "triumph" wantonly is a bit disingenuous, but surely the Santa Barbara Symphony's success in becoming one of a handful of performing arts organizations in the country to create a way to continue both concert performances and music education programs qualifies. What has been arguably the most innovative and inspirational season in its six-decade history comes to a close with this weekend's concert entitled Triumph featuring Maestro Nir Kabaretti and the full orchestra assembled together on stage at the Granada Theatre for the first time since the pandemic protocols shut everything down last spring.
Award-winning pianist Awadagin Pratt, who has played at the White House and Carnegie Hall, on Sesame Street and with nearly every major orchestra in the U.S., serves as soloist for Mozart's "Piano Concerto No. 12 in A Major" in the program that also features Benjamin Britten's "Fanfare for St. Edmundsbury" and Beethoven's "Symphony No. 7 in A Major, Op. 92." The local luminary featured for this show is Joseph Malvinni, a 13-year-old student who was one of the winners of the 2021 Santa Barbara Youth Symphony Concerto Competition. He will perform the first movement of Castelnuovo-Tedesco's "Concerto for Guitar in D Major," backed by the orchestra.
The recorded performance will be livestreamed at 7 pm on May 15, and 3 pm on May 16, serving as a segue to live audiences once again returning to the concert halls for the 2021-22 season. Visit https://thesymphony.org for details and tickets. 
Dance Dimensions: CST Plans a Re-emerge Festival
Center Stage Theater earlier this month hosted its first live performance with an audience in nearly 14 months via a Westmont College concert, which has only whetted its appetite for more live stuff at the Paseo Nuevo venue. The plan is to create a hybrid festival featuring both digital submissions tapes at the theater and live performances in front of COVID-compliant audiences. CST is partnering with Brandon Whited as artistic director/curator along with Meredith Cabaniss in coordinating events co-produced by The UCSB Initiative for New & Reimagined Work.
The plan is to create three or four different programs, based on submissions, that will be performed June 17-20 at Center Stage, with the audience size determined by what the state and county rules are at that time. There is no charge for any of the performers and rehearsal/shooting time is part of the package. The submission deadline is May 14; find forms and the complete details on the Center Stage Blog at https://centerstagetheatersbdotblog.wordpress.com.
Chaucer's Choices
Mary Jane, the latest novel from The Wonder Bread Summer author Jessica Anya Blau, has been called Almost Famous meets Daisy Jones & The Six for its funny and wise story about a 14-year-old girl's coming of age in early 1970s Baltimore, where she's caught between her strait-laced family and the more progressive one she nannies for — the latter of which happens to be secretly hiding a famous rock star and his movie star wife for the summer. That mashup/comparison might sound a little self-righteous, but be aware that none other than belove High Fidelity and Fever Pitch author Nick Hornby raved: "I LOVED this novel… If you have ever sung along to a hit on the radio, in any decade, then you will devour Mary Jane at 45 rpm." Blau — who co-wrote the script for the film Love on the Run, sometimes works as a ghost writer and has taught writing at Johns Hopkins University and The Fashion Institute of Technology — talks about Mary Jane with fellow writer Joanna Rakoff, author of the novel A Fortunate Age and the international bestselling memoir My Salinger Year, which was released as a feature film starring Sigourney Weaver and Margaret Qualley last March. Tune in at 7 pm on May 17.
Santa Barbara author Kathleen Klawitter was a pioneering golf pro teaching the holistic approach in the early 1990s before sustaining a traumatic brain injury from an errant golf ball. Although the TBI left her faced with relearning how to read, write, and drive, she eventually discovered tools to awaken, deepen, and transform her life on every level. Looking at life with optimism, she found constant comfort in nature and spirit, and eventually became a black belt in Tae Kwon Do and earned the Advanced Toastmaster achievement for the motivational speeches. In her 2020 memoir, Direct Hit: A Golf Pro's Remarkable Journey Back from Traumatic Brain Injury, Kathleen regales readers with how she reprogrammed her brain using innovative methods, offering her empowering tale to illustrate the immense capacity of the human spirit and serve as inspiration for people who want to optimize the quality of their own lives. Klawitter joins a Chaucer's Books staffer for the bookstore's next Virtual Author Discussions at 7 pm on May 18. •MJ
Illuminate the 'Art of Fl pandemic protocols as the country entered the less restrictive Orange Tier. Coming up: the final weekend of students performing in the pandemic protocol-adapted Abba-song musical Mamma Mia! in which Sophie, raised by her single mom, impulsively invites all three of her potential dads to her wedding on a remote Greek isle. Show time is 7:30 pm from May 13-15, appropriately at San Marcos' Greek Theatre. Visit www.smhstheaterdept.com. 
Surging Toward Sergei
Nicholas, Anna & Sergei, the latest from self-created piano productions wizard Hershey Felder's pandemic-born "theatre-at-home broadcast company" based in Florence, Italy, has its world premiere on May 16. A memory play with additional music penned by Felder, who stars as the famous Russian composer and pianist Sergei Rachmaninoff, the streaming film also features J. Anthony Crane, Ekaterina Siurina, and Igor Polesitsky. Set in the house in which Rachmaninoff died in Beverly Hills, the story recounts an extraordinary meeting between Rachmaninoff and Anna Anderson, the woman who claimed to be Princess Anastasia, the sole surviving member of the Romanov Dynasty. The production includes Felder performing Rachmaninoff's most beloved melodies, including "Piano Concerto #2," "Preludes," "Etudes," and the 18th variation of "Rhapsody on a Theme of Paganini." Streaming partners include both Santa Barbara Ensemble Theatre Company and Ventura's Rubicon, which receive a portion of ticket sales purchased through their links. Tickets are $55 per household, which includes unlimited streaming for seven days, and are available at www.rubicontheatre.org. 
Out of Town Report
Elsewhere on real and virtual stages, Ojai Art Center Theater springs back into live theater with, appropriately, a revival, in this case a production of The Belle of Amherst by William Luce that stars Ojai actor and choreographer Anna Kotula, who also previously presented the show at the Rubicon and Namba Arts. The 1976 play about poet Emily Dickinson won Broadway star Julie Harris a Tony Award while the recorded version earned a Grammy Award. Steve Grumette, artistic director of the Ojai Film Festival, directs the Ojai ACT show that will be performed live on stage on weekends May 14-23, with limited seating and masking and distancing policies in place. The show will also stream for in-home viewing on May 28-30. Call (805) 640-8797 or visit www.ojaiact.org.
Santa Maria/Solvang's PCPA streams a virtual cabaret called Songs, Sonnets, and Springtime featuring poetry readings with selections from Shakespeare to Edna St. Vincent Millay, plus jubilant selections from musical theater favorites along with original songs, all presented by PCPA's Resident Artists. The one-hour show meant to celebrate the change in seasons, directed and edited by Jana Price with Roger DeLaurier, streams on demand anytime through June 27. Register for free at www.pcpa.org.
You might also be interested in...