Arts in Lockdown #27: Museum of Sensory & Movement Experiences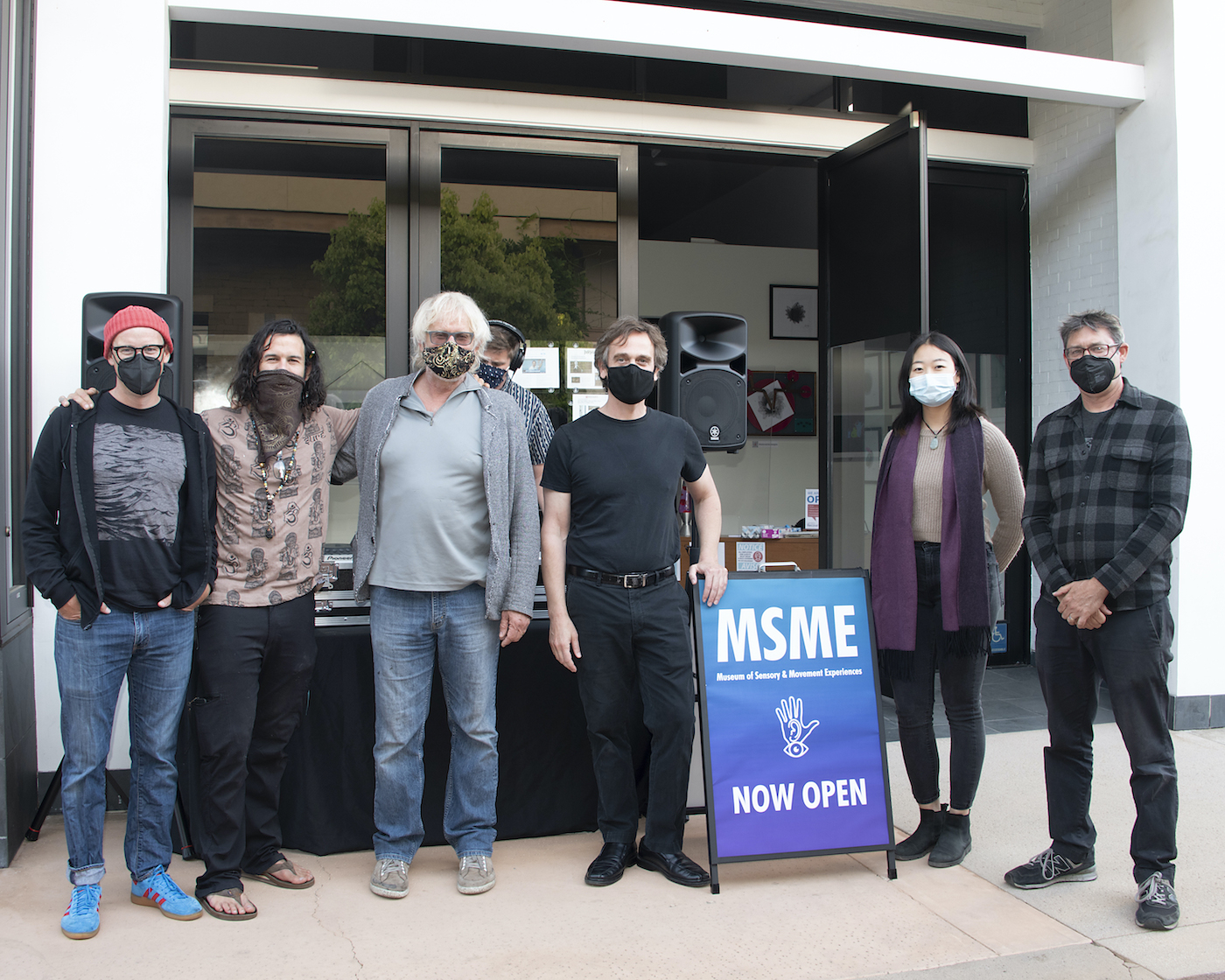 A new media arts x science exhibition launched in March, 2020, and is nested in a retail-shop-turned-museum at La Cumbre Plaza called The Museum of Sensory & Movement Experiences or MSME ("miss me"). This interactive all ages exhibition allows one to get "lost" in time, imagery, sound, and perception of what really can be transmuted one on one with art in a six-to-eight feet distance. I attempted to review this exhibition a number of times, but the on/off lockdown took me to this past weekend, where all was permitted, masked and distanced. While some works have been shown in other locations prior, such as MOXI and UCSB's MFA show, they are still reigning strong on consistency of delivery for science-based methods making art happen. 
I met, interviewed, and reviewed the works of MSME's founder and Executive Director Marco Pinter,PhD, and the artists whose works are currently on exhibit. Here are the sparknotes:
Pinter received his PhD in Media Arts from UCSB and is an inventor with over 70 patents in live video tech, robotics, interactivity, and telepresence. He is a contributing author to the McGraw Hill Multimedia Handbook and Ultimate Multimedia Handbook, the Director of Software Innovation for Teladoc Health, and exhibited from Tehran, Dubai, Hong Kong to NYC. At MSME, he has six works titled, "Unraveled," "Fluid Connections," "Celestial Inflections," "Time Dilation," "Thermal Gestures," and "Less Ephemeral," all live interactive play with video.
On founding the museum, Pinter shared, "My 'Fluid Connections' piece, located just inside the museum entrance, exemplifies the mission. A projected silhouette of the visitor's body extends into space through extensions that are long, fluid, and floating. When two strangers are each interacting with the piece, even six feet apart, and their fluid, projected limbs cross paths, they unexpectedly join together and become connected. Energy visibly pulses between the bodies. Eight more interactive experiences lie deeper within the museum, working with voice, heartbeat, movement and body heat. We are excited to have a new piece coming soon, on long-term loan from the David Bermant Foundation. It is one of the obelisk-like sculptures of Clyde Lynds, and should be arriving in the next few weeks, and features moving constellations of dancing lights within a stone-like base.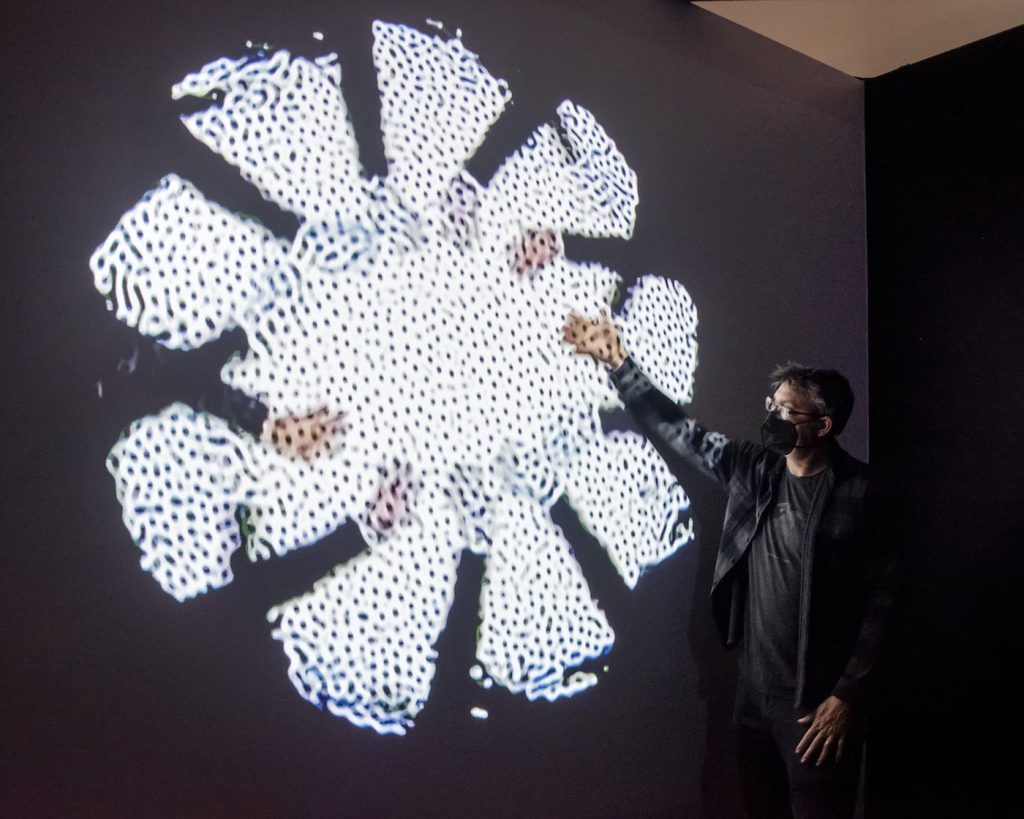 "My work explores the underlying mechanisms of perception, creating situations of conflict between our higher-level consciousness and lower level perception. I typically use materials, which explore a fusion of physical movement with visualizations in the virtual world. I find inspiration in dance and sculpture, but also in cognitive psychology, neuroscience, and mathematics. I pursue similar themes in both installation and performance. A cyclical process has emerged, wherein my observations of public participants with an installation, on the one hand, and my experience with dancers and audience, on the other, create a feedback loop of cross-influence in my ongoing exploration. I believe a community that moves – that dances – is a healthy community. Many of my interactive installations are designed to facilitate moving one's body, and opening up to the body without going through the mind. Especially during the pandemic, I'm interested in inspiring the community to engage with their kinesthetic awareness and expand mindfulness through movement."
Ethan Turpin's "Video Organism" is a video feedback loop and human interplay with that video, visually correlating to sacred geometry models in art, you the human become one in the video playback loop and thus one with the geometry. And yes Jobs, it's done without computers. While demoing his work for the photo for this article, he explained, "Feedback systems appear at many scales in our relationships with nature and each other. As with a conversation between two people, the unpredictability of weather, the turbulence of fire or water, they can be confounding in their lack of linear causality and fascinating in what they produce. The 'Video Organism' is produced in the looping relationship between a camera and its projector, each pointed at the same blank wall. The pixels of both begin lining up to continually grow patterns, using but not requiring physical interactions from the artist or the public. This emergent content can evoke both natural patterns, like bacteria and storms, or cultural patterns, like glyphs and mandalas. As an artist, I've learned to carefully arrange and tune the system, but it is never entirely in anyone's control. The fact that such imagery arises from consumer electronics and without a computer is ever-startling. Within the complexity, visual tensions between chaos and order, nature and culture, are revealed from within the tools of video. I'm interested in placing this phenomenology in a variety of art, science, and metaphysical contexts to see and share in what ideas also emerged."
Sound Vibes
Stepping into the sound room to sing your vibrations into a standard microphone which translates your sound vibes into waveforms and audio, you are creating art with your own sounds, is the work of Xindi Kang and Rodney DuPlessis titled, "Oscilla." The wave forms can borderline Fibonacci's nautilus drawings on steroids and in color. While Xindi demoed the work, my thoughts went to "Lateralus" by American progressive metal band Tool. How did they do this? Rodney explains,"Oscilla engages the audience to explore acoustics and patterns with their voice in a machine-human duet. The audience brings Oscilla to life with their voice, and in return Oscilla provides auditory and visual feedback, opening a path for self-discovery. I am a composer, multimedia artist, and programmer. My research and artistic practice in general intersects science, software, and music. I am interested in creating powerful sonic and multimedia experiences grounded in scientific models of physics, chemistry, biology, thermodynamics, and meta-science. The natural world is filled with processes and patterns that are intrinsically musical. Through my work, I aim to reveal this musicality and to evoke an aesthetic or internalized understanding of otherwise intangible ideas." Xindi is also is a researcher and artist working with interactive media, interfacing between human and technologies through voice and movements, human computer interaction and user experience design.She designs experiences that inspire the users to see and hear themselves in different ways.
"HeartSpace" was created by the team of Alan Macy, Dave Zaboski, Alex Stahl, Dominique Reboul, and Garrett Staab. This work makes it a reality that we are connected, even at a distance of six to eight feet, by the energetic beating of our hearts, which creates a vibration through space. Yes you really did reach out even when masked and distanced, and this interactive work demonstrates it. While one person stands in front of a metal globe and places their hands on it, up to three other participants stand on e-connected platforms around it and create a visual color pattern on a screen mirror. Macy says, "The 'HeartSpace' project concept originated with Zaboski, and is an exploration of the bioenergetic systems that create a foundation for our conscious presence. Through the use of specialized technology, 'HeartSpace' reveals the expression of fundamental rhythmic processes that underlie life, and our connection to the world and to each other.Zaboski is a classically trained painter, illustrator, and former Senior Animator with Disney, Sony, and Warner Bros. (Beauty and the Beast, Aladdin, The Lion King, Pocahontas, The Hunchback of Notre Dame, Hercules, Tarzan, The Emperor's New Groove, Fantasia 2000). Reboul assisted on project appearance conceptualization and fabricated the installation exterior. Stahl developed the inner circuit workings and the rotating floating display. Staab assisted in all areas. Macy designed the electrocardiogram biopotential measurement element."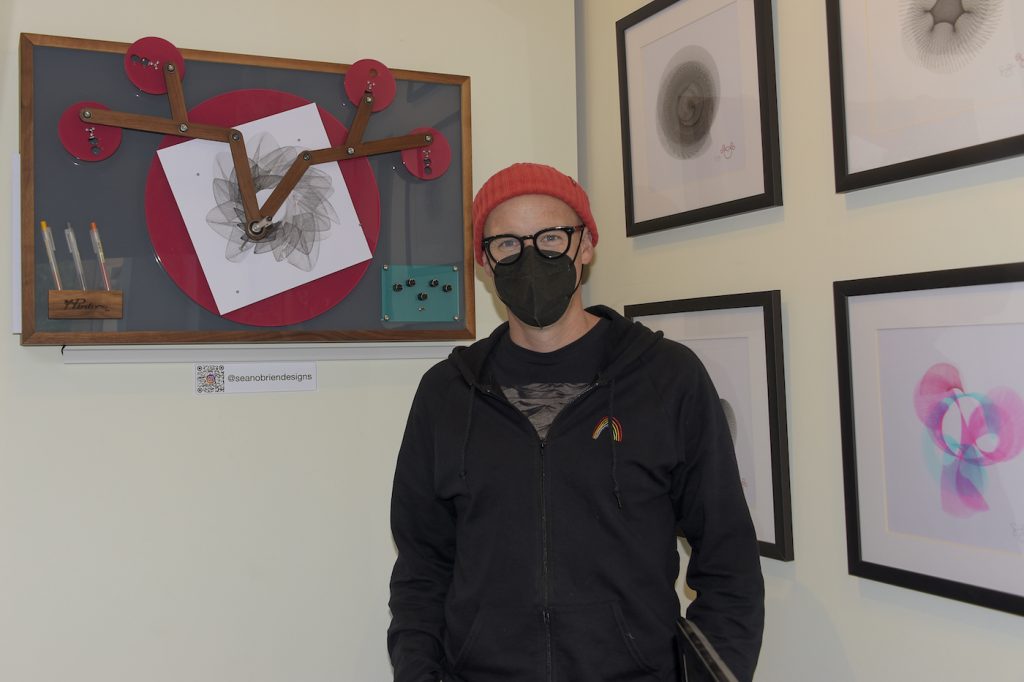 Sean O'Brien's Pintograph drawing machine, where he sets the timing of four different rotating discs at variable speeds that work together to drive a single pen and thus produce geometric art over the course of 12 or more hours, uses chaos theory with different outcomes each time. This is his fifth machine; the first was made with school kids and used a harmonograph with pendulums to move the pen. Watching the wheels go round led me to ponder the immutable reference the drawings being made are fractal science images and… would Maurits Cornelis Escher want to manipulate the timings of the discs, add more pens with varied tip points and loop them to a gravitational pulley?!
Pulling us into the "fabric" of her thought-provoking work on consumerism, Elisa Ortega Montilla's"Soft Gravity," showcased in the museum's front window, is a direct opposition to the high-end shopping mall that sports MSME. While inside her work, "Guardarropa," created with found objects in hosiery knotted into vertical shapes she says are feminine, and displayed hanging in a small room, the message is suggested and interpretively yours as you navigate around the objects. Her artist statement is: "My art addresses themes of memory, transformation, and identity through materials that have been discarded, deconstructed, and reconstructed, in a studio-based practice that revolves around experimentation while questioning our culture of consumption. I mix the found and the made, the new and the old; tradition and experimentation, the mass-produced and the handmade; my Spanish values and American experience, the present and the past."
Meditative works can be enjoyed by viewing David C. Roy's "Deja Vu," a wood carved kinetic sculpture displayed in the museum's front window, in constant motion. And with Doug Lochner's "Gravity 2.0" and "Trinity," both from his series of soothing and healing sculptures exploring gravity and the principles of Zen. Trinity is made of glass and Gravity is made of steel. Each are free-hanging vertical rectangles, and wrapped around a forged iron hanger.
411: https://seehearmove.com
120 South Hope Avenue, 
Suite F119, Santa Barbara, CA 93105
You might also be interested in...