Aimee Kielborn: Kombucha Queen Montecito Mom Aimee shares how she and her family run a home-brew supply business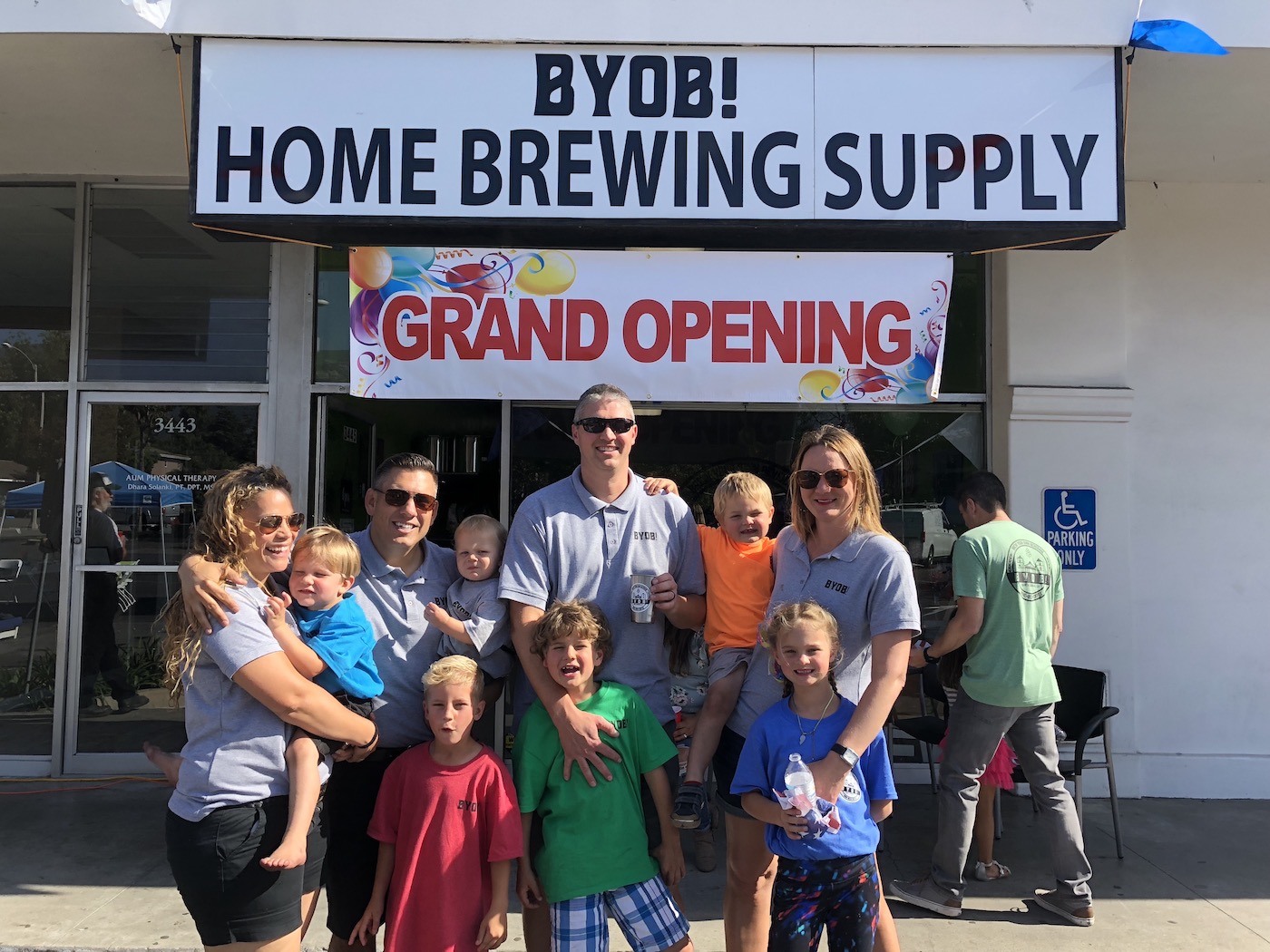 When most people crack open a can of beer or sip a kombucha, they probably don't think about the malts, grains, SCOBY, and fermenting that go in behind the scenes. Montecito Mom Aimee Kielborn not only thinks about it, she brings it light, or rather, to brew, with her company, BYOB! 
Kielborn and her husband, Mike, run Brew Your Own Beverage (BYOB), a shop in Santa Barbara on upper State Street.
The Kielborn family moved to Montecito in the summer of 2019, though they have lived in Santa Barbara the last 10 years: "We had heard amazing things about Montecito Union School, so we wanted to give our three kids (10-year-old twins, Drake and Alena, and six-year-old Lincoln) that opportunity to experience all that MUS has to offer."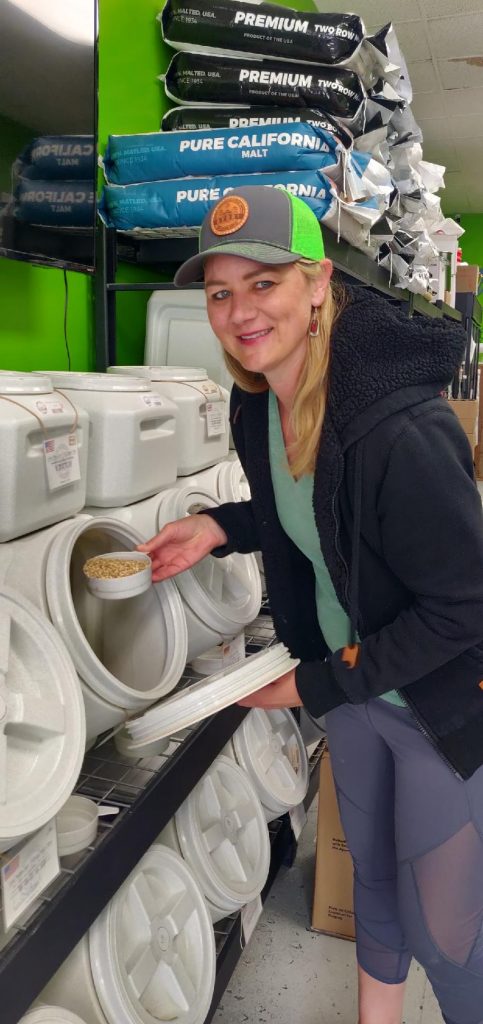 They had a unique opportunity to start their own business: "My husband and our business partners (Trent and Becky Hammel) have been passionate about home brewing for 20 years, and they were tired of not having a place to source fresh ingredients. They decided to open a shop which we call their 'personal brewing pantry.' I am a kombucha maker myself, and at BYOB we sell kombucha kits and offer kombucha classes."
Kielborn says her Business Economics degree and a teaching credential help both in front of and behind the counter. "My business degree has helped me to understand all the financial statements for small businesses, and my teaching background allows me to be comfortable teaching kombucha-making classes to live groups."
Over the years, Kielborn's husband and business partner Hammel have been working on perfecting their homebrew craft. They connect with other local brewers regularly and stay on top of the latest trends by watching videos and listening to podcasts on the topic. As Kielborn shares, "They haven't taken any official brewing classes, but they have had plenty of trial and error and hands-on learning!"
The process itself is pretty involved. There is a three-hour timeframe for brewing, and then two weeks to ferment and an additional one to 14 days to carbonate.
Explains Kielborn: "We offer over 50 different types of grains at our store: from Bestmalz Dark Munich Malt, Baird Maris Otter Pale Ale Malt, to Chocolate Wheat Malt. We use roasted barley grains to provide the sugars that yeast ferments. They are the primary source of beer color and a major contributor to beer flavor, aroma, and body. Proteins in the grains give structure to beer foam and minerals deliver many of the nutrients essential to yeast growth."
BYOB SB is the only home brew supplier in all of Santa Barbara, Goleta, Montecito, and Carpinteria. Says Kielborn: "We are the only supply shop in the area and we found that fresh is best when it comes to yeast – so online shopping wasn't a good option. We decided to offer the freshest and best supplies to the local brewing community."
Where it gets interesting is if you want to get creative. Kielborn says a lot of the fun of BYOB is that you get to decide what you want your beer to taste like. "We offer a choice of more than 50 different grains so you can really modify the flavors, colors and aromas of your brew. Then, you can accentuate different characters in the beers with over 60 different strains of yeast. You can also work with SCOBY (an acronym for "symbiotic culture of bacteria and yeast") that is formed after the completion of fermenting bacteria and yeast which creates the sour flavor in kombucha."
Along with supplies, the store offers personalized brewing classes for anyone looking to learn the craft. And as things slowly reopen, they are hoping to offer more classes and "party options" for people wanting to learn more about creating their own brews.
Coming into the brewing business was not easy. Kielborn shares: "Starting your own business can be a tricky and nerve-wracking endeavor, but it is worth it! People have been grateful we brought this concept to our town. We hear all the time from our customers how much they appreciate us opening shop!"
COVID made things even harder. During the lockdown, they had to reduce storefront hours and were unable to do any in-person brewing classes. Says Kielborn: "We survived with online ordering and storefront order pickups. Now, we really look forward to getting back to brew festivals, teaching brewing, and helping with events."
In addition to teaching brewing, they can also offer the carbonation canisters for people who want to make their own sparkling waters and beverages. Kielborn explains: "So many people like their bubbly and fizzy waters, if you refill the carbonation canisters with us, it actually is a great money-saver!"
In between running the business and running around with her kids, Kielborn is finding time to enjoy her new Montecito community: "My kids love exploring and discovering all the fun little creeks and paths Montecito has to offer. Our perfect day is an early morning hike up Cold Spring Trail, followed by a nice brunch with a girlfriend, then a leisurely walk down Miramar Beach, some BBQ with my family, and a dip in the pool!"
If reading about home-brewing is making you thirsty, then trying out a brewing class is a great place to start. Kielborn says as things reopen, BYOB is a unique place to come for celebratory events or small gatherings: "It is a similar process to cooking, but it is less rushed. There is so much personalization that can be put into brewing. The smells of brewing beer are intoxicating and I hope you won't be afraid to give it a try!"
To learn more, check out their website: www.byobsb.com.
You might also be interested in...