Chaucer's Choice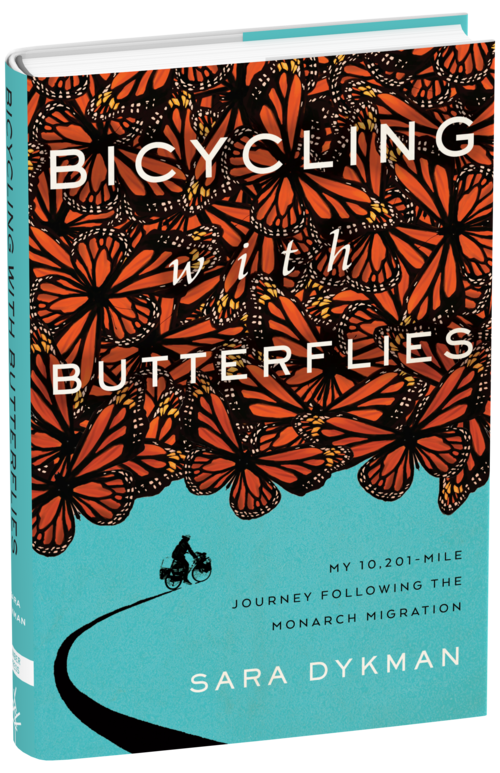 The population of western monarch butterflies — the majestic insects that migrate from nearby states to spend the cold months in groves of trees between Marin County and San Diego — has declined more than 99 percent since the 1980s, a dramatic drop that has sadly been verified by their disappearance from our own famous eucalyptus grove by Ellwood Preserve. Writer-researcher Sara Dykman has a similarly foreboding but also much merrier tale to tell in her new book, Bicycling with Butterflies: My 10, 201-mile Journey Following the Monarch Migration.
The founder of beyond­abook.org, Dykman works in amphibian research and as an outdoor educator, guiding young people into nature so they can delight in its complicated brilliance. In Bicycling with Butterflies, Dykman recounts her incredible journey as the first person to bicycle alongside monarch butterflies on their storied annual migration, including the dramatic ups and downs of the nearly nine-month odyssey on a bike she cobbled together from used parts. 
We become her travel partner as she navigates unmapped roads in foreign countries, checks roadside milkweed for monarch eggs, and shares her passion with eager schoolchildren, skeptical bar patrons, and unimpressed border officials. We also meet some of the ardent monarch stewards who supported her efforts, from citizen scientists to researchers to farmers to high-rise city dwellers.
Dykman talks about her journey, the butterflies and her book, which was published April 13, over Zoom with Chaucer's staff at 6 pm on May 13. Can't make that date? As part of her virtual book tour, Dykman will also talk with Susan Meyers of Monarchs Across Georgia in a free Zoom event through Eagle Eye Book Shop at 4 pm on Wednesday, May 12. Visit georgiacenterforthebook.org.
Focus on Film: The Say "Hey-y-y" Kid
It's rather surprising to recall that Henry Winkler — who has enjoyed over four decades of success in Hollywood as an actor, producer, and director — only recently claimed his first Primetime Emmy Award. Winkler, of course, initially rose to fame for his role as Arthur "Fonzie" Fonzarelli on the influential 1974-84 sitcom Happy Days, with his character becoming one of the most iconic roles of the era. The Fonz earned Winkler three Emmy nominations but no victories, although the actor did claim two Golden Globe Awards for the role.
Winkler also received Golden Globe noms for drama for playing Jack Dunne in Heroes (1977) and comedy for his role as Chuck Lumley in 1983's Night Shift, and was again nominated for an Emmy for Outstanding Guest Actor in a Drama Series for The Practice. The actor also took home Daytime Emmys in 1985 for the CBS Schoolbreak Special: All the Kids Do It, and 2005 as Outstanding Performer in an Animated Program in Clifford's Puppy Days.
But it wasn't until 2018 that Winkler finally won his first Primetime Emmy Award for Best Supporting Actor in a Comedy for his role in Barry. The dark comedy crime TV series created by Alec Berg and Bill Hader premiered earlier that year on HBO, and stars Hader as the title character, a depressed, low-rent hitman from the Midwest who reluctantly travels to Los Angeles to execute a hit on an aspiring actor. When Barry follows his target into an acting class where Winkler's character is the teacher, he finds an accepting community in a group of eager hopefuls within the L.A. theater scene and realizes he'd rather start a new life as an actor.
As part of the Carsey-Wolf Center's Script to Screen series, Winkler joins Pollock Theater director Matt Ryan at 4 pm on May 11, for a discussion of his role in Barry — where the writing has also claimed numerous awards — and the rest of Winkler's career in entertainment. People who register for the event by noon on May 12 will receive a link to stream the show's pilot episode on Monday.
The Canadian documentary film Borders: John Ware Reclaimed (2020) follows filmmaker Cheryl Foggo on her quest to uncover the complex story of John Ware, an African-American cowboy and rancher who settled in Alberta prior to the turn of the 20th century. As she endeavors to dig past the racist myths and falsehoods surrounding Ware, she recalls her childhood in Calgary, Alberta, her own experiences of racism, and her family's history as part of the 1910 migration to western Canada to escape violence in the southern United States. She also evokes the suppressed history of a thriving Black presence in the Prairies: the Black pioneers who lived, worked, and raised families in the west. Foggo's archival, genealogical, and archaeological search, and her creative reimagining of John Ware's life that features animation, music, and historical reenactments, reveal who this iconic figure might have been, and what his legacy means, at least through the writer-director's eyes.
Foggo — a multiple award-winning playwright, author, and filmmaker whose work over the last 30 years has focused on the lives of Western Canadians of African descent — talks about the film with moderator Stephanie Batiste at 4 pm on May 13. Batiste is an Associate Professor of Black Studies and English at UCSB, where she is also Affiliate Professor in the Departments of Theater and Dance and Comparative Literature. She is also co-editor of the NYU Press Book Series Performance and American Culture. Registered participants will receive a link to screen the film two days in advance of the event. Visit www.carseywolf.ucsb.edu.
SBIFF's Film Talk Finds Features
The festival's weekly series of conversations between writer-directors and SBIFF staff has taken a couple of left turns as it re-emerges after last month's annual festival: Not only has SBIFF head honcho Roger Durling taken on the Q&A duties for at least the first four weeks, but the series is also encompassing filmmakers whose oeuvre includes feature length documentaries and more. Three of Jason Baffa's features — 2003's Singlefin: Yellow, 2014's Bella Vita One, and 2007's California Day — struck a chord in the surfing community in Santa Barbara and the world — before his 2019 effort, Loopers: The Caddie's Long Walk, employed none other than Caddyshack's Bill Murray as narrator for a long look at the person behind the player who is actually carrying the bag, and more. Baffa discusses his past and upcoming work with Durling over Zoom at 5:30 on May 6. Details and registration at https://sbiff.org/filmtalk.
Classical Corner: Kislenko Connects
For UCSB pianist Dr. Natasha Kislenko, putting together her new virtual chamber music recital, "Springtime in France: Music of Les Six," was both a trip down memory lane and a discovery of something new.
"I've always been interested in the music of the early 20th century, which was a really fascinating and diverse time," said the pianist who has previously put several programs together featuring composers from the era. "I just kind of randomly came across an article about Les Six, and then I got the book by Robert Shapiro to read about the composers and it was really fascinating. I knew three of them, but the others were complete mystery. So I was curious."
Indeed, Les Six members were Georges Auric (1899–1983), Louis Durey (1888–1979), Arthur Honegger (1892–1955), Darius Milhaud (1892–1974), Francis Poulenc (1899–1963), and Germaine Tailleferre (1892–1983). Milhaud — who was an early co-founder at the Music Academy of the West, where Kislenko has long served on the faculty — and Poulenc are well-known, and Honegger's music is still often played, but the others have largely faded into history.
But at the time the young composer friends were quite the rage in Paris as they followed ideas of the well-known poet and playwright Jean Cocteau and composer Erik Satie, and took their inspiration from street and cafe music in Paris, with music that tended toward light, witty, and joyful in opposition to weighty German romanticism and complex writings of Debussy and Ravel in the years post-World War I.
"That lightness of textures seems like something that's right for our times right now," Kislenko said.
To create the program that will premiere at 6 pm on May 7, as a YouTube video via the UCSB Department of Music's channel, Kislenko fashioned her own party of five, coming up with pairings much like the disparate grouping of the French composers during the Les Six era. As it turns out, "Springtime in France: Music of Les Six" wasn't recorded in either Paris or Santa Barbara, instead the videos were made in Houston, where Kislenko has been spending some time during the pandemic. Which is also where nearly all of the collaborators also reside.
"I have a lot of great colleagues and friends here in town," she explained. "We picked most of the pieces together."
After Kislenko opens the concert with solo works from L'Album Les Six — the only one that featured all six composers — the concert continues with Honegger's Intrada for trumpet and piano with Matthew Swihart, professor of high brass at Nicholls State University in Louisiana; Auric's Five Bagatelles for piano four hands and Tailleferre's Deux Valses and Toccata for two pianos, both with Israeli-American pianist Tali Morgulis, an Associate Professor of Piano at Houston's Moores School of Music; Milhaud's Saudades do Brasil for violin and piano with Bulgarian violinist Chavdar Parashkevov, who plays for the Houston Grand Opera and Houston Ballet Orchestras; and Poulenc's Sonata for clarinet and piano, with clarinetist Richie Hawley, the former principal clarinet of the Cincinnati Symphony Orchestra and current Rice University faculty member who is also on the MAW faculty.
Kislenko has frequently collaborated with the artists on this program, both in the concert hall and recording studio as the Kislenko/Parashkevov duo has presented recitals and concerto performances all over the world since forming the duo in 2010. The pianist and Swihart collaborated during their studies at Stony Brook University 20 years ago, Kislenko has offered master classes for Morgulis's students, for example. What was new was shooting the performances over such a short period during the pandemic.
"We recorded them at several different venues and on different days over a four-week period," Kislenko said. "So, it will look a little bit like a kaleidoscope because I'm even wearing different clothes for every piece, very random. But I guess that's how things are."
Just having the chance to record in person with other people was a delight, Kislenko said.
"It was absolutely amazing because for the whole year we haven't been able to do that," she said. "I still have not played in front of people, but at least I could make music in the same room with people. Some of them were fully vaccinated so I could even take my mask off, which was really amazing! It was totally fulfilling for me."
An even bigger cause for celebration for the pianist came from discovering Tailleferre's music.
"I've really never heard this work before," Kislenko said. "I've come across a lot of music with the accompanying work at MAW and elsewhere, or going to concerts, but I had never heard this music anywhere. And it's just delightful and wonderful. I don't understand why. It could be because she was a female composer and at that time music by women wasn't taken seriously. But she has a lot of great, great music. And I'm definitely going to look into doing more of it now."
C'est fantastique!
You might also be interested in...