No Need to Whisper, This Art Installation Hits Close to the Heart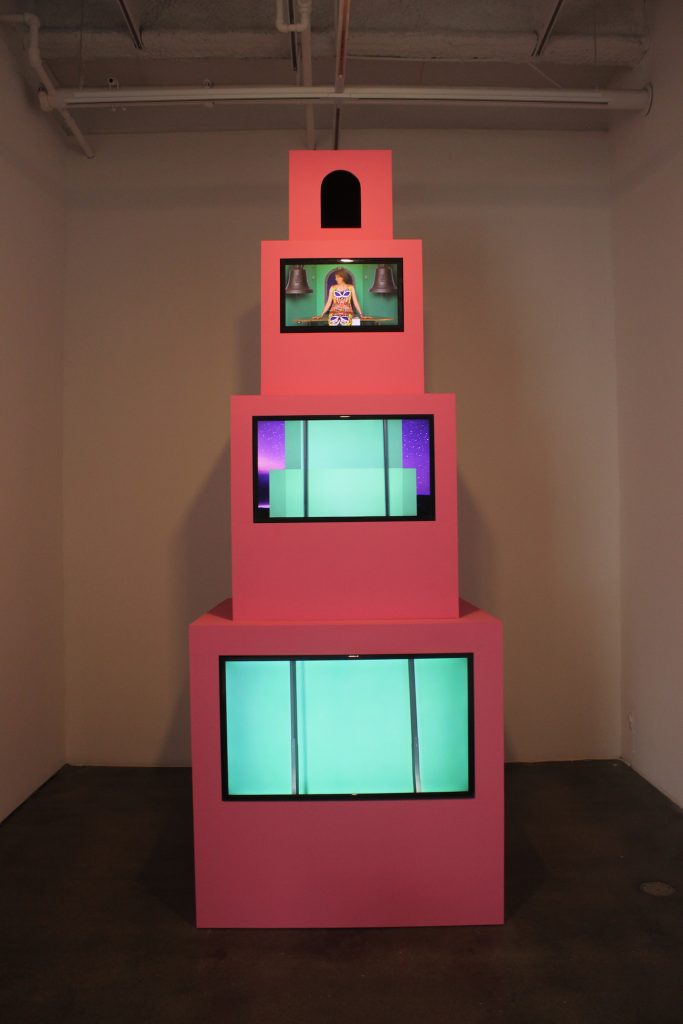 With vaccines becoming more available and establishments reopening, it seems that a sense of normalcy might possibly be on the horizon. The recent changes offer a chance to safely get out and see some entertainment that doesn't take place over Zoom or in the context of one's own home. 
The Museum of Contemporary Art Santa Barbara (MCASB) is set to reopen as well, and its newest installation unexpectedly touches on what we've all been experiencing. The exhibit, Shana Moulton: The Invisible Seventh is the Mystic Column, is an extension of Shana Moulton's ongoing series, "Whispering Pines," named after the mobile home park her parents ran when she was a child. "Whispering Pines" originated in 2002 and features the episodic video installations and performances that feature Shana's alter ego, Cynthia, as she explores ideas of self-help and consumerism while seeking the answer to the eternal question: "What is wrong with me?"
MCASB Curator Alexandra Terry had been following Shana's work for years and when Shana moved to the area to become an associate professor at UCSB, Alexandra was ecstatic for the opportunity to work with her. Of course, the pandemic changed everything over the course of their year and a half of discussions around the exhibit, including the meaning behind the exhibit.
In the past, Cynthia has often been viewed as a hypochondriac filled with anxieties that may seem extreme or absurd. In the context of the quarantine, the isolation and fear that Cynthia expresses has a more relatable message. Alexandra says, "One thing I love about the timing, the fact that we're able to open now, particularly in this video, she's really exploring a lot of what we've all gone through: anxiety, isolation, fear of something happening to you, but not quite knowing."
The installation is projected onto archways and walls and features Cynthia practicing breathing patterns and exercises in isolation, while also interacting with Alexa and different sculptural objects made from home items that resemble various cleaning and homeopathic tools. The art videos feature a characteristic tongue-in-cheek tone that is almost palpable with low-tech effects and editing that match the legitimacy of the different gadgets and solutions she explores. As she uses a slew of homespun devices and self-help healing, Cynthia is an exploration of oneself, both in the confidence and doubts in one's own questions and answers.
The Invisible Seventh is the Mystic Column is the newest piece of work, however the exhibit also features two of her past installations along with several sculptural works from her previous performances.
In the museum entrance stands The Pink Tower (2019) which tells the story of our town's namesake saint. The story of Saint Barbara, which also inspired the tale of Rapunzel, tells of a daughter who was locked in a tower by her father. During the story she has three windows installed in a new bath house being built to represent the holy trinity and her faith. Shana pulls from this iconography with three monitors stacked on top of one another to form a tower painted in flamingo pink, matching the exhibit's color palette, which can best be described as trailer park pastel. Shana shot the content around the UCSB campus and the viewer will recognize the familiar scenery.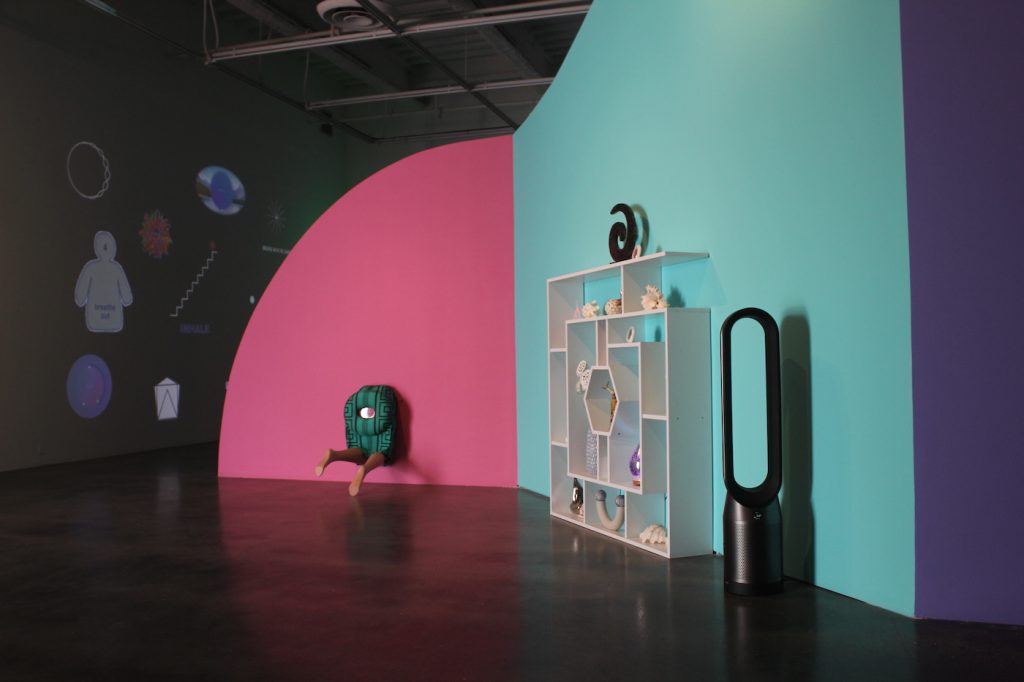 Whispering Pines 10 (2018) is hosted in the Norton Gallery which sits to the side of the main floor in the MCASB. This video installation is a collaboration with composer Nick Hallett, who wrote an original musical score and libretto, and vocalists Daisy Press and Katie Eastburn. The piece explores themes of environmental activism and is inspired by Julia Butterfly Hill's 738-day tree-sit that occurred between 1997 and 1999. Although elements of Pee Wee Herman's Playhouse and other quirky cultural references add to the playful surrealism that is imbued in her work.
There is an episodic nature to Shana's work and the videos will be updated throughout the run of the exhibit, inviting guests to return and see what she is up to next. Shana will also be giving a range of online performances for the exhibit. With the museum re-opening to the public, they plan to slowly and safely reintroduce their range of programming like the Poetry Slam and curated cocktail events to the community.
Paying it Forward
Over the years one of their key offerings have been the final works from participants in their Emerging Leader in the Arts (ELA) program. Each year the ELA takes three college students and gives them hands-on experience and guidance in exhibit curation and leadership development.
The ELA was founded three years ago with a grant from the Diversifying Art Museum Leadership Initiative (DAMLI) organized by the Walton Family Foundation and Ford Foundation. The program was founded when a study by Andrew W. Mellon Foundation discovered that only 16 percent of art museum leadership positions were held by people of color. With 38 percent of Americans identifying as Asian, Black, Hispanic or multi-racial, this study showed that staff and leadership of art museums do not adequately reflect the socio-economic and racial demographics of the country. MCASB was one of only 20 museums selected to be awarded a grant for the initiative.
The director at the time, Miki Garcia, had participated in a similar program and knew how useful it was for her own career. The MCASB wanted to create a pipeline program for professional development training with students who identify as people of color. Together the staff crafted the ELA program that blends career mentorship with hands-on experience for three local undergraduate college and university students who identify as people of color.
The curriculum revolves around the academic year and culminates in a final public project. The grant was only for two years; however, the ELA had become part of their core programming and the staff did not hesitate to keep the program going. Now in its third year, the program is managed by Sarah Dildine and this is the first time the program will be funded by the museum itself.
When they first launched the ELA program it was open to those in high school, as well as undergraduate and graduate students. While it was nice to be able to have the older participants there to help guide the younger members, they found it was best for the ELA program to focus on college students where the participants are peers and can support one another.
At that age, they are also making critical choices about their career path and the ELA can help instruct them in their decisions. Since then, the MCASB has also been hosting the Teen Arts Collective (TAC) that focuses on bringing support and guidance to creatives between the ages 15 to 18. Each year TAC takes up to 10 students from Santa Barbara high schools and instructs them in visual literacy while providing a safe place to express themselves.
Prior to the pandemic, they even took field trips to museums and art events, introducing them directly to artists and organizers. The MCASB wanted to remove the barrier around these institutions, making the vast range of careers available to artists and creatives more approachable and accessible.
One of the key components of the programs is the mentorship and guidance portion. Alexandra says, "this program is really about teaching them that their voice is valid, important, and needed. And we're here to help them formulate that in whatever way that works best for them. I think what's so impactful is the mentorship aspect of it."
During their mentorship, ELA participants are guided not just on the practical details of curating an exhibit, but also the personal side of taking on a big project like self-care and mental health. TLA mentors help students find their creative voice while also facing the teenage challenges of self-discovery and social pressures from school and home.
"One of the things I love most about both ELA and TAC, is that we express the importance of vulnerability and we are there to support them through that," Alexandra explained.
"We can be there to share our own experiences, share our own struggles and our own vulnerabilities, and say look, we're here. What do you need from us? That's really what we want to do."
While these programs may have a limited number of participants, they provide an exponential outcome as members often incorporate their peers into projects that bring art and important conversations to the community. One ELA member organized an art fair in De la Guerra Plaza that supported 18 other artists, while also providing an interactive event with DJs and fun for the public. One of the current ELA participants will be hosting an online queer film festival that will feature films made by different queer filmmakers. This year's ELA projects will likely be out this summer, but plans are uncertain due to COVID.
You can look out for upcoming events on their website (mcasantabarbara.org). Applications for both the ELA and TAC programs are also available on their website. They plan to do a range of digital events over the summer, with an in-person performance by Shana hopefully to happen for the closing of the exhibit.
Until then, one can now revisit the museum and keep an eye on the ongoing adventures of Cynthia.
You might also be interested in...