Time to Break Up the Telecom Ring
On April 8, the telecom industry, in the person of Crown Castle Rep. Jerry Ambrose, attempted to pull the wool over the Montecito Architectural Board of Review. He told them he needed to put a new cell antenna on a pole at 75 Eucalyptus Lane.
The reason? "Capacity gap."
Yet, if you take a walk down Eucalyptus Lane you will find there is no gap — your cell phone works just fine.
So why does Crown Castle need to mount yet more equipment up on a pole right next to people's homes?
It's a nice bit of sleight of hand by the telecoms to force local jurisdiction to bow when the telecom decides it's in its best interest to do a land grab in your neighborhood.
'Capacity' is a technical term that telecoms use to describe broadband. This has zero to do with the ability to use your cell phone.
Santa Barbara County has no responsibility or obligation to provide broadband data, just 5 bars on a cell phone or -85dBi for emergency purpose.
Telecoms don't care that 75 Eucalyptus Lane is home to three children and adjacent to a preschool day care center. They don't care that neighbors didn't want this latest piece of telecom infrastructure forced on their community. It's about money and getting more infrastructure installed in the public domain. Crown's Ambrose's response to neighborhood objections was, "I don't have to submit an alternative location."
The Montecito Architectural Board of Review purview is aesthetics. It's unfortunate that it is the venue for these projects, which are always submitted one-off, so you never find out how many are already in, and how many more are planned. Studies show property values decline on average by 25% when next to cell phone infrastructure.
But for the telecom industry, there's good money in these poles! AT&T gets the rent for all the other carriers that co-locate on their pole, which can be $4,500 per month. As carriers claim public right-of-way, Crown earns more money installing its telecom equipment. If we had smart planning, we could ensure all the cell phone coverage needed with a very small fraction of the infrastructure telecoms want to place. Think three towers instead of 87.
There are no limits to telecom equipment installations in our county code.
Jamming all this equipment onto a pole allows multiple pulsing modulating frequencies that have no monitoring oversight. Today's equipment can produce microwave radiation that is 25 million times what is required by law to ensure your cell phone works.
Who can reel in this public land grab in our residential neighborhoods of Santa Barbara County and city? That responsibility falls squarely on the shoulders of our Santa Barbara County Supervisors and our City Council. It is within their purview to give us a county code and city ordinance with teeth such as set back and height requirements, no placement of equipment in residential zones unless there is no feasible alternative, and a cap on power usage. Those would be smart community planning provisions.
What stops them from taking action? The telecoms have hired expensive lawyers and frightened them! Your elected officials say that "our hands are tied" — a tired refrain that has been refuted multiple times by attorneys who specialize in writing protective ordinances for municipalities throughout the nation.
One of these, Andrew Campanelli, met with our County Attorney and public officials to instruct them in how to utilize our local zoning laws by codifying specific grounds of denial.
Will our elected officials do the right thing by our community, and stop the public land grabs by telecoms?
Not unless they hear from you. Your vote, or lack of it, might frighten them more than telecom attorneys.
For more information visit: safetechsbc.org
Katie Mickey
Tough Love for Schools is Necessary
I wanted to express my appreciation for your willingness to publish articles on "controversial" topics such as what is currently going on a Cold Spring School. While there is no doubt that our public schools have widespread support from many parents and the community at large, there is similarly no doubt that these schools are accustomed to controlling the narrative and shutting down parental input or community discussion that does not fit strictly within the schools' agendas. We are in desperate need of brave institutions (like yours) who can facilitate a discussion and bring some of these issues out into the open. It turns out the First Amendment does still exist!
The issue with the public schools is not limited to Cold Spring — it is happening throughout the Santa Barbara area. Parents are leaving these public schools in droves not just because of remote learning issues, but because we now can recognize the more general failure of the public schools to be responsive to student needs (at all levels of academic achievement – both high and low).
I, too, experienced substantial pushback from my children's public school in Santa Barbara last spring when other parents and I tried to help them develop their remote learning program by forming a task force. (My 4th grader was receiving two 30-minute classes per week, including a mere 30 minutes per week of math instruction.) We were a group of parents who had a history of consistently volunteering at our kids' school, actively participating in fundraisers, and doing everything we were supposed to. Yet, this meant nothing when we offered our help, expertise, and time to the school. The principal attempted to sabotage the effort by first trying to blow us off, then trying to sideline us, and then trying to mobilize the teachers to be defensive against our efforts.
When I proposed what I thought was an uncontroversial suggestion of sharing learning objectives with parents during remote learning, there was a visceral reaction by one of the teachers who forcefully asserted, "you don't need to know the learning objectives. Here's what you can do, read to your children 20 minutes a day. Have them make change at the store. Cook with them. That is what you can do."
Attempts to explain why it would be helpful for parents to understand learning objectives when the kids had only 60 minutes of teacher instruction a week only made the teacher double down on her position. Even more shockingly, not a single one of the more than 10 teachers or the principal on the Zoom call was willing to agree that parents should have access to learning objectives. (The school has since reversed policy and now provides learning objectives that are clearly stated. But this is the point – sometimes these schools need to be challenged in order to rethink their assumptions and policies.)
So… it comes as no surprise to me that Cold Spring does not appreciate a parent looking into their finances, requesting a syllabus (oh the horror!), or challenging their quite possibly arbitrary disciplinary actions. It also comes as no surprise that many of the parents at that school, as well as community members, want to be able to maintain the illusion that the public school in their pricey enclave is a perfect, all-knowing, and unimpeachable institution. This allows them to abdicate responsibility for actually engaging meaningfully in their children's education.
Please don't be dissuaded from covering topics such as the Cold Spring controversy by public opposition to you publishing articles that possibly reveal conflict or wrongdoing at our public schools. Our children deserve schools where parents have a voice and where they can be protected from arbitrary school actions. Without this continued role of the media and papers such as yours, we will lose much of what made our country great and do a great disservice to future generations.
Sincerely,
Marla P.
Mountain Views — Gone.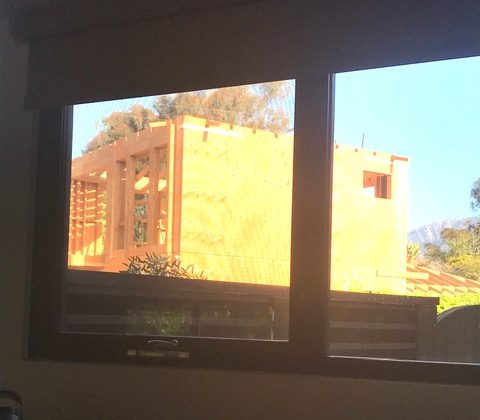 I am grateful to the Montecito Journal and Sharon Byrne for the article about ADUs (accessory dwelling units) in Montecito. I hope it will be a wake-up call to other residents about how they could be affected by these new rules. The irony of ADUs in Montecito, especially near the beach, is that they will do little to help affordable housing. If ADUs were at least required to abide by rules in the area where they will be built, they could have at least a chance to satisfy the people building them and the neighbors who might be affected by them. The attached photo shows what I now see out of my kitchen and living room windows and not the beautiful mountain view that was the main feature of our house design 30 years ago. That view will now be enjoyed exclusively by the occupants of the two-story ADU.
Carolyn Quackenbush
Numerical Tribute to Prince Philip
Prince Philip, Duke of Edinburgh, died on 9 April 2021 (4/9/2021), in Windsor, United Kingdom. He was 99 years old.
Philip was a member of the British royal family as the husband of Queen Elizabeth II. He was born in Corfu, Greece, on June 10, 1921 but his family was exiled from the country when he was 18 months old.
If Philip was alive, he would have turned 100 on June 10 this year.
I prepared the following numerical curiosities in his honor:
1. Philip died on the 99th day of this year at age 99.
2. The sum of the prime factors of the day he died, 942021, equals 3+17+47+131 = 198 = 2 x 99.
3. Further, if 942021 is split as 94, 20, and 21, the sum of these three numbers equals 135. If numbers 1 through 26 are assigned to letters A through Z, the sum of the letter numbers of Prince Philip also equals 135.
4. Philip died on 9/4 and if split as 9 and 4, the product of the 9th and 4th prime numbers, namely 23 and 7, equals 161. Interestingly, Philip's 100th birthday, June 6, 2021, coincides with the 161st day of 2021.
5. Additionally, the sum of the 7th and 23rd prime numbers, namely 17 and 83, equals 100, signifying Philip's centennial birthday.
6. Lastly, Philip's centennial birthday June 6, 2021 is numerically special: if split as 106 and 2021, twice the reverse of 106, namely 601, equals 1202 and 1202 is the reverse of 2021.
I hope you rest in peace, Prince Philip. Amen.
Aziz Inan
Respecting Serenity
Sharing this art created by a local conscious artist Matthew O'Hanlon. The hot springs are a sacred peaceful space. It brings us a great healing experience, mind body & spirit.
Baldemar Geurrero
Dissecting 'Stakeholder Capitalism'
In response to Rinaldo Brutoco's article in the Montecito Journal on April 15-22 . . .
Mr. Brutoco lists at the top of his column's resume as being president of the World Business Academy (WBA), and so his recent article might be considered self-serving in promoting a paradigm business shift that is, in essence, his company's mission statement.
This so-called paradigm shift seeks to have all businesses focus their efforts on "stakeholders," like customers, communities it serves, employees and society at large (although the WBA might include the biosphere) not just shareholders and profits. Mr. Brutoco seems to imply that businesses, with this new paradigm he promotes, have acted as if they were in a vacuum oblivious to its "stakeholders" motivated solely by making money. Never mind that all along, in order to render services and goods that people will buy and use, the business must meet their customers' needs and be affordable to them. Profit-making or capitalism has never been devoid of its connections to customers or employees, and any company that doesn't please those it serves and works with or becomes too greedy is soon reconciled or fails.
One example of a business model that exemplifies the "stakeholder" model that Mr. Brutoco supports would be PG&E. In January 2019 it filed for bankruptcy under Chapter 11 to restructure its billions of dollars of liabilities. Governor Newsom and the Democratically controlled legislature are castigating the company for prioritizing profits over safety.
Yet PG&E is accountable not only to its shareholders, but also its workers, the environment, local communities, and society at large. All that "stakeholder" philosophical structure looks good on paper, but what it really does is turn the company into a heavily governmentally regulated business at the mercy of its political overlords as the political winds erratically blow.
Its rates and returns on equity, or profits, are set by the California Public Utilities Commission and the Federal Energy Regulation Commissions. Every three years PG&E submit plans and hold public hearings with its "stakeholders," including activists like the WBA. By 2030, the state legislature can and does require the utility company to obtain 60% of its power from "renewable" sources like solar or nuclear (the latter is vehemently opposed by the WBA).
That "renewables" goal is an expensive one as it tries to make good decisions which impact low-income communities. The company has a diversity officer and reviews diversity metrics to be in compliance with the Public Policy Committee. It knows its employees' ethnic breakdown and demographics of its board and the Human Rights Campaign gave the utility a 100% rating on its "corporate index."
It is reported that word "stakeholder" is mentioned 13 times in PG&E's 2018 shareholder report. It requested a rate increase that it said was needed to ensure grid reliability in spite of increased costs for renewable generation and got only half approved as environmentalists called PG&E "greedy." But rates will keep going up as repairs and upgrades are made. But "stakeholders," us customers, will wind up footing the bill.
The World Business Academy (WBA), of which Mr. Brutoco is president, states that it devotes much time and resources in finding environmentally safe, and sustainable energy resources. However, a central target of the WBA is the "stakeholder" company, PG&E. The WBA has filed numerous lawsuits against the California Lands Commission and PG&E concerning its operation of the Diablo Canyon Power Plant — which the California Supreme Court has rejected and refused to hear.
As the WBA appeals, it files the lawsuits by trying to support the California Environmental Quality Act (CEQA), the very act that is being used by obstructionists to block housing construction in this state by causing years of delays and soaring costs for any new construction. This act, passed under Governor Reagan in 1970, was originally a simple statewide policy of environmental protection, but has now morphed into an onerous and abusive law used to block, downsize, delay, or gain other concessions from new development.
It is also used to endlessly block the creation of homeless shelters and affordable housing projects in communities The CEQA must be repealed as it is obstructing and bankrupting our state and its citizens who merely want a roof over their heads, affordable utilities, and sensible environmental processes that do not take decades to get things done. And yet it is an inconvenient truth that Mr. Brutoco appears to be using this very act, the CEQA, to hinder a new utility project in San Luis Obispo, driving up the costs after repeated attempts by PG&E to move forward.
It would appear that Mr. Brutoco and his WBA company seems to be at crosscurrents with the underlying message of his "stakeholder capitalism" article.
J.W. Burk
Santa Barbara
You might also be interested in...