3 Qs with Delila Moseley: Finally Free to Dance on Film
The opening sequence of UCSB Dance Department's COVID-coping triptych of dance films shows a series of eerily empty spaces all over the seaside campus. But it's not meant to be a metaphor or pandering to the pandemic, said artistic director Delila Moseley, a longtime professor of dance at UCSB. Moseley has been able to actually teach her classes and choreograph over Zoom from the studios on campus last fall.
"It's exactly what I experienced every day I went there when it really was empty. It was really very unnerving."
Fortunately, that's the only part of the film that evokes such eerie feelings as the remainder of the UCSB Dance Company: In Flight & On Film — including Pop by guest choreographer Caili Quan; Flight is choreographed by Moseley; and the solo pieces created by the individual dancers — is bursting with energy and exuberant expression.
Two shorter pieces, Effort of Hope set on the company by choreographer and UCSB Dance alum Gianna Burright, and Joshua Manculich's 2015 work Ride, were performed and videotaped this March, and are full company pieces also all captured in outdoor locations around the campus and at other recognizable spaces elsewhere in town.
The films will premiere at 6 pm on April 29, to coincide with International Dance Day, and will be followed by a Zoom panel featuring Moseley, the choreographers, composers Sio Tepper and Alysia Michelle James, and videographer Samsun Keithley answering questions via chat from viewers. (Visit www.theaterdance.ucsb.edu for more info.)
Q: Choreographing and rehearsing over Zoom seems like an insurmountable challenge. Can you take me through some stories and approaches that made it work?
A: It was a challenging, but incredible experience meeting over Zoom with the students in their homes and even this spring when we had the dancers in the studios, they had to be in four at the same time for social distancing, so we still had to use Zoom. The very first time that we were all together was when we went to film it. But we did know we'd have to do that way back last March, so I just started imagining or thinking about what we could do. I realized we do have all this space outdoors, and I wanted to showcase the beauty of where we are and have the dancers be outside for the performances.
I'm not a filmmaker, and never have been trained, so I wasn't going to try to do something with a lot of effects, I just wanted to showcase the dancers. Obviously, though, we had to have pieces at first that did not move hugely in space and didn't have a lot of entrances in and out because it had to be learned in small spaces. It's beautiful how it turned out, but I certainly hope that it's not going to be the only way we are able to dance in the future. As for the dancers, they learned some more tools for their toolbox, but the artistic element was harder to achieve.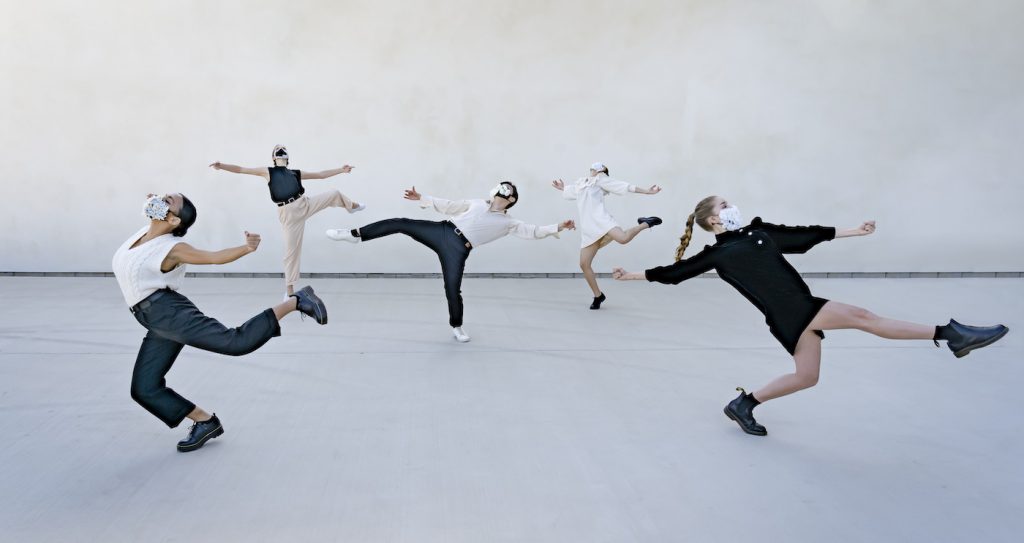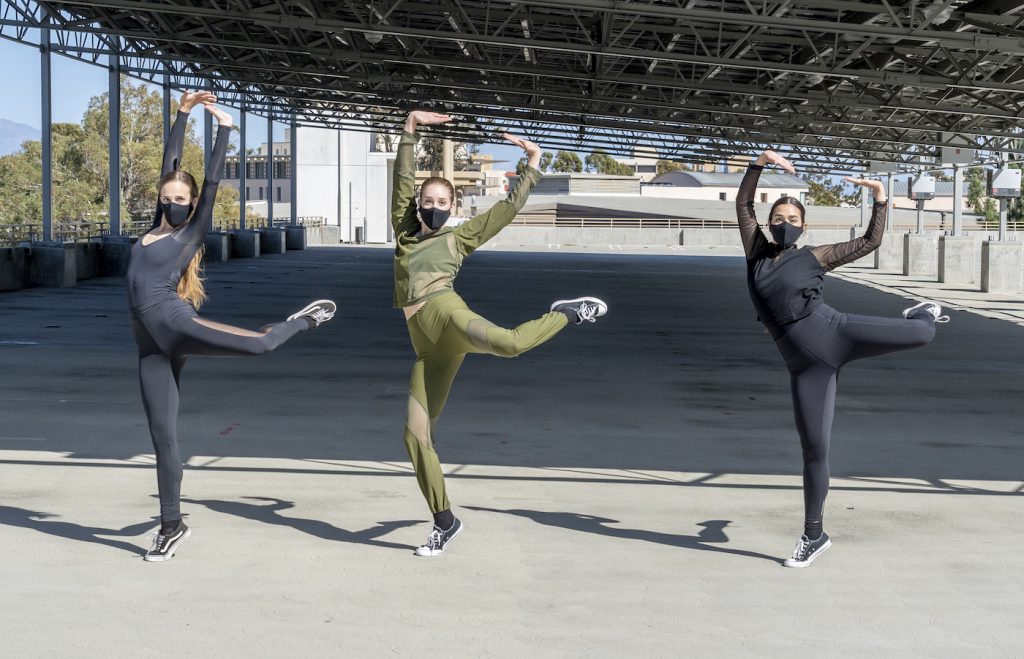 How did the pandemic itself influence the content, if at all?
Gianna Burright's is fairly abstract, but she is definitely exploring those themes a bit in her piece, which also focuses on social justice. But I was thinking that by the spring we were going to be performing in person, and that was what drove me to reach out beyond that state of mind. I guess I was a misguided optimist, but I wanted to emphasize the feeling of getting free and reaching out.
The dances all seem very upbeat, kinetic and, dare I say, happy. Was that the organizing theme?
That was definitely what I was aiming for. And I think they were very happy to be able to do it. I'm glad that comes through.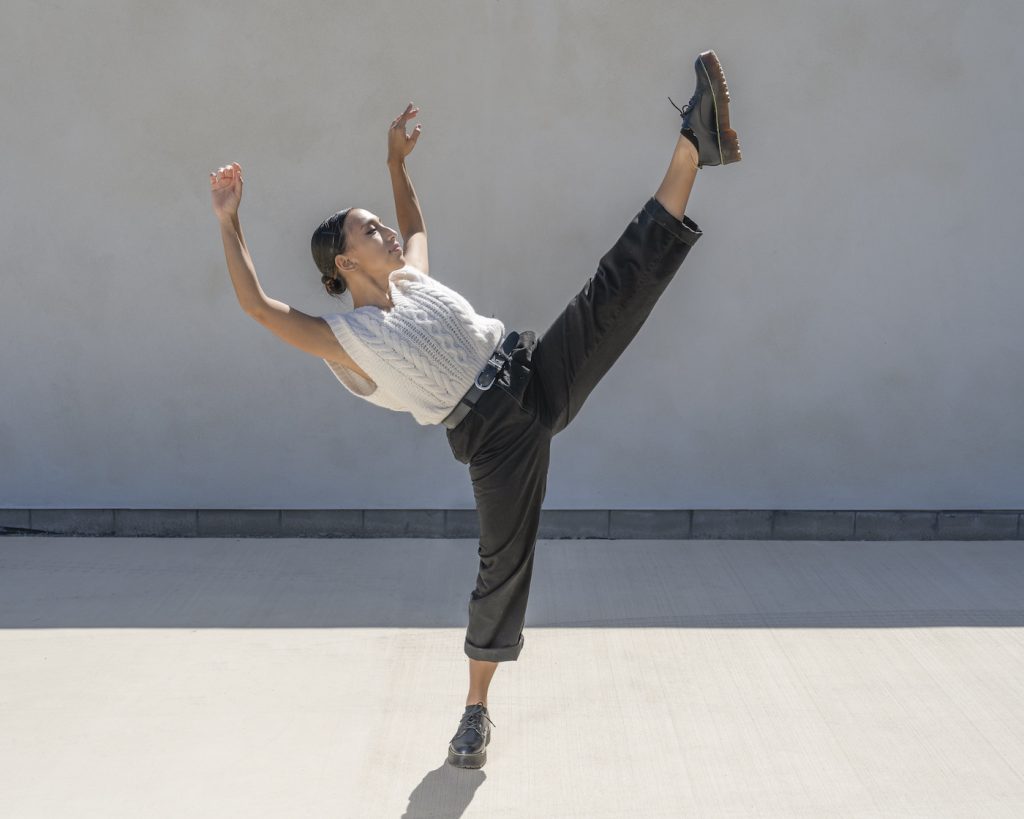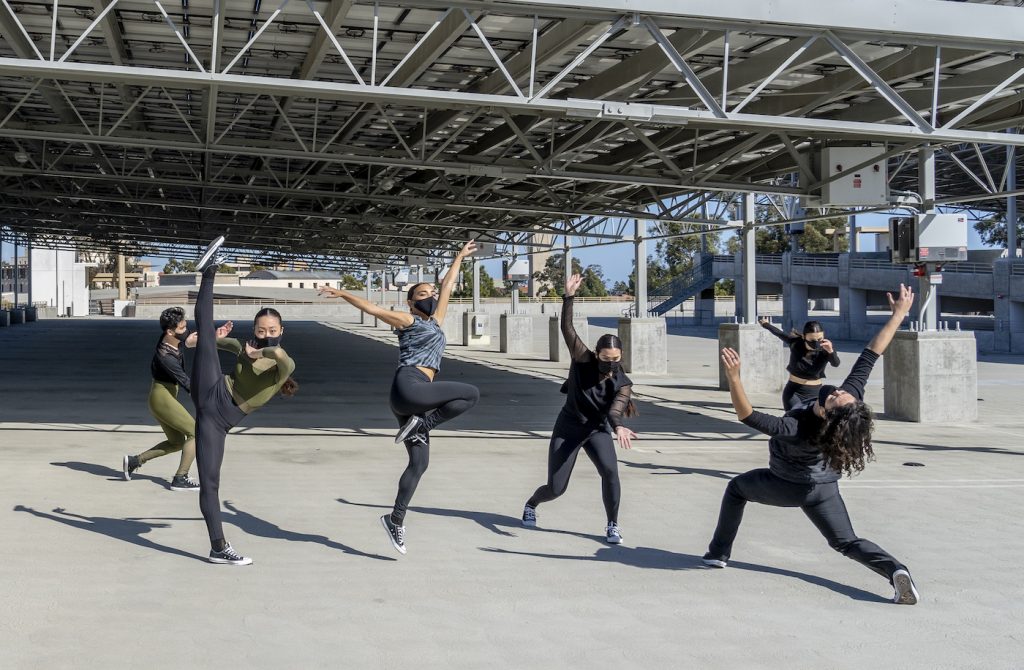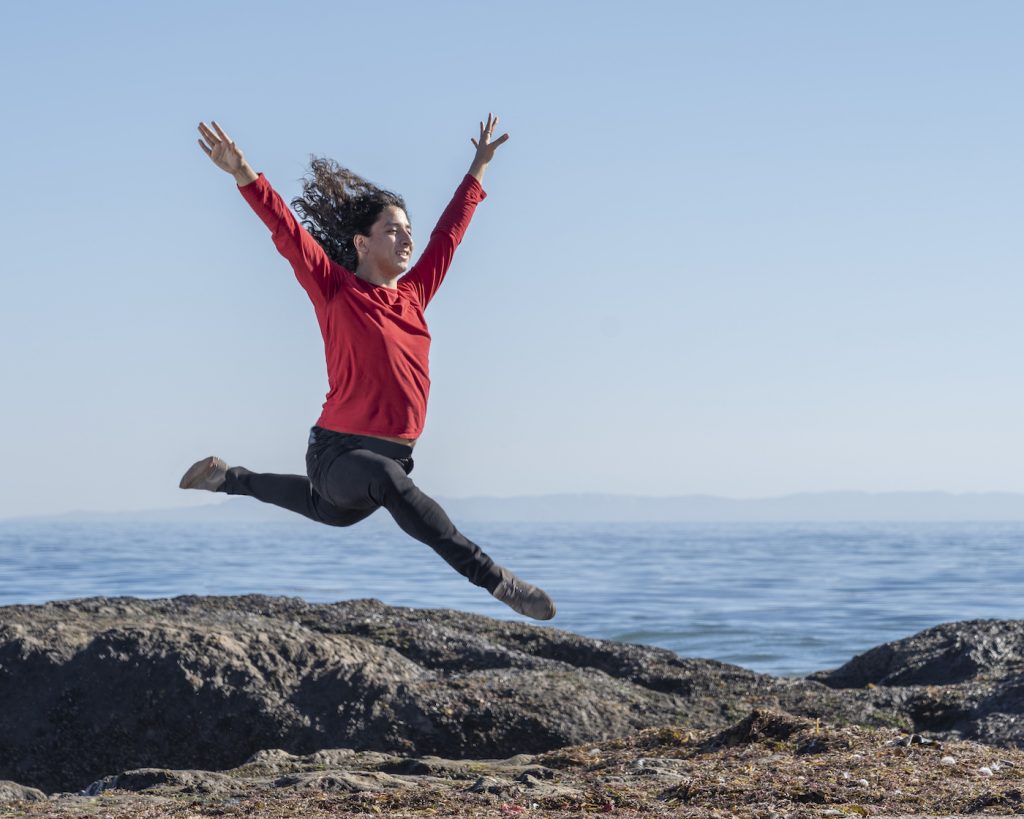 Wrestling with a Pandemic
Speaking of the Concerts in Your Car series, it was OSB that kicked off the new season of shows at the Ventura Fairgrounds in early April, followed by the first pop concert of the spring with Ziggy Marley. The venue expands its horizons yet again with its next event on April 30 with Lucha Libre, a style of extreme professional wrestling that is one of Mexico's biggest spectator sports. Characterized by colorful masks, flamboyant personalities, and outrageous costumes, Lucha Libre — which translates as "free-style wrestling" — is similar to American pro-wrestling as two or more wrestlers face off in a ring and try to pin their opponents down for three seconds over the course of three rounds. The show is carefully choreographed with a style that emphasizes spectacular aerial maneuvers and other theatrical moves over muscles and brute force.
Friday's event features six different body-slamming matches, beginning with the mysterious El Zodical locking horns with the technical wrestler Ruben "The Messenger" Iglesias. That match will be followed by the female luchadoras, with Zeda Zhang from China facing off against "The Hellbent Vixen" Viva Van. Also on tap is a tag team match between The Wolf Zaddies and Team High Risk, before the co-headlining action that boasts another tag team match mixing and matching styles when powerhouses Flecha Fugaz and his partner Dr. Maldad face off against the youthful agility of Vega and Rey Leon, plus a rematch of Brandon Gatson against "The Warlord of Weird" Sinn Bodhi.
What we're wondering is how in the heck the contestants are staying safe with the COVID restrictions. They all must already have been vaccinated, otherwise can you imagine having to house up in a maxi-pod with someone who is trying to dismember you every night? Info and tickets at www.concertsinyourcar.com.
Yacht's Happening
Don't get fooled as badly as I did: Yächtley Crëw, despite the appropriately placed diacritics, isn't actually a Mötley Crüe cover band. In fact, the motley crew of Los Angeles area-based talented and tenured musicians decidedly eschew heavy metal hits in favor of soft rock from the 1970s and early 1980s. The name refers to "Yacht Rock," the term given to the recent revival of the soft rock and power ballad hits of four decades ago. Yächtley Crëw, which hits the Concerts in Your Car stage on May 1, are considered the titan of the movement, with a unique stage show that has entertained at corporate events, bar mitzvahs, nightclubs and, yes, even private houseboat parties.
The good news about getting to see them at the Ventura venue is that while they're out in the open air belting out the hits, you'll be listening via FM radio in your car, where you can sing along at the top of your lungs to such guilty pleasures as "Brandy," "Africa," "Sailing," "Escape (The Piña Colada Song)," and the like without anyone — except maybe your spouse — giving you a dirty look. In fact, if you have tinted windows dark enough, nobody will even know you're there. Info and tickets at www.concertsinyourcar.com.
Art Adventures: Pitcher of Hope
Hank Pitcher, the near-native Santa Barbara artist known for his iconic paintings of contemporary California culture and the coastal landscape, has been busy during the pandemic. Now his latest set of oils on canvas are about to see the light of day — or rather the public will get the chance to see them, in person, during the daytime. Just Now, a collection of 17 new Pitcher paintings, opens at Sullivan Goss on April 30, with the newest body of work evincing Pitcher's days amid the wild flora and fauna of Coastal California, showing up in lusciously colored, visionary landscapes that often include revelers at the continent's edge. Most of the works were painted within the last 15 months, save for one of a shipwreck in 2019 when a deep ocean sailboat washed ashore near the artist's studio at Coal Oil Point. To preview the exhibition, visit www.sullivangoss.com.
Three Perspectives on Contemporary Painting: A Zoom conversation with SuzanneHudson, Math Bass, and Christina Quarles will also take place on April 30. In her just-published book Contemporary Painting, Los Angeles-based art historian, USC professor, and critic Hudson considers painting as a vibrant and sometimes contentious critic of a dynamic global society. She'll examine that idea with Bass, an interdisciplinary artist whose practice spans across painting, performance, sculpture, and video, and Quarles, a Los Angeles-based artist whose work has been exhibited both nationally and internationally. Both are considered in Hudson's book. The Zoom discussion will be moderated by curators from both the Santa Barbara Museum of Art and the Museum of Contemporary Art Santa Barbara. Get free tickets for the 5 pm event online at www.sbma.net.
Focus on Film: 'Grass' Valley and a Fight for Freedom
Now that not only the annual SBIFF but also the Oscars are in the rear-view mirror, it's time for the festival folks to bring back Film Talk, the weekly chat session between one of the SBIFF staffers and a director of a short film of interest. The series relaunches on April 29, with a short that just played at this year's SBIFF! Benjamin Goedert's Santa Barbara Weed Country focuses on the blooming cannabis industry that has spread across the Santa Ynez Valley, Santa Barbara's most acclaimed wine region, where renowned vintners, farm families and long-time locals react to the changing landscape of the valley in modern times. SBIFF head honcho Roger Durling conducts the Zoom interview. Visit https://sbiff.org/filmtalk to register for the 6 pm talk and/or to watch the movie. Durling is also set to moderate the next three Film Talks, with Jason Baffa, Danielle Cohen, and Abigail Fuller on deck, so I guess his schedule has freed up a bit.
UCSB Carsey-Wolf Center's Pollock Theatre holds a Zoom discussion with Mike Africa, Jr., the son of two MOVE members who have been imprisoned for the death of a police officer since the controversial 1978 Philadelphia police raid on the radical back-to-nature group. The 2020 documentary 40 Years A Prisoner (2020) chronicles his decades-long quest to free his parents from prison in the aftermath of the raid, illuminating the story of a city grappling with racial tension and police brutality with alarming modern-day relevance. Mike Africa, Jr. and moderator Diane Fujino (Asian American Studies, UCSB) talk about the making of the powerful film at 4 pm on May 4. Visit www.carseywolf.ucsb.edu/events.
Chaucer's Choices
Meanwhile, the still-thriving bookstore in Loreto Plaza continues to show no signs of letting up on its impressive lineup of virtual conversations with authors despite a relaxation of pandemic protocols that allow for more patrons inside the brick-and-mortar location.
Beyond Gilbar, the week boasts four more writers over a span of just five days joining store staff or others to talk about their new works. First up, on May 2 at 3:30 pm, is local author Mike Bender, a professional screenwriter whose credits include Not Another Teen Movie and the MTV Movie Awards. Bender is also the No. 1 New York Times bestselling coauthor of the Awkward Family Photos series he created with childhood friend Doug Chernack after seeing an awkward vacation photo hung in his parents' house. The pair also penned the children's picture book, Everything is Awkward, and Bender's latest, The End is Just the Beginning, published just last week, is also aimed at youngsters with a timely message of hope and comfort. The picture book is a treasure to share with anyone trying to navigate these uncertain times, or any life transition.
Santa Barbara-based Valerie Rice's motto — eat and drink what's in season and you'll never grow bored, your menus will be less complicated, and everything will taste better — has guided her to become an accomplished gardener, cook, and cocktail maker, which combined with her no-fuss style have made her EatDrinkGarden Instagram channel and blog a hit. In her new book, Lush Life: Food & Drinks from the Garden, Rice brings together 156 of her favorite seasonal recipes for entertaining, family meals, snacks and more, including cocktail recipes and wine advice. Rice will chat about her Dream of a Cookbook, which features pictures photographed by Gemma and Andrew Ingalls, with Gina Tolleson, editor of Santa Barbara Magazine, at 6 pm on May 4, Lush Life's official publication date. 
Local author Jewel Nunez is a humorist who started her blog, One Funny Mummy, when her daughter was just six months old as a way to help her figure out exactly what it meant to be a mom. Now she has two little girls and is still trying to figure out this whole motherhood thing, which she shares on her blog as well as in her just-published book full of parenting adventures called What It Means to Be a Mom: A Celebration of the Humor, Heart (and Chaos) of Motherhood. The book is meant to be both an inspirational and motivational look at the daily challenges moms face, as well as a laugh-out-loud release full of relatable spin for every parent. Nunez checks into Chaucer's virtually at 7 pm on May 5.
Victoria Shorr co-founded the Archer School for Girls in Los Angeles and the Pine Ridge Girls' School in South Dakota, the first independent, culturally based college-prep school for girls on a Native reservation in America. Now an author whose first work, Backlands, was named one of Booklist's Top 10 first novels of 2015, Shorr has published The Plum Trees, which draws on oral testimonies, historical records and more to tell a story of the evils that confronted millions of wartime Jews through the prism of one family's desperate attempt to survive and the narrator's equally desperate effort to find them decades later. Shorr will discuss the book and its theme in a virtual conversation with UCSB Political Science Professor Benjamin Jerry Cohen at 7 pm on May 6.
For more information and the Zoom link for the events, visit www.chaucersbooks.com/event.
Race to Justice Roars Online
UCSB Arts & Lectures' timely and incisive series continues with three more virtual events covering the arts, humanities, urban renewal, and writing.
First up is artist, musician, and cultural planner Theaster Gates, who draws on his training in urban planning and preservation to reclaim underinvested spaces in neighborhoods that have been overlooked and/or left behind, thereby raising values in art, land and human resources. Gates, a professor at the University of Chicago and founder and president of Rebuild Foundation, offers a presentation at 5 pm on April 29.
The following evening, Bryan Stevenson, who has spent nearly four decades seeking to eradicate racial discrimination in the criminal justice system, checks in to present American Injustice: Mercy, Humanity and Making a Difference. Stevenson is a MacArthur Fellow who founded the Equal Justice Initiative, spearheaded Alabama's Legacy Museum and the National Memorial for Peace and Justice and served as the subject of HBO's 2019 documentary, True Justice. His bestselling memoir Just Mercy was adapted into an acclaimed feature film starring Michael B. Jordan and Academy Award winners Jamie Foxx and Brie Larson. His presentation at 5 pm on April 30, will be followed by a Q&A moderated by Christopher McAuley, UCSB associate professor of Black Studies.
Author, advocate, and public policy expert Heather McGhee's specialty is the American economy and why it so often fails the American public. McGhee played a leadership role in steering the historic Dodd-Frank Wall Street Reform and Consumer Protection Act through Congress and was one of the key advocates credited for the adoption of the Volcker Rule. McGhee's New York Times bestseller The Sum of Us — a deeply personal journey across the country from Maine to Mississippi to California, tallying what we lose when we buy into the zero-sum paradigm that progress for some of us must come at the expense of other — uncovers the devastating true cost of racism for everyone, and offers an actionable roadmap for our times. McGhee's conversation on May 4 with UCSB professor Dr. Sharon Tettegah, director of the Center for Black Studies Research, will be followed by a Q&A.
Admission to each event is $10 and includes on-demand streaming for seven days following the presentations. Visit https://artsandlectures.ucsb.edu.
May Day for Opera
In mid-October, Opera Santa Barbara took an opportunity to try to book an outdoor performance at Godric Grove in Elings Park, figuring optimistically that with the open-air and social distancing, the show wouldn't be a problem. But, of course, there were no protocols at all for public gatherings during the pandemic, and the concert was quickly scotched. OSB — whose artistic and general director Kostis Protopapas might very well have been the area's most passionate advocate of allowing the arts some avenue for performance during the height of the pandemic — turned instead to mounting modified yet full-scale productions of operas at the Concerts in Your Car series in Ventura and, later, as winter melted to spring, coordinating concerts in a wide variety of genres at open-air space around downtown.
But with guidelines for gatherings finally here, and with Santa Barbara County moving into the Orange Tier last week, OSB is out there with a new offering at the gorgeous grove. Opera in the Park at Elings Park features three of OSB's 2021 Chrisman Studio Artists — tenor Matthew Greenblatt, soprano Brooklyn Snow, and mezzo soprano Max Potter — singing favorites from the standard opera and musical theater repertoire. It almost seems astonishing, but audiences can actually attend the performances in person and listen live while taking in views of the city, mountains, and even a snippet of the ocean from the amphitheater at Godric Grove.
There are two seatings, at 1 and 3 pm, for the performances on May 1, and tickets are limited, so advance reservations are required at $15 per person, which includes parking. Masks are required and socially distanced seating will be implemented as all state and county safety guidelines will be followed. Elings Park is located at 1298 Las Positas Road. Check out www.operasb.org for more information.
You might also be interested in...