Patriotic Pandemic Performance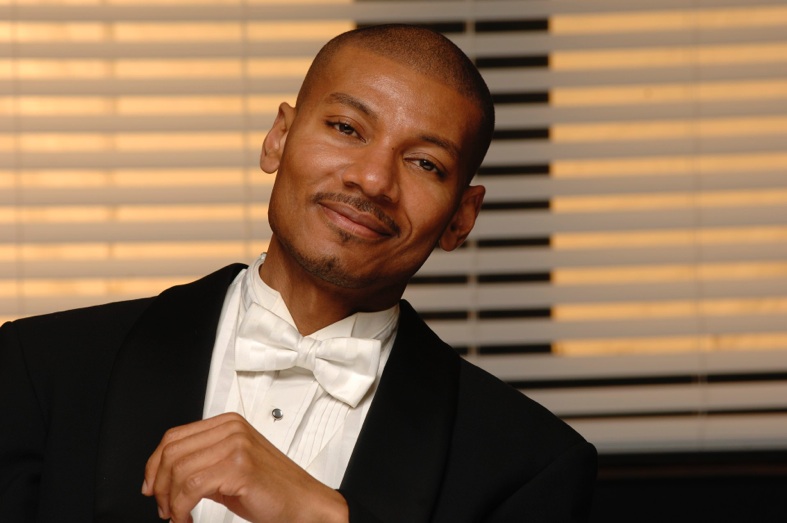 "Nay, why reproach each other, be unkind,
For there's no plane on which we two may meet?"
The words might be a little too poetic and eloquent for modern times, but the sentiment is surely something that might have been spoken aloud on the floor of the U.S. Senate this week, say, perhaps by a centrist such as Joe Manchin. In truth, the question forms the first two lines of an eight-line poem called "Polarity" by Claude McKay, who was a key figure in the Harlem Renaissance, the prominent literary movement of the 1920s. McKay's works ranged from vernacular verse celebrating peasant life in his native Jamaica to prosaic poems that protested racial and economic inequities.
"Polarity" is part of a trio of McKay's nearly century-old poems that L.A.-based composer George N. Gianopoulos has set to music via a pandemic project from Long Beach Opera to commission 20 young composers to write new folk music. Gianopoulos selected "America" and "White House" to complete the baritone-piano song cycle, titles that seemed beyond prescient when wrote them in October.
"There was a lot of tension in the air politically, with things obviously having been stirred up for many years leading up to the election," he explained. "I wanted to find some poems that I felt were really representative of what I was feeling and what was happening to the country. I came across these poems and they really spoke to me."
Gianopoulos was moved that McKay was expressing similar sentiments 100 years ago about "the divide, and the huge differences that people have in their approaches to life. It's not necessarily purely political, more moral philosophy. It touches on all of these things that are still happening now in society, and it really demonstrates how maybe not too much has changed in almost 100 years."
The poems also clearly spoke to bass-baritone Cedric Berry, who premiered the works in their original format for a virtual Long Beach Opera concert. Berry, who will serve as the soloist for the Santa Barbara Symphony's virtual concert dubbed "Fanfare for the Common Man" on April 17, proposed that he reprise the "Polarity" piece with the local orchestra, Gianopoulos said.
"He really fell in love with the piece and has become a real champion of my music and this cycle in particular," said the composer whose works now range to Opus 44. When music director Nir Kabaretti agreed, that necessitated Gianopoulos needing to orchestrate the work in a week — a difficult task but one with a path.
"The way that I approach writing for the piano is usually pretty textural and colorful to begin with, really about internalizing the text as best I can and trying to do it justice," Gianopoulos said. "With a lot of vocal music, the piano is written to simply accompany the voice and sometimes even doubles the vocal line throughout. My approach is to have two very separate and independent instruments, with the piano laying a foundation for the voice, but still being its own animal with its own momentum, not just supplemental to the voice but an equal in many respects."
The newly orchestrated version will have its world premiere in the Symphony's All-American music showcase displaying a diverse range of U.S. composers as part of its season-long commitment to spotlighting the breadth of symphonic music created in America, while also taking note of our troubled times via the pandemic, the politics and the personal. Aaron Copland's "Fanfare for the Common Man," composed as a response to America's entry into World War II, serves as an opening salvo in evoking the vast American landscape and pioneer spirit to rekindle hope as we enter the second year of a global pandemic. Bookended by Joan Tower's updated response, "Fanfare for the Uncommon Woman," the pieces also serve to spotlight the Symphony's heralded brass section.
In addition to "Polarity," Berry — a former Resident Artist with the L.A. Opera whose most notable recent roles include Yusef in the world premiere of the Central Park Five opera — is featured in Copland's Old American Songs, which includes "Simple Gifts," "I Bought Me a Cat," and "Zion's Walls." The orchestra's strings will come together for "Serenade for Strings" by Robin Frost, the late Santa Barbara composer and past Symphony board member, and Pulitzer Prize-winner George Walker's "Lyric for Strings." The wind section will deliver Samuel Barber's "Summer Music for Wind Quintet," with the full ensemble's take on "The Unanswered Question" by Charles Ives rounding out the program.
The concert, which was recorded last week live on stage at the Granada following pandemic safety protocols, streams on Saturday night and Sunday afternoon, with previews, interviews, and more as part of the program. Visit www.thesymphony.org.  
Ziggy Bows to Bob
Marking the 40th anniversary of reggae icon Bob Marley's death, his most successful son, Ziggy Marley, is performing a tribute to his legendary father at the first non-classical show of the new season of "Concerts in Your Car" at the Ventura County Fairgrounds. Ziggy, an eight-time Grammy winner who also possesses an Emmy Award, has enjoyed an even longer career than his famous father as a guitarist, songwriter, and humanitarian. A musical pioneer, Ziggy infused his father's reggae genre with funk, blues, rock, and other elements to create his own style. As a prolific composer, Marley primarily performs his own songs, so a chance to hear Ziggy and his band focusing on his late father's music is a rare event indeed. Show times are 5 and 8:30 pm on April 17. Visit www.concertsinyourcar.com for details and tickets. 
Still Streaming for UCSB
Charleston's Ranky Tanky's inspired take on the soulful songs of South Carolina's Gullah culture earned the band the 2020 Grammy Award for Best Regional Roots Music Album. Having adopted a name that translates loosely as "Get Funky," Ranky Tanky is a relentlessly upbeat ambassador of the culture known for retaining more African linguistic and cultural heritage than any other African American community in the United States. The dynamo quintet introduces audiences to the language, rhythm, and music of the region with a distinctly American sound that incorporates jazz, blues, gospel and R&B. Hear for yourself when the band plays for UCSB Arts & Lectures' "Race to Justice" series at 5 pm on April 15, followed by a Q&A session.
Ephrat "Bounce" Asherie, who has displayed her formidable street dance chops as a favorite member of Dorrance Dance — a frequent visitor to the Granada in the pre-pandemic days — now returns to town, virtually, with her own company. The Israeli-born, New York-based "b-girl" who boasts extensive training in ballet and modern dance, will present "Odeon," a new work for seven dancers and four musicians, bringing together and remixing street and club dances including breaking, hip hop, house and vogue, all set to a mix of early 20th century romantic music and popular Afro-Brazilian rhythms. A moderated Q&A follows. Tune in starting at 5 pm on April 20. Also, try your own hand (legs?) at the styles on April 22, when Asherie teams with club star Archie Burnett in a free movement workshop called "Shake-a-Leg with Archie & Ephrat," when the pair will share some of their favorite social dances. Visit https://artsandlectures.ucsb.edu.
Auditions Live from the Lobero
The final auditions for 2021 Spirit and Junior Spirit of Fiesta are slated for 3 pm on April 17, with the event taking place back at the Lobero Theatre, where Fiesta originated in 1924. The audience is invited to attend, but only virtually as pandemic protocols still prevent such in-person gatherings. The auditions will be broadcast live on KEYT-TV (channels 1013 and 13) and live streamed on www.keyt.com. The community is invited to tune in to share in the day's events and watch the dancers perform in anticipation of winning the coveted crowns that will have them appearing in public numerous times leading up to 2021 Old Spanish Days in August, which is still on track to take place as California is slated to open fully in mid-June.
Poetry for the Pandemic
The 7th annual "Spirits in the Air: Potent Potable Poetry" reading will be held, virtually for the second consecutive year, from 7-8 pm on April 21, as one of the events for 2021 Santa Barbara Poetry Month, held in conjunction with April's National Poetry Month. Current Santa Barbara Poet Laureate Emma Trelles will be among the participants along with three of her surviving predecessors in the prestigious position — Laure-Anne Bosselaar, David Starkey, and Chryss Yost — plus Susan Chiavelli, Robert Krut, Amy Michelson, Diana Raab, and Jace Turner. The reading is hosted by George Yatchisin, the "Drinkable Landscape" columnist for Edible Santa Barbara, food writer for the Santa Barbara Independent, and author of the poetry volumes Feast Days and The First Night We Thought the World Would End.
The poets will read their own verse and/or the work of others about libations of all sorts in an event that, until pandemic protocols prevented, took place in person at The Good Lion, the Granada building home of the veteran mixologist mavens. The Good Lion owners Brandon Ristaino and Misty Orman's other local locations Shaker Mill and Test Pilot will be offering to-go cocktails to enjoy at home while listening to the verses virtually.
"From Bacchus to Berryman, from Li Po to Dorothy Parker, drink and lyric flights have danced a long, sometimes loving, sometimes leery waltz," Yatchisin said in a press release. "This event helps prove how the magic of words can help unite us even in a time when we are physically isolated."
Not coincidentally, Santa Barbara-based Gunpowder Press — co-edited by Starkey and Yost (who is married to Yatchisin) — has just published the largest collection of local poets in one volume in the city's history. While You Wait, edited by Bosselaar, features 80 Santa Barbara poets and is dedicated to the region's "healthcare heroes" for their continuing efforts to keep us all safe during the COVID pandemic. Gunpowder has arranged with Sansum Clinic Healthcare to gift the volume to more than 1,750 Sansum healthcare workers, creating a companion website (www.whileyouwait.org) where the poems are easily (and hygienically) accessible to all readers.
The 222-page volume is broken into several major thematic sections — from nature, to "love and affection," "life and dreams," and aging — is easily searchable and sortable, and includes several poems in Spanish and one in the Chumash language, Samala, with translation. The poets range from schoolchildren to novices to established writers, including all eight living Santa Barbara Poets Laureate. One, Yatchisin's "Pandemic Domestic," even addresses the COVID crisis directly.
The original plan had been for the most recent past Poet Laureate of Santa Barbara to edit the anthology for free distribution in clinics and hospital waiting rooms, Bosselaar explained, adding that now they have gone virtual, too.
"It will reach even more people than I'd hoped," Bosselaar said.
What's more, Santa Barbara MTD has partnered with Gunpowder Press to place posters on buses so people on the move may still enjoy the poetry. Patients in waiting rooms can also safely access the poems online on a smartphone or tablet with a QR code, which brings you to the book's website.
Music to Our Eyes
Joe Woodard is well-known around town as a veteran cultural critic focusing on music, film and art, a witty and urbane freelance entertainment scribe who contributed for years to the Los Angeles Times, Rolling Stone, Entertainment Weekly, DownBeat and many music magazines and enjoyed long associations with the Santa Barbara Independent and News-Press. His two books are appreciations of jazz legends Charles Lloyd (the Montecito maverick) and Charlie Haden.
Woodard himself is also an accomplished guitarist, singer, songwriter with a number of albums under various group names, and also serves as head of the Household Ink Records label.
So, it's a little bit of a surprise that his first novel Ladies Who Lunch turns out, in Woodard's own words, to be a satirical work that takes readers on a journey through the chic lunch spots and outposts around Los Angeles circa the 1990s. His protagonist is a newly divorced Danielle Wiffard who navigates a maze of romantic, sexual and — now this makes more sense — musical encounters with celebrities and socialites, alternately cavorting with a symphony maestro, a big-hatted country crooner, a swaggering TV talk show host and a has-been teen idol among a range of potential romantic interests. Meanwhile, her lunchtime gal pals watch and chirp away about all of it as together they refine the "Art of Lunch."
Household Ink publishes the book on April 20, with Woodard chatting with longtime friend and writer colleague D.J. Palladino later that night for a Zoom interview and reading via Chaucer's Books (www.chaucersbooks.com/event). Woodard will also appear at the Fourth Anniversary party at Palladino's Mesa Books on Sunday afternoon, April 25 (www.themesabookstore.com). 
Chaucer's Choice
Majestic waterfalls, sweeping vistas, granite-clad ridges, hot springs, and rock-hopping are all part of the hiking and backpacking opportunities in the southern Los Padres National Forest that stretches across our Southern California terrain. But sometimes deciphering the maps, messages, and figuring out where to go for what can seem a bit like navigating a maze. Now local author Craig R. Carey has undertaken the challenge of leading readers through the best of what the foothills and backcountry in California's second-largest national forest has to offer.
Hiking & Backpacking Santa Barbara & Ventura features almost 100 of the finest routes between the Gaviota Pass and Lake Piru. Readers can learn how to explore lush trails above the cities and town, using the info to make plans for a day hike, a weekend backpacking trip or a deep backcountry journey through stretches of the Chumash, San Rafael, Dick Smith, Sespe, and Matilija wildernesses. The book features detailed section maps and GPS coordinates, waypoints, camps, trailhead directions, permit information, and recommendations for hiking with children.
Carey, who grew up hiking and backpacking the region before graduating from UCSB with a BA in History, offer an adventurous virtual evening with Chaucer's Books at 6 pm on April 22. Visit www.chaucersbooks.com for details. 
Talk of the Town
Pakistan-born novelist Mohsin Hamid is an international bestselling author whose four books over 17 years include The Reluctant Fundamentalist, How to Get Filthy Rich in Rising Asia, and Moth Smoke, in which he takes on ethnic identity, class disparity, and mass-urbanization with a bold and inventive approach. A winner of the Betty Trask Award and a Pen/Hemingway Award finalist who has been twice shortlisted for the Man Booker Prize was most recently heralded for 2017's Exit West. His April 16 conversation with Pico Iyer as part of UCSB Arts & Lectures' "Speaking with Pico" virtual series will be followed by a moderated Q&A.
Get a jump start on Earth Day weekend with Dr. Robert Bullard, a Distinguished Professor of Urban Planning and Environmental Policy at Texas Southern University and is better known as "The Father of Environmental Justice." Bullard, who boasts more than four decades of action advocating for racial equality and fair environmental and urban planning, has served as founding director of the Environmental Justice Resource Center at Clark Atlanta University and is the award-winning author of 18 books that address sustainable development, environmental racism, climate justice, community resilience, regional equity and more. Bullard's talk for UCSB Arts & Lectures' "House Calls" series, titled "The Quest for Environmental and Racial Justice," will be followed by a Q&A moderated by Dr. David N. Pellow, UCSB's Chair of Environmental Studies and Director of the Global Environmental Justice Project. Visit https://artsandlectures.ucsb.edu.
You might also be interested in...