Talking Baseball in Tokyo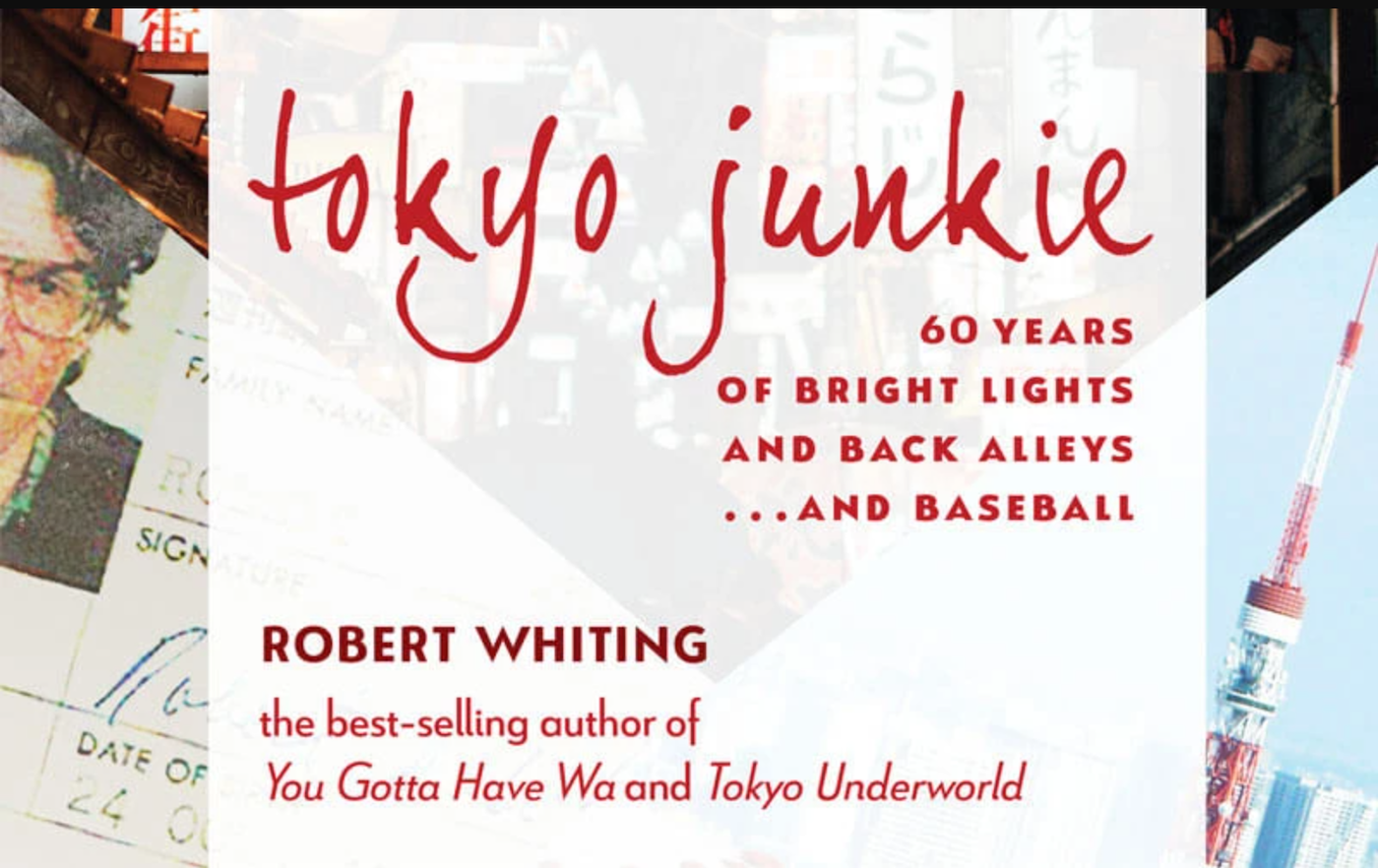 Veteran journalist and author Robert Whiting is one of only a few Western writers to have written a regular newspaper column in the Japanese language. The author of several highly successful books on Japan and the city where he has lived on and off for more than half a century include the best-selling You Gotta Have Wa about baseball in Japan and Tokyo Underworld: The Fast Times and Hard Life of an American Gangster in Japan, which has recently been optioned by Boardwalk Empire creator Terence Winter for development for TV.
Tokyo Junkie: 60 Years of Bright Light and Back Alleys… and Baseball, Whiting's latest book, out last Tuesday in paperback, is a memoir that plays out over the dramatic 60-year growth of the megacity from the 1964 Olympics through the country grappling with COVID that resulted in the postponed of last year's Summer Olympics, with stops to come face to face with the city's dark underbelly, revisit Japan's baseball elite and examining the collision of politics and sports in producing a cultural landscape unlike any other. The book has received strong reviews – "With a patter that lands like readers have pulled up a barstool to hear a traveler's yarns… Whiting's love for his adopted city remains constant and contagious in this collage-style survey," said Publishers Weekly, while The Atlantic called it "a delightful book, a wry, vivid, and illuminating account of a country, a culture, and a keenly observant character through five dramatic decades."
Whiting joins Chaucer's Books Events Coordinator Michael Takeuchi, who lived in Japan 30 years ago himself and calls the author "The definitive Western voice of Japan," for a virtual chat at 7 pm on Tuesday, April 27, via Zoom. Tune in at https://zoom.us/j/99158599892.
SBIFF Settles in for the Oscars
Unofficially, SBIFF isn't over until after the Academy Awards.
After all the festival has positioned itself strategically to take place right when the voting for the Oscars is happening, and the number of hopefuls who perennially show up in town – albeit virtually this year – is staggering.
So we'll close out our coverage with a few select quotes from notable nominees as we anticipate the actual Oscar telecast this Sunday, live from two locations in Los Angeles and at least one in Europe – with, blessedly, no Zoom component at all.
Zoom, of course, is where we heard from and saw the celebs this year, and while the format made it easy for the eyes to wander, the level of discourse kept our attention riveted.
Promising Young Woman's Carey Mulligan – who is still a fave for best actress but has seen her originally sizable Oscar lead dwindle after losing the Golden Globe to Andra Day, the SAG to Viola Davis and the BAFTA to Frances McDormand – was back at SBIFF for the first time in 11 years. She watched the opening set of clips of her work from a hotel room in New York, where she was to host Saturday Night Live that week. "Having a montage like that set to Britney Spears' 'Toxic' is a career goal achieved," she said. "Check that one." Later she told us that she was almost intimidated by the intricacy of writer-director Emerald Fennell's script. "It talks about things that are so real to people. It's humorous and dark and witty. It felt like a bit of a tightrope walk."
Sacha Baron Cohen was another SBIFF returnee, when he was part of the Virtuoso Awards in 2007 on the heels of the first Borat movie, and basically stayed in the character that had brought him so much attention. Back to receive SBIFF's Outstanding Performer of the Year Award for both the Borat sequel and his turn as Abbie Hoffman in Aaron Sorkin's The Trial of the Chicago 7, with both roles having earned Oscar nods. He was very blunt about mounting a sequel a decade and a half after the original: "One word: Trump," later adding that the idea of making the movie came from "feelings of anger and deep revulsion at what was going on in America… That angered me to my core. There's not much that we can do as artists other than what we've been trained to do. (But maybe) we could release it just before the election." Speaking of both his movies, Cohen said, "If either of them had even motivated one person to vote, then that's a job well done."
No one expects Sound of Metal's Riz Ahmed to walk away with the best actor Oscar in his first try, but the actor proved his mettle in an incisive if brief chat as part of the Virtuoso Awards discussing how he had to learn both hard rock drumming and American Sign Language for his role in the film. "Those things put me in my body differently," he said. "On a fundamental human level, I was enriched… People from the heart of those subcultures — drumming, the deaf community, the addiction community — are appreciating (the movie), which is very satisfying."
(The Academy Awards air on ABC starting at 3:30 pm on Sunday, April 25.)
Earth Day Entertainment
While hearing the latest environmental updates both locally and globally and finding out what you can do to make a difference is the main goal of Santa Barbara's annual Earth Day festival, this weekend's virtual event might also boast the best lineup of local musical acts we've seen around these parts in a while. Performances by Montecito's Kenny Loggins and one of his proteges in former Teen Star Jackson Gillies as well as a dance party with World Dance for Humanity highlight April 22's schedule; Zach Gill and Tina Schlieske take the top slots on April 23; and longtime Montecito music man Glen Phillips anchors the finale of the festival on April 24. Get all the details online – which is the only way of viewing the festival – at https://sbearthday.org.
More Music: Gardener of Delights
Spencer Barnitz is wasting little time celebrating achieving full vaccination status. The stalwart head of Santa Barbara's fiery Latin-tinged party rock band Spencer the Gardener will be appearing live at (or rather in front of) The Good Lion adjacent to the Granada Theatre, performing his catchy ditties and other faves for the whole 1200 block of State Street. Spencer is promising "Magical distancing, social realism, and perhaps a bit of dancing in the street" for the 6-8 pm free show under the auspices of Opera Santa Barbara, which has been providing such musical opportunities all over downtown for a couple of months.
Barnitz is also booking it up to the Santa Ynez Valley for a date at Brander Winery's outdoor series on Saturday afternoon, May 1, which he describes as "Kind of like taking an afternoon trip to Europe with an excellent Taco truck in the mix. Valley surrealism!" The al fresco show will also feature Lilly Aycud and a percussionist. Brander has similar show by local luminaries every Saturday afternoon through the month of May. Visit www.brander.com.
KITP Book Talk: Art Meets Tech
Some fifty years ago, the borders between technology and art began to be breached as artists eagerly collaborated with engineers and scientists to explore new technologies and create visually and sonically compelling multimedia works. This art emerged from corporate laboratories, artists' studios, publishing houses, art galleries and university campuses. But while many of the biggest stars of the art world — Robert Rauschenberg, Yvonne Rainer, Andy Warhol, Carolee Schneemann, and John Cage — received notice for participating, the technologists who contributed essential expertise and aesthetic input often went unrecognized. The roster of engineers and scientists includes Frank J. Malina, the American rocket-pioneer turned kinetic artist who launched the art-science journal Leonardo; Swedish-born engineer Billy Klüver, who established the group Experiments in Art and Technology (E.A.T); and physicist Elsa Garmire who made laser art.
In his new book, Making Art Work, UCSB History Professor W. Patrick McCray, who received a Ph.D. in science in 1996, reveals how artists and technologists have continually constructed new communities in which they exercise imagination, display creative expertise, and pursue commercial innovation and notes how we are currently in the midst of a new surge of corporate and academic promotion of projects and programs combining art, technology and science. McCray's virtual talk "Art and Technology in the Age of Apollo" will be followed by a Q&A session over Zoom. Visit kitp.ucsb.edu. 
'Poseidon' Plays-in-Progress
Ventura's Rubicon Theatre is roaring back into virtual action this week – or at least a whole lot of theatrical types are taking turns to benefit the ambitious but beleaguered company that is hoping for some financial support from its faithful fans. The theater will stream selections from Poseidon: The Musical, which features Music and Lyrics by Andrew Lippa, whose previous Broadway credits include Big Fish and The Addams Family as well as serving as the longtime music director for irrepressible singing-actress dynamo Kristin Chenoweth. Book writer Jonathan Prince will share about the magical process of creating a Broadway musical and provide a synopsis and narration of the new show-in-the-making that follows the modern cast of Poseidon on Broadway as they navigate the treacherous waters of life, love, and art. In this play-within-a-play, everything is turned upside down – except for the damn boat itself.
Broadway stars including Tony Award-winner Faith Prince (Guys and Dolls), Rachel York (City of Angels/Rubicon's The Best is Yet to Come Off Broadway), Emmy winner Bruce Weitz (Hill Street Blues, Rubicon's Anne Frank and Art), Richard Fleeshman (Ghost), Meg Donnelly (Disney's Zombies), James Barbour (Phantom of the Opera) and others will provide a Sing-Thru of the songs from Act 1 that also features acting from the musical's faux creative team of Austin Scott (Hamilton), Solea Pfeiffer (Evita), Etai Benson (The Band's Visit), and Brad Oscar (Something Rotten). Poseidon: The Musical will stream for free from April 24-26 although donations will be gratefully accepted.
Speaking of grateful, RTC is also arranging for a free on-demand streaming of the 20th anniversary concert Grateful! The songs of John Bucchino, titled after the composer/cabaret performer's – whose credits include the Tony-decorated A Catered Affair, Urban Myths, and Lavender Girl – most popular song. Stars of Broadway, London's West End, and the cabaret and the recording worlds have come together to support the Rubicon and other theaters during the pandemic with what's expected to be a moving, magical collection of songs about love, loss, hope and triumph. The roster includes Tony and Grammy winner Leslie Odom, Jr. of Hamilton (currently up for an Academy Award for his song "Speak Now" from One Night in Miami) and Stephen Schwartz (creator of Wicked and Pippin), plus rising star Corey Cott (Bandstand, Filthy Rich), Ann Hampton Callaway, David Campbell, Toni Tennille, Amanda McBroom, and others. Admission to the concert streaming April 27-May 18 is also free, but RTC asks that viewers consider making a tax-deductible contribution when the option pops up during your reservation for the concert. Visit www.rubicontheatre.org to receive a viewing link for either show.
You might also be interested in...