Timing is Everything
If you saw John Sant'Ambrogio walking down Coast Village Road, you might mistake him for Larry David. On the other hand, if you saw Larry David walking down Coast Village Road, you might mistake him for John Sant'Ambrogio, the world renowned cellist. That is, if you've been the beneficiary of a private birthday concert given by the enchanting virtuoso, who happens to be a part-time resident of Montecito and is now giving free spring concerts to residents of Montecito and Santa Barbara.
Timing is everything. When my good friend Glenn Dorfman happened to bump into the cellist while walking near Westmont College – where Sant'Ambrogio taught until recently – they started exchanging life stories. Glenn, a retired attorney and a people person, found out that John is a cellist who has played the instrument for over 50 years. He has performed more than 10,000 concerts with major orchestras worldwide and served as principal cellist with the Casals Festival Orchestra and was the principal cellist with the Saint Louis Symphony Orchestra for 37 years. You could say that John is also a people person, a musical bon vivant and humanist who leaves a trail of thoughtful insights that resonates through the strings his bow glides over with masterful grace. He has written three books with humor, drama, and suspense. He knows how to weave true, as well as imaginary, tales with the deftness of a natural storyteller.
"Before I made symphonic music performances my life work, I always thought of this noble and sublime occupation as being devoid of humor. After all, classical music is often called serious music," writes John in The Day I almost Destroyed the Boston Symphony and Other Stories. The book became a best seller upon publication in 2010. One reviewer wrote: "The stories he tells in this book are hilarious, like the time he pitched his tent over a rattlesnake pit when he was playing for the Seventh Army Symphony, had a "sword" fight with bows with another cellist, the time when he got lost when he was supposed to be leading his section of The Boston Symphony" (hence the title). Sant'Ambrogio would agree that timing is everything. If the book has a message it's an inspirational one: that if he could make it, against all odds, anyone can, especially young people.
Women Rising, which came out in 2017, has a fantasy plot, based on things that happened to women he knows, until the reader realizes it's a dream with an overarching message about how much men need women. A meteor-like sphere circles the earth affecting only women at first, causing them to grow more than two feet taller and incredibly strong in a short span of time. A unique organization, Men, Women Together (MWT), evolves to help humanity deal with the changes. Unfortunately, TG (Tough Guys) and the underworld are trying to make sure the old ways survive while attempting to destroy MWT. A struggle ensues. Sara Anne Fox, a Hollywood writer, has written a screenplay from the book and Sant'Ambrogio is hoping he can interest a filmmaker in telling the riveting, highly imaginative story.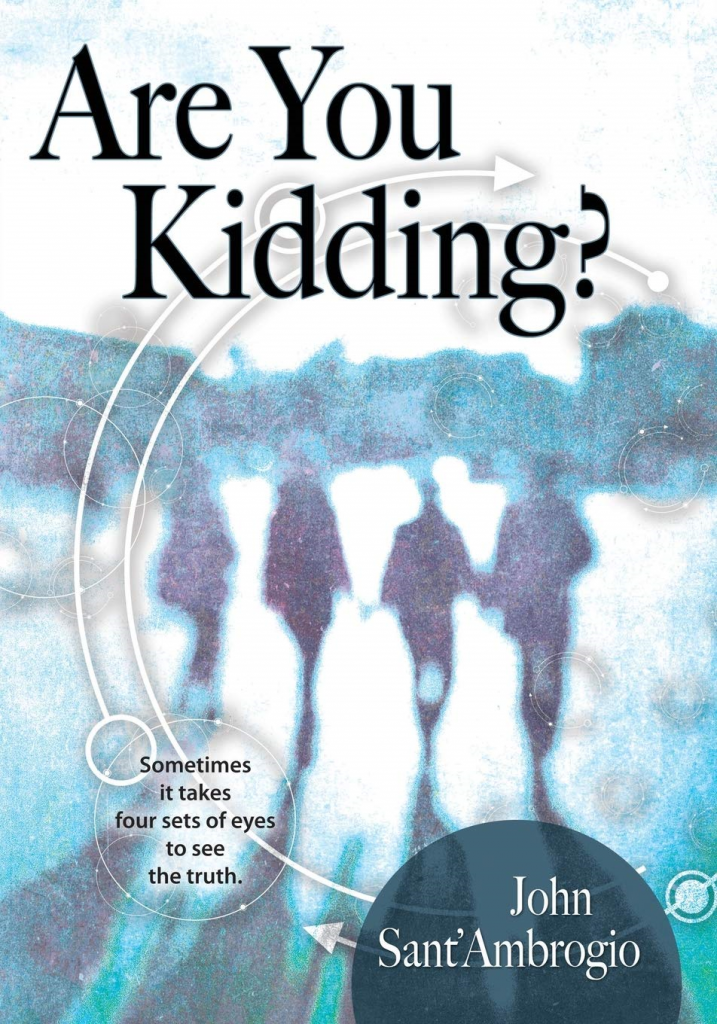 Are You Kidding? published in 2019, is Sant'Ambrogio's most recent book. It tells of four friends in Steamboat Springs, Colorado, a mountain town known for its natural beauty, its snow packed slopes, and its wild flowered fields of summer. As the friendship grows and their questions of life thread through the paths they explore together, they find themselves thrust into a menacing confrontation that tests the limit and depth of their relationships and, finally, tests their outlook on life, love, and their most cherished understanding of why we are here. The short (107 pages) and short chaptered tale, illustrated with the cellist's sublime photos, is also being made into a screen play by Sara Anne Fox, that the author hopes to also have made into a film.
Sant'Ambrogio moved to Steamboat Springs in 2005 to pursue his love of skiing, hiking, cycling, and photography. Sant'Ambrogio is founder and artistic director of the Arts for the Soul Summer Vacation Retreat in Steamboat Springs. He was the originator of the film, Eroica, which was shown on PBS 400 times in December 2003. The cellist's daughter, Sara, is considered one of the world's leading female cellists and is featured in the film as it follows the trio – cellist Sara Sant'Ambrogio, violinist Adela Peña, and pianist Erika Nickrenz – through one eventful year. The three women, friends since they were young prodigies at music camps and then as students at Juilliard, lead extraordinarily full lives, traveling internationally and giving over 100 performances a year as well as handling the business of their music, marriage, and motherhood. What binds them together is a fiercely loyal friendship and an uncompromising work ethic that insists they give nothing but their absolute best for every performance. His daughter, Stephanie, is a violinist. If they need another cello for a trio, he is happy to join his daughters. For the moment, he's happy giving small solo concerts. His son Michael is a lawyer.
For my birthday concert, held on our deck in Montecito, I invited eight close friends, including Glenn and his wife, Irene. John enchanted us with his divine musical and storytelling gifts. His message was simple: Let's treat each other with respect, knowing that there is God in us all, especially in music.
Anyone interested in a free concert for a small group of friends in an outdoor space may contact John at jsant@zirkel.us or 314-308-3831. The cellist's books are available on Amazon.
You might also be interested in...