SBIFF is Here: Roll Out the Wheels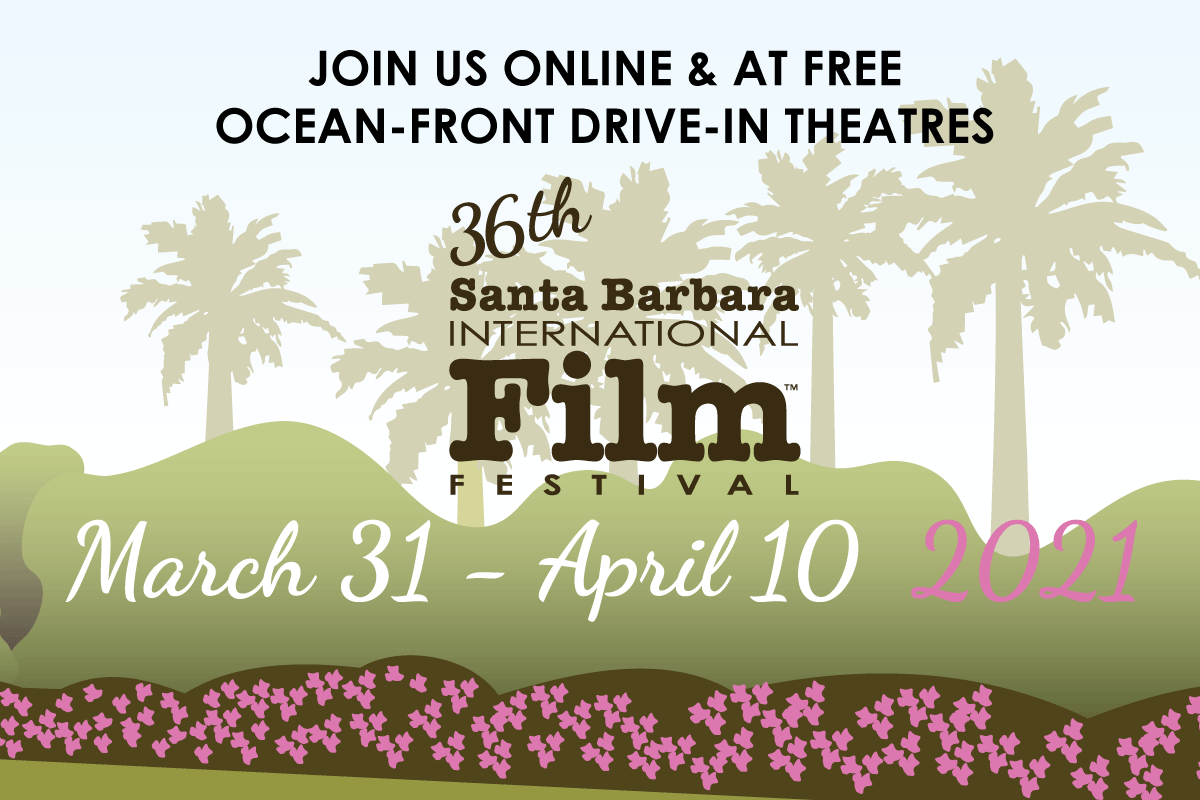 What does one say to welcome filmmakers, stars, and guests to the Santa Barbara International Film Festival this year, the 36th, which holds the strange honor of being the first-ever hybrid event in SBIFF's history? While movies, tributes, and filmmaker Q&As will all stream online from April 1-10, the only live interaction between people from outside your own household will actually only be between the cars at SBIFF's makeshift drive-ins at SBCC. 
So, the standard "Roll out the red carpet!" is clearly out, because not only will none of those receiving tributes coming to town to be interviewed and honored will be in person, but even the filmmakers who live outside of regular driving distance are being actively discouraged from showing up.
"Roll up your windows?" Too anachronistic.
"Gentlemen, start your engines?" Too sexist.
"Follow the friendly staff member through the traffic cones to your parking spot?"
Or, for those staying home, "Dust off your devices, find the Apple TV remote, and make sure your WiFi is working well?"
"See you in your cars" rather than the perennial oxymoron "See you in the dark"? Uh, maybe not.
Whatever the right words, what's really welcome is the fact that somehow SBIFF has managed to pull off a festival at all, as Roger Durling and staff are still doing their thing by offering a full slate of about 100 films, half the normal fare but still pretty impressive. They're all available for viewing on demand during the 10-day span while all 50-plus, full-length films receive at least one time slot in SBIFF's special, high-tech double drive-in theaters down by the beach that are available for free. Each screen will show four films a day and accommodate 50 cars for viewings on giant LED screens that are easy to see day or night.
That includes all the Santa Barbara local films, which in previous years have elicited some questions about second-class treatment. Not this year.
"I did some renegotiating and moving things around and we were able to at least get them at least one screening," said SBIFF senior programmer Mickey Duzdevich.
"It was important, perhaps even more so this year, that they be a part of the [in-car portion of the] festival because they're coming from the community. They belong in the bigger picture."
What's more, every single one of the 40 full-length films is either a world premiere, U.S. premiere or, in rare cases, a special presentation, meaning the SBIFF programmers deemed it worthy of our attention, meaning everything fresh after a year when almost nothing has been.
Even more astonishing, SBIFF is still covering several of its perennial categories and genres while at least touching on the rest, a goal Duzdevich said was important even as the fest had to do a version of the squeeze play.
"What we came up with was to focus on our eight competition sections, and once we mapped that out and saved room for the local features, I wanted to make sure that the rest of our programs didn't go by the wayside," he said. "We normally have our sidebars on nature films, screen cuisine, music, surfing, and all that. So, I made sure that we chose movies and sprinkled in premieres that could fit into those categories as well so we would still feel the presence of the main festival. I didn't want to take away anything. It seems to work out, I may have missed a few sidebars, but for the most part we got it covered."
Hence, for example, Daughters of the Waves, entered in the Documentary Competition, also covers surfing; The Conservation Game, vying for the Social Justice award, touches on the natural world; Bulgaria's Fear and Lithuania's The Flood Won't Come, both up for the Jeffrey C. Barbakow International award, could qualify for the Eastern European sidebar; the Iranian-Afghani doc The Forbidden Strings surely covers music; Israeli doc Four Mothers, in which the title characters who created a female-driven, grassroots group confronting the military establishment and a patriarchal society, helped to bring about an end to the war in southern Lebanon, would fall squarely in the Kolnoa sidebar; and so on.
SBIFF also made it a point to bring back a couple of award winners from previous festivals, booking the psychological thriller Cinema of Sleep, directed by Jeffrey St. Jules, whose film Bang Bang Baby won the SBIFF's top prize, the Panavision Spirit Award for Independent Cinema, in 2015. Meanwhile, Johnny Sweet, director of Last Call: The Shutdown of NYC Bars, who was an Emmy Award-winning feature producer at ESPN for 10 years before turning to documentaries, earned SBIFF's doc competition just two years ago for Quiet Storm, about the life of Ron Artest. (See more about Last Call below.)
Alas, while the Santa Barbara feature-length films and docs made the cut to be included in the SBIFF drive-in, the shorts programming, 75-something films strong, isn't part of the outdoor schedule, available only virtually, save for the local documentary shorts, which will close the festival when they screen at both beachside locations, and also online, on Saturday, April 10.
But maybe that's a blessing in disguise, Duzdevich said.
"I think the shorts will get watched even more online because those are always so popular, we have to turn people away," Duzdevich said. "That's especially true for the Santa Barbara one, because everybody has so many crew members and friends, so they always sell out. Now everybody can see them, and friends and family and anyone else can just hop online and watch a whole bunch – animated, comedy, what have you, for just ten bucks."
What you also won't see at the drive-ins are the filmmaker Q&A sessions that followed many screenings at the theaters, but that too might also be a boon to devotees, as all filmmakers were offered a chance to pre-record a talk with Duzdevich and his team that will be available to watch online at the end of each on-demand viewing of the films.
Of course, you won't be able to actually ask a question, unless the filmmakers in question show up on SBIFF's chat site that is already up and running.
Down at the drive-ins, the actors and directors who do show up will get to pose for official pictures with the SBIFF logo and maybe say a few words beforehand before getting back in their cars to watch the movie along with everyone else.
Turning back to the tribute honorees – actors, directors, and other celebrities – it does come as something of a surprise that SBIFF has also been able to pull off its full complement, as a lot of big-name stars and more recent year-end award winners or nominees are coming to town, if only virtually, for live evening programs.
As always, they'll include film clips and interviews with each of the guests, perennially one of the most popular parts of the festival. Joining the actors covered in last week's issue are directors, who get their own evening tribute this year featuring four of the five Academy Award hopefuls: Chloé Zhao of Nomadland, Promising Young Woman's Emerald Fennell, Lee Isaac Chung of Minari, and Thomas Vinterberg, who helmed Another Round. (Missing is David Fincher of Mank.)
Participants in the writers, producers, and women's panels had yet to be announced as of this writing, but you can expect a high percentage of Academy Award hopefuls.
SBIFF even kept alive a more recent addition to the slate in the The Artisans Award which celebrates the important, but rarely spotlighted, contributors in terms of editing, sound, costumes, design, and makeup. True to its ways, SBIFF has invited a roster that are not only Oscar nominees, but the consensus frontrunners in each of their categories, from Joshua James Richards (cinematography) of Nomadland to Mia Neal (hair/makeup) of Ma Rainey's Black Bottom, as well as Alan Baumgarten (editing) of The Trial of the Chicago 7, Donald Graham Burt and Jan Pascale (production design) of Mank and Trent Reznor and Atticus Ross, who are holding the top two slots for Mank and Soul.
Unlike the films, the tributes will only be available to stream in real time – but is that really all that different for those who were sitting more than 25 rows back in the Arlington, where the video projections were much more compelling that squinting or squirming to see the stars in direct line of sight?
"Those will be amazing because that's a whole new realm that we're going into with switching cameras back and forth much like any awards season event this year that you've seen on TV," Duzdevich said. "But we're trying to hone it in so there's no hiccups, but we don't control everybody's Internet. So hopefully it all goes to plan."
Keep your fingers crossed. That's a tall order in our zoned-out Zoomified present reality. Seems like a good time for escaping to the movies.
(Visit www.sbiff.org for more details, synopsis, and info on each of the films, instruction on how to purchase passes and film tickets, a rundown of the film schedule at the SBCC drive-in screenings and info about reserving a spot.)  
You might also be interested in...