$avvy Women. Money. Freedom. (Men allowed.)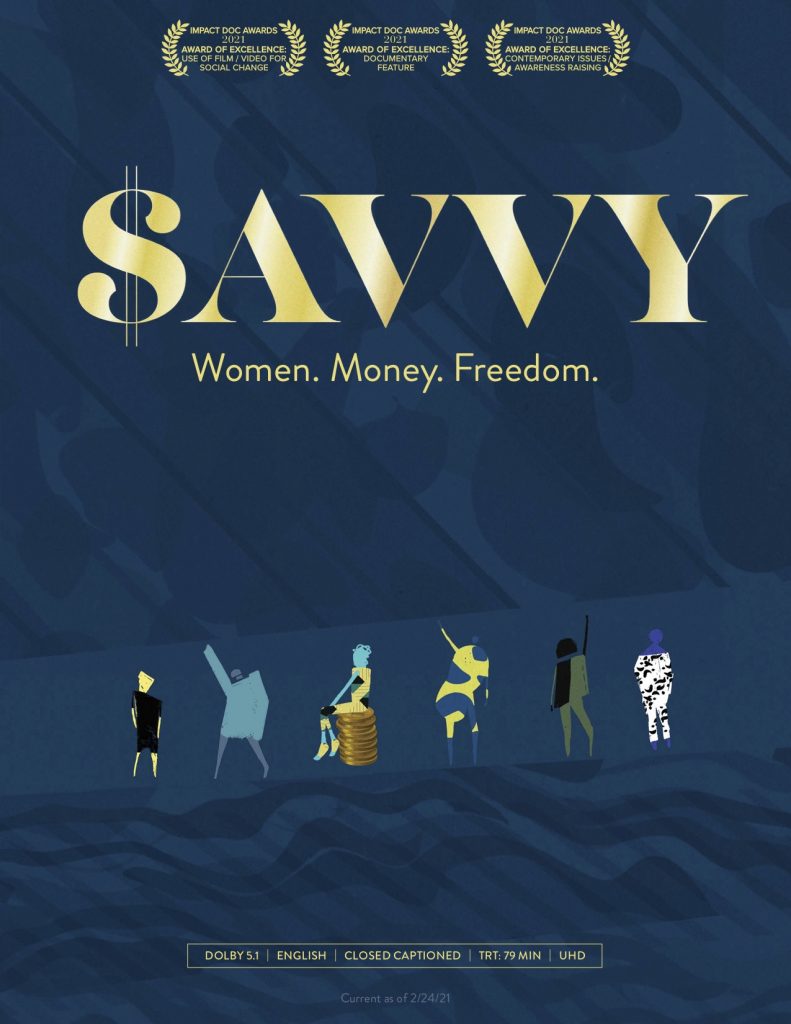 The Big Short proved that it's possible to make an interesting movie about money, a lesson documentary filmmaker Robin Hauser seemed to take to heart. Her latest documentary, $avvy, covers what could be a very dry subject – women's relationship to finance – with a whole lot of advice from (mostly female) experts on how women can be smarter with money by breaking taboos and gender roles, but also a light touch that brings in humor.
Hauser had a bit of head start, as her previous film, Bias, explored unconscious bias and how it affects our lives socially and in the workplace, while CODE: Debugging the Gender Gap, delved into sex-based bias in the tech world.
Both were well-received and played at important festivals.
Hauser, who worked in the corporate world prior to taking up filmmaking, has appeared on Bloomberg TV, CNN, NPR, CNBC, and elsewhere. She recently talked about $avvy, which premieres at SBIFF's drive-in at 3:30 pm on Saturday, April 3.
Q. What makes you so passionate about gender issues in the workplace and, with $avvy, women who have challenges with money?
A. To start with, after 25 years of being married, I was one of those women. I hadn't really paid attention to finances, partly because he handled it. That's just the way that our marriage worked. He's fairly traditional and that's the way it was comfortable for him. So, at 50 years old, I was suddenly divorced and for the first time in 25 years solely responsible for my financial well-being. Looking into the future and thinking about retirement, it was a bit of a shock to me. I have an MBA and was already making movies, so I could only imagine what this is like for other women, some of who stay in marriages because they don't know how to handle things financially, and don't believe that they can make it on their own, which is frightening.
The more I dug into it, I kept hearing stories of financial abuse and women who had credit cards that didn't know anything about compound interest, and women who had gotten themselves in some pretty difficult situations just due to lack of savviness. Smart women – that's what is so fascinating about this. It isn't something that happens just to women who don't have great education. There are highly wealthy women that really don't understand finance. This situation crosses socioeconomic boundaries.
Forgive my ignorance, but how do successful people not understand basic concepts about money?
It's not that they, or I, don't understand, but there is societal and cultural messaging, or just following traditions that dictate that the man handles the finances while the women handle the household… Or maybe we fall into the Cinderella effect where we want to be taken care of, or because we've been getting the message forever that women aren't good at math. Just think about the stock market, which was made by men for men. The investment world doesn't really invite women in, and it can be off-putting.
I hadn't even thought about that, but yeah, the animals are the bull and the bear. No deer.
Yes. The Wall Street symbol is a raging male bull with kahunas that are probably incredibly well-endowed. The terms are all from war: crushing it, hit with a bomb. It's intimidating.
What's the most surprising thing you learned in making the movie?
It wasn't shocking at all that our grandmothers were really pretty bad about finances, because back then they couldn't even open up a credit card in their own name, or a bank account for that matter. Maybe that was true for our mothers, too. But it turns out that millennials are the worst off. It was shocking to me when I saw a study that showed that 46% of women across generations abdicate major financial decisions to the men in their lives, and even 40% of women in same sex relationships abdicate decisions to their partner. With millennial women, that number climbs to almost 61%. It's a mystery but it's so dangerous, because eight out of 10 women will, at some point in their lives, be solely responsible for their financial well-being. Women live on average seven to eight years longer than men; women spend more time out of the workplace to care for their children and elderly relatives. So that means that we live longer with less money, not to mention the fact that we only make 82 cents on the dollar to what a man makes to begin with.
Finding your way out can be hard, because nobody really wants to bring up unromantic things like money when you're dating. But it's inevitable that it comes up later, maybe when you want to buy that first house, and you discover that your partner has horrible credit, or one likes to save for an ideal vacation and the other is shopping online every day. That might be cute when you're dating. It's not so cute when you're married.
Playing a bit of the devil's advocate, you made the movie for women. The tagline is "Women. Money. Freedom." Are men allowed to see it?
Absolutely. I love men and I love my male audience and I never want to make a film that marginalizes men. The men who watched (my previous films) Code Debugging or The Gender Gap found them incredibly eye-opening, which I think will be true here, because even when I was filming the men on my crew would watch an interview and then want to know where they could see the film. because they wanted their wife or girlfriend or mother to see it. And when I showed it to my son and a few of his friends, they told me I probably should have had a male character because it was relevant to guys his age, too.
Mickey's Marks
Coast was one of the films picked as among the fest's highlights by senior programmer Mickey Duzdevich, who also recommended Trees of Peace, a story drawn from the 1994 genocide in Rwanda about four women from different backgrounds and beliefs who are trapped together in an underground room where they are forced to reconcile their inner demons and put their differences aside for survival.
The film is the directorial debut from actress-writer-director Alanna Brown who is now also writing for Starz's upcoming Blindspotting mini-series based on the critically acclaimed 2018 film. "All the actors and actresses in the film are now big up-and-coming stars while the director is working on Netflix shows, so it's a great one," he said about the movie that screens at the SBCC drive-in on both April 9 and 10.
He also recommended Alaskan Nets, centered on Metlakatla, a small remote island that is home to the Tsimshian Indians of Alaska's last native reserve. The islanders follow two sacred traditions: fishing and, surprisingly, basketball. Even more improbable, two cousins lead their team and town in search of their first state championship in more than 30 years helping to bring some life back to the community.
"It's a great film," Duzdevich said. "What's really cool is that Alaska Airlines loved the film so much that they put the whole basketball team and the filmmakers into pods and they're going to fly them down here for the premiere at the drive-in (at 7 pm on Saturday, April 3) to watch it all together in person."
Also, not to be missed: The Revolution Generation, narrated by and starring Michelle Rodriguez (Lost, Avatar, The Fast and Furious). The documentary serves as a manifesto for today's youth, addressing the societal forces that have shaped and held back the generation and showing how they can deploy their strengths to revolutionize the system as they confront both the U.S. political crisis and the global environmental crisis. The film comes from Ojai's Josh Tickell, whose first feature doc, Fuel, won Sundance's Audience Award 13 years ago. Generation, like his previous film, Kiss the Ground, which premiered in Santa Barbara Permaculture's Eco-Film Night series at the West Wind Drive-In just last September, is based on books he co-wrote with wife Rebecca, who also co-directed the movies.
Montecito at the Movies
Evan Wood finds a young writer, in search of inspiration, digging into her forgotten life after the news of her grandma's passing. The film tackles substance abuse in young adults from the perspective of the addict's family members: their struggles, hopes, and heartbreaks. The YA drama represents the feature film debut of Montecito-raised director Niki Byrne, who will be in-person to introduce her film when it makes its world premiere at the drive-in at 8:30 am on Saturday, April 3… Christina Apostolopoulos, the Montecito-raised singer-songwriter-guitarist, who was educated at Boston's prestigious Berklee School of Music, performs her song "Gratified," about a grifter girl on the lam in Santa Barbara, in a four-minute short directed by Leslie Hope, the nearly four-decade veteran TV actress-turned-director.
Film Clips: Pandemic Premiere
It would have seemed disingenuous to put on a film festival more than a year into the pandemic without alluding to the COVID crisis at all. The main one that did make it through programming's final cut was Last Call, director Johnny Sweet's painfully emotional documentary about the hard-hit bar scene in Queens, New York, one of the global epicenters in the early days of the pandemic.
Sweet started shooting right when the pandemic began, when the bars were closing and the bartenders were trying to figure out how to cope, and he did all the filming using robotic computer-controlled remotely operated cameras for the studio interviews, or via social distancing.
While Sweet focused on his own neighborhood Sparrow Cafe, anyone familiar with their local watering hole – say the upscale Honor Bar on Coast Village Road, Mel's or Elsie's downtown, or the just-closed Mercury Lounge in Old Town Goleta, any sort of neighborhood place where, just like Cheers, the bartenders know what you drink – could easily relate. Scenes of bartenders mixing drinks online just to stay connected to their peers and customers played out with our own locals over Facebook.
Thankfully we didn't get overwhelmed in our emergency rooms, and we didn't have to hear sirens screaming incessantly in the night, but Sweet's documentary still rings too true for many of us.
Daughter's Debut
Offspring of famous entertainers have sizable roles in feature films that are coincidentally both set on California's Central Coast. Belle Aykroyd, whose dad is Dan, one of the original cast members of Saturday Night Live fame, is part of the cast of millennials in Highway One, an ensemble dramedy that takes place in Cambria on New Year's Eve, while Mia Rose Frampton, daughter of rocker Peter, appears in Coast, set in Santa Maria where a 16-year-old girl whose family are migrant workers falls for the lead singer of a touring rock band that gets stuck in town.
Highway One premieres at the drive-in at noon on April 2, while Coast comes clear at 7 pm on April 8, with a second screening at noon on April 10. We're told folks from the film from Santa Maria will be on hand for introductions at the first screening.
Short Cuts
The Knot, a suspenseful drama written and directed by first-time filmmaker Ashish Pant, explores class conflict, materialism, and guilt via an upper middle class couple's different reactions to the consequences of accidently running over a pedestrian. The film is the first Indian made movie at SBIFF in five years…
Australia's Under My Skin is one of the first films to address non-binary gender as part of the plot, with the distinction that its protagonist – who has started to question their gender identity – is played by four different actors who identify as non-binary or trans non-binary…
A Critter Fable is an eight-minute animated short about a caterpillar who can't transform but still adds color to the world. The short from Santa Barbara quadriplegic artist-composer Grace Fisher – the subject of a stirring documentary that premiered at SBIFF in 2020 – also features art by kids with special needs…
The short doc Pant Hoot not only has the festival's funniest-sounding title, it's also an important documentary about Stany Nyandwi, who has been fighting to save chimpanzees from extinction for 30 years. He cares for mistreated animals rescued by Dr. Jane Goodall's Eden Sanctuary in South Africa and is one of the only humans to master the complicated chimp language "pant hoot." Stany's personal connection to the chimpanzees inspired Goodall to call him "the chimp whisperer."
In a coincidence, Goodall herself will be appearing virtually in Santa Barbara at the initial event in UCSB Arts & Lectures' new House Calls series for spring. Goodall's Hope Fuels a Better World – in which she addresses the current global threats of climate change, and rampant cruelty inflicted on humans and animals – streams live at 5:30 pm on April 10, the final day for viewing of SBIFF films.
You might also be interested in...