Arts in Lockdown #24: Artist Baret Boisson
Baret Boisson is an American artist currently working from her studio in Carpinteria. Her renowned series, "Inspiring Greatness," which opened at the National Civil Rights Museum in Memphis in 2016, continues to this day with a new portrait of Poet Laureate Amanda Gorman, commissioned by Lisa Loiacono Lloyd. The series began humbly with her passion to share the unique stories of some of the most profound influencers throughout history: Martin Luther King Jr., Rosa Parks, Sojourner Truth, Frederick Douglass, Jesse Owens, Joe Louis, Fats Waller, Harvey Milk, Viola Davis, Ella Fitzgerald, Muhammad Ali, and Billy Jean King.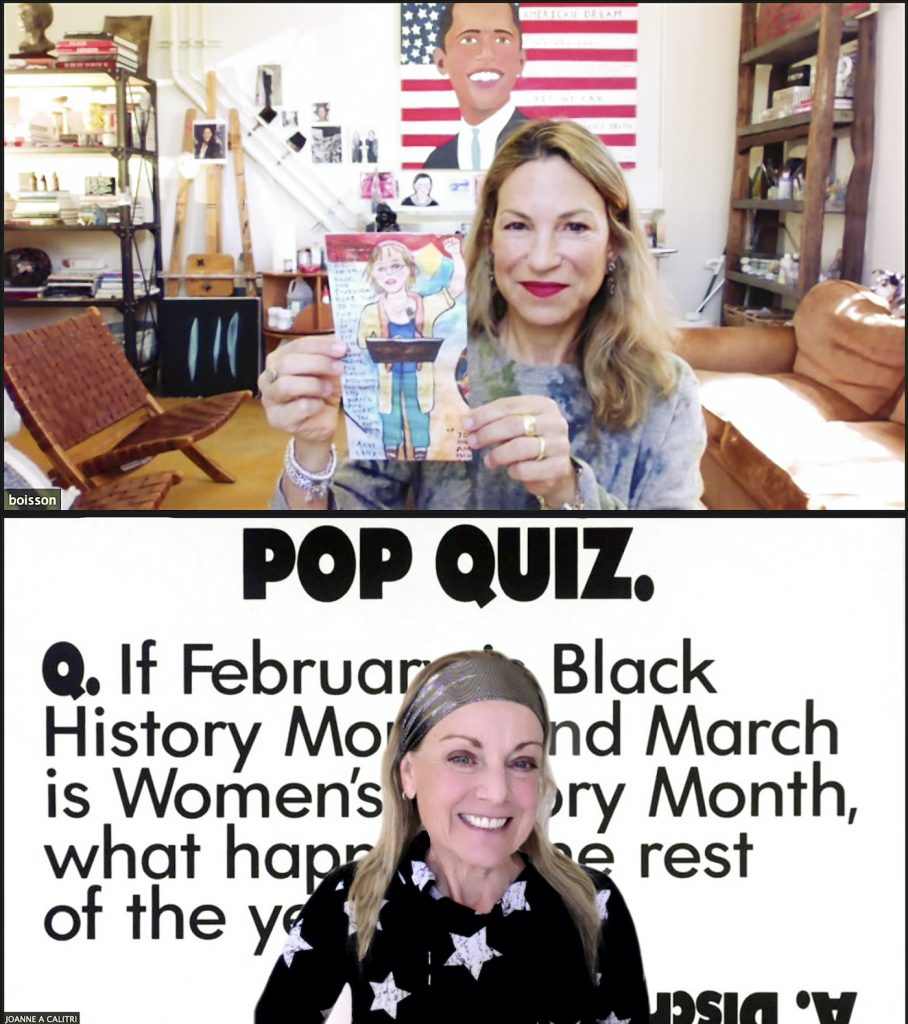 Born in Florence, Italy, she grew up in South America, France, and New York City. She holds a B.A. in Political Science with minors in Women's and East Asian Studies from Barnard College. In our Zoom interview, she shared, "The fact that I spoke many languages and interfaced with people from different cultures, as a child roaming around the bushes of South America meeting with local tribes and experiencing their cultures, it became important to me to hear all people's stories and connect people together." This experience and her degrees are reflected in her choice of subjects for her art, a career that began when a friend who had his art materials scattered on the floor invited her to paint with him. From that point forward, she switched gears to art full time, and continued to paint on the floor, even after someone mentioned to her painting that way caused the perspectives in her portraits to have large head and bodies with small hands. Baret responded, smiling, "Since I was not formally trained, it was interesting to me to note that about my work." She uses acrylic, ink, spray paint, glitter, and oil stick on canvas or wood, and has recently been trying her hand in ceramics.
Baret began her official arts profession when most are considered mid-career artists, is self-taught, and a woman in a field where mostly arts educated white males are acknowledged by the art world. Here's our interview:
Q. What is your experience with diversity, equity, and inclusion?
A. I don't know that I can do this justice in a couple of sentences, but I'm glad that these questions are being asked, and that these issues are being addressed. America has a history of exploiting and marginalizing people of color. For that matter, Black, Brown, Asian, queer people, and women have historically been under-represented as decision-makers whether that be in politics or in establishments like museums and art galleries. So it goes without saying that these same people have been underrepresented in artwork itself, and a whole segment of society has been ignored or seen through a very narrow lens.
The Guerilla Girls is a group of female artists who have been bringing attention to this very issue for years, and I've long admired their ability to use art to protest the status quo. If galleries and museums lack representation of female artists and curators, artwork being celebrated, purchased, and shown would most likely be less a social commentary on the times and more of power structures.
As a self-taught artist, I first started painting portraits of men and women I admired. Ordinary folks who had struggled to transcend entrenched ideas of racism, sexism, and poverty to offer new narratives, new perspectives, and new possibilities, like Harriet Tubman, Cesar Chavez, Muhammad Ali, Billie Jean King, Harvey Milk, and Greta Thunberg. A few years ago, I was honored to have a solo show at The National Civil Rights Museum in Memphis, Tennessee entitled "Inspiring Greatness." It was so moving to see young people standing in front of these portraits of my heroes, people who represented them. There aren't many portraits of black, brown, and queer folks hanging on the walls of the Metropolitan Museum of Art.
And as a woman artist?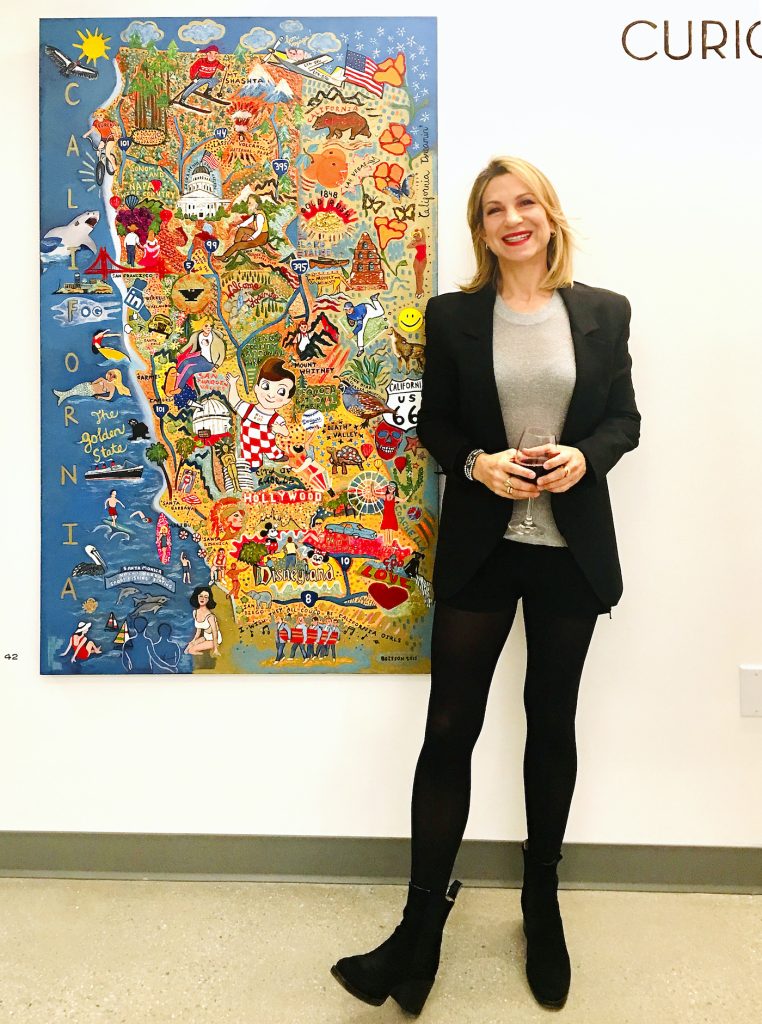 Well, none of this was planned. My idea for going into International Politics was a desire to bring people of different cultures together. I might have stayed in New York City and worked at the United Nations and become a diplomat. But as a very sensitive person, life in New York became too intense for me, and I had to leave. I picked up painting by chance, not at all thinking that this would become a career. There was actually quite a bit of shame in the beginning about the fact that I'd never studied art and started a career in it so late. In fact, it would take another 10 years to actually call myself an artist. But what I lack in a formal art education I think I make up for with a unique artistic sensibility as I have been surrounded by art from the time I was born in Florence, Italy. There is actually a photo of my parents holding me as an infant in the shadow of Michelangelo's David!
And now I feel entirely differently than I did when I first started painting, I no longer carry the same insecurities and feel like I have so much more work left in me. Louise Bourgeois, Yayoi Kusama, and Patti Smith are role models; there is no expiration date for creativity.
During lockdown, is art a plus or minus?
I think that Mother Nature is the most incredible artist, and that there is art all around us. All you need to do is stare at the precision with which a cactus has been designed. I'm creating a piece right now inspired by Lotusland and have been humbled by the magnificent colors and shapes. This is just to say that there is artwork all around us, that art inspires and allows us to dream. Art is always a plus.
How do the arts influence the human condition?
The arts elevate the human condition. Allowing ourselves to be transported by a piece of music, a verse of poetry or a painting can stir emotions deep inside of us like wonder, empathy, and love. I get that feeling when I listen to Debussy's "Clair de Lune." Or when I walk into the new architectural wonder that Lynda Weinman and Bruce Heavin are building in Montecito, all curves and majestic views. Accessing these emotions inspire us to become more sensitive and empathetic human beings.
How do you stay creative and inspired?
I am never not inspired. When I was younger, my mom always encouraged me to use all of my senses, and it's something that is just a part of who I am. I see inspiration all around me.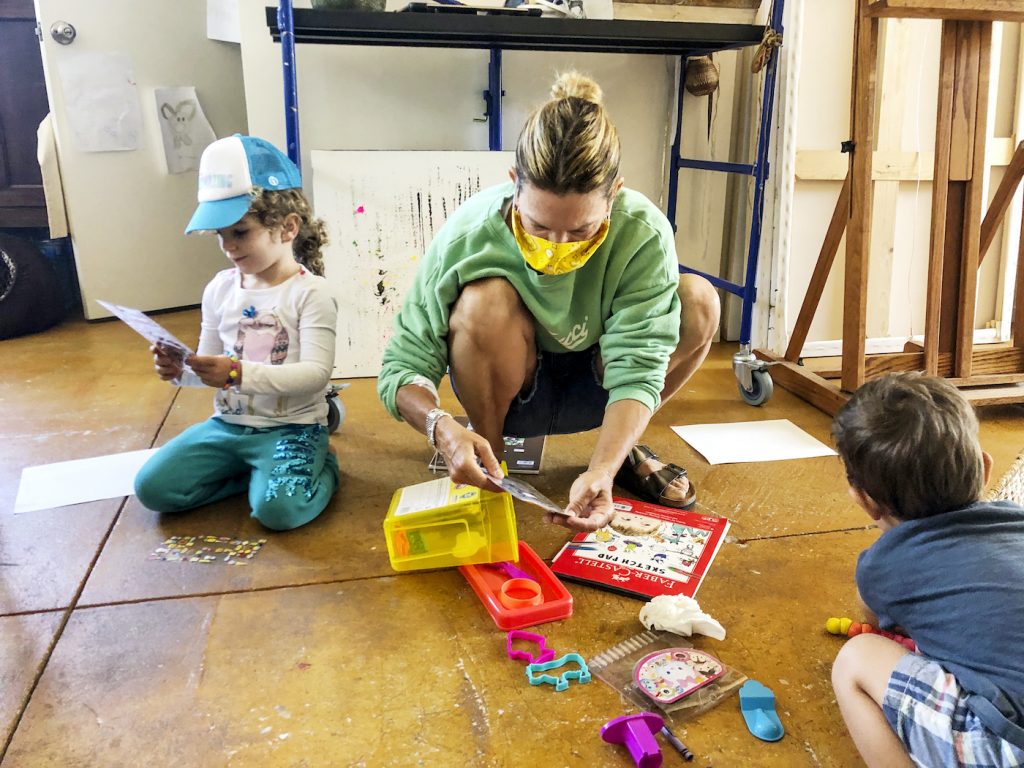 Are you typecast into a genre or medium?
I've never fit inside a box in any way, and my artwork doesn't either. One thing I will say about not having attended art school is that I'm free to discover and create however I'm inspired to. I've painted on paper, canvas, wood, cigar boxes, ceramics. While I'm perhaps more recognized for my portraits, there is something so organic and freeing about creating the abstract pieces. My work is just a reflection of all the parts of me, whether it be serious or playful.
The use of text in your portraits?
Everything I do is organic, I usually don't second guess myself, some pieces lend themselves to an added element or dimension, like my portrait of Lincoln would have been fine on his own, but the Gettysburg Address text frames him so visually and his words are everlasting beyond his life. The people I choose to paint are known for their words, so for example Cesar Chavez's words and deeds remain with us today. The text is the portrait is an elevation of their words, to be held up and celebrated, to encourage the viewer to learn more about these people. The fact the text hand is handwritten creates more time investment in people to get a sense of what I am talking about; they say handwritten text takes longer to read.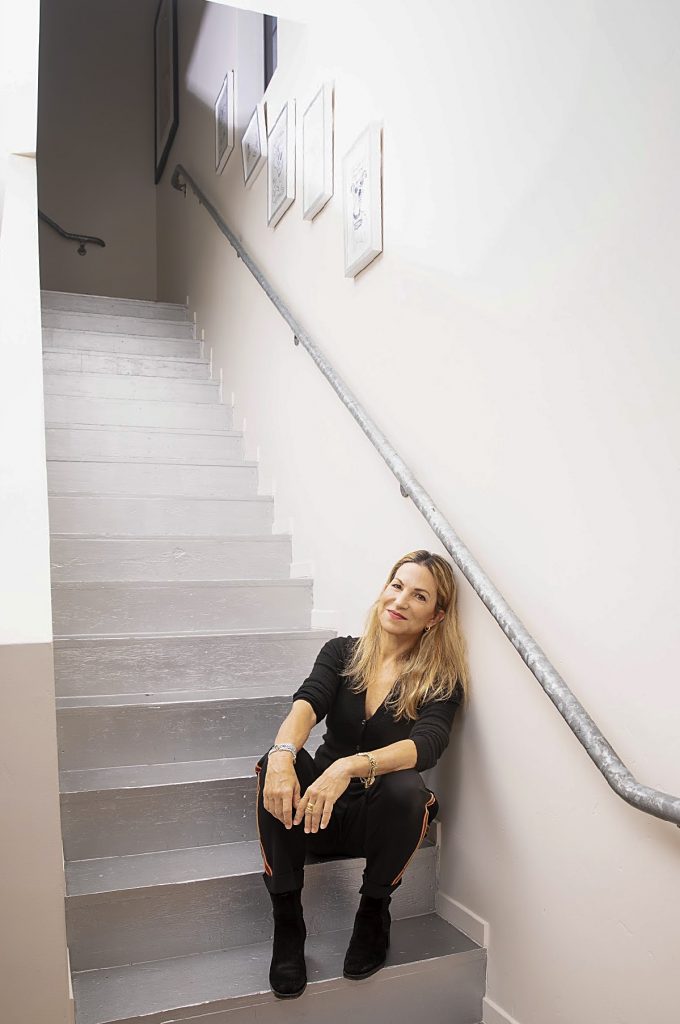 What is your dream art project?
I love collaborations. My dream would be to collaborate on some kind of social justice platform and see my work encouraging conversation and inspiring the kind of creative activism that would lead to social, economic, and environmental justice.
What is next for you?
I am busy with so many projects! First is finishing the latest portrait in my "Inspiring Greatness" series, the brilliant young Poet Laureate Amanda Gorman. I have to finish a piece for the Lotusland art show at Grayspace gallery in April, and after that I'm going to work on delivering three new pieces in May to PORCH's beautiful new shop in Summerland. I also have some family portraits I can't reveal at the moment but about which I'm very excited.
What is your advice for your artist peers going forward?
My advice for fellow artists is to keep putting one foot in front of the other. No matter how much self-doubt and insecurity, I've learned that taking even the smallest action is always helpful. Also, practice gratitude, don't compare yourself to others, and try looking for the positive side in everything. You can't control anything, but you can control how you deal with what happens, and that will make all the difference. It isn't always easy making a living as an artist but remember that great, transformative art isn't about how much money you make. You have a voice, and it's yours to share.
How are you giving back/paying it forward?
I have been blessed by the generosity of others. When I first moved to Santa Barbara, Merryl Brown introduced me to the most brilliant women in town, and now I have something I've never had before: a sense of community. In turn, I look for opportunities to help in any way that I can. Just being present for someone is one of the greatest gifts you can give, just letting someone be seen and heard.
411: www.baretboisson.com
FB: Baret Boisson Art 
IG: @baretboisson
You might also be interested in...