Senior Portrait: Trish Davis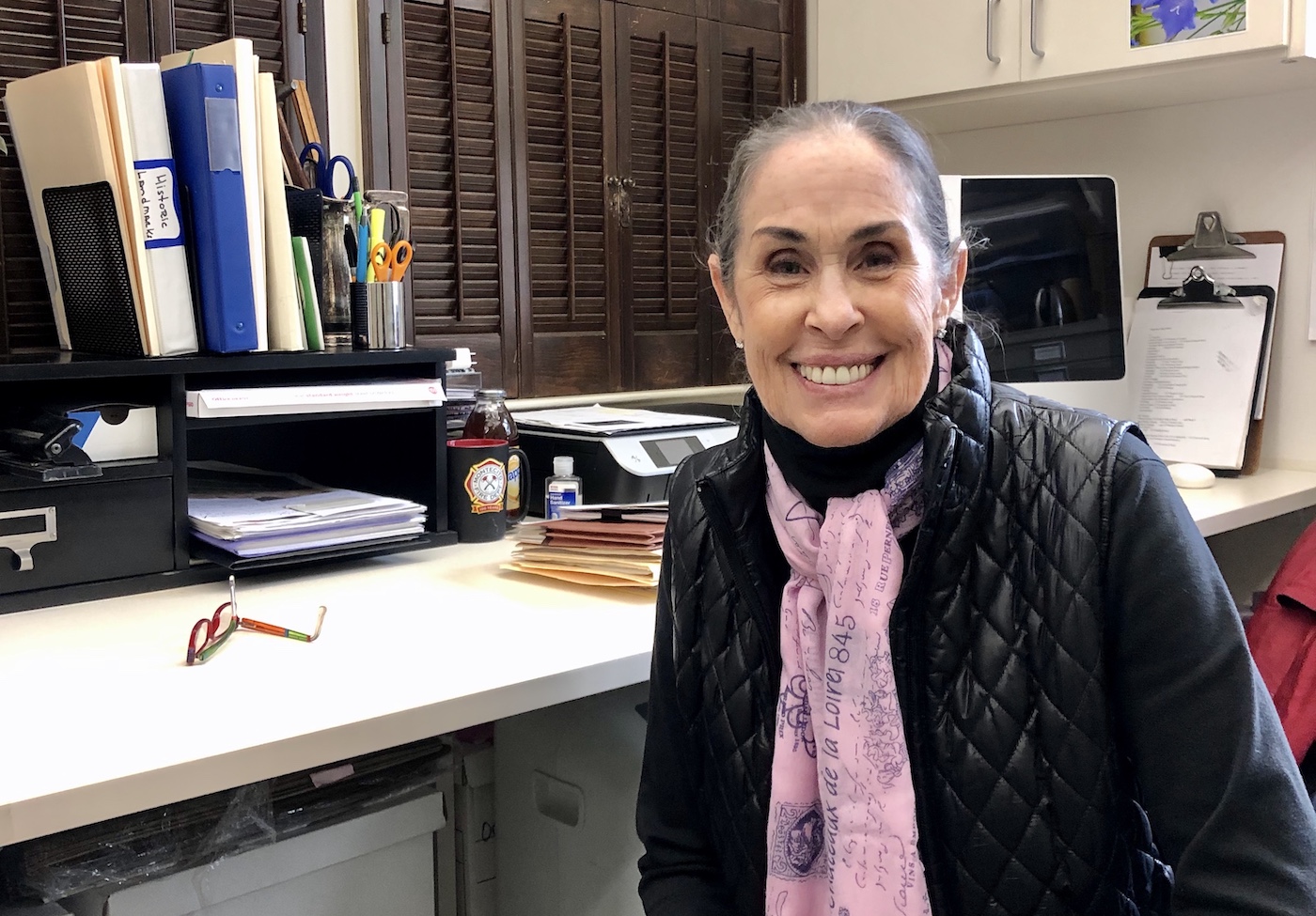 History is always in the making. Our actions today become the history of tomorrow. As Chair of the Montecito Association's History Committee, and through her 50 or so years of community involvement, Trish Davis is helping preserve the history of the area while also helping contribute to it. Trish originally grew up in the San Fernando Valley as part of a large family with her cousins living just a few blocks away. After college she entered the airline industry as a stewardess for American Airlines for two years before becoming a tour guide for LAX with the Department of Airports, which she continued for the next 14 years. From holding moon rocks to meeting interesting aviation figures, and even having to sneak the Charles Manson jury through the airport disguised as travel agents, she was able to have many memorable experiences during her time there. Today she is still a member of The Kiwi Club, a 70-year-old philanthropic organization for past and present American Airlines flight attendants. 
It was after moving to the Santa Barbara area in the early '70s that she met her husband, Bill, who had graduated from UCSB. Trish mentions they "have always been very fortunate to live in really magical places over the forty years they've been married." Once married, they lived at both the old Potter's estate and for years at the historic Armour's estate, El Mirador, on Cold Spring Road that had such regular visitors as Walt Disney and Charles Lindbergh throughout its history. They lived in the Farm Building on the estate, watching the koi in the lush Japanese gardens and many birds that visited the 70-acre property while learning of its history.
It was while on a committee to dedicate The Popcorn Man commemorative bench near Stearns Wharf that Trish realized how nice it would be to have a food option that was affordable, fun, and simple for families visiting the wharf. This sparked the idea for The Hot Dog Construction Cart where patrons could build their own hot dog at the food cart. It became the first licensed hot dog business at the base of the wharf. It started off small and grew in popularity, and Trish worked with many nonprofits over the three years that she operated it. While the hot dog cart days are behind her, she still has the cart today in storage and runs into people who remember eating there.
After the hot dog cart, Trish began working for the County of Santa Barbara as a rideshare coordinator. This was right when the concept was beginning and it eventually led to her helping found the Santa Barbara Bicycle Coalition. During this time, she served as the very first chair for the Children's Commission under David Yager in the county. While working there she was also able to organize a Santa Barbara Airport tour reminiscent of the LAX one. Trish feels that children have a natural fascination with flying and every child should see an airport control tower. Admittedly SBA has smaller planes, but this one at least had a pedal airplane – in partnership with Tracor, FAA, and the City of Santa Barbara – that kids could sit in and talk to the tower.
For most of his career, Bill worked with the City of Santa Barbara in a variety of roles. In the nineties, Bill and Trish left for the Palm Springs area so he could work with the USPS as project manager for the new post office in La Quinta. Having experienced living history while at El Mirador, Trish notes that the "the history bug had bit her" and she began working with the Palm Springs Historical Society. While there they helped establish the first neighborhood association with over forty of them now spread out across the desert. They spent three years in Palm Springs while still maintaining a foothold in Santa Barbara and Montecito.
A Love for History
Upon returning to the area, Trish became involved with the Montecito Association and its affiliated History Committee, serving a three-year term with the MA before turning her focus to the History Committee there. With her love for history, it is natural that Trish is most involved with this committee and she credits the hard work of the original team – Kit McMahon, David Myrick, Maria Herold, and Maria Churchill – for helping build the intricate repository of historic documents and mementos. Working with such an amazing team, Trish would have never imagined becoming the chair of the committee, but she has been in this role for the past eight years. During the aftermath of the 1/9 Montecito debris flow, they worked closely with scientists, authors, and even filmmakers to find historical records of the affected areas and to document the damage. In the past they have also hosted a monthly Walk & Talk that takes a group of up to fifteen through different historic estates like Casa de Maria. Attendees get to tour the iconic properties while learning about their history and the families behind them.
Trish wants everyone to know that the office's historical records are available to the public. The History Committee office is normally open on Tuesdays to visitors but has obviously been closed during the pandemic. Of course, they are always available by email or phone (805-969-1597 or history@montecitoassociation.org) and hope to reopen as soon as possible. While the office may not hold all the answers, they will help connect info seekers to those who may have the right answers, and Trish has seen serendipitous magic occur in the office through these connections and pursuit of history.
Other Community Involvement
The other main organization Trish is involved with is the Montecito Emergency Response & Recovery Action Group (MERRAG), having just joined the board. This cadre of volunteers assist during times of crisis and natural disaster. The unique organization has been around since 1987 and with the area's history of fires and natural disaster, they have been an instrumental part of public assistance during emergencies. MERRAG works closely with the Montecito Fire, Water and Sanitary Districts, bringing a large van out into the village that provides maps, information, and directions when needed. They also normally hold monthly meetings for residents on fire and emergency preparedness. During the quarantine the classes have been hosted on Zoom, but they plan to return to in-person sessions as soon as it is safe to do so.
Trish was part of the team that helped found the local Heath House and Sarah House as well. These nonprofits were originally aimed towards helping end of life patients with HIV/AIDS but have since been repurposed as treatments have improved over the years. During this period, her own brother, Christopher, was diagnosed with HIV/AIDS. He had a dream of putting together a house like Heath House in Ventura. They were able to make this a reality in 1993 and Christopher House was founded by Trish and Bill in his honor. The property has since transformed from its original intention but is still operated as a nonprofit with new purpose by the city of Ventura.
Trish has been on a range of chairs and committees for a range of institutions over the years including the Pearl Chase Society, Santa Barbara Maritime Museum, and Navy League. She was particularly active in the Santa Barbara Yacht Club where she served as president of the women's club, even becoming woman of the year, and remains a member to this day. Through her involvement with the MA, she helped co-chair and committee the Village 4th of July Celebration and Beautification Day for a long time. While working with the Santa Barbara Renaissance Fund 37 years ago, she assisted Hal Conklin in the organization of the first snow day in the area where they brought fresh snow to the Santa Barbara Public Library for kids and families to play in. Trish has always been politically active, helping with the campaigns of Stan Roden, Hal Conklin, Jack O'Connell, and Brad Stein. These were all great experiences and she really feels that "if you believe in someone you have to step forward and do it." Trish has been volunteering and stepping forward in her communities since she was about 14 years old, and she's received endless support from her husband, Bill, throughout their marriage. Naturally the pandemic has brought about a change of pace and she is looking forward to getting back to it as soon as possible. These are certainly historic times we are living through and thankfully Trish and the History Committee are here to help preserve the past and present history of Montecito.
You might also be interested in...