Mission: Impossible Objects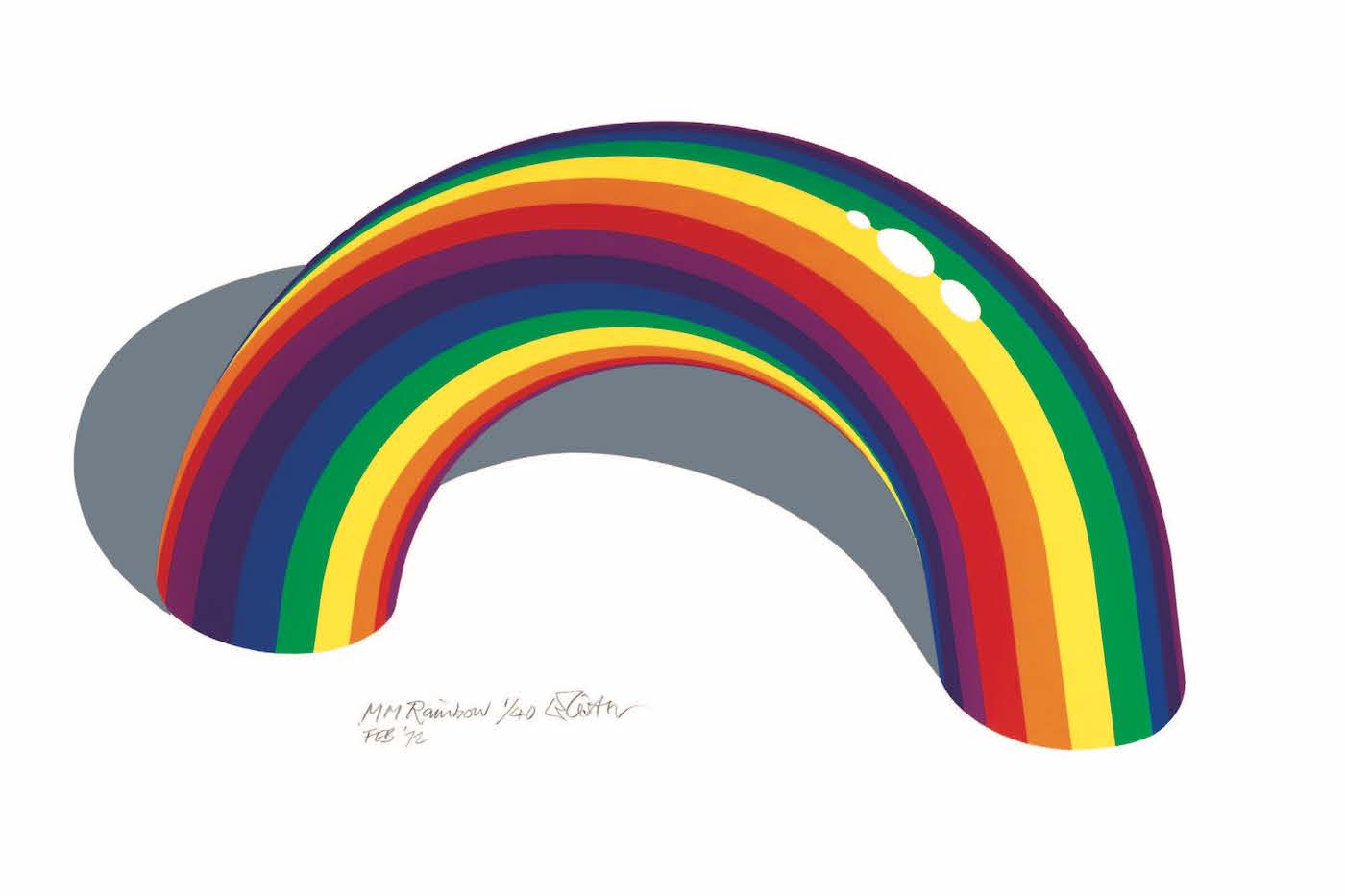 Ed Lister, who is known in both Los Angeles and Santa Barbara as a skilled scenic artist with credits in the theater credits and mural making, has created a series of vibrant abstract silk screen prints, or serigraphs. They were made starting in the early 1970s while he was teaching printmaking at the Chelsea School of Art in London. The striking, hand-pulled prints play with our contemporary sensibilities and logical brains in their resemblances to imaginative digital images. Lister worked in screened images with areas of pure color put down in a clean and direct manner. In "Impossible Objects," the exhibition arrives at The AFSB Art Gallery at the Architectural Foundation of Santa Barbara this week; it's a series of improbable, mind-bending objects that cannot exist other than on a flat surface and intrigue the viewer with their bold colors and shapes. They also challenge the observer's assumptions of reality.
After winding up a dozen years in teaching, Lister moved to California and worked for ten years as the lead scenic artist for the Center Theatre Group at the Taper and Ahmanson Theaters in Los Angeles. Later, he painted backdrops and installations as wide as 400 feet for TV, movies, and destination resorts, hotels, and casinos. More recently Lister was commissioned to paint a 60-foot-wide mural encircling the Bisno Schall Clock Gallery of the Santa Barbara Courthouse, which depicts our perception of time and various ways of recording it (www.bisnoschallgallery.com). Cutting back in scale, Lister now paints more modest-sized images concerned with iridescent and reflective seascapes and skies. 
"Impossible Objects" is on exhibit from March 13 to May 6 at the gallery, located in the historic Acheson House at the corner of Garden and East Victoria Streets. Lister will be on site on opening and closing days of the show. See it 1-4 pm on Saturdays and weekdays by appointment by calling (805) 965-6307). Self-screening for COVID, masks, and social distancing are required at all times. Visit https://afsb.org. 
Hershey's Choice
Both Santa Barbara's Ensemble Theatre Company and Ventura's Rubicon Theatre Company continue to participate in the "Season of Storytelling and Song" created by pianist, playwright, and performer Hershey Felder. The five-show series brings imaginative original production that is centered on classical music subjects and that's livestreamed from stages in Italy to living rooms across the world. Next up: Puccini, premiering March 14, which dives into the scandalous life of the great Italian composer Giacomo Puccini and features music from La Bohème, Tosca, Madama Butterfly, Turandot,and more. Filmed and performed on location in Lucca, Italy, in the home where Puccini was born, the new work stars the irrepressible Felder and three world-renowned opera singers: baritone Nathan Gunn; soprano Gianna Corbisiero; and tenor Charles Castronovo. A portion of ticket sales goes to the partner organizations, so it's your choice which of our local professional theatrical organizations to support: RTC (www.rubicontheatre.org) or ETC (https://etcsb.org). 
A Look Ahead: Choral Society Surfaces
The Santa Barbara Choral Society has checked in for the first time since almost a year ago, when the initial COVID lockdown caused the cancellation of its March concert. Since then, the society's music-making and avenues of connection have been internal. The organization has conducted weekly check-ins with its singers to talk about ways to sing together without physically meeting; has participated in a series of online vocal technique classes; has invited composers whose music the society had performed in recent years in order to discuss the future of the choral arts; and has heard ideas from Artistic Director and Conductor Jo Anne Wasserman about performance opportunities for the society in a post-pandemic world.
In the meantime, the choral society is finally ready to publicly stream. It's announced  a virtual spring event called, appropriately, "How Can We Keep from Singing?", that will premiere on Saturday, April 3, at 5 pm. The free event promises to offer "A Message of Resiliency and Hope," both musically and otherwise. Details at www.sbchoral.org.
Open-air Opera on the Way Again
Opera Santa Barbara, which has been among the most active of arts organizations during these dark pandemic days, follows its thrilling adaptation of a classic called "Carmen, a Drive-In Opera." That work debuted in December (hours before tighter restrictions went into effect) with two more creative car-oriented opera performances. OSB will present the opener for its new season of Concerts in Your Car – which includes a variety of pop and other musical events – at the Ventura Fairgrounds with Donizetti's charming bel canto comedy Don Pasquale. Donizetti also composed many other blockbuster opera house hits, including The Elixir of Love, which Westmont College just produced as a filmed production at Center Stage Theater. OSB's new version will be directed by Josh Shaw, the founder of Pacific Opera Project. It finds the titular Don Pasquale turning into Donald Pasquale, a film mogul in the Santa Barbara silent film business of the early 1920s. While there isn't a lot of live interaction due to pandemic protocols, audience members will get the rare chance to laugh, shout out, and sing along due to the privacy that comes from being confined to your cozy car.
OSB will also make its first foray into the vivid world of Wagner on June 10 with a special production of Das Rheingold via the condensed version by Jonathan Dove, also created as part of the Concerts in your Car series. Meanwhile, OSB's late winter live local music initiative arrives and is cleverly dubbed Operation Eurydice after the mythical Greek nymph who Orpheus braved the underworld to bring back to life. The sound of music continues with a three-pronged approach to sprinkling frequent events all over the downtown area through March.
On tap this week: Blues duo Kenny Sultan & Tina Dabby on March 11 and the Double Wide Kings on March 18, both at the Good Lion's Roar & Pour from 6-8 pm; blues master Morganfield Burnett on March 12 as part of the weekly balcony jam session every Friday at 6 pm outside OSB's office; and Mariachi Neuvo Jalisco at Santo Mezcal from 6-7 pm on March 18. Visit www.operasb.org for details and tickets on everything OSB.
MAW Musings
The Music Academy of the West has optimistically shared its plans for its vaunted practice rooms, teaching studios and concert halls to once again resound with music made by its enviable professional faculty and talented fellows from around the world, pending good news in international, federal and local health and travel guidelines. Details include visits by conductor Michael Tilson Thomas, the Founder and Artistic Director of the New World Symphony, Music Director Laureate of the San Francisco Symphony and Conductor Laureate of the London Symphony Orchestra; Vocal Institute performances curated by Director of Music John Churchwell and Creative Director James Darrah plus the launch of a new affiliation with "industry disrupter" and Musical America's 2021 Artist of the Year Beth Morrison; plus appearances by Mosher guest artists Steven Isserlis, Tyshawn Sorey, Sasha Cooke, and Conrad Tao. As of now, most viewing for non-participants will be virtual, although the hope is for limited in-person attendance as recovery continues and safety protocols allow. Expect more coverage and details in these pages in the coming weeks. Find out more at www.musicacademy.org. 
MAW has also announced the appointment of Tracy K. Smith to its National Advisory Council. The Pulitzer Prize-winning poet, educator, and former two-term U.S. Poet Laureate Smith is a professor of humanities at Princeton University and Chair of Princeton's Lewis Center for the Arts. She recently wrote the libretto for an opera titled Castor and Patience that is rooted in a conflict over historically black-owned land. The collaboration with composer Gregory Spears was originally set to premiere in July 2020 with the Cincinnati Opera and is now slated to run during the 2021 season.
Music Matters: Free Family-friendly Concert
Sonia De Los Santos, who was hailed by Billboard as "one of the Latin children's music artists you should know," saw her first solo family music album Mi Viaje win a Parents' Choice Foundation Gold Award; its follow-up ¡Alegría! was nominated for a Latin Grammy. De Los Santos is recognized for her long stint with the celebrated family-oriented Dan Zanes and Friends. She offers songs in both Spanish and English that are inspired by Latin American rhythms and North American folk traditions in her streaming video En Casa con Sonia. Her concert is meant toserve a personal yet universal musical story that highlights joyful music-making and cultural bridge-building as the Monterrey, Mexico-raised musician shares some themes that make her happy, such as migrating butterflies, waking early, wildflowers, maracas, being grateful to her parents, playing with her band and singing about birds. The songs are inspired by various Latin American rhythms including son jarocho, cumbia, gaita, currulao, and huayno, which hail from Mexico, Colombia, and Peru, and include North American folk traditions from the United States.
The on-demand video – meaning that unlike the other House Calls events there's no live stream – will be available to view from March 13-20. Registration is free but must be completed by 10 am on March 13.
Montecito Master: Joss' Gesture Leads to 'Inner Way'
Montecito-raised New Age Top-10 Billboard singer-songwriter Joss Jaffe recently released a single called "Inner Way." The song, produced by and featuring DJ Taz Rashid, a yoga music specialist, explores topics of self-confidence, intuition, trust, and love in an upbeat pop-meets-reggae style, beginning with the opening stanza: "Follow your inner way / It takes a lot of trust / You won't be led astray / By that compass." The digital release is accompanied by a music video featuring the Portland-based Roller Skater Ashley Domingo. Jaffe, a multi-instrumentalist and vocalist, has collaborated with Grammy-nominated artists Jai Uttal, Silvia Nakkach, and Dave Stringer as well as Grammy winner Mykal Rose of Black Uhuru. His most recent album Meditation Music debuted at No. 3 on the Billboard New Age Chart in 2019.
Dance Dimensions
State Street Ballet's wildly popular Ballroom program gets a virtual rerun in partnership with the Lobero Theatre, where the performance was filmed some two years ago on April 13, 2019. One of SSB's signature productions, Ballroom has been a part of the company's repertoire for nearly two decades as new works are frequently added while classic favorites are updated. The program features a generous selection of music by George Gershwin, Astor Piazzolla, Ella Fitzgerald, Duke Ellington, Lawrence Welk, and others. This provides the soundtrack to a variety of styles that focus on the pleasures of social dance through the moves of ballet, passionate tangos, luxurious waltzes, scintillating swing, and even hip-hop.
A perennial crowd favorite that boasts an elegant yet edgy style for audiences of all ages, Ballroom won a rave review from the Independent, which praised the show as "bright, joyful, and full of happiness." It called the finale "exquisitely detailed and lyrical," and urged that at least one piece "needs to be seen by many more people." Indeed, now it can through the magic of streaming video, as the virtual version premieres for free on State Street Ballet's YouTube channel (www.youtube.com/StateStreetBallet) March 11-17. Dancers, choreographers, and others are expected to be part of the premiere and interactive watch party at 7:30 pm on March 11. 
Focus on Film: Things Getting Mighty SBIFF-y Around These Parts
The 36th annual Santa Barbara International Film Festival opens less than two weeks after this issue of the MJ finishes its newsstand run. The fest has finalized its lineup of tributes with the addition of Carey Mulligan as the recipient the Cinema Vanguard Award on April 5. The actress will be recognized for her career marked by her recent performance in the dark comedy Promising Young Woman. That performance earned her best actress awards from the National Board of Review, the Los Angeles Film Critics Association, and over 20 national and regional critics groups around the country, plus nominations for Best Actress from the Golden Globes and the Screen Actors Guild. The film line-up– both virtual and a free drive-in screening at SBCC –are expected to be announced any moment. Details, passes and more at www.sbiff.org. 
Meanwhile, SBIFF's onslaught of Q&A sessions with filmmakers of the year's more important movies, under the aegis of Cinema Society, continues. Several new additions join the nearly 50 streams already on its YouTube site, including one with Mulligan and Woman's writer-director Emerald Fennell. Among the new entries: Land stars Robin Wright and Demián Bichir; MLK/FBI director Sam Pollard; Edoardo Ponti of The Life Ahead, which was nominated for Best Foreign Language Film and won Best Original Song at the Golden Globes; Alexander Nanau, director of Collective, which is Romania's entry for the Academy Awards that's been shortlisted for Best International Feature Film AND Best Documentary Feature Film and has already claimed Best Doc honors at the European Film Awards and the Society of Film Critics in Boston, San Francisco, and National; and three, behind-the-scene makers of the multi-nominated Ma Rainey's Black Bottom.
SBIFF's FilmTalk is also still chirping away, keeping up with its schedule of weekly screenings and conversations with directors of short films that lead up to the festival. Double your pleasure, double your fun as director Ellie Foumbi is the guest at 12 pm on Thursday, March 11, to talk about both No Traveler Returns and Home. Visit www.sbiff.org/filmtalk. 
All are invited to a worthy non-SBIFF screening this Thursday by the Center for Equity and Social Justice for a virtual presentation of The Pushouts. This short documentary examines questions of race, class, power, and the American dream at a particularly urgent time for the country. Following the 3 pm screening will be a panel discussion moderated by the film's subject, UCSB Associate Dean of Social Sciences and Professor of Sociology Dr. Victor Rios. He uses his personal experience of living on the streets, dropping out of school, and being incarcerated as a juvenile, combined with his research, to develop interventions for marginalized students that try to promote personal transformation and civic engagement. The panel features three current or former SBCC students who were once called dropouts. Despite their many obstacles, they share their successful stories. Register at sbcc.edu.
You might also be interested in...