The Four Winds by Kristin Hannah (St Martin's Press)
"The four winds have blown us here, people from all across the country, to the very end of this great land."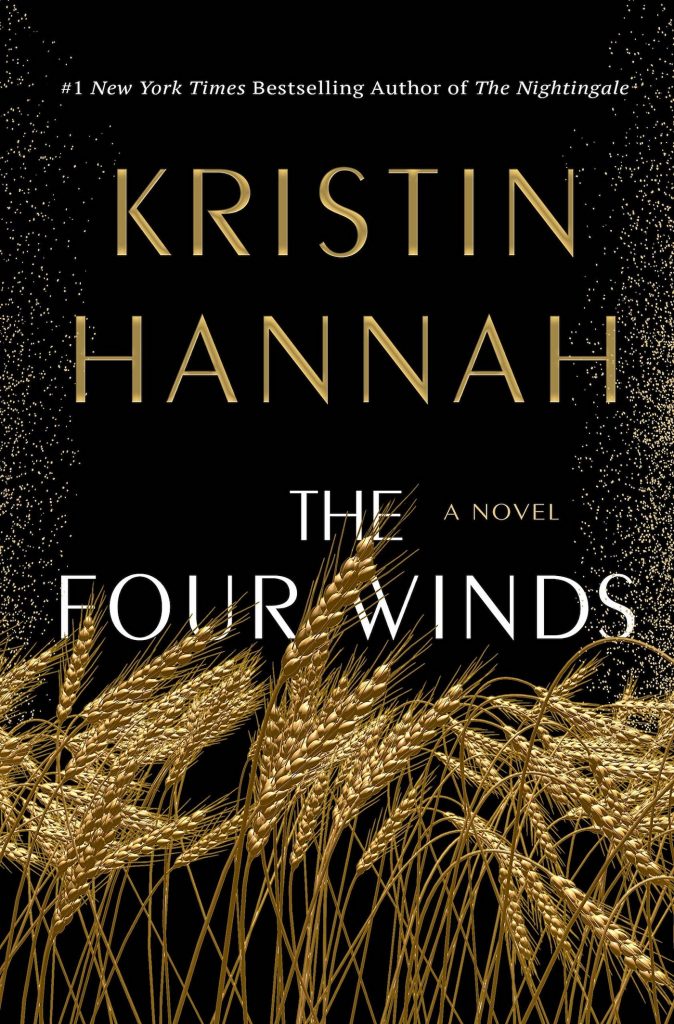 For those of us who live in Montecito we are all too familiar with the land we love. Though lush and verdant, it has on occasion betrayed us with drought, fires, and mudslides. Still, California is the land of "milk and honey," a place of opportunity, agricultural abundance and temperate climates.
Kristin Hannah's compelling new novel The Four Winds is set during the Great Depression. Elsa Martinelli is living in Texas on her family's farm, struggling on land that has turned against them. Year after year, they endure dust storms that blow for days, choking everything. While their livestock starve, so does the family. Hope diminishes. To stay is unendurable. With her two children, one of whom is desperately sick, Elsa sets off, crossing the Great Plains in search of the American Dream.
"Our kind are hardworking Americans who have hit hard times," Elsa says, but the people in her new California town don't want her kind: dirty, poor migrants. Searching for work, she instead finds xenophobia. The locals aren't happy to see a thousand "Oakies" a day pouring into California. No one will rent Elsa a room. No one will hire her.
I spoke with Hannah, who explains that when migrants arrived here, it was "a time of great tension and mistrust… when most Californians were already suffering."
Elsa sets up "home" in a crowded migrant camp and sleeps on dirty floors. Eventually, she secures work at a large labor camp picking cotton. She rents a cabin, with real floors and buys food from the company store, all on credit. With low wages and no labor protections, Elsa spirals into debt.
The Four Winds is a sweeping story about the strength of a woman discovering how to be brave. It's as much a story about the migrants, and the injustices that they faced, as it is a tale about love of family, who we call family, and a community that pulls together to feed, clothe, and nurse the sick. Just as our community here has often done.
I found myself choking up over several heart-wrenching scenes, such as the hospitals that turn away sick migrants and the schools that don't want their children. As much cruelty as is displayed in Hannah's emotional novel. there is also love and the coming together of community to help one another. The author's prose is lyrical, her novel epic and it is one of those stories you'll sink into. Elsa discovers that she is courageous. As she is reminded, as we can all be reminded these days, "Hard times don't last. Love does."
More stories: Tell Me Everything You Don't Remember by Christine Hyung-Oak Lee is an extraordinary memoir about a 33-year-old aspiring writer who loses her short-term memory and her words. If you like thrillers check out Rachel Hawkins' The Wife Upstairs. Jane's new boyfriend might not have anything to do with the mysterious disappearance of his last wife. Or he might. Lots of great twists in this one. •MJ
– Leslie Zemeckis is a best-selling author, actress, writer, and award-winning documentarian. She is the founder of the program "Stories Matter," female storytellers mentoring the next generation of female storytellers in partnership with SBIFF. In 2021, she will be awarded the Ellis Island Medal of Honor for "sharing and preserving stories of women who were once marginalized and stigmatized," but are now celebrated. Follow her on IG @lesliezemeckis or visit www.lesliezemeckis.com
You might also be interested in...