The Eyes Have It Symphony's Concert a Musical (and Medical) Marvel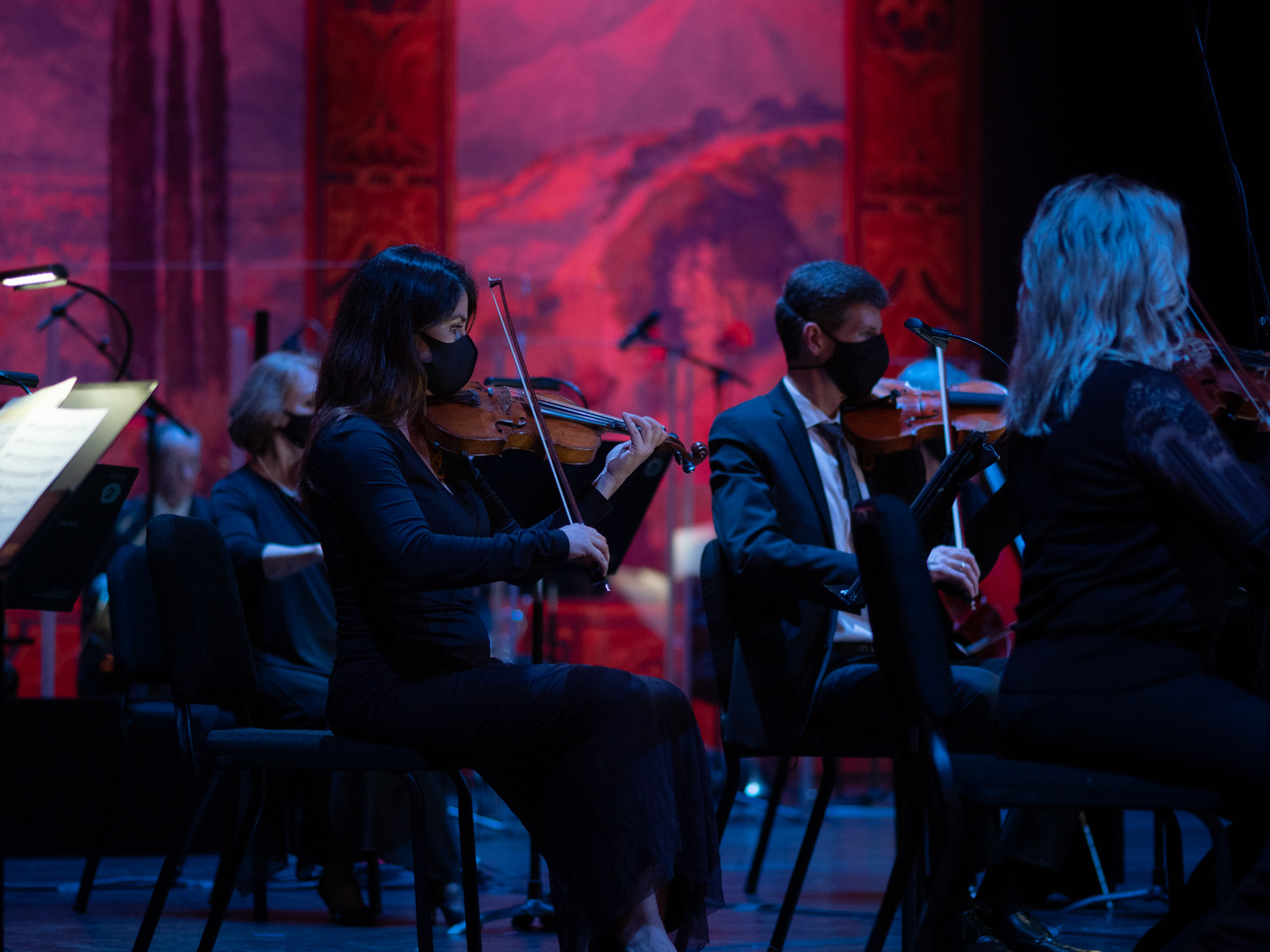 There's plenty to celebrate in Santa Barbara these days, and not just the spurt of greenery and wildflowers poking up from the earth in the sunshine following last month's rains or the fact that the number of daily COVID-19 cases has dropped down to double digits for the first time in nearly two months. 
Joy also comes via the Santa Barbara Symphony's upcoming concert as the orchestra's historic season that was made possible by finding a way to return to playing together safely on stage continues with "Santa Barbara Celebration" on Saturday, February 27. The event at the Granada marks a medical-musical milestone by paying tribute to the local healthcare community. What's more, the honor isn't merely lip service, as a few local physicians who are also musicians are actually performing on stage as part of the ensemble.
Indeed, local ophthalmologist Dr. Toni Meyers – who just so happens to be the younger sister of the acclaimed professional violinist Anne Akiko Meyers – will be following in her sister's footsteps in appearing as a soloist on stage at the Granada with our local orchestra. Dr. Meyers, herself a former award-winning pianist, will play the "Elvira Madigan" movement of Mozart's Piano Concerto No 21. Dr. John Zemjanis, a family medicine specialist in Carpinteria, will play the violin as part of the orchestra, and other physician-musicians are also expected to appear.
Adding to the medicine and music nexus, symphony board chair Janet Garufis will lead a conversation with Dr. Kurt Ransohoff, CEO and Chief Medical Officer of Sansum Clinic, and Ron Werft, President and CEO of Cottage Health, about the connections between music and healing. The lovely program also finds maestro Nir Kabaretti conducting the Santa Barbara Symphony musicians in Mozart's Symphony No. 29, Beethoven's Romance in F Major with concertmaster Jessica Guideri, the "State Street" movement from Bramwell Tovey's Santa Barbara Sonata, and the "Nocturno" by Russian composer Alexander Borodin, who was also a physician.
Ophthalmologist Meyers saw fit (sorry!) to share her thoughts about her musical and medical history in advance of the concert. Visit https://thesym
phony.org for tickets and details.
Q. Given that your sister is who she is, obviously music runs in your family. I'm curious what it was like growing up, and then how she went one direction with music and you moved into medicine. What drove your choices?
A. I think it's a combination of factors. I always enjoyed music. I actually started violin, too, when I was four and piano when I was five, and I played both of those instruments until college when I stopped playing violin. Growing up both my sister and I studied pretty seriously. We were both at USC's Colburn School of Music learning music theory and taking classes when we were pretty young, and we both did pre-college at Juilliard. But I think having a really talented sister, I saw what it took to become a musician and the passion that she had for it at a really young age.
But I had more than just music. Even as a kid, I was interested in math and science and, actually, medicine. When I was 11 years old, I was hospitalized because I had to have a benign tumor removed. That was a big turning point for me. I remember after a week my mom told me I could either be discharged today or tomorrow. And I said, "Can I stay till tomorrow?" I didn't want to leave the hospital. I was having so much fun. I walked around with my IV pole and met the other pediatric patients on the ward and I loved it. That's when I started thinking more about medicine. I took up any opportunities like doing little internships here and there, or shadowing doctors when I was in my teens. Everything was such a positive experience for me. I was drawn to medicine because of the one-on-one interactions you have with your patients and having the possibility of helping them. That's why I chose medicine.
Hearing about you walking around the hospital with your portable IV, I can't help picturing at least a dozen episodes of Grey's Anatomy. I didn't know that happened in real life! Anyway, given that your sister played with the L.A. Philharmonic as a kid, and did the Johnny Carson show twice by age 11, I'm wondering what that was like for you. Was there ever any envy or was it more pride or perhaps something more subtle?
I have always just been so proud of her because that was her dream to take music to that level. It wasn't mine. And we have very different personalities. She definitely likes to be on stage. She likes to be the one that's performing and in front of an audience, whereas I like to be behind the scenes. I'm much more drawn to the one-on-one interactions that are much more private. Medicine is a quieter kind of a profession, one where you're not in the limelight, which is what I like. So, for me to be thrown into this performance (with the symphony), my mind is very outside of my comfort zone. I don't talk about myself very much, so even doing these interviews is definitely not the norm for me.
Have you kept up with playing the piano on a regular basis? I imagine you must have if they're giving you a solo slot in the concert.
Not really. I only play rarely because I have my full-time career. I just play for relaxation, and not very often. Maybe once every few months I'll sit down at the piano and just play some old pieces for a little while. Mostly, I've just been in a supportive role because I have two boys, nine and 10 years old, and they have been playing piano since they were four. I help them with their music lessons in their music, but other than that, honestly I have not played or practiced regularly since college. So when this opportunity came along, I definitely felt like my fingers were out of shape. I had to do a lot of scales and finger exercises to try to whip them into shape for the performance.
Wow. I'm thinking back to last fall when the symphony was starting to perform again and (conductor) Nir (Kabaretti) told me that he hadn't picked up a baton in months. You've gone a little longer. Are you nervous?
That's a good question. I used to have nerves when I performed, but I think it can be positive to have that nervous excitement. We just had a rehearsal yesterday and what I noticed most was that I used to get a lot of stage fright when I was in high school and even in college when I was performing. But I wasn't very nervous yesterday, which was really nice. And it might be because I'm just more mature. It's decades later and I've gone through many experiences where obviously I have to stay calm under pressure doing eye surgery and things like that. So, I think my nerves are pretty in check.
Were you involved in choosing what you were going to play? Is the Mozart movement a favorite?
Nir told me, 'You can choose whatever is in your repertoire, something you've played before.' And I said, 'I don't have a repertoire anymore.' I asked for some suggestions that would work with the smaller orchestra they have to use during the pandemic and he offered some Mozart pieces. "Elvira Madigan" is probably the most famous one and I've always loved it. Honestly, I had the thought that if I could play that piece with a symphony in my lifetime it would be like a bucket list item… I'm trying to just enjoy the moment. When we were rehearsing, I was looking around at the symphony players who I have seen perform many times in the 13 years I've lived here. Seeing the beautiful ceiling at the Granada, playing on a concert grand piano, and just taking it all in – it is a really exciting event for me, an exciting little moment in my life.
Can we switch gears and talk about what it means to you that the symphony is dedicating a concert to recognizing and honoring the medical community and even inviting you and other doctors to perform?
It's really wonderful because obviously it's been a hard year in the medical profession – the hospital staff, the nurses, and especially doctors have been working in a completely different environment than we've ever had to where you could be putting your life at risk just for going to work. It was a bit scary for a while, and when we shut down and even stopped doing elective surgeries, I couldn't operate for over a month and I was really going nuts. We couldn't really even see people in the clinic. It's great that the symphony is recognizing all the people in our community that have made sacrifices, whether it's quarantining from their family to keep working or putting their lives at risk to help somebody, and dealing with not only the morbidity but the mortality of COVID and how emotionally draining and taxing that is. Everybody's tired, not only the healthcare workers, from the emotional drain and potentially losing income and housing. So to me it's really special for the symphony to give back to the healthcare workers and make them feel that what they've done is noticed and appreciated… Actually, it's pretty fantastic that they're still working, producing music because this pandemic hit musicians hard, too. I think we all miss live music.
Score! Symphony Secures Leaders' Services
Late last month, the Santa Barbara Symphony announced that three of its key leaders have committed to sticking around to guide and grow the organization over the next five years. That's very good news during these troubled times when the pandemic has forced pivots that would make a ballerina dizzy, and many arts organizations are struggling to survive. Newly named President and CEO Kathryn R. Martin, who stepped in as interim chief two months after the pandemic took hold; veteran Music and Artistic Director Nir Kabaretti, who has conducted the ensemble since 2006; and Board President Janet Garufis, the longtime President and CEO of Montecito Bank and Trust have all committed to their leadership roles through 2026. The trio were part of the team that boldly found a way for the Symphony to be one of the few performing arts organizations in the country presenting performances that encompass socially-distanced orchestra members rehearsing, performing, and recording together in person. Their five-year visionary framework is expected to be announced in coming months.
You might also be interested in...