Race Relations Past and Present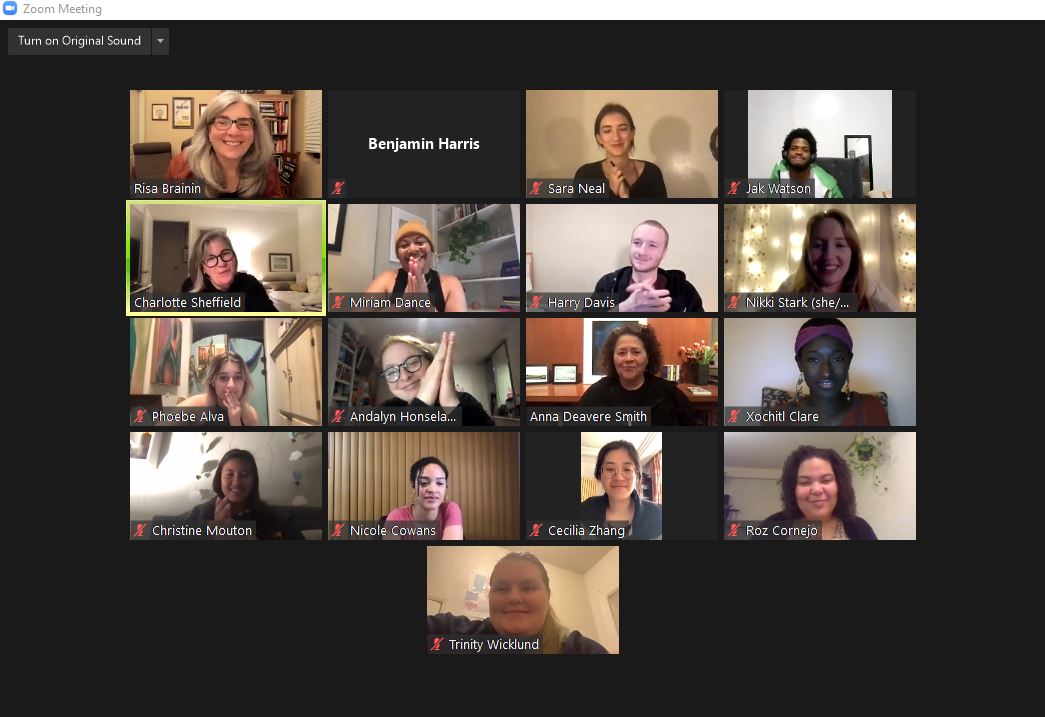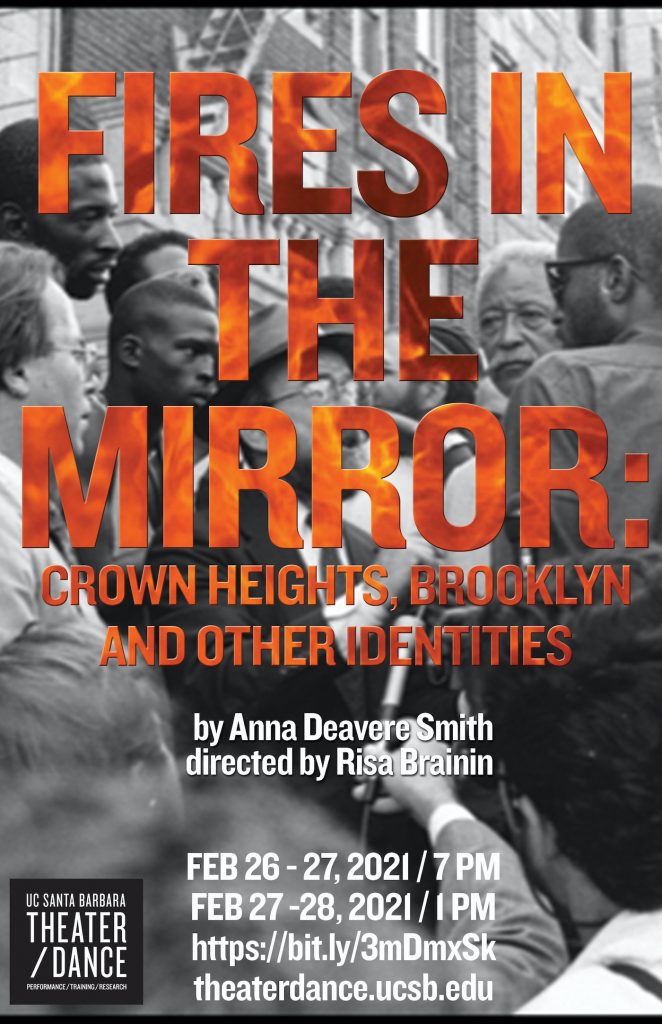 Earlier in February, UCSB Arts & Lectures hosted the MacArthur Foundation "Genius Award" playwright-actress Anna Deavere Smith as part of its virtual Race to Justice series. The university's Department of Theater and Dance closes out the month with a production of Fires in the Mirror: Crown Heights, Brooklyn, and Other Identities, Smith's groundbreaking one-woman show that served as a historical recount of the 1991 Crown Heights riots in Brooklyn that followed the deaths of a Black American boy and a young Orthodox Jewish scholar that summer, underlying racial tensions in the nestled community. Composed of monologues excerpted by Smith from transcripts of interviews she conducted with more than 50 members of the community, the work is a pioneering example of the genre known as documentary theater, and was honored with the Drama Desk Award for Outstanding One-Person Show in 1992. Professor and Launch Pad founder Risa Brainin directs UCSB's production with student actors, who benefited from a live Zoom conference call with Smith as part of her virtual residency. The show will be livestreamed at 7 pm February 26, 1 and 7 pm February 27, and 1 pm February 28. Register at https://bit.ly/3mDmxSk. 
In Case You Hadn't Heard, an updated and perhaps equally provocative view of race in America constructed in a similar fashion, can also be viewed for free through the end of the month through the Rubicon Theatre. Subtitled "A Conversation Between America's Past and Its Promise," the piece presents an unvarnished look at issues surrounding race in our current times with content sourced from speeches and writings of 20 African-American thought-leaders of the past and present, including James Baldwin, Mary McLeod Bethune, Malcolm X, and Barack Obama. Their words are brought together to create a "conversation" between a group of four actors as they candidly discuss what it means to be Black in America. Meant to create a collision of messages from the past and hopes for the future to produce a frank and forthright dialogue sounding a call to action, In Case You Hadn't Heard was adapted and is being directed by Reggie D. White (Lessons in Survival at The Vineyard, The Inheritance on Broadway) and stars Darryl Gene Daughtry Jr. (The Inheritance on Broadway/The Public), Crystal Dickinson (Clybourne Park and You Can't Take It With You on Broadway), Jason Veasey (The Lion King on Broadway/Playwrights Horizons), and Clarissa Vickerie (Tisch School of the Arts/RADA).
On demand viewing of the world premiere theatrical presentation presented by the Bay Theater in Sag Harbor, New York, in partnership with Eastville Community Historical Society and the Southampton African American Museum began Tuesday and runs through March 1 at 11:59 pm. Register at www.baystreet.org, and use promo code RUBICON21 to receive a free virtual ticket. 
InterPlay Plays On
PCPA is reviving its InterPlay events, a series of readings of new plays making their Central Coast debuts, over the next four weekends. Up first in celebration of Black History Month is Katori Hall's The Mountaintop, which takes place in the Lorraine Motel in Memphis on April 3, 1968, the last night Rev. Dr. Martin Luther King Jr. spends on earth. Named after Dr. King's famous "I've been to the mountaintop" speech he'd delivered earlier in the day, the play centers on the Civil Rights leader's reimagined interaction with the motel maid that day. Directed by Keith Arthur Bolden, the cast includes Yusef Seevers as Martin Luther King Jr. and Assata Amankeechi as Camae, with Lewis Powell serving as reader. Show time is 7 pm Friday and 1:30 pm Saturday, February 26-27.
The series also features readings of the World War 2 comedy Into the Breeches! by George Brant (March 5-6), PCPA Resident Artists Erik Stein, Emily Trask, Don Stewart, Kitty Balay, Polly Firestone Walker, Katie Fuchs-Wackowski, and George Walker; the climate change political drama Two Degrees by Tira Palmquist (March 12-13); and Tanya Saracho's bittersweet comedy Fade (March 19-20). Tickets cost $10 per household per play. Visit www.pcpa.org/interplay.
SBIFF 36 Goes Hybrid
The Santa Barbara International Film Festival has finally announced how it will handle the huge task of mounting its 36th annual event while following pandemic protocols. The happy news, the hybrid approach will actually include the opportunity to see some of the films on the big screen after all, as the fest, slated for March 31 to April 10, is planning an elaborate build-out of two beachside drive-in theaters hosted at Santa Barbara City College expansive parking lots. More than 80 film screenings will be offered, with no admission charge to experience viewing the movies in socially distanced cars, although an RSVP prior to arriving will be required.
Meanwhile passes and individual tickets for the 2021 festival films have finally gone on sale, as have tickets for the celebrity tributes that include honoring actors Bill Murray, Sacha Baron Cohen, Amanda Seyfried, Riz Ahmed, Maria Bakalova, Kingsley Ben-Adir, Andra Day, Sidney Flanigan, Vanessa Kirby, Tahar Rahim, Zendaya, and Delroy Lindo. The tributes and industry panels – which have not yet announced the participants – will be aired live over the festival's virtual platform while most of the screenings of the film – which we're told, surprisingly, were culled from a record number of submissions this year and include several World and U.S. premieres – will feature filmmaker Q&As. The film lineup and schedule are slated to be announced as soon as this week.
Visit www.sbiff.org for details, ticket plans, access info, film schedule, and purchasing passes and event tickets.
Discussions With Durling
Several new YouTube videos of Cinema Society-associated filmmaker Q&A sessions with SBIFF head honcho Roger Durling have been posted to the fest's site, adding to the catalog of conversations about some of the year's most important films. Mega-star George Clooney talked about The Midnight Sky, the adaptation of Lily Brooks-Dalton's 2016 novel Good Morning, Midnight which he directed and stars in as a scientist who must venture through the Arctic Circle to warn off a returning spaceship following a global catastrophe… Dara of Jasenovac, Serbia's submission to the International Feature Oscar race, is about a young girl who is sent to a concentration camp in Croatia during World War II. Director Predrag Antonijević and Michael Berenbaum, a professor, rabbi, writer, and filmmaker who specializes in the study of the Holocaust, talked about the film… Writer-director Eliza Hittman and stars Sidney Flanigan and Talia Ryder joined Durling on Zoom to discuss Never Rarely Sometimes Always, which The New York Times hailed as "a stirring intimate drama… a low-key knockout (that) tells a seldom-told story about abortion that is also a potent argument about self-determination." The film won the Silver Bear Grand Jury Prize at the Berlin International Film Festival, a Special Jury Award at Sundance Film Festival and has been nominated for other honors, including several Independent Spirit Awards… As mentioned above, Sacha Baron Cohen and Maria Bakalova are already slated to virtually visit Santa Barbara in April for SBIFF 36. Catch what might be a sneak preview of their talking points at the tributes as the pair, who have been nominated for best actor/actress Golden Globes, chatted with Durling about co-starring in Cohen's latest and probably best Borat blast, Borat Subsequent Moviefilm. Visit SBIFF's YouTube channel to watch.
This week SBIFF FilmTalk focuses on Heather Edwards, writer-director of the short film Sky West and Crooked, which is about a young girl who is forced to grow up when she runs into her absent father during a school field trip at the local bowling alley. The film is based upon a true story and features original music recorded in 1972 by her own late father and features Matt Jones (Breaking Bad), Martha MacIsaac (Super Bad, Battle of the Sexes), Emma Fuhrmann (Avengers: Endgame), and newcomer Vivienne Rutherford. Visit https://sbiff.org/filmtalk for a viewing link and Zoom info for the 6 pm February 25 discussion.
Provocative Pollock
The Carsey-Wolf Center at UCSB takes a look at Gather, an intimate portrait of the growing movement among Native Americans to reclaim their spiritual, political, and cultural identities through food sovereignty, all while battling the trauma of centuries of genocide. The film follows Nephi Craig, a chef from the White Mountain Apache Nation in Arizona, as he works to open an indigenous café that doubles as a nutritional recovery clinic; Elsie Dubray, a young scientist from the Cheyenne River Sioux Nation in South Dakota who conducts landmark studies on bison; and the Ancestral Guard, a group of environmental activists from the Yurok Nation in Northern California who are working diligently to save the Klamath River. Director Sanjay Rawal and editor Alex Meillier join Greg Johnson, director of UCSB's Walter H. Capps Center for the Study of Ethics, Religion, and Public Life, for a virtual Q&A. Register at www.carseywolf.ucsb.edu to receive a link to screen Gather in advance of the Zoom Q&A on Tuesday, March 2.
Montecito Filmmaker Goes Golden Global
Montecito-raised writer-director Max Barbakow continues to score big with Palm Springs, the charming and thought-provoking science fiction time-loop romantic comedy movie that serves as his feature film debut. After finding instant success when it arrived on Hulu last summer, the film has reaped rave reviews and a ton of awards attention, topped by two Golden Globe nominations. The film is up for Best Picture in the musical or comedy category while star Andy Samberg nabbed a nom for Best Actor in the same category. The 78th Golden Globes will be awarded live beginning at 5 pm this Sunday, February 28, with Tina Fey and Amy Poehler returning for the fourth time as co-hosts.
You might also be interested in...