Westmont's Winter Opera Might be the Elixir for the COVID Blues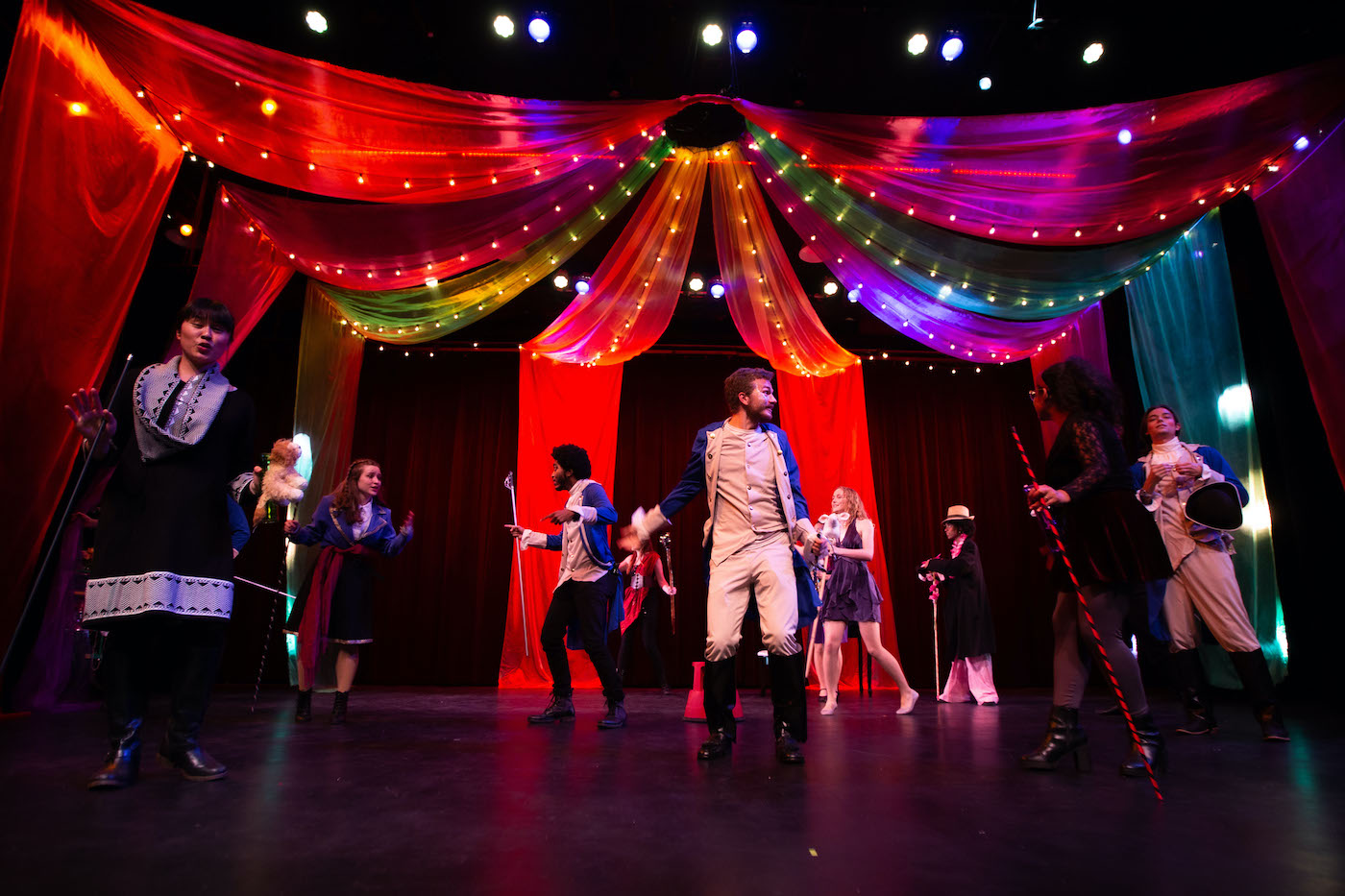 The ongoing pandemic has certainly posed a plethora of problems for productions in the arts world. But some have been able to persevere, albeit with plenty of proper planning. Such is the case with Westmont Music Department, which employed dogged determination to transcend the COVID compliance restrictions to produce a full-scale opera this year. The Christian college's presentation of Donizetti's The Elixir of Love survived holding rehearsal outdoors and/or over Zoom, working under NBA-style bubble conditions for the student performers and production crew, and, eventually, shifting the whole thing to a filmed version that was shot over three days recently at Center Stage Theater. 
All of which will likely make for a far different production of Elixir than locals witnessed when the Music Academy of the West, Montecito's better-known classical music organization, presented at the Granada just 42 months ago.
Westmont's production, which premieres on the music department's website (www.westmont.edu/music) at 7 pm on February 19, was stage directed by class of 2009 graduate Christina (Farris) Jensen, who has directed opera productions for small companies in the Los Angeles area, staging classics such as Eugene Onegin, Carmen, Faust, and Cosí Fan Tutte. She also directed a couple of her own creations including a mashup named Apologies to Gilbert and Sullivan and a light operetta called Murder in Four Courses over the years before recently relocating to North Carolina.
Michael Shasberger, Adams professor of music and worship at Westmont, served as music director for the production, as he has for nearly all of Westmont's impressive slate of musical offerings during fall and early winter.
We dug into the details of Donizetti's light love story masterpiece and the pandemic's influence on the piece – which was sung in the original Italian – via a conference call, appropriately held on Valentine's Day.
Q: Michael, what informed your desire to produce Elixir of Love for this year's opera?
MS: The choosing of the opera is an adventure every year because it has to have a whole host of qualifications in terms of potential for casting and production. We'd like to have a range of composers and style periods over each student's time here just as would rotate through their careers. We had done some pretty serious things the last couple of years. So we thought doing a light-hearted comedy would be a good balance for that, especially in a year that was already facing a lot of drama. We had never done a Donizetti opera and wanted to experience that, and figured having something a little more buoyant would probably be a good choice. Elixir is one of the greats.
What drove deciding to bring Christina back to campus to stage direct?
MS: We have been coordinating with our theater department for the last eight years with John Blondell being our primary stage director all that time, which came out of his interest in producing opera. But he was on sabbatical this semester and when COVID hit their season completely went up in the air and the theater department was unable to collaborate. But we didn't want to let the opera tradition go dormant even in a year like this. I made a lot of inquiries to potential directors, and Christina was one from the very beginning. She's a distinguished alum of the college, was a music major and a literary arts criticism major, and worked with the theater department and then went on to get her advanced degree at Harvard in dramaturgy. I thought, what a perfect match. Plus, she was available.
Christina, how did your time here at Westmont shape the way your career has gone, your trajectory, or even your view of life?
CJ: It's funny you should ask that because my very first director job was with Dr. Shasberger in my senior year. When I heard that I was supposed to stage direct the musical and I must have looked like a deer in the headlights. But Michael took me under his wing and helped me all the way along through the process. It was quite a wonderful awakening in my soul, for a calling that God had provided for me. And after I continued on in my studies when I came back from Harvard, I pursued a career in directing and I haven't looked back since. So it's been a real treat for me to come back to Westmont and work with Michael again, and to get a sense of grounding. I think that we work in a similar manner and it's wonderful to have a collaborative partner that thinks the way you do. So from my end, it was a fairly seamless collaboration, and an absolute joy to do.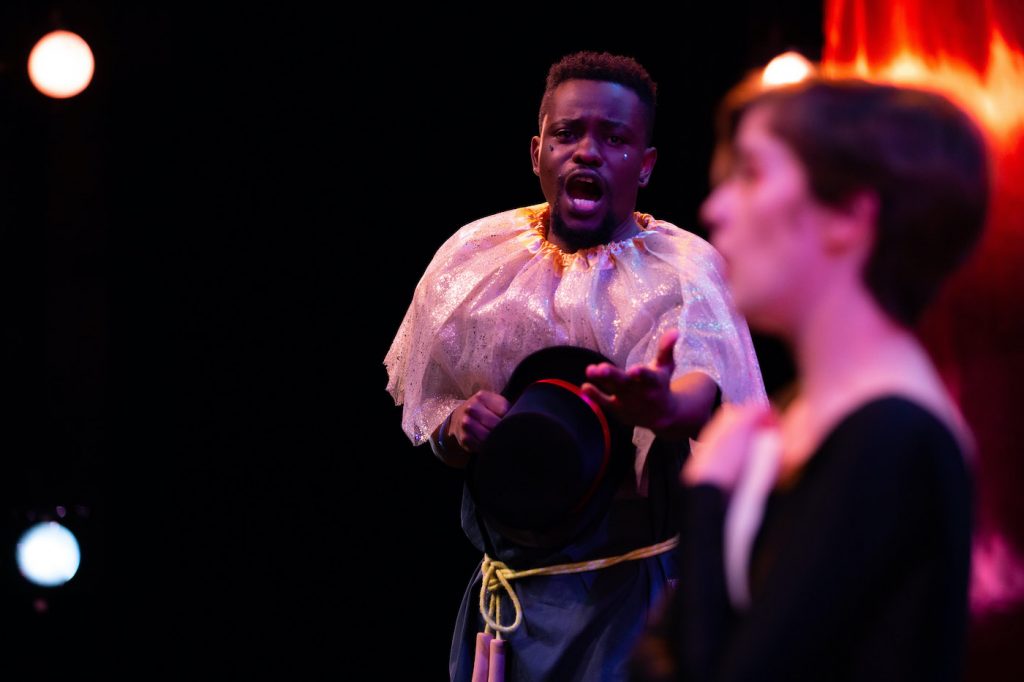 What was your approach in staging Elixir?
CJ: The one thing that really stuck out to me in trying to find a concept for the show was Adina, and trying to make an apology for her snobby behavior. She's kind of a know-it-all and she puts down everybody around her. So I wanted to play with that idea both in essence to justify her behavior and at the same time play with the idea that she thinks she's high above everybody else. She's the trickiest character, the one that I needed to explain the most as everybody else just goes along and has their personal journey and their trials and their joys at the end. But Adina was the one that I couldn't quite put my finger on. So I wanted to spend a little bit more time trying to figure her out.
We came up with the idea about a circus and it worked beautifully with COVID because we were able to rehearse in the big top (tent) on campus, which at one point we thought we might have to use for the filming site. And the approach was that everything revolved around the soprano, Adina.
Christina, I have to admit that I'm intrigued about the line in your bio that says that you "explore the struggle between the emotional aspect of theater and the cold logic of drama." Can you say more about that and how it shows up in this production?
CJ: In my background as a dramaturg, I learned that the biggest question to ask is "Why?", which is the dramaturg in the rehearsal room is persona non grata most of the time, because if anything is going to throw a monkey wrench into the works, it's being asked to explain why this person did this, why did they all of a sudden show up? That part of me is so solidly placed in logic and trying to figure everything out to make sure that the concept comes clearly across, that the story makes sense and the drama works. But it's a very unemotional place to be. But as a soprano, as a person, I am a very emotional performer, and that's what carries the story for me. I really do feel that there is a struggle in that my brain wants to say one thing and my soul wants to say something else. So as I direct, I do struggle between these two dichotomous opposites.
I'm guessing by centering the story around the soprano, and the fact that Elixir is a love story, that emotions won out here. And why not? We're talking on Valentine's Day and the video goes up this Friday.
MS: It does tie in really well. It's a very sweet love story, even though the Adina character is haughty and detached and emotionally shallow at the beginning of the opera, but it's in a very wholesome way. Then she discovers what she really values, which is loyalty and kindness and character. And then she falls in love and that takes about 30 seconds at the end of the opera when she finally gets it.
Switching directions, I want to ask about how you approached the score, Michael.
MS: Well, it is great music, wonderful lyric theater, very buoyant, which is great for right now. It's wonderful music for the orchestra all the way. The winds and the string parts are tremendous to play. Every part in the show has a marvelous vocal vehicle in it. All five leads are splendidly written and have very interesting and characteristic material. We have advanced the singers that we knew would be capable of carrying the two lead roles. Donizetti is one of the greatest composers of lyric theater in the opera and this is one of his most successful shows and an enduring piece for the repertoire.
Of course, you have to be very careful with young singers as to what you give them so that it's a healthy experience but a growing one at the same time. Right. It helped that we recorded in a very small theater where they didn't have to project to 2,000 seats in the room. We used a professionally reduced orchestration with just an 18-piece orchestra which let the singers sing with a youthful voice without having to overproduce their sound. And we cast it early enough so that they had two months with their voice teachers in preparing before we ever had a rehearsal of the music.
I am also imagining that creating a production for video is extremely different from a live theater show. Can you talk about what adjustments were made, and how that played into decisions and choices?
MS: Originally, we were hoping that by now we could have a limited live audience. But it was early in the fall right after we cast the show that we decided we were definitely going toward a video-based production. The concept was fixed by then, but it did change the terms of the scenic approach, which slowly morphed through the process to how we were going to film, which was to shoot scenes in a controlled way, rather than just doing a run of the show and videoing it. There's a different feel because of the editing by Verité Studios, which did our videography, but we conceived it as video scenes as a movie would, shooting it as though it were filmed on a soundstage. The actors had to prepare for that. And I think Christina doubtless adjusted some of the visual concepts to fit that medium. It helped us a lot technically to know we were doing that four months out.
CJ: Actually, it really didn't make a lot of difference for me except a couple of times where since it was a film I could have some of the performers face completely upstage, and it would be perfectly appropriate because it's not like having their backs to a live audience. But the main thrust of everything, of all the staging, it remained the same as if we had an actual live audience. The biggest shift for me was shooting it out of order because the students would never have a chance to work that way otherwise.
MS: It was also a bit of a fail safe for us. We had the cast divided into three groups that weren't allowed to heavily socialize with each other, even outside of rehearsal so that in case anyone was impacted by COVID contagion, we could still carry on. We filmed all of the scenes without the chorus on Monday evening and then filmed the scenes with the chorus on the other evening. So we didn't have more time interaction between the groups than we absolutely had to.
That sounds like a nightmare to me.
MS: Well, there were definitely sleepless moments and it got pretty scary during the end in terms of worrying about who was going to be there when a scene was shot. There were moments even during production week when we had some interactions with other communities that gave us pause and disrupted the process a little bit. But the protocols that were in place really served as well.
And we had understudies, or covers in the opera tradition, for every role. That's really uncommon and an extraordinary responsibility for especially a young student, young singer to take. I was very impressed with them. Everyone was impeccably prepared and all the singers grew amazingly. So we decided to also film scenes with the covers doing that role so that each of them had a chance to have a real performance experience and will get to have that on their resumé. So at the end of the production, just like in a Pixar movie where you get the outtakes afterwards, we'll screen the cover scenes too, which is fun.
What was the most resonant thing for you, something that will stick with you, or maybe what you want the audience to take away?
CJ: To me, it's so important that we face and overcome these challenges that are part of our society right now. Opera has to continue. We have to continue to work healthfully and safely together and experience joy. It's so important, both for the arts community as well as for audience members. We can't lose our humanity and it's in the arts that humanity's soul thrives.
MS: We are delighted that we've been able to continue to work. No one wants to have these restrictions, but I've always felt that when you put restrictions on artists, interesting things happen. Think about a Bach fugue. It was the restrictions that molded that particular expression, but when you hear one played well, it's an awe-inspiring experience. So I hope that with all the restrictions and the rules and the limitations we had, that out of it comes something unique and something that is finely crafted and honed because of the time we're in.
Executive Order 9066 Turns 79
It's still hard to fathom how the land of the free and home of the brave actually incarcerated without cause more than 110,000 men, women, and children of Japanese ancestry, evicted from the West Coast and held in American concentration camps and other confinement sites across the country. It was FDR's Executive Order 9066 that authorized the evacuation of all persons deemed a threat to national security to the inland relocation centers, and it was signed on February 19, 1942.
This Thursday, just a day before the 79th anniversary, Chaucer's Books is holding one of its Virtual Author discussions with Bradford Pearson, the former features editor of Southwest: The Magazine who has written for The New York Times, Esquire, Time, and Salon, among many other publications. But it's his new book The Eagles of Heart Mountain that sparked this event, as Pearson relates the true but little-known story of the extraordinary high school football team formed in an internment camp in Wyoming that overcame displacement to achieve athletic excellence, notching a 6-1 record over their two years of existence, largely against much bigger all-White teams.
The impeccably researched book that took more than eight years to write means more to Chaucer's events coordinator Mike Takeuchi than merely serving as a moving tale to the former local sportswriter. Takeuchi's grandfather and father were among the Japanese-Americans sent to the camps, and Mike said the impact is still felt in his family today.
"It manifested later on throughout the years for my grandfather and father, who as a child saw his father arrested and taken away, and later had his mother die when he was eleven and still in one of the camps," he said. "My father pretty much repressed what he felt for the rest of his life."
Takeuchi said he feels lucky that, another generation removed, he's been able to accept what happened. "But it gave me the thirst to want to research and to find out about what had happened and why, which I was able to find out through getting my grandfather's FBI file, a 110-page document about his arrest and his incarceration."
So he also appreciates Pearson's research-driven approach to The Eagles of Heart Mountain, a story Takeuchi said he'd also never heard before reading the book.
"He's a young guy, but he's really thorough, and it shows in his book. I was really impressed how he tied the story together."
Takeuchi will moderate the discussion slated to take place over Zoom at 5 pm on Thursday, February 18. The event will also include journalist Nancy Ukai of 50objects.org, the history project sponsored by the National Parks Project that explores the human impact of the mass incarceration through the visual and textual examination of 50 curated objects – including a pair of Japanese wooden sandals made by Takeuchi's grandfather. Visit www.chaucersbooks.com/event for details, or see the recorded video later on Chaucer's YouTube channel.
On Friday, February 19, the official Day of Remembrance, Santa Barbara Public Library joins other libraries across the country in hosting a one-hour Q&A with actor George Takei of Star Trek fame, who spent time in one of the internment camps as a small boy. The event culminates a week of free virtual screenings of And Then They Came for Us, the award-winning documentary directed by the Peabody Award winning team of Abby Ginzberg and Ken Schneider featuring Takei and many others who were incarcerated. The film retells the story and follows Japanese American activists as they speak out against the recent Muslim registry and travel ban. Visit https://thentheyca
menational.com for details.
Indelible Images with Race to Justice
The impressive UCSB Arts & Lectures virtual series continues this week with a pair of highly-decorated Black women whose achievements and perspectives are, pardon the expression, out of this world. Nearly 30 years ago, Mae Jemison broke more than the sound barrier when she became the first woman of color to travel into space when she served as NASA's first Science Mission Specialist performing experiments in material science, life science, and human adaptation to weightlessness aboard the shuttle Endeavour's 1992 flight. These days she's at the helm of the 100 Year Starship, a groundbreaking Pentagon-funded program where Jemison is pioneering and transforming breakthrough science and technology to enhance the quality of life on Earth. A true icon to all ages, Jemison is featured in a children's book entitled Little Leaders: Bold Women in Black History and is also part of the Women of NASA Lego set. A member of both the National Women's Hall of Fame and the International Space Hall of Fame, Jemison presents "Overcoming Obstacles, Breaking Barriers and Reaching for the Stars" at 5 pm on Tuesday, February 23. Susannah Scott, UCSB Professor of Chemical Engineering and Chemistry & Biochemistry, moderates.
Two days later, acclaimed photographer LaToya Ruby Frazier, who is yet another MacArthur Fellow to join the Race to Justice series, discusses the transformative power of images and how she uses photography to fight injustice and create a more representative self-portrait. In an illustrated talk, the National Geographic Storytelling Fellow and professor at the School of the Art Institute of Chicago dives into how she has depicted the unsettling reality of today's America with post-industrial cities riven by poverty, racism, healthcare inequality, and environmental toxicity. Drawing from her book The Notion of Family as well as from works of art by Frederick Douglass, August Sander, Julia Margaret Cameron, and Langston Hughes, Frazier relates her conscious approach to photography, opens up more authentic ways to talk about family, inheritance and place, and celebrates the inspirational, transformative power of images. Kim Yasuda, Chair of the UCSB Department of Art, moderates the Q&A that follows the 5 pm February 25 talk.
Visit https://artsandlectures.ucsb.edu to purchase access to the events, which cost $10 each and remain available for viewing for seven days after the premiere.
Focus on Film: SBIFF Stars Aligning
The great Bill Murray, the estimable star of the eminently – and perhaps ironically – re-watchable time-loop film Groundhog Day, is this year's Modern Master in the upcoming Santa Barbara International Film Festival. Murray will be honored on Friday, April 2, for his impressive body of work, including, most recently, the role of Felix Keane in Sofia Coppola's On the Rocks, for which he has received Golden Globe and Critic's Choice nominations. Leonard Maltin returns for his 30th year to moderate the evening and present the award that has now been named for him.
Amanda Seyfried will be honored at SBIFF a week later on Friday, April 9, with the Montecito Award, mostly in recognition of her performance in David Fincher's Mank for which she, too, received Golden Globe and Critic's Choice nominations. And speaking of Montecito, and also perhaps ironically, Max Barbakow, the Montecito-raised writer-director of last year's charmer Palm Springs who credits Groundhog Day as a big influence on his genre-scrambling sci-fi/existential/rom-com, has had his movie nominated for a Best Comedy Picture Golden Globe.
You can't yet see Hulu's critically-adored The United States vs. Billie Holiday, but you can view SBIFF executive director Roger Durling's Q&A session with writer-director Lee Daniels, star and Golden Globe nominee Andra Day, and actor Trevante Rhodes on the festival's YouTube channel even before Hulu starts streaming the film later this month.
The Power of Love
A trio of Grey's Anatomy regulars (Sarah Drew, Kelly McCreary, and Jake Borelli) are featured in A Cohort of Guests, the latest short film "object of affection" in SBIFF's FilmTalk series. A group of friends are enjoying a casual summer dinner party in the backyard before they are shockingly interrupted by an unexpected guest who brandishes a gun and demands their valuables. But things take an even more unexpected twist when a kind word and gesture of kindness uncovers the would-be robber's bigger need for community and connection. The Good Doctor actress Jasika Nicole, 13 Reasons Why's Danielle Savre, and Dead To Me star Brandon Scott round out the cast of the 15-minute film written and directed by Todd Sandler, who joins a SBIFF programmer for a Zoom chat at 6 pm on Thursday, February 18. Visit www.sbiff.org/filmtalk for viewing link and registration.
What Has Wireless Wrought?
"The New Ethereality," the third in the Carsey-Wolf Center's winter 2021 roundtable series "Media, Technology, and Politics under Pressure" takes a different tack than its predecessors. The discussion focuses on the contemporary politics of wireless communication, with special attention paid to the "cultural and governmental imaginaries" that accrue to emerging wireless infrastructures like 5G. Starting with the premise that wireless is as "central to the enduring promise of untrammeled global connectivity as it is to the paranoid divinations of conspiracy theorists," the event will address such questions as: What is at stake in this volatile mix of epistemologies? How might historical debates regarding the possibilities, the substance, and indeed the very existence of the ether help us to grapple with a new era of ethereal speculation?
The roundtable will feature Marisa Duarte (Arizona State University), Shannon Mattern (New School for Social Research), and Rahul Mukherjee (University of Pennsylvania), with UCSB PhD candidate Tyler Morgenstern joining the trio of college professors as moderator for the February 18 event. Visit www.carseywolf.ucsb.edu/workshops.
NVC Now
COVID-Caused Conflict Reducing Conference
With the country still in perhaps the most polarizing period in our nation's history, a crash course in practicing hearing what's underneath angry and aggressive attitudes toward perceived opposites might be just what's needed. The 14th Annual Nonviolent Communications (NVC) conference, which takes place this weekend, is an opportunity to bask in NVC consciousness and strengthen skills in the technique developed by the late Marshall Rosenberg, who shared the principles in persona locally through SBCC's Adult Ed back in the 1990s.
The weekend event features 18 sessions from 10 trainers, including Santa Barbara local Rodger Sorrow, who has coordinated the conference since the beginning, including almost all the years it was held locally in town prior to the pandemic, and still teachers at Adult Ed's successor known as the School for Extended Learning. Also teaching is Sarah Peyton, the Certified NVC Trainer whose well-regarded neuroscience-based 2017 book Your Resonant Self: Guided Meditations and Exercises to Engage Your Brain's Capacity for Healing will be joined by a workbook edition in May.
Participants can plan on learning new communication skills and strategies, getting a deeper understanding of the needs behind anger, shame, and self-destructive behaviors, methods for resolving conflict, and such timely topics as "Facing Uncertainty: How to Grow Resources & Resilience" and "Creating a Couple Bubble for Connection & Healing." The conference for the first time also features four sessions conducted in Spanish with English translation.
The conference will be conducted online over Zoom, with downloadable recordings of each session made available to registrants. Visit https://nvctrain
ing.com for more info and registration. •MJ
You might also be interested in...