Talk Examines Climate Change, Biodiversity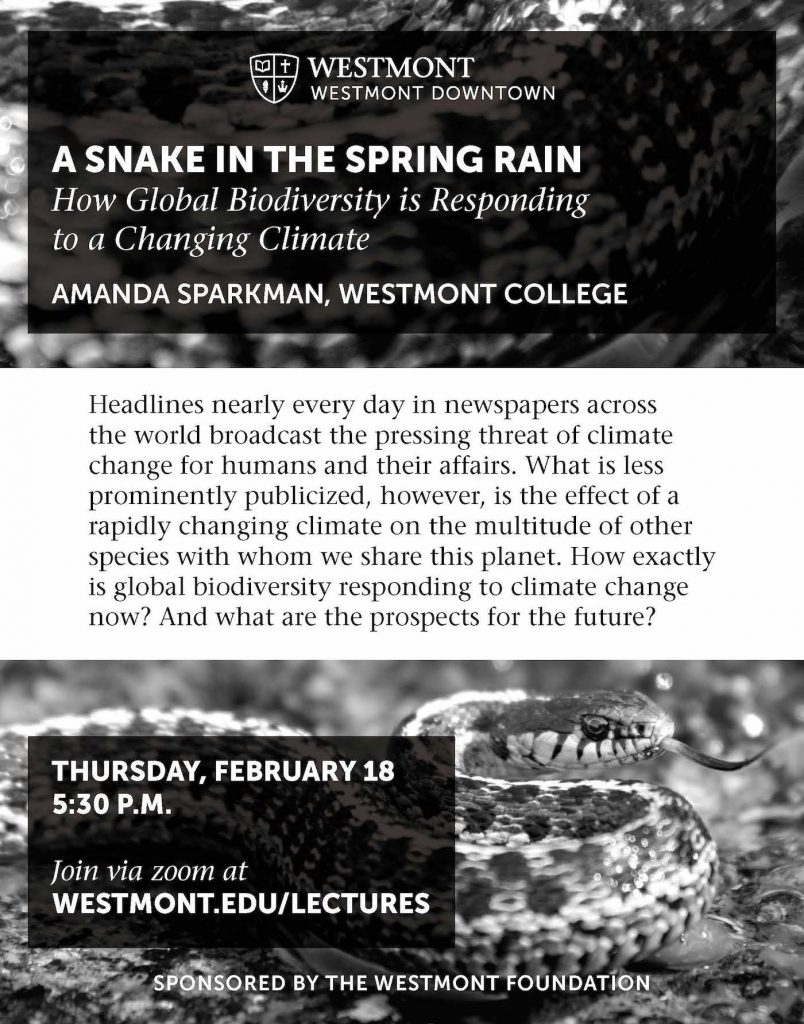 Climate change and the threat it poses to humans has been well publicized. But we hear less about its effects on the multitude of other species on the planet. Amanda Sparkman, chair of the Westmont Biology Department, explores "A Snake in the Spring Rain: How Biodiversity is Responding to a Changing Climate" on Thursday, February 18, at 5:30 pm. The Westmont Downtown Lecture will occur live via Zoom. Please visit westmont.edu/lectures for the Zoom link.
"How exactly is global biodiversity responding to climate change now, and what are the prospects for the future?" asks Sparkman, co-adviser of Westmont's environmental studies minor.
Sparkman, who graduated from Westmont in 2003 majoring in both English and biology, earned a doctorate in ecology and evolutionary biology in 2009 at Iowa State University. For the next two years, she studied the evolution of social behavior in wolves as a postdoctoral researcher at Trent University in Ontario, Canada. She joined the Westmont faculty in 2012 and teaches courses in ecology, evolution, behavior, ornithology, herpetology, and bioethics.
Her current research projects include the evolution of dwarfism in reptiles on the California Channel Islands, the response of western terrestrial garter snakes to environmental change, and the impacts of urbanization on western fence lizard and acorn woodpecker physiology, behavior and distribution.
The Westmont Foundation sponsors the lecture series as well as the annual Westmont President's Breakfast, which features celebrated Harvard historian and bestselling author Nancy Koehn on March 5. For more information, see westmont.edu/breakfast.
You might also be interested in...