Arts in Lockdown #20: The NAMM Show and She Rocks Awards 2021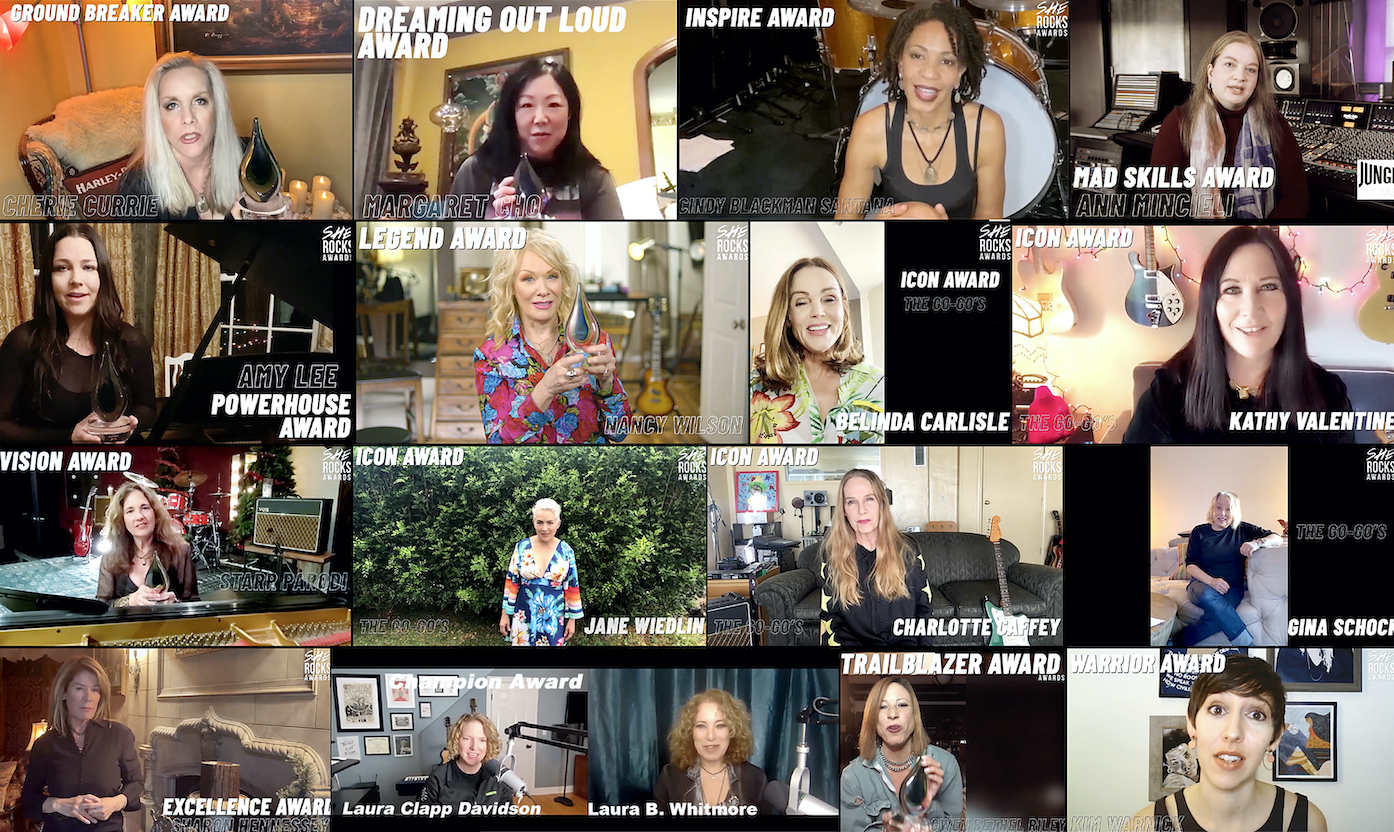 NAMM (National Association of Music Merchants) held its annual Los Angeles trade show online this year January 18 through 22, along with the annual She Rocks Awards. The NAMM Foundation's Believe in Music bravely took to the virtual platform to bring all its usual content to its members across all time zones, using the Swapcard platform, with 93,226 attendees from 187 countries, 1,227 brands with 768 Brand events, 611 hours of content (983 sessions/events & 391 speakers) and approximately $500,000 in donations raised. Joe Lamond, NAMM President and CEO, said, "While we knew we could not truly replicate The NAMM Show, we felt that this unprecedented time made it even more important for us to gather the global industry with a Marketplace to launch new products, provide an extraordinary education campus and to bring everyone together as a community to promote music and to set the stage for industry recovery and growth."
Announced this week, NAMM is making its online content FREE to everyone for the first time to share innovations in music technology and the industry during COVID, now through February 28. Join now at https://attend.believeinmusic.tv/
It's excellent news for our local schools, educators, students, musicians, and readers.
The interactive website includes a search engine, Global Attendee List with email, Group Chat, Brands, Products, Gear TV, Artist TV, Education & Training, Speakers, Giveaways, and Donate. Also FREE for the first time is the annual She Rocks Awards and the Parnelli Awards.
Education & Training Courses
All content in multiple languages, by top global educators and businesses, includes National Association for Music Education's preparing for post pandemic era in music ed, COVID-safe classrooms and instruments, new STEAM inventions, music class live stream including free software for chorus and ensemble, the future of entertainment technology, guides to podcasting, tour management, financial resilience beyond a pandemic, how to get on a streaming playlist, recording home studio tips, the five qualities of a hit songwriter and tech for Houses of Worship as spawned by COVID.
NAMM Gear TV
Top tech using AI, apps, and traditional acoustics, featured are Sony's 360 Reality Audio – Sony's spatial sound tech takes individual sounds of each instrument, vocals, and a live audience and analyzes them together into a sound sphere. To listen to that type of recording, you purchase the made-for-you Sony Headphones and/or speakers, all driven by your smart phone. Also there is a free download of their app to create and submit your own music to them for consideration.
Martin 00L-17 Earth Guitar: a call to action on climate change, it's the first 100% FSC®-certified and 100% plastic-free acoustic guitar.
D'Addario & Company, Inc. XPND Pedalboard – the world's first telescoping pedalboard lets you instantly change the size of your board and the number of pedals.
Gibson Guitars: Custom Tom Petty Wildflower SJ-200 Acoustic & Orianthi Lotus SJ-200 Acoustic; Kramer Snake Sabo Baretta, Charlie Parra Vanguard & Tracii Guns Gunstar Voyager; Epiphone Jared James Nichols Gold Glory Les Paul, Emily Wolfe Sheraton Stealth, Slash Inspired & Nancy Wilson Fanatic; Gibson Kirk Douglas SG, Marcus King 1962 ES-345, Peter Frampton Phenix, & Slim Harpo ES-330.
Roland Aerophone Pro Digital Wind Instrument and Roland FP-30X, FP-60X, and FP-90X Digital Pianos with update dual natural and electronic sound features.
Yamaha YDS-150 Digital Saxophone is a first-of-its-kind to learn and play saxophone.
NAMM Artist TV
NAMM Artist TV features local musician Steve Postell [Michael McDonald, Robben Ford, David Crosby] and his Immediate Family bandmates Danny Kortchmar, Waddy Wachtel, Leland Sklar, and Russ Kunkel; a Tribute to John Prine by legends Jason Isbell, Amanda Shires, and John Mayer at the Martin Guitar Virtual Booth; Brian Hardgroove's [featured in MJ Arts in Lockdown #15 November 2020] interviews musician Patrice Rushen; Jazz hero Chick Corea, who recently passed on February 11, 2021, did an interview for NAMM on music and his The Chick Corea Academy to encourage and inspire creativity throughout the world; Dave Navarro on mental health; an interview with Charley Pride who passed December 12, 2020; song writer Diane Warren [Faith Hill, Lady Gaga, Alice Cooper, Christina Aguilera, Beyonce, LeAnn Rimes, Aerosmith], and Perry Farrell [Jane's Addiction, Porno For Pyros and visionary behind Lollapalooza].
The 2021 NAMM Music for Life Award winners are Garth Brooks and Melissa Etheridge, NAMM's highest honor. Garth had just come off the heels of his inspiring Presidential Inauguration performance in Washington, D.C. January 20. In response to cancelled tours due to COVID, he launched "Inside Studio G," a weekly Facebook Live series from his home studio every Monday, while Etheridge launched her own live streaming subscription single ticket concert platform, Etheridge TV and The Etheridge Foundation to fund research on opioid addiction.
She Rocks Awards
The She Rocks Awards held a virtual awards show, complete with swag for donating. The event, established in 2012 by Laura B. Whitmore, Founder of the Women's International Music Network, honors trailblazing women from all areas of the music industry – educators, label execs, manufacturers, nonprofits, media, performers, composers, engineers, producers, business owners, and inventors. Lzzy Hale of Halestorm hosted the show. Winners are: Ground Breaker Award Cherie Currie, founding member of The Runaways; Dreaming Out Loud Award Margaret Cho, comedian, actress, fashion designer, author, singer-songwriter; Mad Skills Award Ann Mincieli, Grammy-winning recording engineer, studio coordinator for Alicia Keys, co-founder of NYC studio Jungle City and She Is The Music; Powerhouse Award Amy Lee, co-founder and lead vocalist for the rock band Evanescence; Excellence Award Sharon Hennessey, co-president and co-owner of The Music People; Inspire Award Cindy Blackman Santana, respected jazz and rock drummer with Santana and Lenny Kravitz; Trailblazer Award Gwen Bethel Riley, Senior VP of Music for Peloton Interactive; Vision Award Starr Parodi, composer, pianist, conductor, arranger, music director, and president of The Alliance For Women Film Composers; Warrior Award Kim Warnick, director of the nonprofit group Calling All Crows; Legend Award Nancy Wilson, Grammy award-winning member of the multi-platinum band Heart; Champion Award Laura Clapp Davidson; and Icon Award The Go-Go's, the first all-female band to top the Billboard charts that wrote their own songs and played their own instruments.
The 36th Annual NAMM TEC [Technical Excellence & Creativity] Awards: 22 Technical and seven Creative winners. Multiple winners are Universal Audio for Apollo x 4, Neve 1084 Preamp & EQ Plug-In and the LUNA Recording System; JBL for DSi 2.0 and EON ONE Compact; and AKG for K300 Series and Lyra. The band Tool won the Record Production/Single or Track Award for Fear Inoculum. Respawn Entertainment won the Interactive Entertainment Sound Production for Star Wars Jedi – Fallen Order, and TV Sound Production award to Disney+ for The Mandalorian (Season 1). •MJ
411:
https://attend.believeinmusic.tv
You might also be interested in...