VADA VADA Voom Art Show on Lobero's Back Wall Quite a Project(ion)
Most of what the students in the Visual Arts & Design Academy (VADA) at Santa Barbara High create is seen on the school's near-downtown campus. But the program has made a lot of efforts to exhibit the students' artwork in public places, including showcases as part of the monthly First Thursday gallery walk. But with COVID-19 closing down both the campus and all corners of community gatherings, there has been no way for anyone besides the students and teachers involved in the classes themselves to see what the talented kids are creating. 
Until now.
In what can only be called an ambitious art adventure, VADA is teaming with The Environment Makers – the local design firm that specializes in using projections and lighting to temporarily transform familiar spaces in dramatic ways – for a virtual art show in which the students' work will be projected on the outsized rear outdoor wall of the Lobero Theatre for three nights this weekend. That's the wall that annually exhibits the massive American flag every June 14, and is emblazoned with the SBIFF logo during the annual film festival. The VADA Projected Student Art Show will be visible from the north side of the building, from Anacapa Street, and the surrounding sidewalks, where Carrillo Street crosses Anacapa Street.
Virtually every student in the program, which has a full four-year tract from freshman through senior years, will be represented in the show – the first time anyone besides their peers and parents have seen their work.
"So much has been taken away from these kids over the last year because of COVID," explained Daniel Barnett, program director and art instructor of VADA, noting that the Lobero show grew out of Art Without Limits putting him in touch with The Environment Makers for a much smaller "virtual high school yearbook" program for graduating seniors at Direct Relief International's headquarters last summer. "When the idea of projecting at the Lobero came up, it felt like the dream of sharing the kids' work with the public is finally getting realized."
The show is for both the students and the public, Barnett suggested.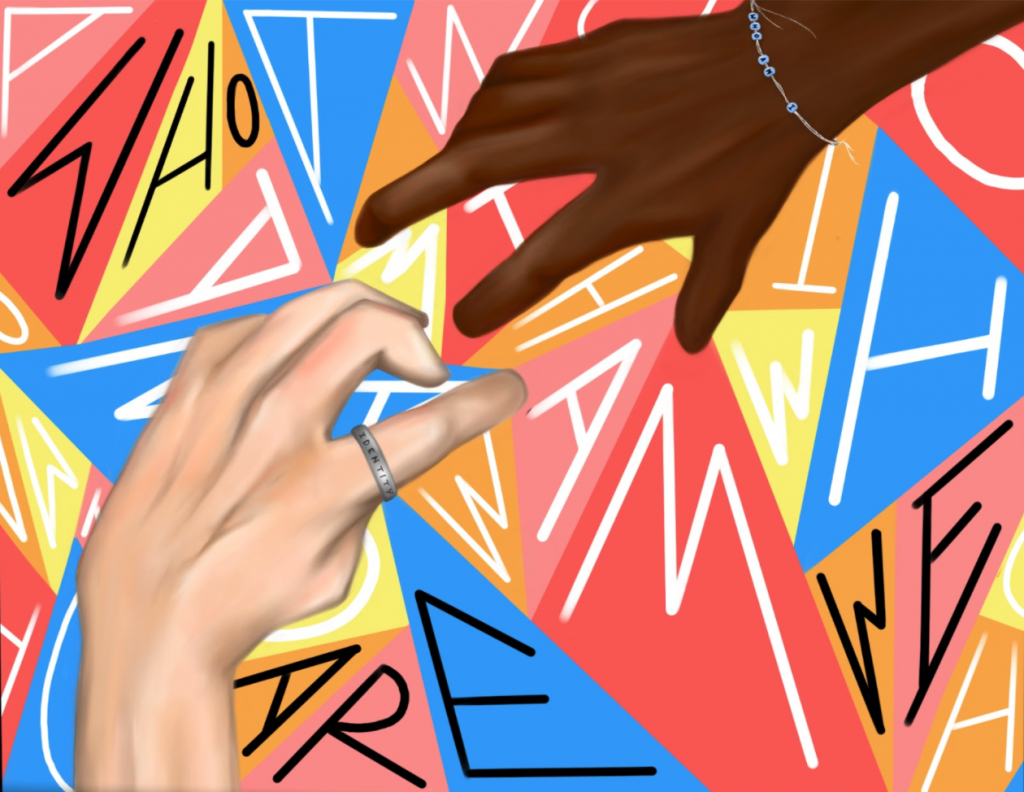 "We want them to build their confidence in sharing and showing their work, but it's also for us," he said. "As I told my students just today: You guys are the prophets of the generation. We need to see your artwork, how you're reacting to what's going on, what's happening in your mind, how you are responding to COVID. We got to get the work out from under your bed and out for the city to see."
What better place than one of Santa Barbara's most historic landmarks and a hub for arts and entertainment?
"It's the very biggest canvas you can have in town," Barnett said. "It's perfect for COVID because people can drive by and be able to see it without violating our values of keeping people healthy."
It was The Environment Makers – the company whose previous work includes "Light It Blue" at the Sea Center to honor essential workers last year, projections on the State Street Underpass for Experiment Weekend, "Forward into Light: The Passing of the 19th Amendment" with lighting and projection on buildings around town, several installations at the Lucidity Festival, and ongoing projects on the front window of Sullivan Goss – An American Gallery – who came up with the concept of projecting the images on the outside of the Lobero's oversized wall.
"I've been drooling over doing something with that great, big white wall for years," said co-founder and projectionist Jonathan Smith. His partner, Kym Cochran, explained that they needed to find a big open area, "one where it would be a huge image so people wouldn't come up close and stare at it where they'd be too close to one another. You can see this from a lot of places and still have social distance."
Indeed, the show, an approximate 20-minute loop that will run 6 to 8 pm nightly February 5 to 7, is "meant to be a non-event," Barnett said, adding that while some of the VADA students have been desperate to connect, and suggested handing out t-shirts but, of course, congregating is prohibited even though the full lockdown has been lifted. So a couple of teachers will be out there waving to kids as they come by with their families, and suggesting that people who park in the nearby No. 9 city lot stay in their cars.
Still, it's a massive undertaking, as artwork from all four class years will be exhibited, about 250-300 works of art in all will be projected on the Lobero's back wall, each for approximately four seconds, via two ultra-short throw projectors working in tandem in a technique known as stacking to ensure a bright image, Smith said.
More importantly, though, the show meets VADA's mission of treating the students equally, not as competitors in a magnet school elimination round, Barnett said.
"You'll see work all over the talent spectrum, because we're not only about the best of the best – that's not our vision," he said. "But you'll get to see the progression of the whole program from ninth to twelfth grade," from drawing, to painting, photography, and senior thesis projects works-in-progress. It's going to be great."
Visit vadasbhs.org for more information, and vadasbhs.networkfor
good.com to donate to the program, which is in the middle of raising funds through their annual campaign.
Also in Art: Goss Goes Graphic
The curators at Sullivan Goss – An American Gallery pride themselves on putting some thought into its exhibitions given its place as perhaps the most professional gallery in town, one that calls itself "Santa Barbara's finest art gallery: where Los Angeles and San Francisco meet to explore, discuss, and collect American art." As such, the focus of the next show came from noticing a pattern among three SoCal artists – Claudia Borfiga, Yumiko Glover, and Julika Lackner, who also happen to share previous connections to the gallery – including a graphic sensibility rooted in simplified and abstracted shapes with "highly-stylized and meticulously designed work," nature as a persistent motif, as well as a desire to use decorative patterns and clever design to push their own agendas, suggests the show's announcement, noting that the artists pay tribute to the Pattern & Decoration movement of the late 1970s and early 1980s.
Thus was born "Pattern Recognition," featuring a number of works by Borfiga, Glover, and Lackner, who also share being born outside the U.S. before converging in Santa Barbara. The exhibition opens February 5 and hangs through March 29 at Sullivan Goss. Also on view, a new Winter Salon with works by Whitney Brooks Abbott, Phoebe Brunner, Richard Haines, Wosene Worke Kosrof, Angela Perko, Nicole Strasburg, Ray Strong, and others, plus 18 more days of "Peace & Quiet," an exhibition devoted to quietude for the new year featuring late 19th and early 20th century Tonalist and Impressionist paintings and "meditative" midcentury abstractions. Check out the exhibitions virtually at www.sullivangoss.com and/or arrange an in-person viewing via appointments for socially-distant showings at the gallery.
Classical Corner: Words and Music from MAW AEA Winners
Last week we profiled two of this year's most innovative grant recipients of the Music Academy of the West's Alumni Enterprise Awards. Now you have the chance to hear from all six of the winners who were chosen for proposals that impressed the panel in projects that "align with or challenge MAW's mission to further classical music education while cultivating discerning, appreciative, and adventurous audiences." In addition to the cash prizes, each winner will be mentored individually on their projects by a selected leader in their industry in addition to receiving coaching sessions on their business plans. But first, they'll talk to the MAW community online from 5 to 6 pm on Wednesday, February 10, when they'll discuss their trailblazing projects in an event that also might include some musical moments. Visit www.musicacademy.org for details and registration.
Say Shalom to Felder's
Pre-Fiddler Focus
Hershey Felder, the irrepressible musical/theatrical impresario who over the course of the pandemic has portrayed Mendelssohn, Tchaikovsky, Beethoven, and others via his self-created solo productions at some of the world's most prestigious theaters, now embodies Sholem Aleichem, the beloved writer of Yiddish literature whose work and the character of Tevye the Milkman inspired the hit musical Fiddler on the Roof. Felder's new show, Before Fiddler, dives into the culture that gave rise to the musical's "If I Were a Rich Man," "Matchmaker," and "Sunrise, Sunset," among others, the music of the old world that imitated talking, laughing, weeping, and singing, and where the musicians spoke in song through Klezmer. Felder as storyteller Aleichem is joined by Klezmerata Fiorentina, a group of musicians who are also virtuosos in Florence, Italy's world famous Maggio Musicale symphony, for a show that was filmed on location where events actually took place. Partial proceeds from the world premiere production livestreamed from Florence at 5 pm Sunday, February 7, benefit the artistic and educational programs of Rubicon Theatre Company via tickets purchased at www.rubicont
heatre.org. Ticketholders will also have access to a recording of the production for an additional week through Sunday, February 14.
Ambassador Blondell: World Play at Westmont
The Westmont College Theatre Arts Department has established a new initiative expanding its focus on diversity, justice, global engagement, and intercultural competency. Beginning this fall, as part of Westmont's Justice and Global Engagement in the Theatre Arts Initiative, John Blondell – the longtime Westmont professor, an award-winning director and the founder of the avant-garde Lit Moon Theater Company – will become the new global ambassador in the performing art for the Montecito-based Christian College. Blondell has also served as director of the Lit Moon World Theater Festivals and co-founder of the Bitola (Macedonia) Shakespeare Festival, directing more than 80 professional productions and producing another 60 for Lit Moon's various international festivals.
In his new role, Blondell will teach and direct for one semester at Westmont and spend the remaining semester working in international theater. With the COVID-19 virus still raging, Blondell's winter and spring plans include directing three international, networked productions featuring international actors in Chekhov's Ivanov and The Three Sisters and Shakespeare's Cymbeline. The new initiative also establishes a new artist/scholar-in-residence for diversity, equity, and inclusion in theater arts who will interact with the larger Santa Barbara community through workshops, productions, guest lectures, and artistic collaboration.
Race to Justice: Learning from a 'Little Rock Nine' Legend, Plus a Clarion Bell
Minnijean Brown-Trickey was just 15 when she helped to change civil rights history as a member of the so-called Little Rock Nine, walking through the front doors of the formerly all-white Central High School in Little Rock, Arkansas, in 1957, in a test of Brown v. Board of Education, the landmark 1954 Supreme Court ruling that declared segregation in public schools unconstitutional. It wasn't just a symbolic act: the state's governor had called in the Arkansas National Guard to block the black students' entry into the high school before President Dwight D. Eisenhower sent in federal troops to escort them into the school, drawing national attention to the civil rights movement.
But that act was just the beginning of Brown-Trickey's career as a social activist, a body of work that includes serving in the Clinton Administration as the Deputy Assistant Secretary for Workforce Diversity at the Department of the Interior. She's been awarded the U.S. Congressional Gold Medal, the Spingarn Medal, the Wolf Award and a medal from the W.E.B. DuBois Institute, among other citations. From her unique perspective as a living witness to history and one who helped shape it, Brown-Trickey, now 79, will explore social change, diversity, and the battle against racism through the decades, from the beginnings of her involvement in the Civil Rights Movement to the present day, in the next presentation from UCSB's Race to Justice series on Friday, February 5. Her conversation with Anne H. Charity-Hudley, Chair in the Linguistics of African America and Professor of Linguistics at UCSB, will be followed by a Q&A session.
Next up: Ending Racism in About an Hour with W. Kamau Bell, the host and executive producer of the Emmy Award-winning CNN docu-series United Shades of America with W. Kamau Bell, host of the critically-acclaimed podcasts Kamau Right Now!, Politically Re-Active, and Denzel Washington is The Greatest Actor of All Time Period, and a stand-up comedian whose latest comedy special, Private School Negro, is available on Netflix. Bell, who is also an author and the ACLU Celebrity Ambassador for Racial Justice, will engage in conversation with Belinda Robnett, UCSB Vice Chancellor for Diversity, Equity, and Inclusion, followed by a Q&A, on Thursday, February 11. Tickets for each event are $10, visit https://artsandlectures.ucsb.edu.
You might also be interested in...