Senior Portrait: Josie Levy Martin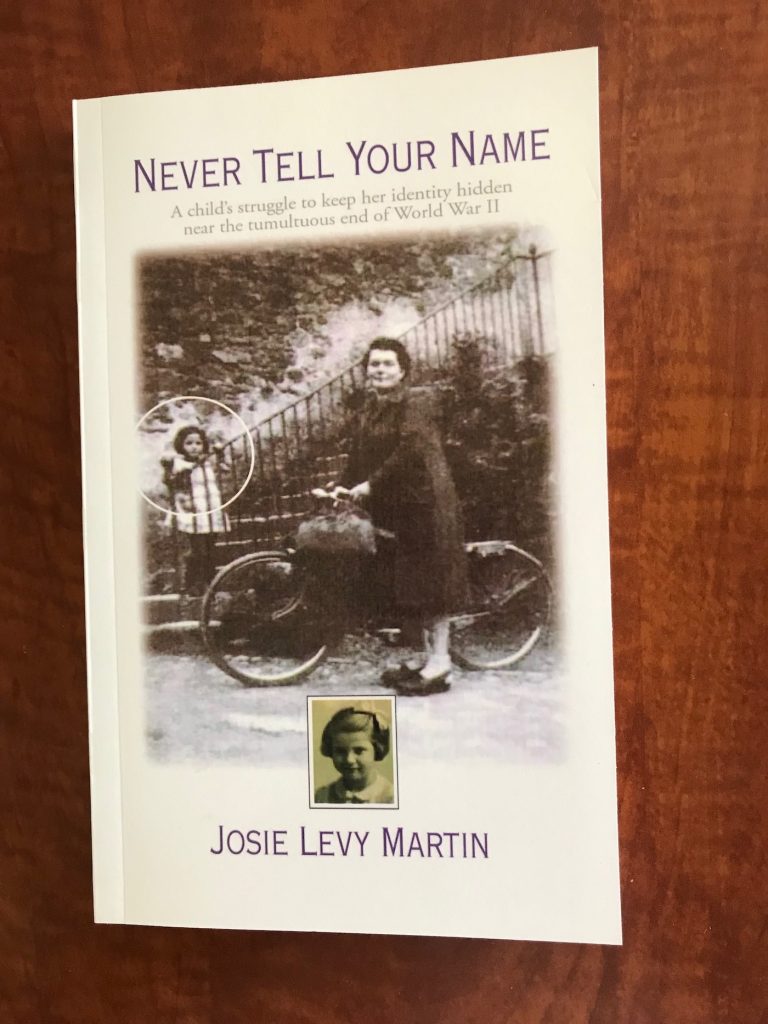 Our childhood shapes who we become and for Josie Levy Martin, it has led to a lifetime of studying childhood experiences. Josie is a teacher, school psychologist, writer, and author of Never Tell Your Name, a book that captures her own experiences as a German Jewish child being hidden around France during the Nazi occupation. Josie was born in France in 1938 during the outbreak of WWII. A week after she was born, her father, a sales representative, and mother, both German Jews, moved with her to southwest France near Bordeaux at the direction of the French government. As the occupation progressed, the family was later split up with Josie and her mother staying in very simple, tight accommodations with other Jewish refugees in Montbron. 
In the winter of 1943, when the war was looking lost for the Nazis, German soldiers returning from North Africa were raiding villages in the southern regions of France as they headed north, pillaging and sending off any Jewish people they discovered along the way. No longer being safe in the village, her parents arranged to have her sent to a small Catholic boarding school in Lesterps at the suggestion of the LeRoi family that they had befriended. Soeur St. Cybard, the head nun at the school, was sympathetic and the only one who knew of her Jewish identity. She quickly helped convert Josie to Catholicism to hide her identity while she attended with some of the girls from the day school. During her nine months there she was faced with confusion where her parents were and conflicting feelings about her faith. Events and emotions that she would later detail in her book on the experience.
Her family arrived in America after the war in 1947 with a sponsor from the foundation set up by Carl Laemmle, producer and founder of Universal Pictures, who had been married to her father's aunt. His foundation supported Jewish families emigrating from Europe and helped her family eventually settle into South Gate, just southeast of downtown Los Angeles. With no one in her family speaking English, Josie, now nine years old, had to quickly learn a new language and adapt to a new school system. As the only Jewish girl in her school, much of her school years were spent trying to fit in as an American. It wasn't until she saw the film Lili with Leslie Caron in high school that she embraced her French heritage. Growing up among a community of Midwestern transplants, she aspired for a different life than the ones sought by her classmates. Her high school emphasized athletics over intellectual pursuits, and it wasn't until she attended Los Angeles Community College that she discovered a passion for the liberal arts after being exposed to subjects like theater, psychology, and history. She transferred to UCLA after two years, which was only $75 a semester at the time. She paid for school working as an au pair for a distantly related family, taking care of their three boys in between classes.
During college she realized she was skilled at teaching and became an elementary school teacher after graduating. For the next 11 years she continued teaching elementary school and eventually began helping with special needs students. Not wanting to go into administration and now married and with a son, she was drawn toward childhood psychology from her own experiences as a child. After getting her credentials, Josie became a school psychologist throughout Los Angeles schools from 1975 until her retirement in 2002. As an inner city school psychologist, she witnessed many immigrant children facing serious cases of loss from family separation and other life hurdles, recognizing the severity of their cases compared to her own childhood experiences.
Josie had always been drawn to writing and over the years of her career she wrote a range of journal and periodical articles. Many of her pieces focused on her experiences as a school psychologist and eventually she was offered a column on children in school settings which she wrote for almost two decades. Her interest in writing led her to join a writers' group, started by poet Holly Prado and consisting of about a dozen writers. It was with their support and encouragement that she decided to write a bookdetailing her experiences as a child. After shopping it around to some publishers, she decided to self-publish the work, which was becoming more acceptable in the writing community. The book was noticed by the mayor of the French village where she had been hidden as a child. He invited her to the millennial celebration of the town in the year 2000. She agreed and the book was quickly translated into French. It was soon picked up by a publisher and upon returning to America she went on a book tour.
With Josie and her husband's retirement in 2002, they moved to Santa Barbara, which they found immediately inviting and soon became involved in the community. In addition to being a very loyal member of the ACLU and working on elections, Josie became a docent for the Santa Barbara Museum of Art shortly after arriving in Santa Barbara and has continued contributing to the museum up until its closure for the pandemic. In response to the 2016 election, Josie and a group of about a half dozen women founded the SB Cares Foundation, along with the support of the Jewish Federation and Congregation B'nai B'rith, to help refugee families both locally and abroad. Through her own understanding of the immigrant experience and childhood memories, Josie has spent a lifetime studying and improving the childhood of others, ultimately shaping who they become.
You can read more about Josie's journey in Never Tell Your Name or visit cbbsb.org/sbcares for more information on the different SB Cares programs.
You might also be interested in...