Everything's Jake for Ukulele Master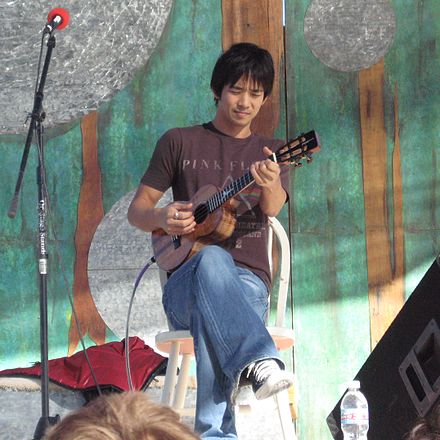 All of the UCSB Arts & Lectures House Calls and Race to Justice virtual events have been recorded specifically for the Santa Barbara community and every program concludes with a live Q&A session with one of the A&L staff or a member of the local area arts or education community. But perhaps none of the visiting artists feels more like a local than Jake Shimabukuro.
Our little Eden-by-the-sea was one of the early stateside stomping grounds for Shimabukuro after he went from unknown to international sensation thanks to a jaw-dropping YouTube video of him creatively covering George Harrison's "While My Guitar Gentlly Weeps" in New York's Central Park back in 2005.
"I was very, very lucky with the timing," Shimabukuro said in a phone interview last week. "YouTube was brand new, and when that thing went viral, the term viral video wasn't even invented yet."
As time has gone by, the ukulele master has drawn comparison to such legends as Miles Davis, Jimi Hendrix, and Bela Fleck for his ability to transform how the tiny instrument was perceived, taking the four-string, two-octave ukulele on musical adventures that are almost impossible to believe, along the way creating an amazing amalgam of sound that touches on rock, jazz, blues, bluegrass, classical, and folk as well as more traditional Hawaiian music.
And while the irrepressible virtuoso has traveled the world, Shimabukuro still considers Santa Barbara more than a home away from home, as he shared that "I always have to go walk up State Street and go out to Stearns Wharf and out to the pier to the end. It's just so peaceful and quiet that I could sit there for hours. There's a vibe there, a sense of community, and of course all the great restaurants and the beaches. it's about as close to Hawaii as you can get in the States."
In fact, Shim's connection to the community happened even before he played his first official public note in town at SOhO in 2007 when, having completed the sound check, the musician and his manager headed downstairs from the music club to grab a bite and discovered Arigato, the popular sushi restaurant.
"Oh, my God. It's the best sushi I have ever had," said Shimabukuro, who is of both Hawaiian and Japanese descent. "And then we met the owners and the people who work there, who are all the kindest, nicest people. We just got so close and have become such good friends. Every time I go to Santa Barbara, I look forward to seeing them and reconnecting."
Santa Barbara also happens to be home to some of Shim's recent cherished collaborators, including rock-pop superstars Kenny Loggins and Michael McDonald, as well as sometimes-resident Jack Johnson, all of whom appear – along with Lyle Lovett, Bette Midler,and others – on his latest album, Jake & Friends, that would have been released last year if not for the pandemic. Making it was another milestone for the ukulele master.
"I'm still super shy that even if I hear through the grapevine that someone is familiar with my work, it's still so hard for me to reach out and ask," he admitted. "So it was so surreal to actually be in the studio with them and be able to observe their process."
Santa Barbara is also near and dear enough to his heart that when he was asked to talk details about the solo concert he pre-recorded for the upcoming House Calls stream that debuts at 5 pm on Tuesday, January 19, Shimabukuro confessed that he wanted another shot at it.
"When this interview came up, I realized that I really want to redo it," he said. "I recorded it about seven months ago, and so much has happened since then. Whatever energy or vibe I was giving off, or the songs I chose to play, or maybe just the way I played them – I don't think it's going to be right for, for where we are today. I'm going to call my manager and find out if I can do that as soon as we get off the phone."
Such dedication – and Shimabukuro confirmed last Monday that he'd done a new video performance that morning – is just the latest evidence of how important his relationship with both the ukulele and his audience remains nearly 40 years after he first picked up the instrument at age five.
"I fell in love with it immediately," he recalled. "Even then I would rather play the ukulele than play with Legos or video games or anything like that. My mom and dad wouldn't let me take it to school, so I'd immediately rush home so I could play. They would have to take it away from me so that I would do my homework or eat dinner or go to bed."
By high school, he was grabbing classmates' attention by arranging Metallica riffs, flamenco passages, and a couple songs from Les Misérables for the ukulele. "It was a way for me to connect."
Soon, he developed an approach that combines absurdly fast finger-picking with slow passages that stir the soul, often blending the two in a single composition or cover song – an organic approach to music-making that has made him a legend on the ukulele. Indeed, the only person who was surprised when Masterclass.com came calling early last year to see whether the virtuoso would be interested in joining the likes of writer Margaret Atwood, chef Gordon Ramsey, producer Timbaland, basketball star Stephen Curry, photographer Annie Leibovitz, and director Martin Scorcese in creating an online course in his craft was Shimabukuro himself.
"I'd already watched more than half of their videos even before then," he said. "I couldn't believe they called. It was so thrilling and exciting just to be in that company. My goodness!"
In Shim's class, he deconstructs his astounding version of Queen's "Bohemian Rhapsody" for the masses, explaining how to capture the essence of the song by focusing on both the feeling and the key notes, aware of which parts the listeners are going to be able to infer and which part had to be explicitly played.
Now, he can truly no longer sidestep the honorary title of "Ambassador of the Ukulele" that he used to deflect by simply stating that he'd always "just been a fan" of the instrument. But there's no doubt that joy from four decades ago is still his primary motivation.
"There's something about the instrument that just brings out the kid in you, takes you back to your childhood to when you were innocent and had big dreams of making the world a better place," he said, the words seeming more poignant coming the day after the invasion at the U.S. Capitol. "There's something about playing the ukulele that brings people together. There's the sense of going back to the basic needs of expression, just coming together over music. I said it at that TED Talk 10 years ago when the theme for that year was 'What the World Needs Now' that we needed more people to play the ukulele. And it's still true: if everyone played the ukulele, the world would be a better place."
Chaucer's Chats
'Face'-ing a Troubled Past
Award-winning Santa Barbara writer, editor, writing coach, and conference leader Marcia Meier has just published her sixth book, another nonfiction work, but this time the subject is her own life. Face tells her story of childhood trauma and abuse, and issues of identity and faith all stemming from Meier having been hit by a car and losing the left side of her face and eyelid at age five. She underwent 20 surgeries and spent days blinded by bandages, her hands tied to the sides of her hospital bed, over the next 15 years, but although she was scarred both physically and emotionally, abused at school, and blamed and rejected by her mother, Meier survived and went on to create a successful life as a journalist, wife, and mother. But that controlled world was confronted at midlife and she began a journey into the darkness of her past, her true identity, her deepest beliefs, with the spiritual and emotional exploration resulting in the writing of Face.
Meier is the former director of the Santa Barbara Writers Conference, founding director of the Summer Writing Institute at Antioch University here in town, a 10-year veteran of the Santa Barbara News-Press where she largely served as editorial page editor, and has taught locally at Westmont College, Brooks Institute, and Santa Barbara City College Adult Education. Her previous nonfiction works include the coffee table book Santa Barbara, Paradise on the Pacific, as well as how-to's for authors Navigating the Rough Waters of Today's Publishing World and Critical Advice for Writers from Industry Insiders.
Meier will talk about the creation of Face, which was published on January 12, in a virtual talk for Chaucer's Books at 6 pm on Thursday, January 21. See it on Zoom at zoom.us/j/96222780200, or visit www.chaucersbooks.com for more info.
You might also be interested in...