Monumental Achievement: Montecito Filmmaker Reaching for the Stars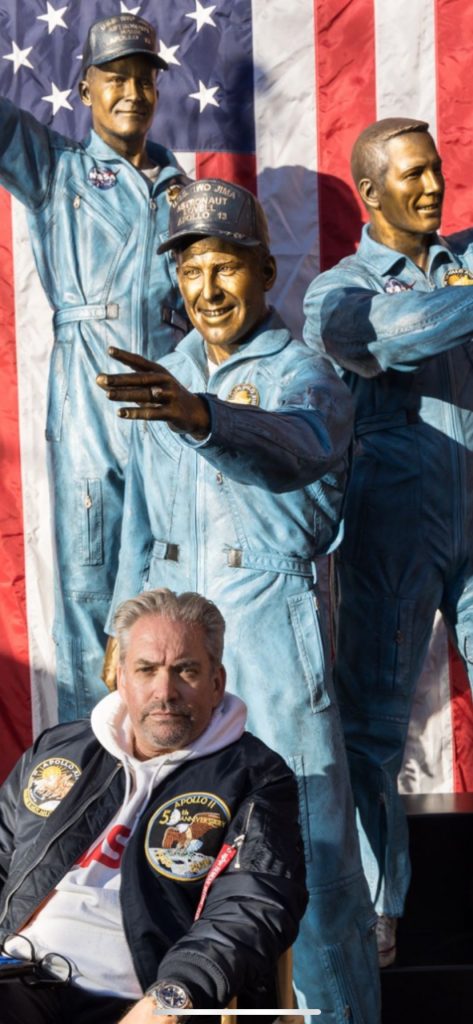 The Montecito foothills are more than a thousand miles from both the Kennedy Space Center in Florida and NASA's headquarters in Houston – not to mention 234,000 miles from the moon – but the rolling greenery amounts to much more than a footnote for part-time Montecito resident Steven C. Barber spearheading a project to fashion monuments of the American astronauts who walked on the moon.
In early fall 2018, Barber, a filmmaker whose credits whose credits included the documentaries Never Surrender: The Ed Ramsey Story, Kennedy's Last Song, Road to Rio 2016, Oceana and The World's Most Dangerous Paper Route, was working on a documentary about Buzz Aldrin – who set foot on the moon just minutes after Neil Armstrong – to commemorate the 50th anniversary of the Moon Landing back in 1969. "He's a salty old dog, but we'd been friends for almost twenty years, and I finally convinced him to let me make the movie," Barber recalled. "Everything was set to go. But then he got into a big pissing match with his kids and they were suing him. So everything got shut down while the lawyers figured it out." 
Devastated, Barber brought out his bike and went for a three-hour trek over a favored trail on the southern edge of Montecito, as riding serves as both exercise and meditation for the filmmaker who by his own admission never stops working. That's when an ambitious vision just showed up in his mind as a memory from his past flashed in his head.
"I started channeling Jim Irwin, the commander of Apollo 15 who I had met when I was 12 through my dad, who was an engineer for General Motors when they had a contract with NASA to build the moon buggy," he said. "It was really miraculous for me. I just came up with this idea of making monuments. I didn't even think about it, or have any idea where the money would come from, or even whether monuments existed already."
Hurrying home, Barber raced to his computer and started a Google search and was shocked to find that nobody had ever built a monument to the moonwalkers.
"That was unbelievable," Barber said. "It's the greatest story in the history of the world, the greatest technological achievement in the history of mankind, and nobody had ever done it."
Determined to erect a tribute to the astronauts, Barber started making phone calls. NASA initially passed, but he hit paydirt when he got through to the Kennedy Space Center.
"Magic happened," he said. "The guy who picked up the phone had actually seen one of my movies. He was a Marine and he asked if I was the same Steven Barber who had made Return to Tarawa (a doc about the return to the Gilbert Islands of a veteran of a 1943 WWII battle on the atoll of Tarawa). That had never happened before! Millions of people have seen my movies, but my demo is mostly 58-year-old, 250-pound guys who drink Budweiser and watch the military channel. Turns out he was one of them. He said, OK, you're the real deal. If you can get a monument of the Apollo 11 crew in 90 days, we'll find room for it."
Official approval in hand, Barber next set out to find a sculptor, and, remembering a statue of astronaut Jack Swigert he'd seen 25 years earler, he reached for the stars again and called up the artist who had made it, George Lundeen of Colorado.
Once again, he stuck the landing. "I figured he might be dead or would just say no, but he said, 'I've been waiting for this phone call for 25 years. Let's get it done.' It was just perfect."
Barber next tackled the problem of finding the financing, which ran to $750,000, nailing down a commitment from Quicken's Rocket Mortgage right at the deadline through another military movie connection.
The filmmaker then spent a lot of time in Colorado alongside the Lundeens, George, and his brother Mark, marveling at their craftsmanship in creating the statues, which show Armstrong, Aldrin, and Michael Collins in their space suits with their fingers pointing toward the heavens.
"They do everything by hand," Barber said. "They don't have CAD or use computers at all. They just mold it all with clay. It blows my mind. It's like they're from the 18th century."
The Apollo 11 monument was installed at the Kennedy Space Center just in time for the unveiling as part of the 50th anniversary in July 2019. Visitors can see it in the spacious Moon Garden as they arrive to admire one of America's greatest achievements.
"I just love knowing that some little kid is going to look up at that monument and see those guys looking at the stars, and go, man, I want to do that," Barber said.
But Barber himself hasn't spent a lot of time basking in their beauty as he turned first to completing a documentary about the project that is still awaiting distribution. Then started right in on the next set of space statues.
After Barber reached out to 92-year-old former astronaut Jim Lovell, who was commander of the 1970 Apollo 13 mission that suffered critical failure en route, and used an orbit around the moon to return safely to Earth – the courageous crew of that fateful journey has now also been memorialized in clay and bronze by the Lundeens. NASA agreed to put the monument on permanent display at the Space Center in Houston. Barber will be alongside Lovell, fellow Apollo 13 crew member Fred Haise, and Mission Control director Gene Kranz, whom Ed Harris played in the Apollo 13 movie, at the official unveiling on January 13.
Barber, who first lived in Montecito from ages two to 13 and has been back in town since 1998, isn't sure what will get done next, although he's working on getting financing for a statue of the first female astronaut, Sally Ride, which would be housed at the University of Arizona.
"Only two percent of the monuments in this country represent any sort of female celebration, which is absurd," he said. "I want to change that paradigm."
But Barber believes having the opportunity to keep honoring astronauts' achievements is in the cards. "NASA's pretty happy with the first two, so I think they're going to let me build all of the Apollo monuments. Some sort of interesting power came through me to get these first two done, and it's working with me still now. I know it sounds corny, but it feels like this is my destiny."
You might also be interested in...