Here We Go a-Carol-ing: Dickens of a Time for a Ghost Story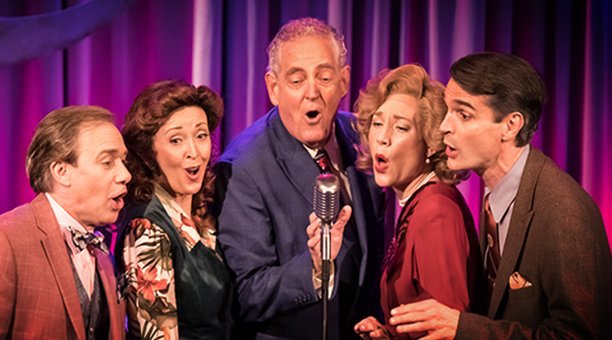 Just like redemption doesn't come easy, recovering from the wounds of 2020 from the COVID pandemic and other tough situations this year will likely take significant time. But perhaps a local take on a legendary allegory can go a short way toward helping the healing, or at least create a satisfying enough diversion to bring a little happiness to the holidays.
That's part of the plan for Ensemble Theatre Company's new A Christmas Carol: A Ghost Story of Christmas, a stitched together virtual staged reading of the classic Charles Dickens story featuring the cast and artistic team from ETC's 2019 production of It's a Wonderful Life: A Live Radio Play who will once again play all the characters in a beloved holiday work. Teri Bibb (credits include Phantom of the Opera on Broadway), Louis Lotorto (The Royal National Theatre's American Tour of An Enemy of the People), Matthew Floyd Miller (ETC's productions of 39 Steps and Measure for Measure), Hannah Tamminen (Richard II and The Merry Wives of Windsor at Kingsmen Shakespeare Festival), and Peter Van Norden (ETC's Crime and Punishment) once again are directed by ETC's Brian McDonald, who already had two previous takes on A Christmas Carol during his time at the Rubicon Theatre in Ventura before heading up the coast a few years ago.
The performance will also feature original music by Santa Barbara folk-rock composer and singer-songwriter Doug Clegg as well as live foley sound effects, both created live to accompany the pre-recorded show shot at the actors' homes. The video will be available to stream on demand for free for a few days starting, appropriately, on Christmas Eve, and will also have an optional free pre-show lecture about Charles Dickens and the history of A Christmas Carol with retired UCSB professor and ETC board member Simon Williams.
McDonald talked about his approach to the well-known Christmas cautionary tale over the phone earlier late last week.
Q. What drove you to adapt this famous story that has been a staple of Christmas for decades for ETC to take on this year?
A. My original idea with this was that a lot of people have experienced A Christmas Carol, either as a movie or the animated TV special or onstage as a theatrical play in some version, but they may never have actually read the story. The language is just so rich and wonderful that it's very enjoyable just to even listen to it. And rather than do somebody else's version I just decided to edit it myself down to about 90 minutes or so. Because of COVID, the goal was never to present it as a full theatrical production. But initially our hope was to film it live on stage with the five actors from last year's successful production of It's a Wonderful Life, to have them return to do this where they would play all the roles similar to the way they did in the radio play, with Foley (sound effects) and live music.
But we ended up having some complications with the Screen Actors Guild and then Equity (theater actors guild) so we had to shift gears and rethink how we could do it. After a couple of tries, what we ended up with was having everybody in their homes filming themselves there, which is what we would have had to do with the new (COVID protocols) anyway. We sent the actors cameras and microphone equipment and all sorts of backgrounds, and are pre-recording it. There still will be live Foley that we are adding into it as well as original by music.
You were involved in Karyl Lynn Burns' new adaptation of A Christmas Carol at the Rubicon Theatre in Ventura just a couple of years ago. I know you are working from the novel, but what can you tell me about your approach?
I really wanted to highlight the text. I did not want to veer off and try to recreate something, because people should experience the descriptive language, which is very delicious, without imposing the idea of what they should be seeing or what something looked like. For example, there are a lot of really great descriptions of various scenes and characters that never, you never get, you know, you never hear about because they're just depicted visually on stage or a movie. But in the novel, some of the descriptions are just outrageous, and are worthy of being left alone. I didn't want to disturb them. The tough part was cutting it down because there's some beautiful sections and passages and scenes that I really wanted to include but it's hard to watch things online that are two and a half hours these days.
It's quite a concept to have the same actors from last December come back to do a reading/radio play of another classic Christmas story. What inspired you to go that route?
Audiences just loved that group of actors in It's a Wonderful Life and they did such a great job playing all the parts and playing off of each other. Knowing the piece as well as I do, I knew they could do all of the roles in A Christmas Carol too. Peter van Norden has played Scrooge for many years and he and Teri were both were in the production that I had done at the Rubicon. The whole cast had already experienced telling a story and very effectively portraying different characters with just the voices. I figured our audiences would find it interesting if it was that same group of people doing this show.
But mainly just to have five actors who really know what they're doing bringing Dickens' words and characters to life has been a joy for me. Hopefully people will really get a kick out of it, too.
I just want to revisit, if we can, what it is about this story that resonates with you, makes it meaningful enough to have worked with it in at least three iterations?
I've always just loved how it's such a bizarre thing to have a ghost story about Christmas. What a strange juxtaposition, but I really love the scary parts. I also love darkness, because that's where you can have the fight for light. And Dickens is a master in the way he describes the setting and the various moods and atmospheres.
Of course, it's also that it's such a classic story of redemption which we always need to be reminded of in our own lives. It's important to look at the ways in which we are miserly or how we are like Scrooge, and remind ourselves of the spirit of giving and community and care for the less fortunate, that important message of what it means to be a good human being. God knows we have plenty of Scrooges in this world.
It seems with all that's happened this year, it's also a potent parable for our times.
With the state of the world right now, there's an even greater need for stories like this. Care for others is a constant thing that we have to practice. We have to be aware of our actions and our impact and our responsibility to each other. We have free will and can choose to be whatever kind of person we want: someone who is selfish and self-contained or one who is doing things for each other because that's the right thing to do.
(ETC's virtual staged reading of A Christmas Carol: A Ghost Story of Christmas will be available to stream on demand for free from 5 pm on December 24 through 12 noon on December 28. Register (required) online at https://etcsb.org)
Another South Coast 'Estella Scrooge' Connection
We mentioned in these pages a few weeks ago how the new Broadway-on-film production of Estella Scrooge, based on Dickens' A Christmas Carol and featuring lots of references to many of the author's other works, had originated a decade ago at the Rubicon Theatre in Ventura as a Plays-in-Progress production. Now we've discovered that the pandemic-prodded "digital theater piece" has another local angle: Patrick Page, the Tony-nominated actor who plays Mr. Merdle, is an alum of PCPA, having undergone some early training and professional experience as a part of the rep theater's class of 1982.
Meanwhile, Estella Scrooge has been winning plaudits in the press for the latest collaboration for which John Caird directed and co-wrote the book with lyricist-composer Paul Gordon, and the novel approach in which the actors were filmed individually due to COVID protocols then the footage was enhanced with animation, backgrounds, and other imagery. "The talented cast more than thrives under the strange filming conditions," according to the L.A. Times, which notes that the two leads "convey their complicated history well and have palpable chemistry despite having to film their scenes in isolation."
(Scrooge can be seen via pay-per-view stream through January 3. Get tickets online at www.streamingmusicals.com or through your favorite local theater, including the Rubicon, to have them receive a portion of the price.)
Holiday Memories Take Center Stage
Center Stage Theater's Personal Stories program, The Moth-inspired series of true stories performed by their authors that started out under the auspices of its Speaking of Stories banner but survived the cessation of the mothership because of its growing popularity, has completed the second edition of its pandemic pivot this month. With the theater closed to the public, CST's annual Holiday Memories has veered into the virtual space, with the readers sharing memories of holidays throughout the year, from Christmas to Halloween to the Fourth of July and beyond, and including, we imagine, a bevy of beauties about celebrating during these strange times. And if we can't be together to hear the tales in person, at least we can cuddle up with some cookies and milk (or a cozy partner or roommate) and enjoy the stories in the safe and socially distanced location of our own choosing to escape back to the wonder of hearing someone read us a story.
There are five separate programs to Holiday Memories, each consisting of funny, personal, touching, and/or heartwarming true tales all told by their authors, ranging from three to five per episode. The pay-what-you-can price for tickets begins at $10 and goes up in stages for those who want to further help the theater survive these incredibly challenging economic times.
The full series of videos was released last weekend and will remain available for on-demand and/or repeat viewings through January 15. Visit centerstagetheater.org for details and tickets.
You might also be interested in...