Margerum Hits Top 100
Santa Barbara winemaker Doug Margerum has certainly got something to smile about during these gloomy times.
Wine Enthusiast Magazine has recognized his Margerum M5 white Rhône blend, Margerum Esate Vineyard, Los Olivos district, as a top 100 wine of the year, ranking it at number 30.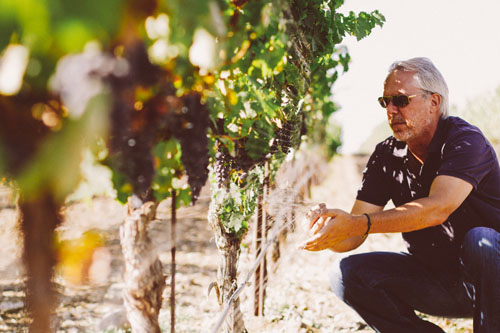 The publication's global team of editors and tasters cumulatively reviewed more than 25,000 wines to develop a ranking of the top wines tasted over the last 12 months, saying the impressive roster reveals "some of the most exciting finds on the market today."
With a score of 94 points, Doug's blend was described by senior editor Matt Kettman, who also writes for the Independent, as "complex and yet utterly refreshing, this estate blend of 45 percent Grenache Blanc, 21 percent Marsanne, 14 percent Viognier, 13 percent Roussanne, and seven percent Picpoul Blanc begins with wet stone, chalk, nectarine, Rainier cherry, and creamed pear on the crisp nose.
"The palate sizzles with acidity and ashy, chalky tension, delivering flavors of kiwi, lychee, and more stone fruit."
"We are thrilled with this accolade," says Doug, whose delightful tasting room is a tiara's toss from the Hotel Californian. "This is an important recognition of the excellence our estate vineyard. Margerum was the only Santa Barbara County wine to be included in the top 100."
This acknowledgement follows the achievement of many other Margerum wines, among them 96 and 95 points from Antonio Galloni of Vinous for the 2018 Margerum Uber Syrah and 218 Margerum Black Oak Vineyard Syrah respectively.
Shaken and Stirred
Normally the Arlington would have been packed when Pink Martini, the Portland musicians performed as part of the UCSB Arts & Lectures series.
But this year, instead of the usual dozen or so talented musicians, lead singer China Forbes and her Harvard classmate pianist founder Thomas Lauderdale, accompanied by just a drummer, took part in a 45-minute virtual performance from their Oregon home.
The much truncated program, compared to the fun-filled two hours usually on offer, featured Forbes singing in a variety of languages with a number of Yuletide songs, wrapping the show with Auld Lang Syne.
Missing was the ever entertaining Timothy Nishimoto on vocals and percussion and, of course, the energized conga line when Forbes would sing "Brazil."
But, as usual, the unique musicians left us shaken and stirred before participating in a question and answers session with A&L executive Caitlin O'Hara.
The Cassandra Effect
Local architect Cassandra Ensberg is the latest recipient of the Lutah Maria Riggs Presidents Award presented by the American Institute of Architects Santa Barbara.
Cassandra, who works with her architect husband, Tom Jacobs, at their firm Ensberg Jacobs Design with a focus on art, design, sustainability, and the environment, has been a resident and leader in the Santa Barbara design, art, and architectural community for more than three decades.
In 1987 she founded the Kids Draw Architectural Program during formation of the Architectural Foundation of Santa Barbara and to fulfill the organization's mission of increasing public awareness about the built environment and the importance of design, art, and architecture.
Four years ago, Cassandra was recognized by AIA nationally and elevated to Fellow for her work focused on the art of architecture. She is a board member of AFSB and AIASB and serves as AIASB advocacy co-chair to promote excellence in the built environment through improved regulations, particularly governing housing.
Recipients of the award, sponsored by American Riviera Bank, must have both a body of distinguished architectural design and a history of advocacy for community architectural engagement in the area.
Sightings: Rob Lowe's wife, Sheryl Berkoff, stocking up on housewares at Wendy Foster… Former rocker Peter Noone sipping a latte at Merci Montecito… Actor Christopher Lloyd picking up The New York Times at Pierre Lafond
Pip! Pip! – and be safe
You might also be interested in...