Honing in on 'Home for the Holidays'
A cabaret for Christmas might seem like the mixing of metaphors, but the idea made a lot of sense for PCPA as a way to produce something during the pandemic. That was partly because a show that's akin to a revue could be done from people's homes during lockdown without damaging the storyline. But it didn't hurt that longtime PCPA casting director and associate artist Erik Stein had a lot of experience with the format, having produced nine cabaret shows between 2005-07 at a theater he helped run in Avila Beach.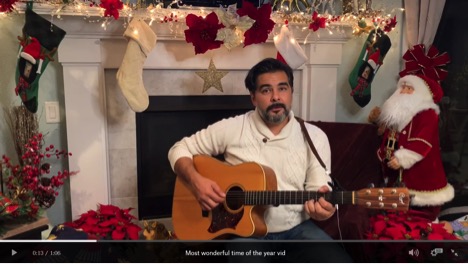 "All of us are missing the audience as much as people are missing seeing live theater," Stein said earlier this week. "This is an opportunity for us as actors to get to do what we love to do, even though we can't be in the same room right now. We wanted to make sure that people know that we're thinking about them, that we miss them and that we can't wait until we can perform live again." 
The virtual cabaret is titled Home for the Holidays, to mark locations both where performers recorded and viewers will watch. It will stream just once, at 6 pm on Saturday, December 12, a one-hour show that Stein likened to "a five-course meal" for its breadth, richness, and diversity. Among the highlights of segments with PCPA's resident actors and conservatory alumni are Kitty Balay singing a countryfied version "Sleigh Ride" accompanied by George Walker on four stringed instruments, spliced together by a PCPA graduate who edited the whole project.
There's also a brand new holiday song by co-musical director Paul Marszalkowski called "Christmas Is Convenient for Love" sung as a duet by Andy Philpot and Emily Trask. "It's got a Bing Crosby-Doris Day New York sound, but it's dealing with some fun modern issues," Stein said.
Katie and Annali Fuchs-Wackowski are contributing a parody of an Irving Berlin song called "What Can You Do with the General" from White Christmas. "They rewrote all of the lyrics to be about Christmas during COVID in 2020," Stein said, adding that the couple "go into a dream sequence where they dance a duet. It's really special."
Also coming in the cabaret are traditional carols from Yusef Seevers, Mark Bohr reading a small portion of A Christmas Carol accompanied by Trask playing the cello, Polly Firestone Walker sharing "'Twas the Night Before Christmas" and a few comedic segments to add some humor, Stein said.
It's all meant to recap a challenging year while contemplating better things in 2121, Stein said. "The theme of the show is 'Memories and Hope' as we look back on things that we miss and look forward to the future."
 (Admission to PCPA's streaming gala cabaret Home for the Holidays is free. Visit www.PCPA.org to register.) 
Chaucer's Choices: Channel Islands in Print
Island Visions, the new book co-authored by another pair of Santa Barbara locals, brothers Jacob Seigel Brielle and Isaac Seigel-Boettner, dives deeply into the Channel Islands, the chain just off our coast that often lies shrouded not only in fog but also mystery. Home to tiny island foxes found nowhere else on the planet as well as gigantic blue whales and towering underwater kelp forests, the island chain has much more to offer than its mass would indicate. Island Visions relates tales from the land and its inhabitants and explorers over the years, featuring diverse voices from the past and present to bring to life the importance of the Channel Islands, which have been home to humans for more than 10,000 years.
The co-authors will talk about the book – which features a dedication to the late Montecito-based oceanographer/filmmaker Mike DeGruy – at 6 pm on Thursday, December 17, in Chaucer's next virtual event. See it online at www.zoom.us/j/96842086263, or visit www.chau
cersbooks.com.
Wonder of 'Wonderful' lives 
Just last December, Ensemble Theatre presented the area debut of a potential new holiday tradition in It's a Wonderful Life: A Live Radio Play, Joe Landry's funny and festive adaptation of Frank Capra's classic film. The audience ostensibly is witnessing just four actors portraying all of the characters of the heartwarming story of a small town banker whose big dreams of the world beyond keep getting postponed eventually readjusting his outlook on life when a socially awkward angel shows him what might have happened in his town if he'd never been born. This week, the Capra classic movie was supposed to close out UCSB Arts & Lectures' fall series of free films at the West Wind Drive-In on December 16, until the new lockdown protocols from COVID have caused those screenings to be canceled.
But you can still enjoy the Christmas-season staple, and not just on TV, as Ojai Art Center Theater is doing a pandemic pivot of their own to present a virtual production of It's a Wonderful Life Radio Play, which runs December 12-19. As an added bonus, Ojai ACT's production mirrors a bit of the story of bringing families closer together as the cast includes a husband and wife, two groups of siblings, and a father and daughter.
Tom Hall, who plays three roles in this show, grew up in Ojai. His mother, Emily Hall, performed at ACT from 1963 to 1972 and Tom remembers playing with his Dinky Toy cars under the seats at age five while she rehearsed. As an adult Tom also landed the lead role of George Bailey in an Ojai ACT stage performance of It's A Wonderful Life, where he met his wife, who played his wife, Mary. Now in this radio play version their daughter Emily, named for her grandmother, plays Mary. To boot, Tom is a distant cousin of Lionel Barrymore, who played Mr. Potter in the film. Also, Arshan Barati, the subject of the documentary Arshan – The Little Soprano, which premiered in October at the Ojai Film Festival, will show off his singing skills in the radio play when he performs alongside his younger siblings Jahan and Shams.
The streaming of It's A Wonderful Life: A Live Radio Play begins at 7 pm on Saturday, December 12. Tickets, available at www.ojaiact.org/iawl for $12.95, include unlimited viewing through 12 midnight on Saturday, December 19. 
A Coronafied Concert: Carmen in Your Car
Speaking of radio plays, that was the construct director Sara E. Widzer employed for Opera Santa Barbara's outdoor production of Carmen, A Live Drive-In Opera, a modified version of Peter Brook's 1981 adaptation of Bizet's classic last weekend at the Ventura Fairgrounds. Mounted just hours before the new lockdown orders went into effect, the show enjoyed not only fortunate timing but also a fabulous presentation that featured all the performers on stage and sharp camera work projected on the giant screens.
It was hard to believe so much drama and passion could be conveyed with the performers partitioned and often immobile – although costume changes and the use of twin announcers as film noir narrators certainly helped to justify the necessary pandemic parameters and play-within-a-play construct. Mezzo-soprano Audrey Babcock mesmerized in the demanding title role, while Harold Meers and Alexander Elliott as her ill-fated suitors Don Joséas and Escamillo were perfectly balanced foils and Chrisman Studio Artist soprano Jennifer Lindsay gave more breadth to Micaëla than might have been reasonably expected. Artistic director Kostis Protopapas conducted the 20-something strong OSB Orchestra admirably, keeping both the music and energy flowing in this truly tour-de-force production that out-muscled even the swirling winds.
When Babcock sang, in French, the lyric "Long live the music that falls from heaven," it was hard not to get some shivers up the spine for a line that surely must have meant even more to Protopapas, who has been fighting for live performances for months. Here's hoping we can be back indoors in Santa Barbara's twin jewels of the Granada and Lobero theaters in the not too distant future. But if COVID continues to rage despite the upcoming vaccines, you definitely do not want to miss whatever he comes up with next.
Comedy for a Cause
With the latest lockdown already in place due to rapidly rising numbers in the ongoing pandemic, everyone could use a little levity in their lives. Meanwhile far too many of our neighbors could also use a little help with food and other necessities. To that end, local comedian Samantha Bearman and her production company Bear Cave Comedy have put together a streaming show that serves as a fundraiser for the Foodbank of Santa Barbara County.
Ahmed Al-Kadri, the up and coming actor-comedian whose Netflix special airs later this month, will headline the show, with TikTok comedy star Ta'Vi, The Tonight Show and The Ellen DeGeneres Show veteran Kaycee Conlee, local comedian Evan Lopez, and Bearman, who was a semifinalist in the 2019 Ventura Harbor Comedy Festival and debuted Bear Cave Comedy in January but since pivoted to virtual events, also on the virtual bill. Tickets for the 5:30 pm show on Saturday, December 12, are $10. Visit www.bearcavecomedy.simpletix.com.
Tales from a Terrible Year
Tales from the Tavern, the prolific if periodic singer-songwriter series up in the Santa Ynez Valley, began coping with the coronavirus situation by streaming curated versions of some of the concerts from its 15-year-plus history, almost all of which have been captured via multi-camera video. A couple of one-offs turned into a weekly series of streams, then went on hiatus for a couple of months, and returned in the fall with new material.
Now as the year winds to a close, Tales is taking a moment to take stock of 2020 – aka Year One of Tales from the Tavern Television – via presenting its TFT-TV Festival of the Year, a multi-episode compilation of songs, stories, and interviews from programs posted this year complete with bonus interview footage that was not aired in the original videos. Part 2 arrives on Wednesday, December 9, and features footage from John Gorka, John Stewart, Eliza Gilkyson, Tom Russel, John McEuen, Birds of Chicago, Janis Ian, and several others. Watch it beginning at 5:30 pm on TFT-TV's YouTube channel, http://www.YouTube.com/c/TalesfromtheTavern.
"These are culturally and artistically significant performances and interviews, and we are so proud of the content and the quality," says series founder-producer-interviewer Ron Colone. "In addition, we are thrilled that, as happened with the Live concert series, a community has formed around these programs to share in the warmth, the connection, and the 'journey of discovery' through song and story. Thank you to all who energize and fortify the TFT-TV community."
You might also be interested in...