In Good Company with Alone, Together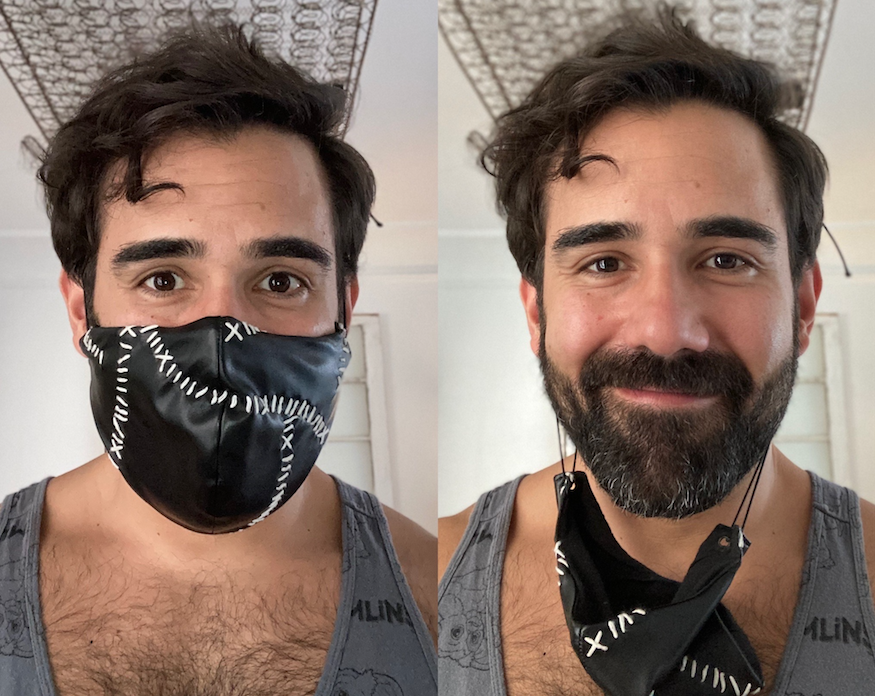 When the pandemic forced interaction to head to the internet, UCSB's Theater Department quickly picked up the virtual ball and ran with it. Not only classes did move online but the Launch Pad project quickly pivoted to mark its 15th anniversary milestone by having previous participants in the play reading series contribute short pieces to be performed on Zoom. Alone, Together, which featured 29 writers, proved so successful that the pieces have all been published and several other schools have performed selections. 
Six months later, playwright Brian Otaño is back with a commissioned full-length work that will be premiered live by UCSB acting students. Otaño's Alone, Together contributions have included South Lake Tahoe, about what happens when someone at a Zoom watch party discovers his house is being broken into, and I'm Not Coming Home, in which a COVID patient sends a video to his partner from his hospital bed to call it quits on the toxic relationship. His latest is Under Normal Circumstances, whichfollows a few members of Never Had a Legal Drink, an AA group for young people in recovery, and the unique pressures and struggles that come with recovery in quarantine, which get amplified when one of the group members breaks quarantine and vanishes.
UCSB lecturer Shirley Jo Finney, who has helmed several projects on campus, directs the production. Otaño talked about Under Normal Circumstances over the phone from New York last week.
Q. While most playwrights haven't written anything for COVID either to be performed on Zoom or related to the times, this is your third time with that construct. Why does this interest you?
A. When a situation or a topic feels daunting to me, I will be really resistant to writing about it until I figure out what my point of view will be. When I was invited to do Alone, Together, I was very, very resistant at first because I hadn't let go of the pressure of writing something that would be a definitive statement about what the new normal would become. But when I let go of that expectation and just considered what was going on in the world and the restrictions that we have had to live with as if they were a set of prompts, I felt free to get specific without having to write the thesis statement for all people about what the sum total of the toll of this has been. When you've got prompts and you've got parameters and restrictions, the tension is built in.
How did you approach writing a longer play about the pandemic to be performed over Zoom?
It was terrifying because I had never written a play this quickly before. Also, I didn't have an idea when I agreed to do it. All I had were parameters, which were that they needed the play to be performed live virtually, and that it needed to be written for between 8-12 people. So it was like a free fall for a little while before I knew what it was that I was going to hook into.
How did knowing this would be performed live on Zoom inform the writing?
One of the first decisions I had to make was the context of the piece. There are people who are doing really amazing things with live editing and other things on the platforms, but I wasn't sure what we'd be able to accomplish because I started writing it in July. So I let myself and UCSB off the hook by limiting it to a bunch of different conversations that are happening on our virtual platform and make it a part of what contributes to the tension and keep it as brisk as possible. To make it palatable for the audience I tried to write economically and to keep it as colorful and as vivid as I could while also making it sound like these are conversations and not playwriting. This is like some weird hybrid form where it's basically live television. I think that like some of my peers have stumbled when they present something that was clearly meant to be performed on the stage and then shoehorn it into the Zoom platform. The pace doesn't always work and the language doesn't land. To avoid that, I took a very specific approach to this forum and context to keep it moving, make it lean and mean while also finding interesting things for the director and actors to do. Keep it quick and dirty and stimulating. Shirley Jo did an amazing job of finding some variety when it came to the movement and shot composition to make the whole thing pop. It was a dream collaboration.
Getting more specific about the plot, your notes said you were "orbiting around the topic of rehabilitation and recovery in your work for as long as you've been writing." I'm wondering why this topic interests you?
Yes, I have had tons of personal experience with addiction and I make no bones about it. I burned my life to the ground pretty early in the game. I had to have a really major reckoning before I'd even turned 21. So I basically started the process of getting sober before I was even legally able to drink. Going through life without the benefit of being able to drink but also without the hindrance of it is like another parameter that I find compelling to explore. But I'd never really written anything that specifically was about recovery, 12 step groups, and rehab. It seemed now was the time.
How was it to finally dive in and tackle the subject? Did you revisit your own recovery? Were there new insights?
The play is pretty strongly informed by feelings and experiences that I've had, but of course those predate what has happened since we all went into quarantine. With this piece, I was particularly interested in the minefield that is getting and staying sober when you can't connect with people on a person-to-person basis. In my own community, that's been a challenge that has created intense obstacles, but it's also been oddly beneficial for some people. It seemed a rich and complex topic for me.
Can you say a little bit more about "oddly beneficial"?
Being able to quarantine and isolate and somehow still keep their lights on have given people a chance to cut back the static that can come up when you are in these large groups of people and instead connect with folks on a deeper level even if only virtually. For one of my friends, being able to participate in recovery and go to meetings virtually cuts back a lot of the social anxiety and awkwardness. It's been an opportunity to get what matters and what's important to him out of the experience and not deal with all the extra tension. It's pretty wild that you can completely change your life from the comfort of your bedroom.
It seems that with Under Normal Circumstances, you're combining recovery with the mystery element.
A little. Because their mystery is only whether the person who disappears has relapsed, which has happened during the pandemic as social isolation has also led to that.
What makes this a universal story for those who aren't in recovery?
This time period has made connection a lot more precious for everyone. What's happening right now is working for some people and it's devastating others. The hope is that the observations that I've penned and woven into this piece as we move through the plot will resonate no matter what your situation is.
How has it been to work with the UCSB student actors?
Their instincts were all right on. I tried to write stuff that was as grounded as possible so that they could really live in these people. After those first two experiences I had with them, I knew that I had all the reason in the world to trust them. And not only have they not let me down, they've helped push this play to a great place.
(Under Normal Circumstances will be performed live over Zoom at 7 pm on December 3 and 4 and 1 pm and 7 pm on December 5. Get more details and the viewing link for the free event at www.theaterdance.ucsb.edu.)
You might also be interested in...