Carmen for COVID: See a Classic Opera From Your Car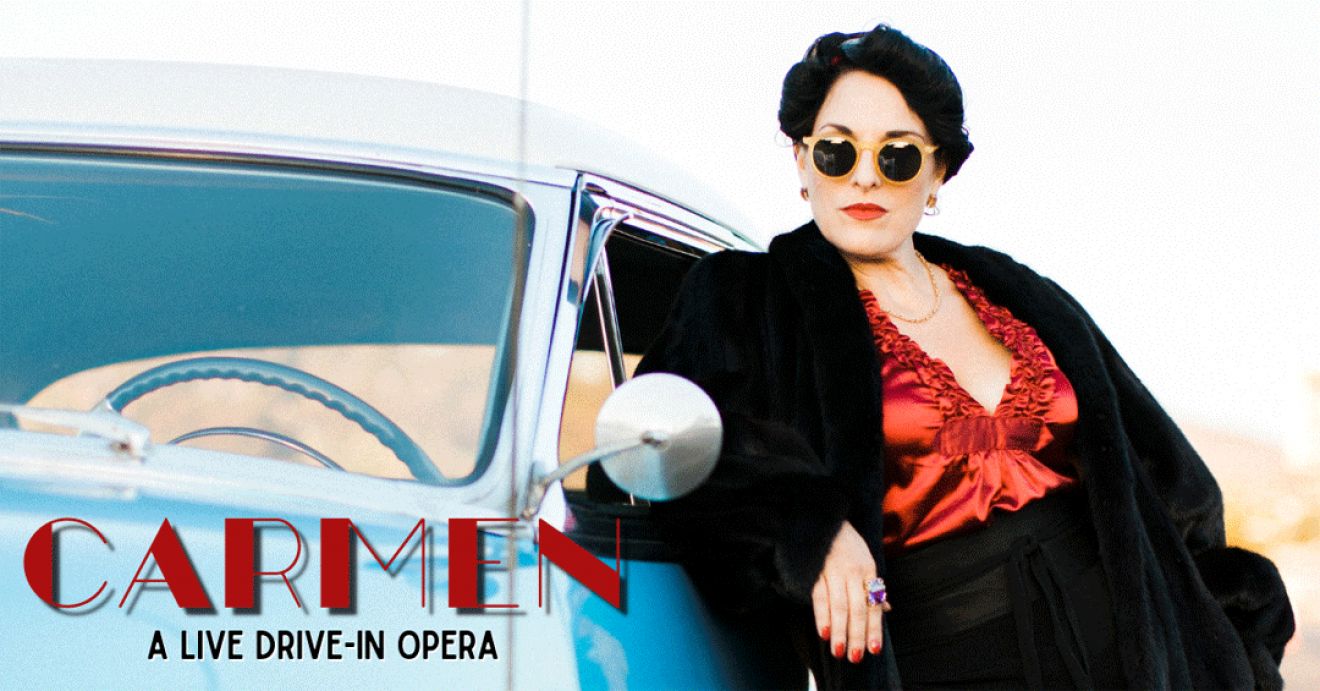 In normal times, opera can be an emotional experience, perhaps even a cathartic one, for members of the audience when the music meets the drama with just the right note. But the upcoming Concerts In Your Car version of Carmen has proven to be quite a tear-jerker just for the creative team even before the metaphorical curtain rises on Opera Santa Barbara's live 90-minute drive-in production based on an adaptation by British director Peter Brook next Sunday, December 6.
"I teared up when we went and did the site visit and I know I will probably cry on the first day of rehearsal when we all come together," said director Sara E. Widzer, who will be making her OSB debut less than 18 months after teaming with James Darrah for the Music Academy of the West's stunning OperaFest: Campus Takeover. Widzer joined me for a joint Zoom interview with OSB Artistic and General Director Kostis Protopapas, who added: "Hey, I cried when I first saw the orchestra parts on my desk."
That's because neither artist has been able to work on anything live since the pandemic shut down all in-person productions back in March.
"Coming back to work after eight months away, I didn't realize how disconnected I had been," Widzer added. "To be able to bring this to the community, it feels like an essential element."
The special 90-minute version of Carmen strips away the chorus and the dancing, which wouldn't have been possible anyway due to COVID restrictions, to zoom in on the relationships – i.e. sort of like what all of us have been doing at home during quarantine and lockdowns.
"The Peter Brook version is a perfect adaptation of a very classic work," Protopapas explained. "The musical interludes are minimal, so you get the great tunes but without all the pageantry – no horses or stuff like that. But it tells the story very fluidly."
"What Brook did was to pare down the story to a love quartet, or a love square, and as he gets rid of everything else, he has more space to focus on the intense passion," Widzer agreed. "It's like a character study of four different human beings and about survival and love."
Speaking of survival, Protopapas wanted to take the pandemic restrictions even further than required, keeping at least eight feet of separation between each of the four actors/singers, who would have to perform within their designated boxes. All of which obviously doesn't allow for any contact at all, seemingly a contradiction to the action in a typical production of Carmen. Yet, Protopapas wanted OSB's version to be "an artistic opportunity, not just a concession to the times… and something unpredictable."
Given the green light to experiment how to tell the story in the "new reality" of physical distancing, Widzer at first considered having the actors pulling props out of a trunk, á la The Fantasticks, before a lightbulb went off to set the show in the 1940s.
"That was the golden age of movie musicals and drive-ins, and the heyday of radio and radio plays, when watching a live recording of a radio play was very exciting," she said. "We wanted to take advantage of the fact that everybody's going to be sitting in their car and factor it into the storytelling element… So we'll really lean into the idea of a radio play. The singers and spoken word actors will be free to create, to act, to tell the stories without having to feel awkward or uncomfortable to justify why they don't touch."
Delivering a powerful performance under such circumstances requires a talented cast that can not only get ready quickly due to little rehearsal opportunities but also be able to adapt quickly. Protopapas said the cast of mezzo-soprano Audrey Babcock (who starred in OSB's The Crucible last year) as Carmen with Joshua Wheeker as Don José, Alexander Elliott (OSB's The Barber of Seville in 2018) as Escamillo, and returning Chrisman Studio Artist soprano Jennifer Lindsay as Micaëla, more than fit the bill, as the two principals have performed the Brook version previously.
"All four of them really inhabit those characters," he said. "It's a really exciting group."
Meanwhile, the separation rules also meant excising some of the violence endemic to Carmen – because it's impossible to kill a character and drag them off stage from eight feet apart, but also, Widzer said, because "there is already a morbidity and a sadness around us caused by the pandemic."
Instead, Protopapas explained, the grittiness of Brook's adaptation has been transformed into something more akin to film noir from the era. "We're having a lot of fun with it," he said. "Sara's written some extra dialogue, so there will be a few really saucy Edward G. Robinson and Lauren Bacall moments in the show."
The film noir/silent movies/drive-in radio play setting also adds some poignancy in the parallel to the 1940s representing emerging from the Great Depression and entering World War II, when, Widzer noted, the performing arts echoed what was going on underneath it.
"We're using this music and the story to lift our spirits and be a mirror to the world that we are in, not just an escape," she said.
Protopapas took pains to point out that OSB isn't doing anything as blatant as putting the pandemic in the show, but the stress of the times – or rather some moments of release – are sure to show up.
"I think there's going to be a lot of crying in the rehearsals," he said. "Those singers haven't performed in public since March and for all of us, this is an extremely important moment where art is coming back. We're finally able to do what we have been deprived of for 10 months. There's surely going to be an emotional charge with this show."
That's probably true for the audience, too.
(Opera Santa Barbara's Carmen, A Live Drive-In Opera, performs at 2 pm Sunday, December 6, as part of the Concerts In Your Car series at the Ventura County Fairgrounds. Visit www.operasb.org.)
You might also be interested in...